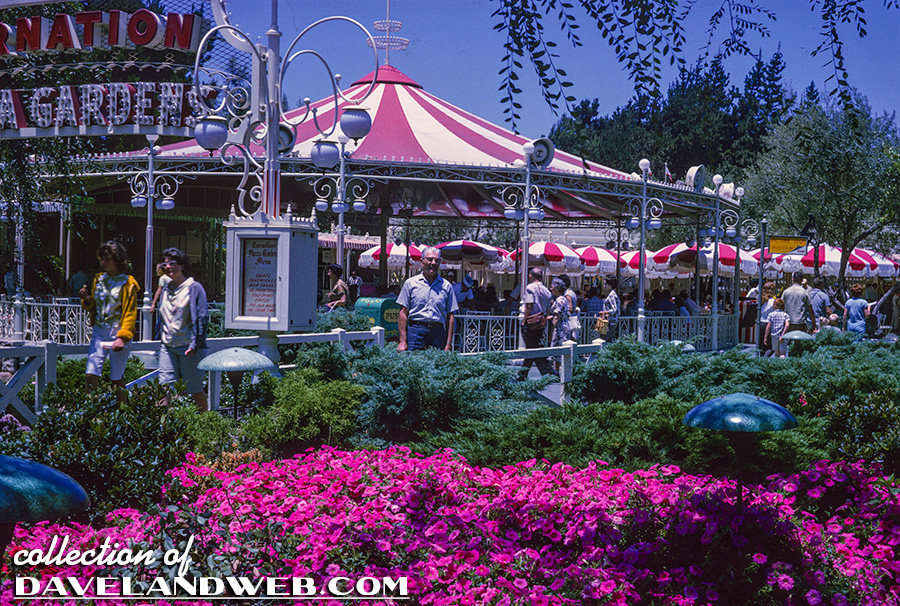 I was so upset when I found out that the Fantasy Faire was going to replace The Carnation Plaza Gardens, the historic musical venue that fit in perfectly with the Main Street, U.S.A. theme. Most turn-of-the-century towns boasted a bandstand where folks gathered to listen to music and to dance. This type of facility would have been the heart of any town's social life. Even at Disneyland, The Plaza Gardens were once a vibrant area, which sadly seemed to lose a bit of gas as the years went by. The food service counter was removed, the amount/quality of entertainment seemed to decrease, and other than the weekend swing dancing, this area seemed to be a very large "parking lot" for those weary from a day of walking through the park. That adds up to a very expensive place to sit for the bean counters!
Enter the Fantasy Faire. These are the most recent construction shots from my visit during the Tinker Bell Half Marathon weekend.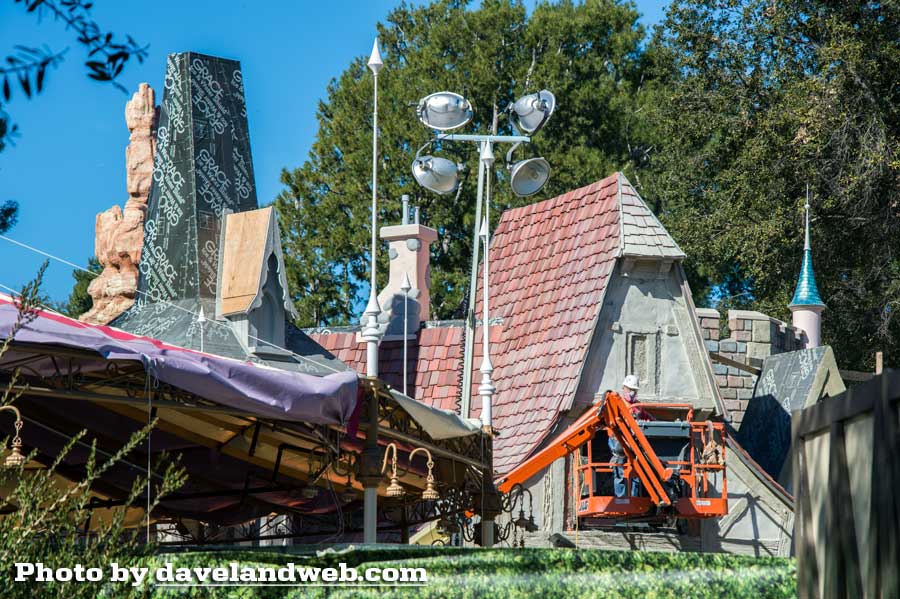 It is shaping up quite nicely, and I am sure that once it is done, it will be a perfectly lovely spot.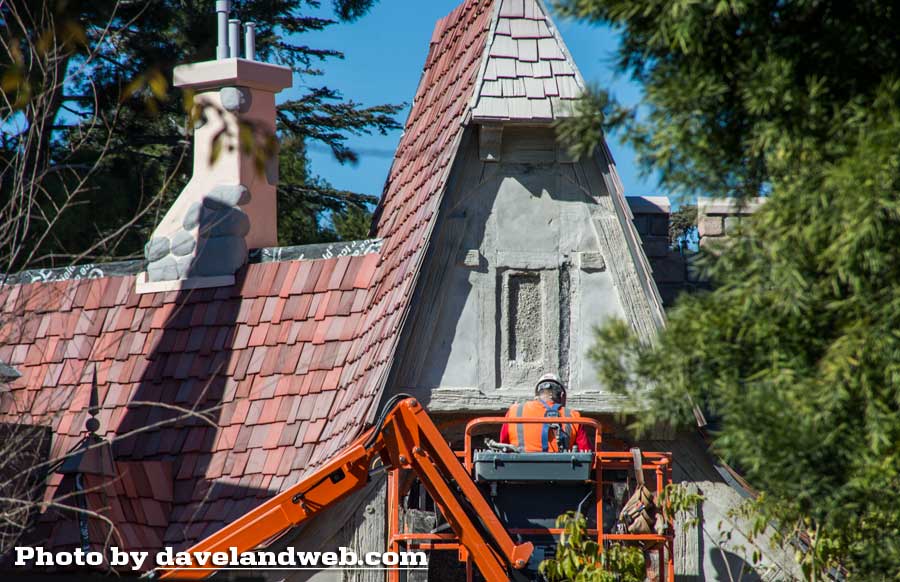 Still, I have so many regrets that the Fantasyland theme is spilling out past the borders of the Sleeping Beauty Castle. Over at DCA, The Blue Sky Cellar Preview Center for Imagineering has an exhibit with a model and the plans for Fantasy Faire.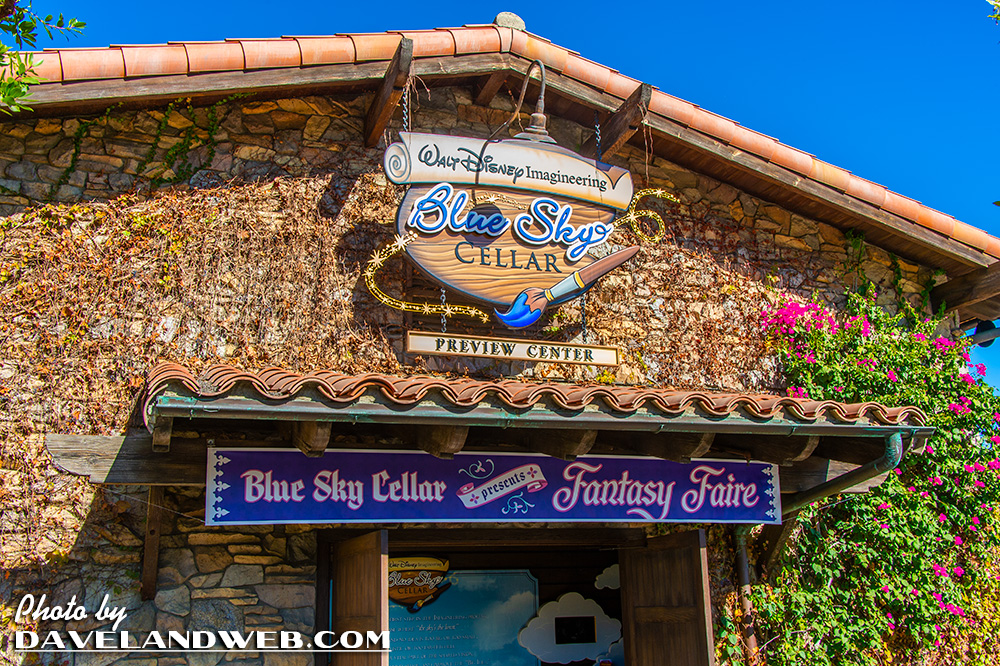 When it comes to models and miniatures, I absolutely go nuts. It was so cool to see this scaled down version of what would inhabit this space.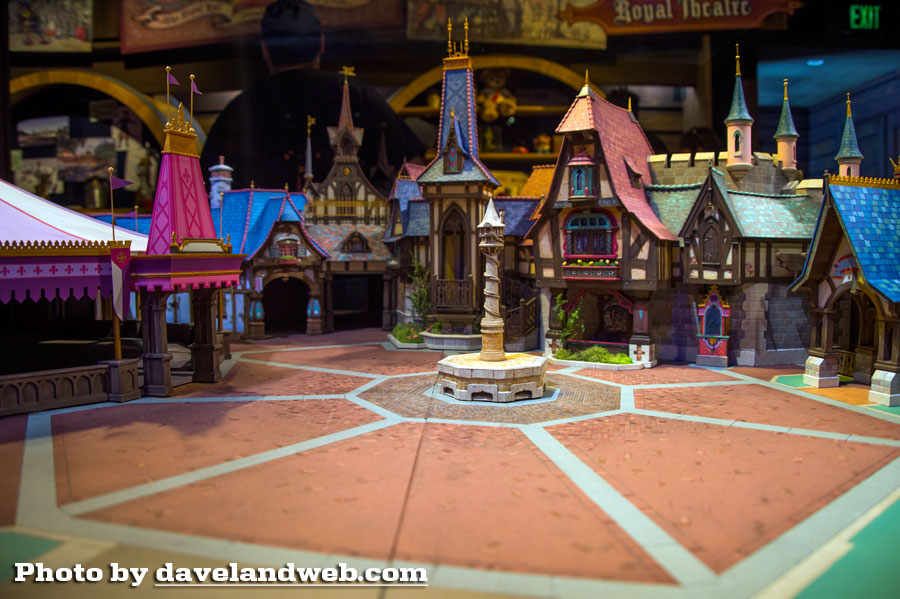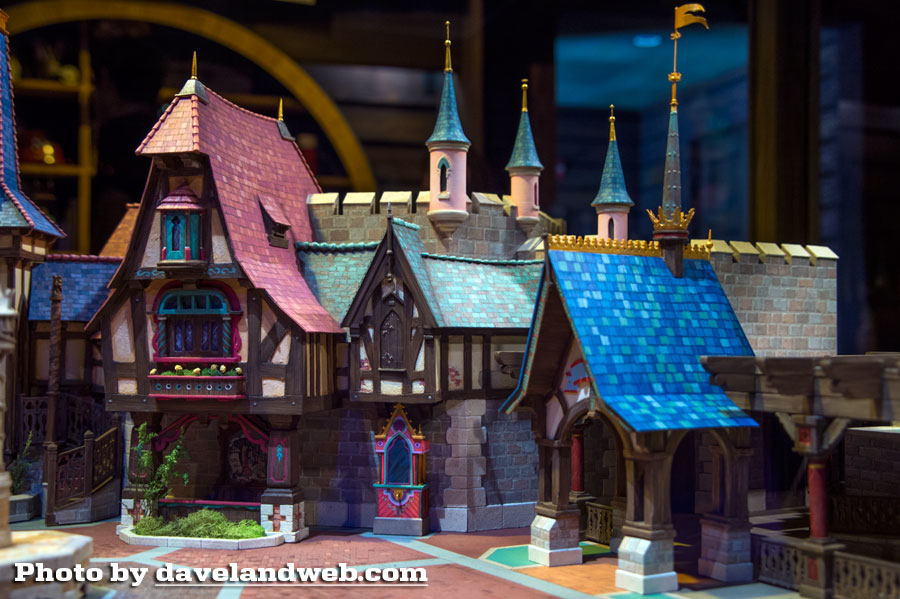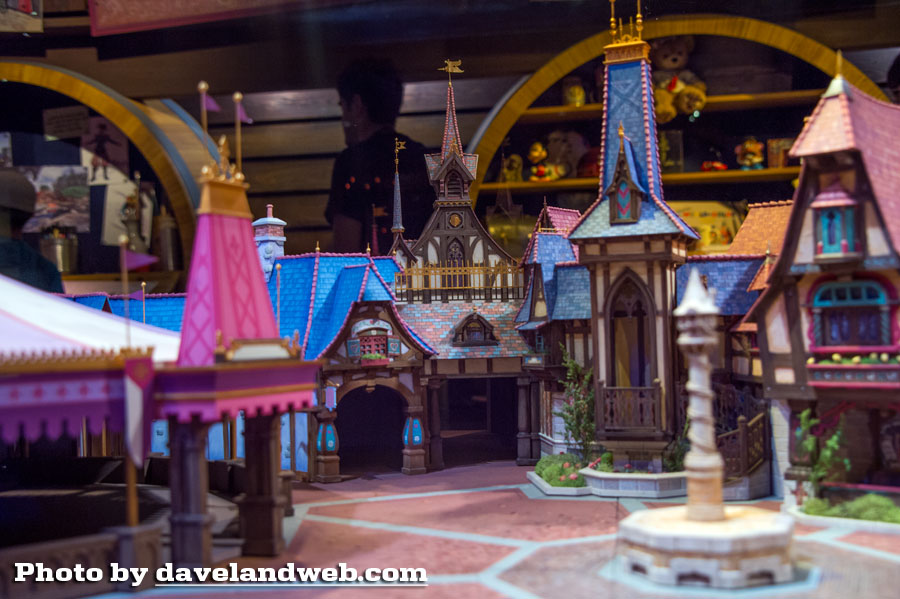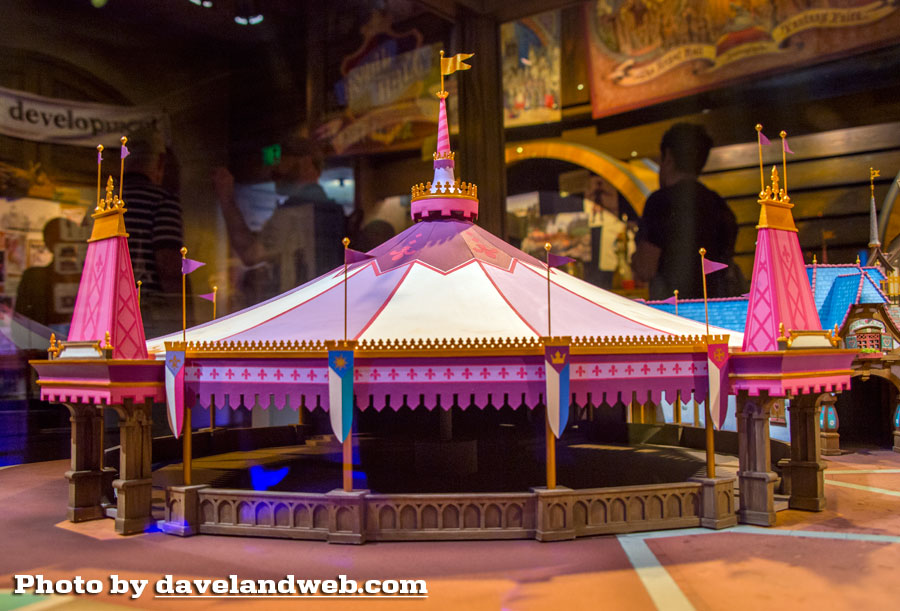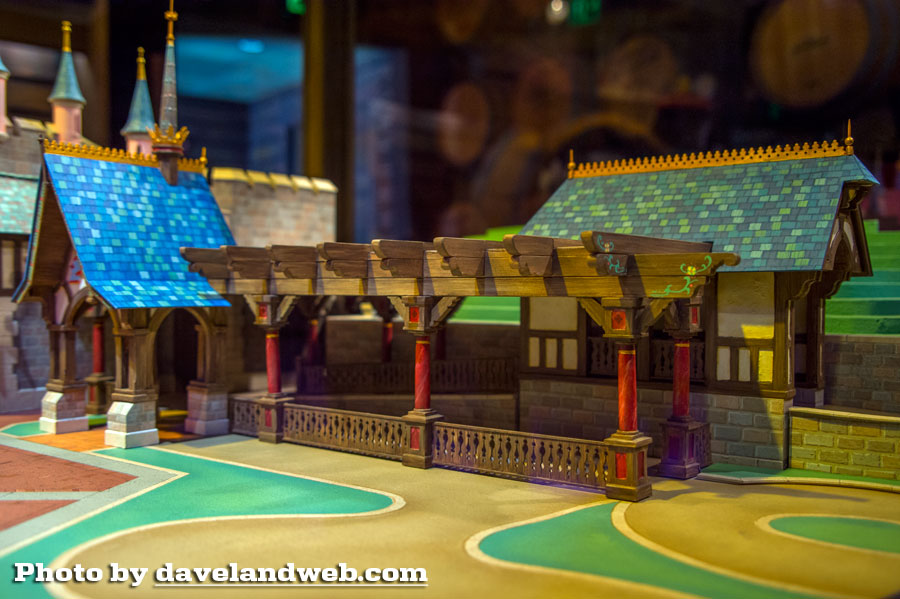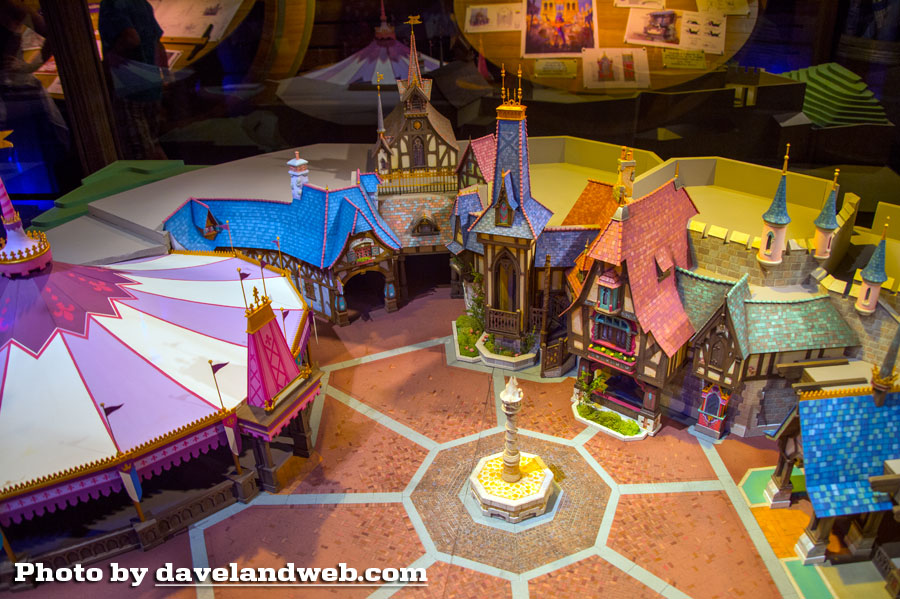 There is a video looped throughout the day, with Imagineers discussing the project.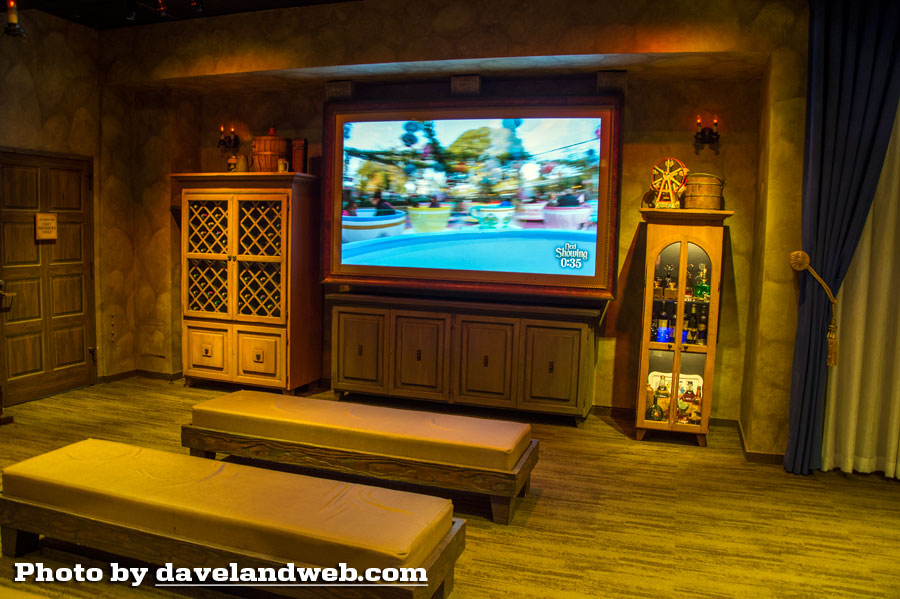 Pointing to the Herb Ryman map that "sold" the Disneyland concept to the banks, Imagineer Kim Irvine uses that as proof that Walt intended the boundaries of Fantasyland to extend beyond the castle. Even though it might seem plausible at first, if you look at the map, you'll notice that yes, the castle is surrounded by a wall. Not a row of buildings, but a wall that separates Fantasyland from the other lands.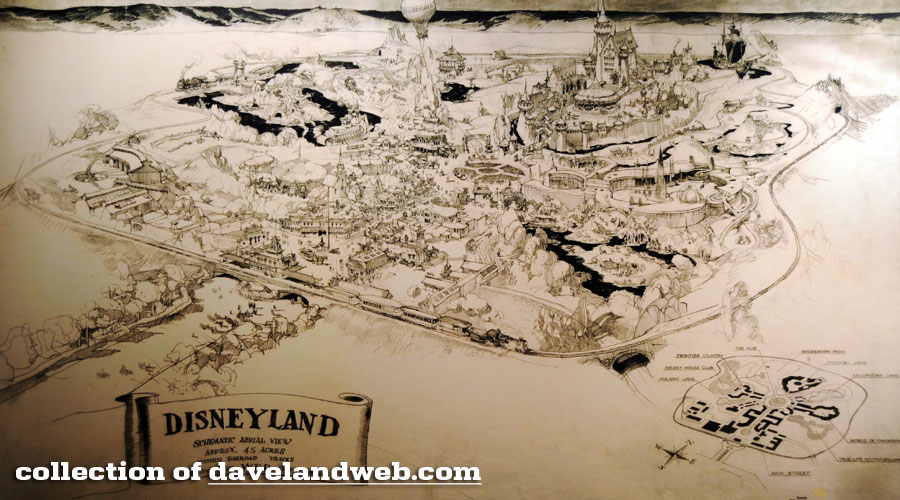 One could deduce that each land was to have definitive boundaries so as to keep the theming inside of those boundaries. This is where my main objection to Fantasy Faire lies. It makes the distinction between Fantasyland and Main Street even more blurry; yet, one could also argue that the Snow White Wishing Well does the same thing, and I can tell you right now I don't want to give that area up! So what's a Disneyland admirer to do?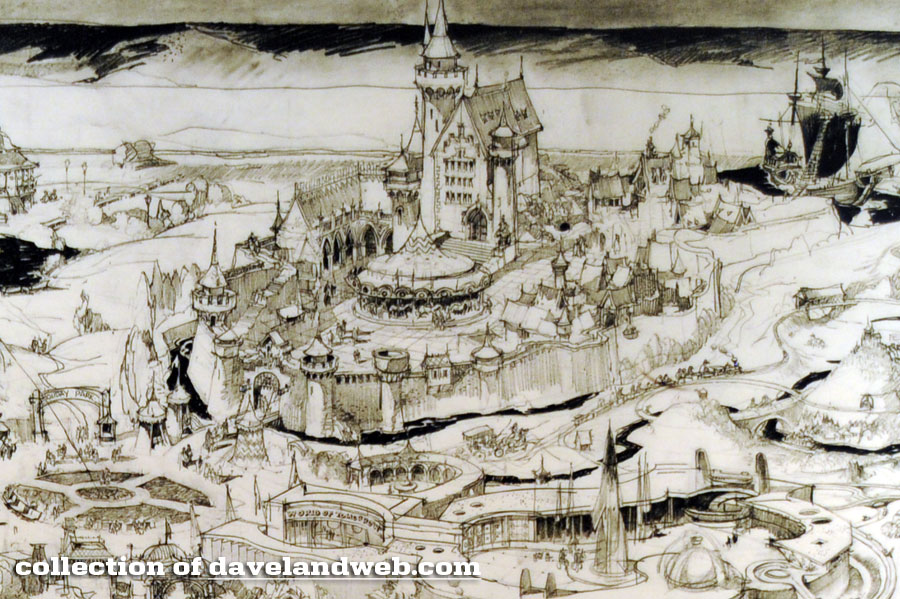 First, I think it's time for the Imagineers to stop trying so hard to tie the "Walt originally intended" phrase to each project. The fans who are stuck in the past and don't want any changes aren't going to believe it, and the newer fans who love change and newfangled attractions, well...they probably don't care what Walt would have done because that was over 60 years ago and times (and people) have definitely changed.
Looking at the plans and attempting to be positive, I actually found much to like. Apparently, there will be a few cool animatronic features on display, such as this Figaro (from "Pinocchio") and bird animation: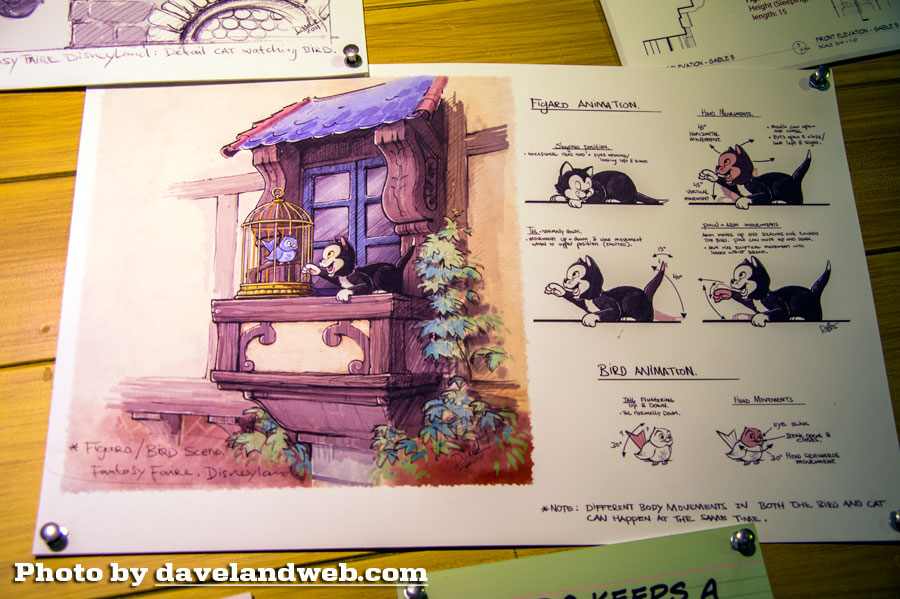 Clopin's Music Box appears to showcase an interesting little dancing man, in the same vein of the Buddy Ebsen animatronic that spawned the whole durn thing. Clopin is a character from "The Hunchback of Notre Dame."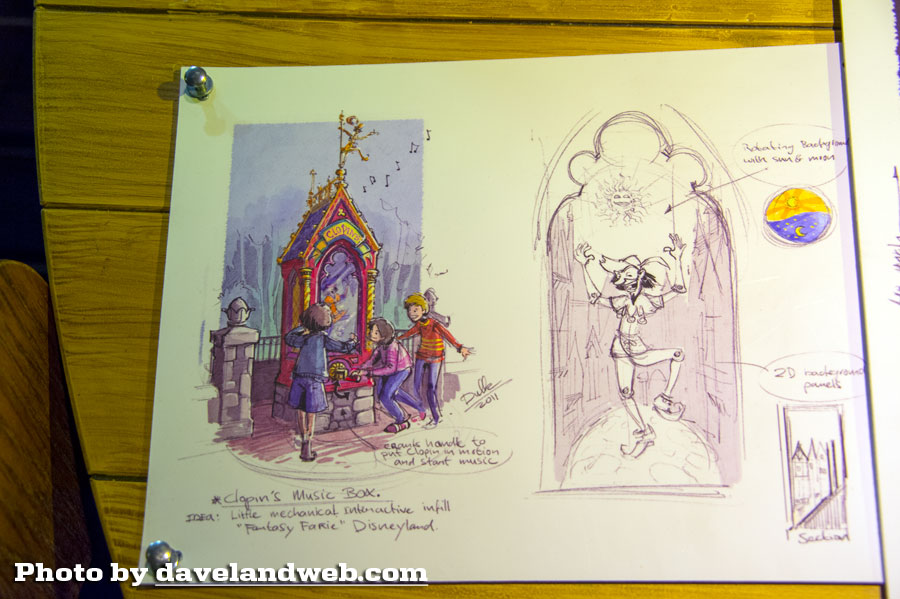 There will also be a slight nod to the former location in the crest medallion which bears the initials "CPG."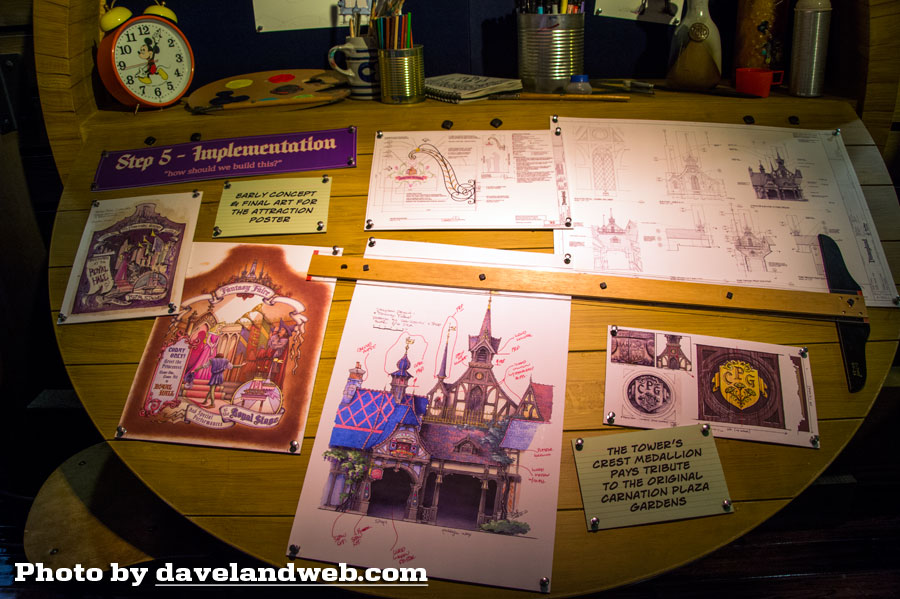 The Royal Hall is where guests will be able to greet the Princesses. Personally, I have always preferred the element of surprise; will I run into a favorite character/princess, and if so where and when? Toontown kind of killed that with the addition of Mickey's House. I find that meeting Mickey becomes a lot less special when you know exactly where and when to find him. Still, for those who have made a big sojourn to Anaheim for their little darling to meet Mickey Mouse, it's nice to know that your hard-earned money hasn't gone down the drain and that you have a guaranteed photo opp at your finger tips.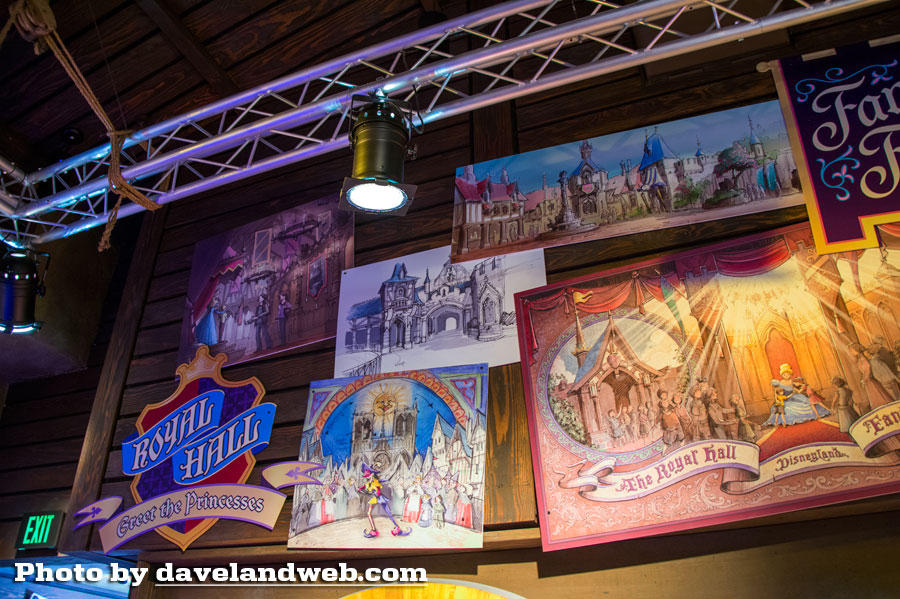 The Royal Theatre is the rethemed Plaza Gardens, and will feature two shows a day. One will be about "Beauty and the Beast," the other about "Tangled." Supposedly swing dancing will still be brought back here at night. Notice the sign for Maurice's Treats.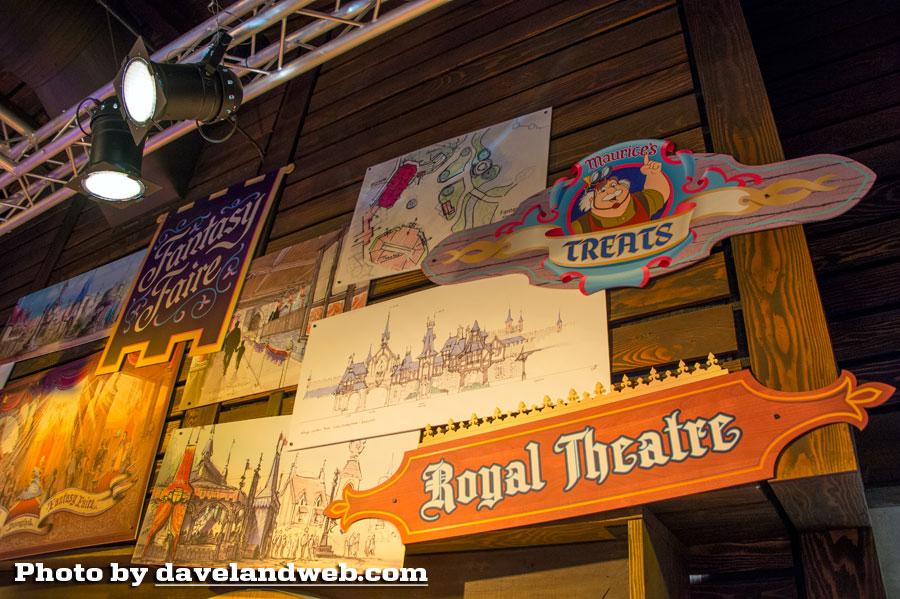 The day I was at Blue Sky, there was an Imagineer that had worked on the project standing nearby, answering questions. I remembered that I had seen a sign for a fictional restaurant in one of slides that bore a similar name. It turned out to be "Mauri's Lobster Dinners" at Fowler's Inn.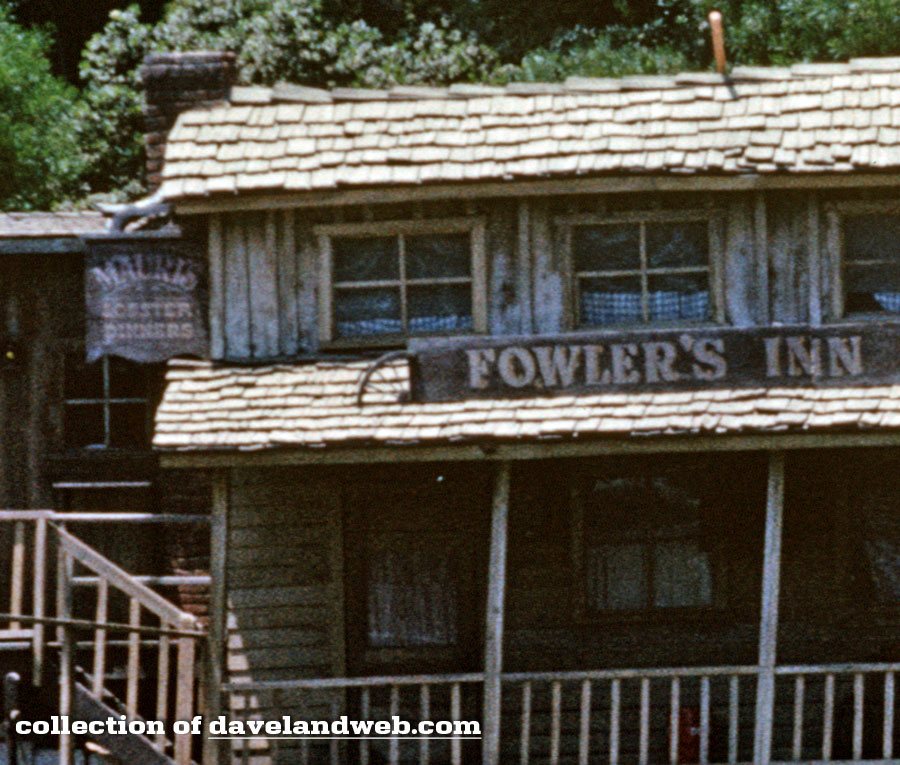 For the life of me, I couldn't remember where I had seen that image, and I asked the Imagineer if he knew who came up with the name for Maurice's Treats? He was extremely sheepish, and shyly admitted that it was his idea, as if I was going to burn him at the stake for doing so. I quickly let him know that wasn't my intention, but rather I was trying to figure out if the name "Maurice's" was inspired by a vintage sign at the park or by something else. He explained the name came from Belle's father in "Beauty and the Beast."
Naturally, there will be a retail opportunity, Fairy Tale Treasures.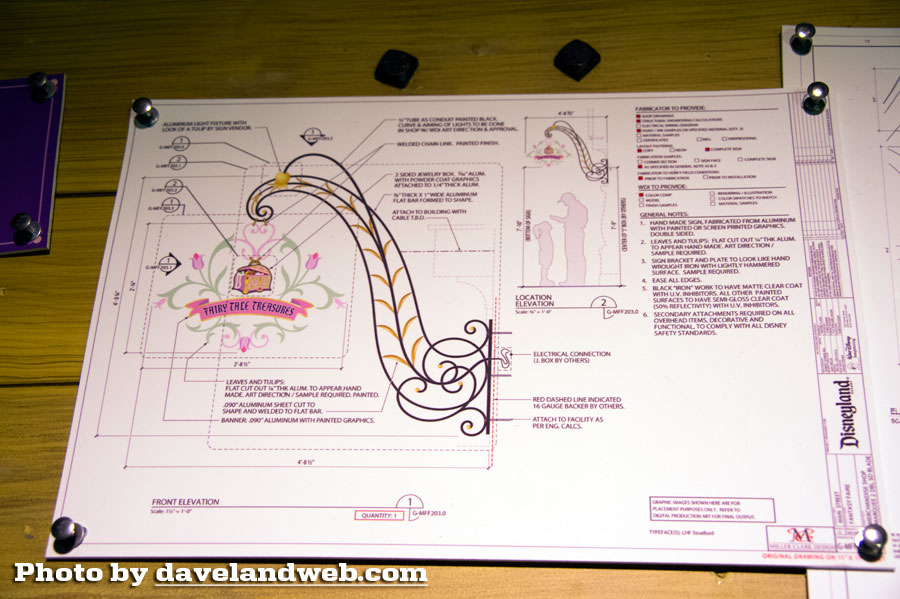 That's it for now. What are you thoughts on the changeover?
See more vintage & current Blue Sky Cellar photos on my
Blue Sky photo web page.