Recently, John Patrick Burke, a former show set designer for Walt Disney Imagineering contacted me about his work on the original Big Thunder Mountain attraction. Here are his memories, which were inspired by photos from the Daveland archives:
Looking back at Frontierland at Disneyland, I'm reminded of some of my favorite icons that are now missing, like Cascade Peak with its roaring falls and the old Nature's Wonderland train with its native furry passengers that have been removed.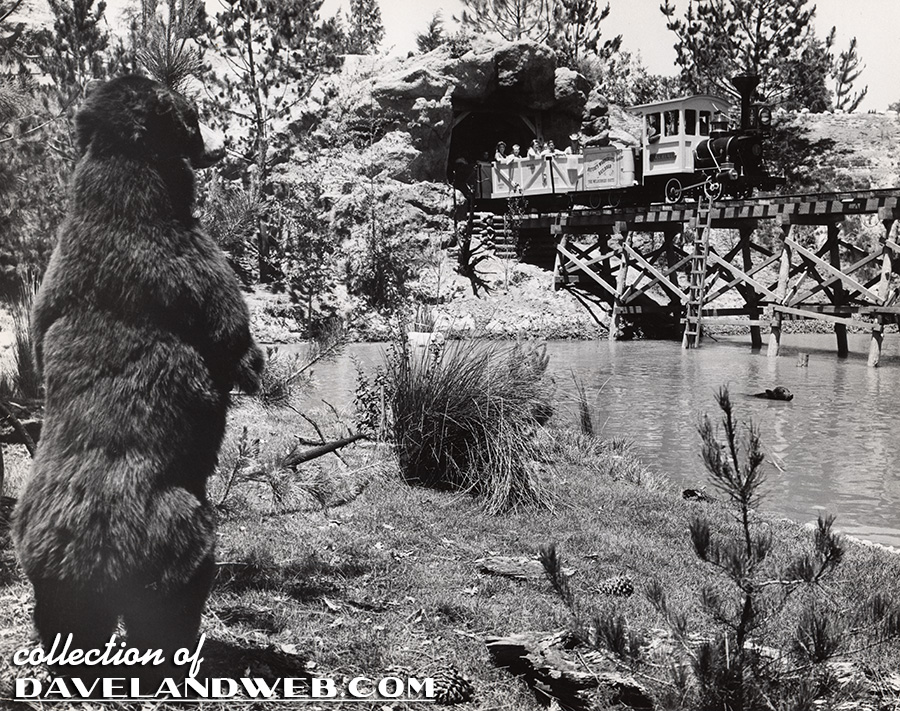 Leaving Big Thunder's exit, I look across to Beaver Creek and noticed the old Big Thunder Mine scene that once occupied the Nature's Wonderland cave is also now gone and wonder why? Originally, back in 1978 after Nature's Wonderland was being removed and parts of it were relocated to Big Thunder, like the town of Rainbow Ridge and many natural inhabitants, the old train trestle was brought up. Most of it was being dismantled, but I was asked by Big Thunder creator Tony Baxter about the old train tunnel at its end and if I could do anything with it. I suggested doing a mine scene to complement Big Thunder and did a few sketches. Instead of natural logs as in Nature's Wonderland use, I suggested using milled wood Timbers to match Big Thunder's mining construction through out the new attraction.


April 1980 photo & detail shot: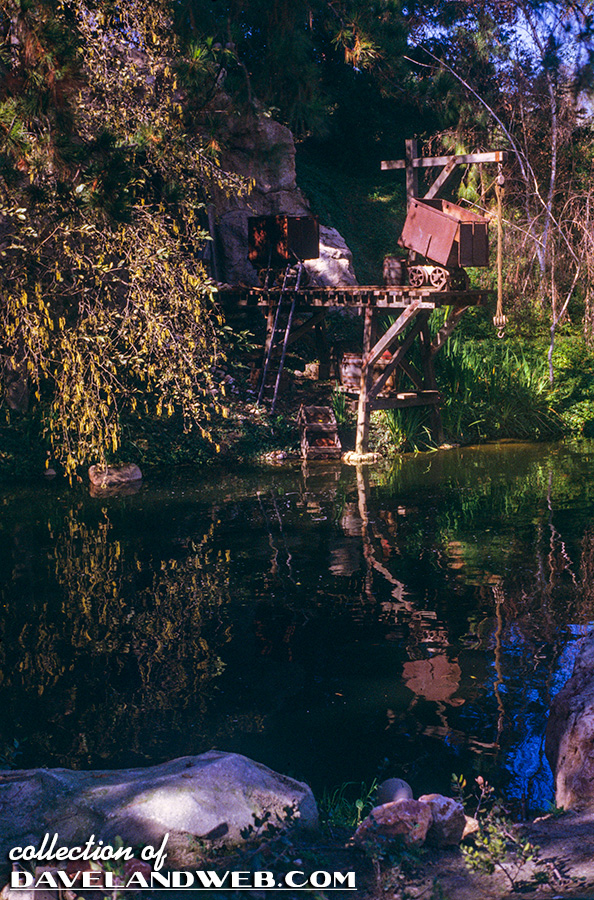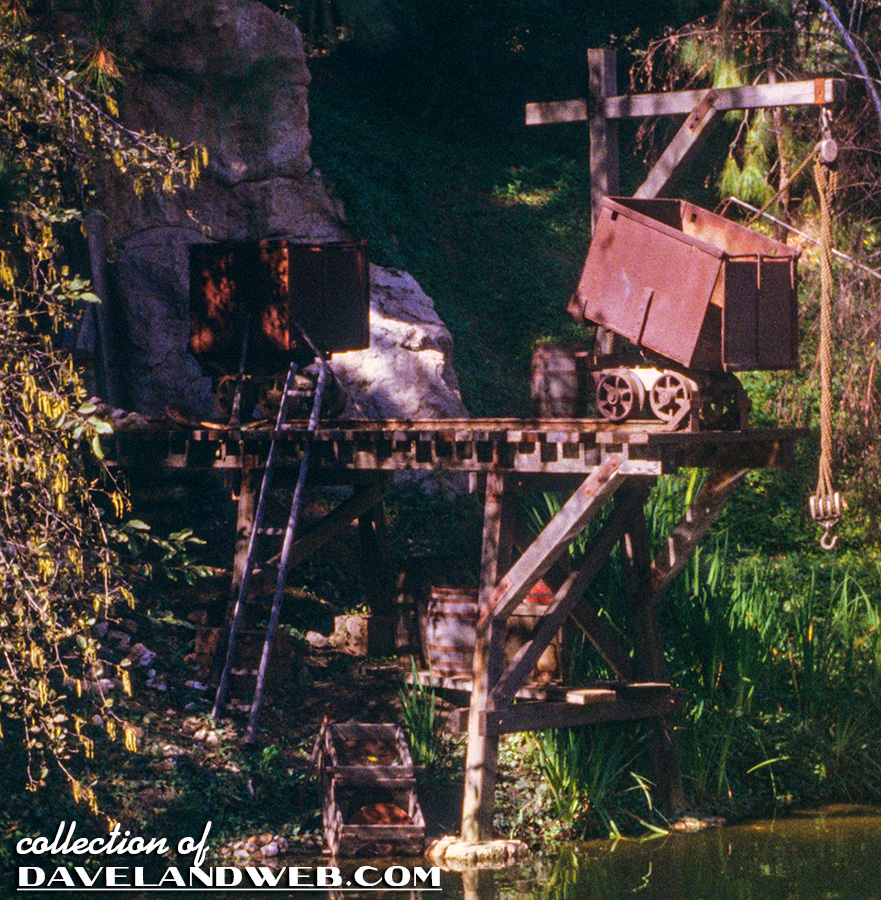 A short trestle was constructed and track laid down on its upper deck for use by the authentic mine cars. One was a very rare shovel nose end dumper with spoked wheels and wood under carriage. A hoisting post and beam were added for raising and lowering by old wood blocks and tackle, an ore bucket down to the waters below where a row boat was once sitting. Wood ladders were fabricated and fastened to the trestle, so that the miners could climb up and down to the cave from the boat.


April 1981 photo & detail shot: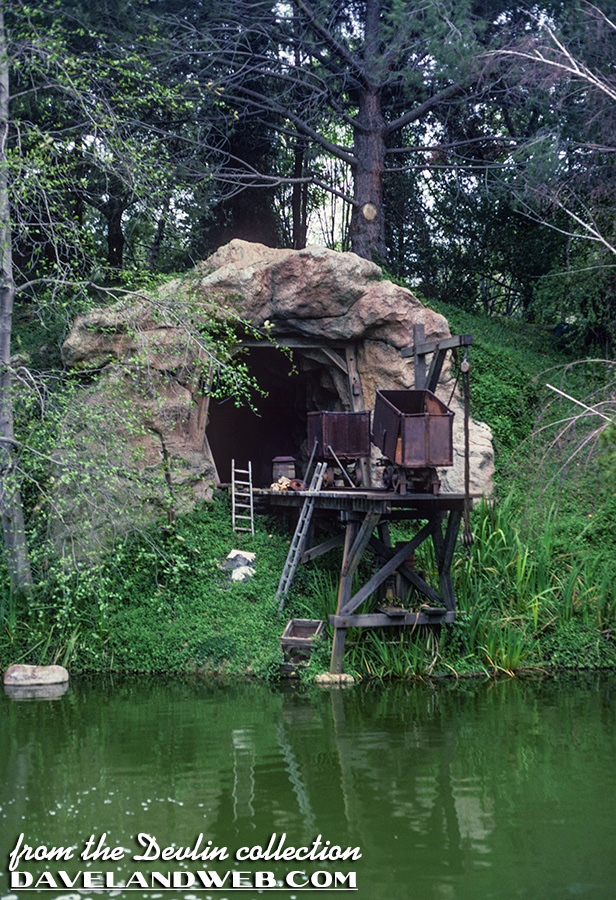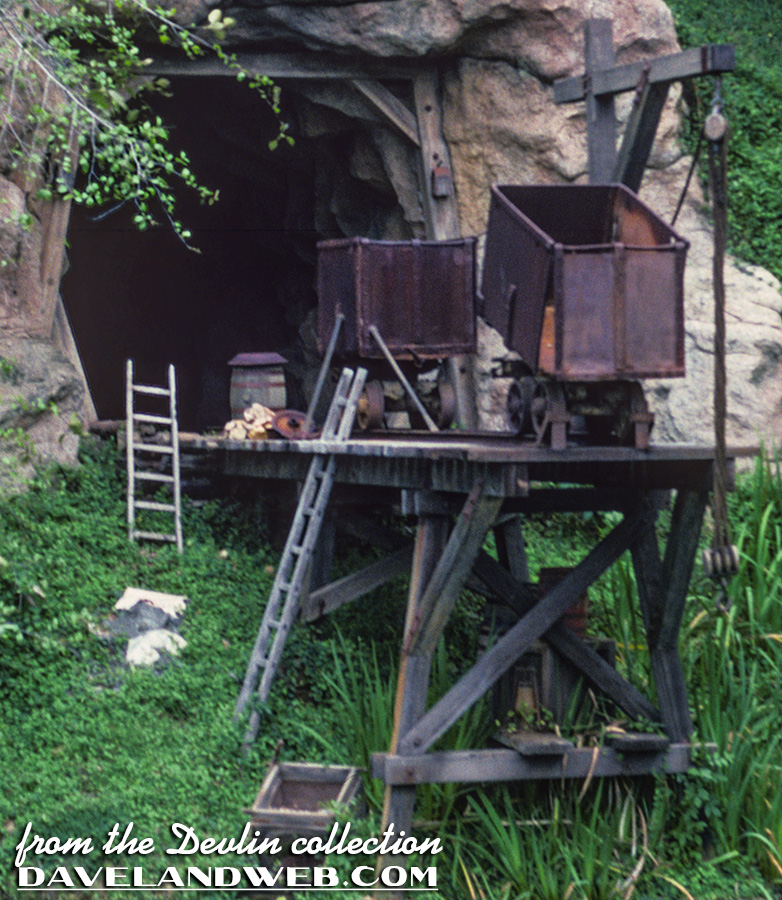 While the Beaver Creek was drained we also rebuilt the jumping fish which had been silent for some time.




There sure were a lot of sun glasses and Polaroid cameras in the drained pond. The themed lighting was also upgraded for the new mine scene, and at night one could see the flickering lanterns throughout the scene which was quite scenic and helped attract your eye to the jumping fish. All the natural trees and growth from Nature's Wonderland helped frame in the entire scene. In about 2006, I noticed the whole scene had been removed and the vegetation cut way back. It looked like a forest fire may have wiped out all of the mining scene. The ore cars were gone as was the wood trestle they sat on. The landscaping and overgrowth were now all cut back or gone. Recently I was told the scene had been removed rather than rebuild it, which seems very sad, much like the fate of Cascade Peak. While they are rehabbing Big Thunder this year, maybe they can restore this missing Big Thunder mine scene in the old tunnel above the still jumping fish.

Jp
John Patrick Burke grew up in the Mojave desert in California, surrounded by old abandoned gold and silver mines. He joined the WED model shop after graduating from art school in 1972. His first projects included the Walt Disney Story, America Sings, and Space Mountain before applying his trademark show set design, often involving skillful arrangements of authentic antique props, to all four Big Thunder Mountain rides, all four Indiana Jones attractions, three versions of the Jungle Cruise, and many other classic Disney attractions. JP also designed the original Pinocchio dark ride and parts of Splash Mountain for Disneyland. In addition, he was also the tracker and artifact buyer of all the antique show items. Disneyland's Splash Mountain Load /Unload building and Toad Hall were a few of his Architectural contributions for Tony Baxter.
Today, this area is often unnoticed, except at Halloween when it gets the spooky lighting treatment:
See more vintage and current Disneyland photos on my
Disneyland photo web pages.