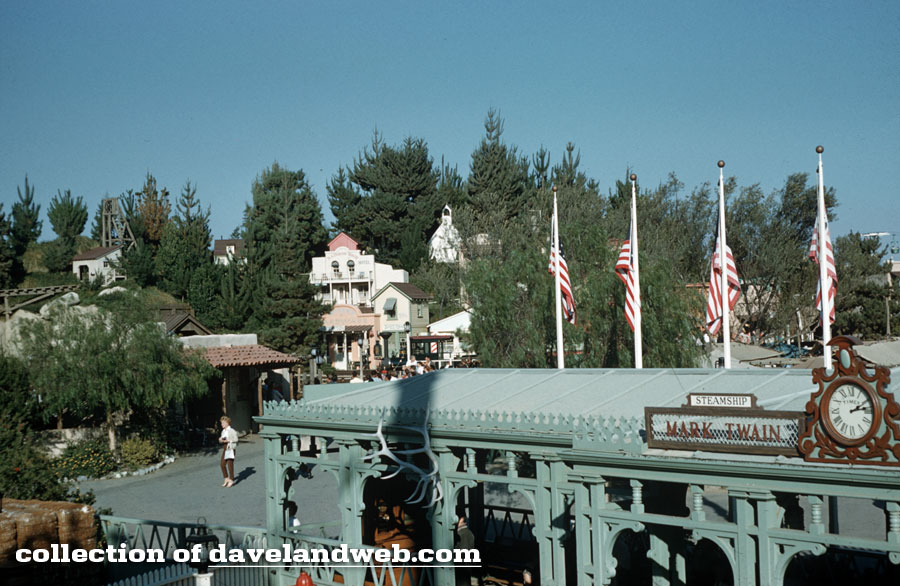 Over at
MiceAge
, a reader had noticed that this November 1958 photo of the Mark Twain dock showed the Wurlitzer Style LX Orchestrion. WHAT??? An Orchestrion at The Mark Twain? Once I saw this in print and zoomed into this detail that I had previously overlooked, I remembered that I had a photo in my collection showing the same thing up close and personal, but I didn't put it on my Mark Twain collection. Not paying attention to the background details, I just figured it was "somewhere" in Frontierland, and I also remember thinking that it was somewhat wacky that an Orchestrion would be in an outdoor location.
Here's the photo from February 1971, and sure enough, it's sitting in the dock area of The Mark Twain/Columbia: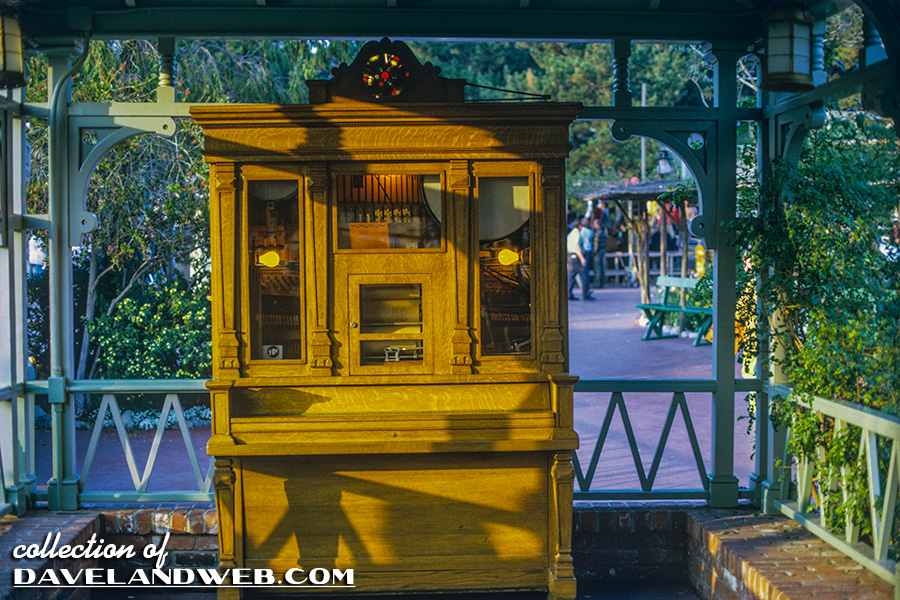 Hold onto your seats, readers. I'm zooming in: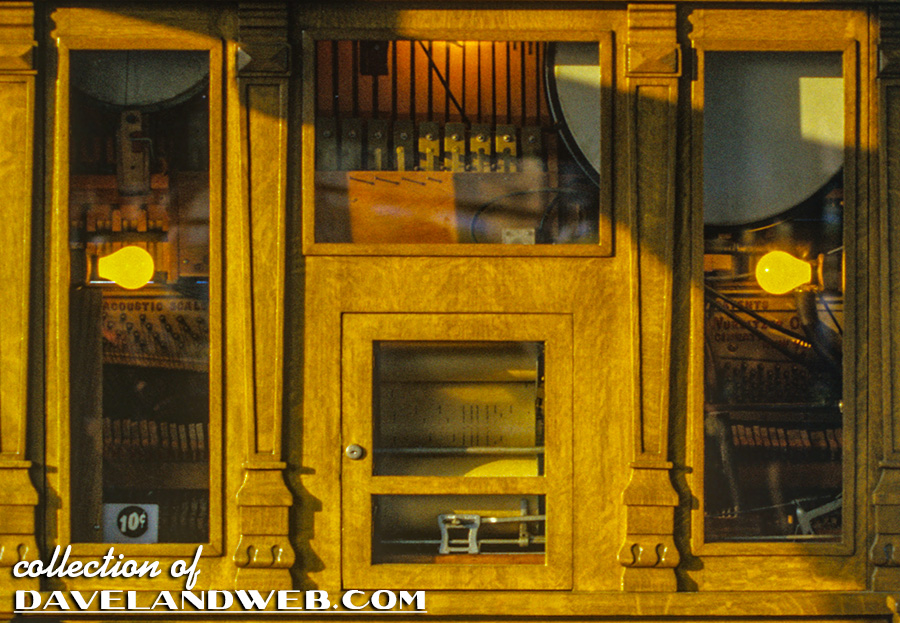 Apparently, this Orchestrion, part of a vintage collection of instruments Walt purchased in bulk. Most of them ended up in the Penny Arcade on Main Street. By the 1970's, the outdoor elements had taken their toll on the Orchestrion and it was replaced with a recording of the original machine. Twenty years later, it fell victim to the "economy" of Paul Pressler. Although the instrument is no longer in the dock area, the recording has been digitized and can be heard through the speakers for guests to enjoy. Take THAT Paul Pressler!
Moving over to Fantasyland, I have a few more gems from the Chicken of the Sea Pirate Ship/Skull Cove area. These are some 1955 shots showing the Ship still getting some finishing touches, even after the park had been open for a bit.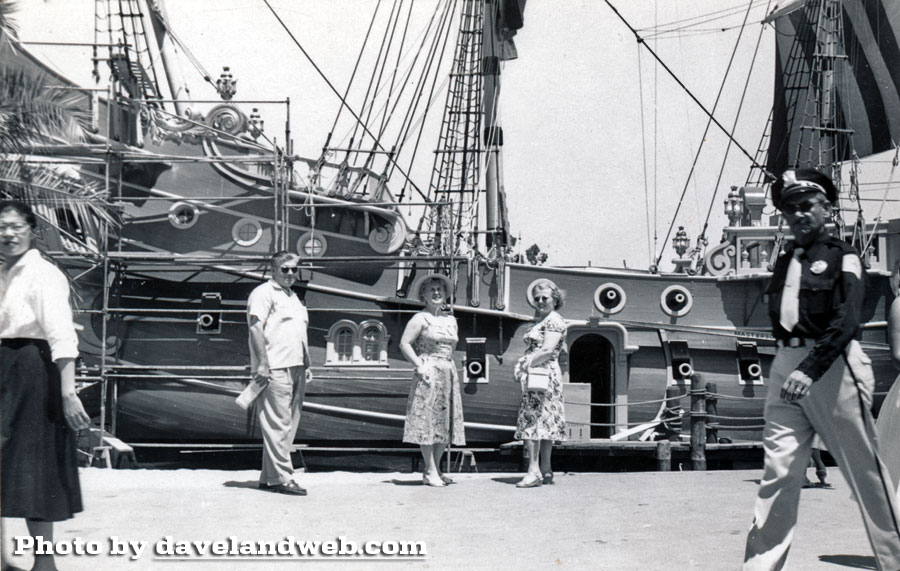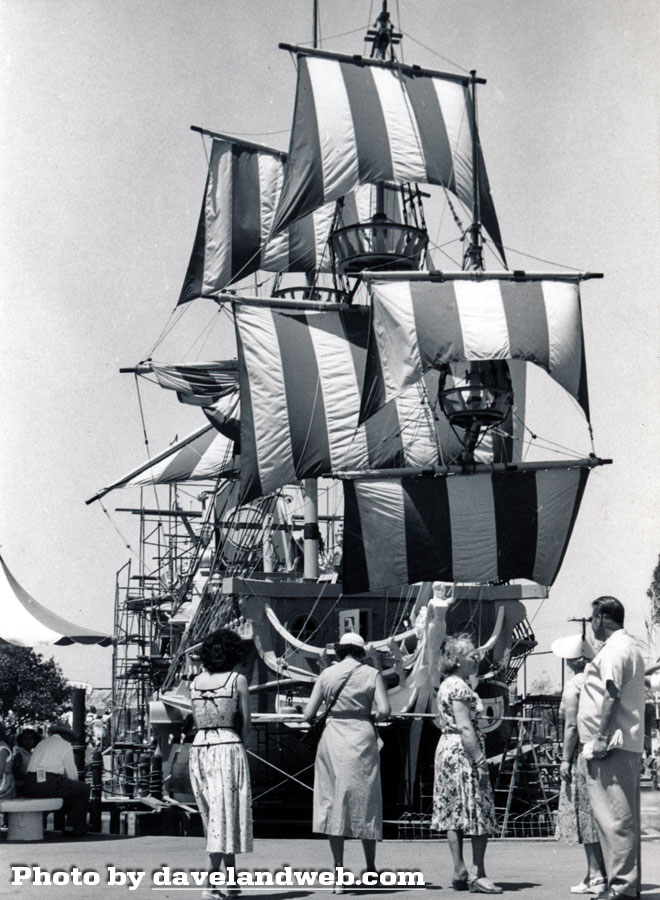 This overhead Skyway shot shows what the area looked like before Skull Rock Cove was added. The word "blah" comes to mind.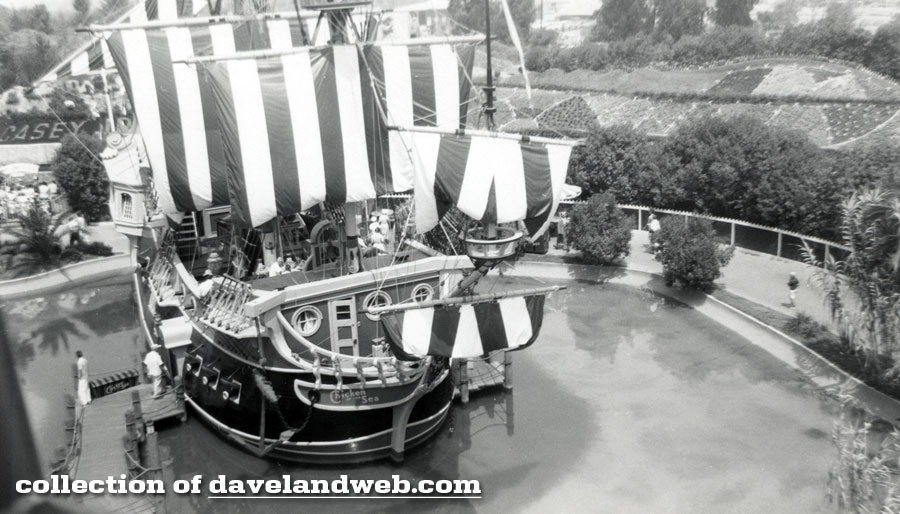 Even in full-blown color, the Ship just seems a bit odd and out of place, as if it had been jammed into this corner, with no real thought or planning.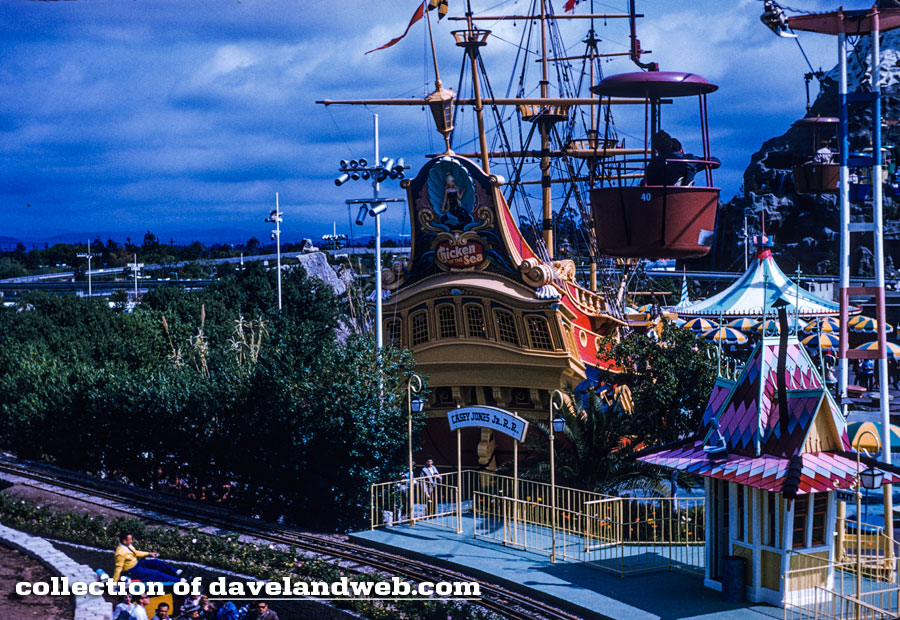 This November 1960 image shows the Ship behind construction walls, as it gets a sparkling makeover with the addition of Skull Rock Cove: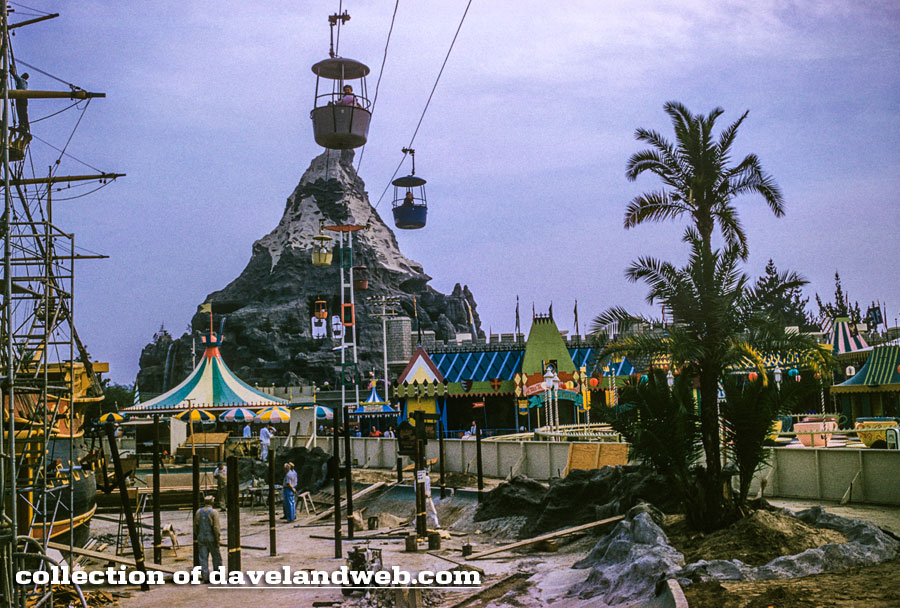 Zoom one: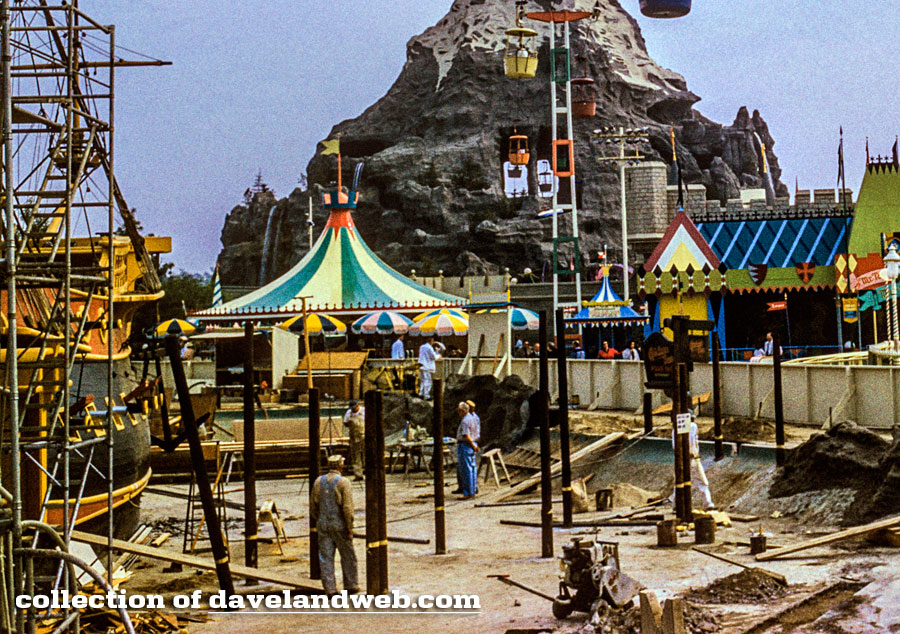 Zoom two; anybody care to identify these workers?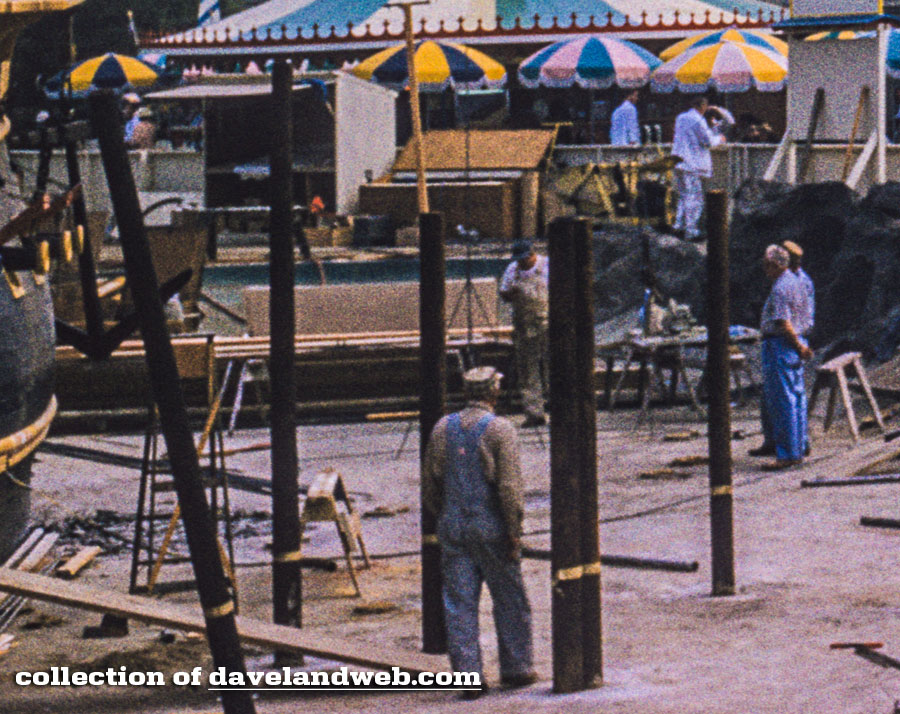 This October 1960 article from the Disneylander Newsletter highlights the upcoming changes:
PIRATE SHIP TO HAVE NEW AND EXOTIC SETTING

By the time you read this you'll be aware that the Chicken of the Sea Pirate Ship is closed for extensive rehab. It is scheduled to reopen about December 15th.

Isolated by craggy cliffs covered with lush tropical foliage willbe "Pirates' Cove," where the Park's well knwon Pirate ship rides at anchor. WED designers have included in their plans the familiar landmark of Skull Rock from the Peter Pan story with three waterfalls cascading from rocky heights.

A new outdoor eating area is being developed directly behing the ship. Visitors will see casks, chests and other items usually found among a sailing ship's stores along with pirate booty stacked on the shore as though just unloaded from longboats. Cocoanut palms will tower over sunshades made of gaily colored and tattered sails supported by splintered oars and spars. Nestled underneath, overlooking the water's edge, will be tables and chairs patterned after the reed furniture of the tropics.

An outdoor stage, disguised as a wharf, will jut into the cove and immediately in front of it will be a dancing area paved in beautifully polished stones and will be complete with sound equipment for possible use as a Date Nite area next summer.

Waves will wash the Ship's bow and the "sandy" beaches as though driven by gentle tropical breezes and half-buried in the "sand" will be pirate treasure.

This major face-lifting will not only add to the already exciting atmosphere of Fantasyland, but will also expand the guest capacity of the Chicken of the Sea Restaurant as well as imrpove the flow of guests through the Ship. The interior of the ship will undergo some minor changes and be refitted in the best of pirate and dining tradition.
I don't know if the outdoor stage ever came to be; I don't remember ever reading about concerts in this area, but it sounded like a cool idea.
Here are a few March 1965 photos of the finished product; what a positive difference!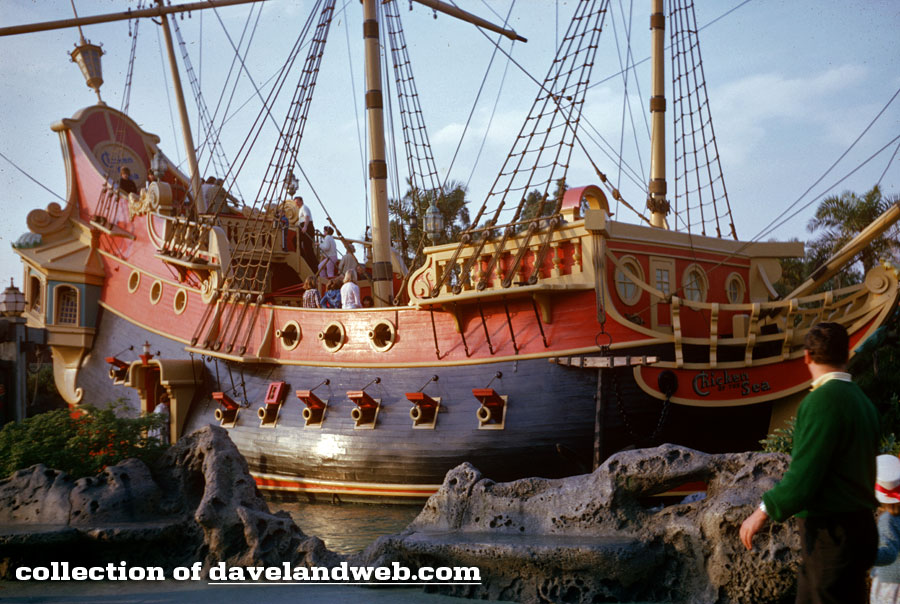 Zooming in you can see the festive peppermint twist light posts near the Fantasyland Train Depot:
For my last bit of miscellany, Daveland reader Tom F. was kind enough to share these family photos from approximately 1966. The first one shows his family standing by a Castle under refurbishment: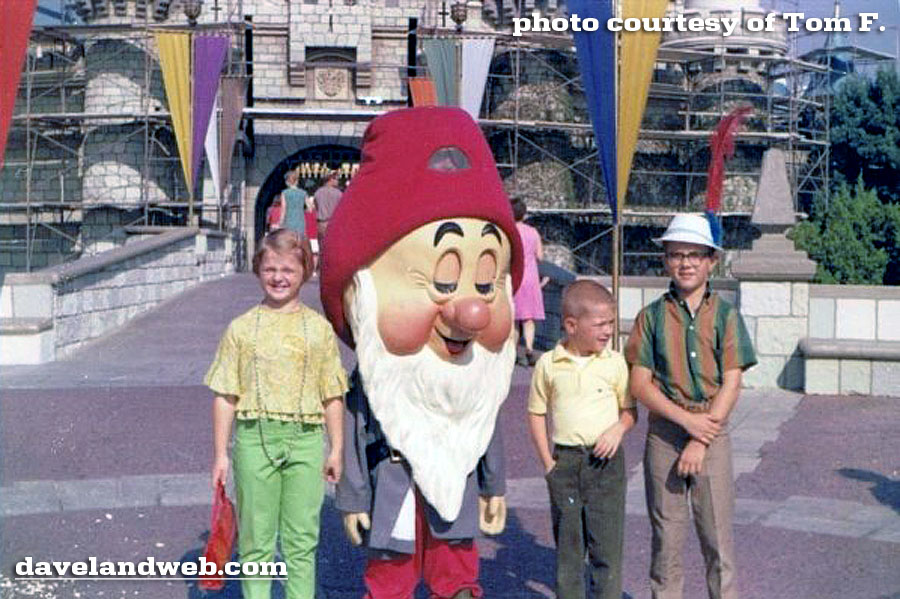 As Tom recalls:
When we were kids my mom would pull us out of school and take us to Disneyland every year for my birthday in November. I'm the little one, my sister Anita is 4 years older, and in the hipster hat with the feather is my brother Steve who is 5 years older.
I envy Steve's hat.
And here's a shot of the gang with the Tomorrowland Spaceman and Spacegirl: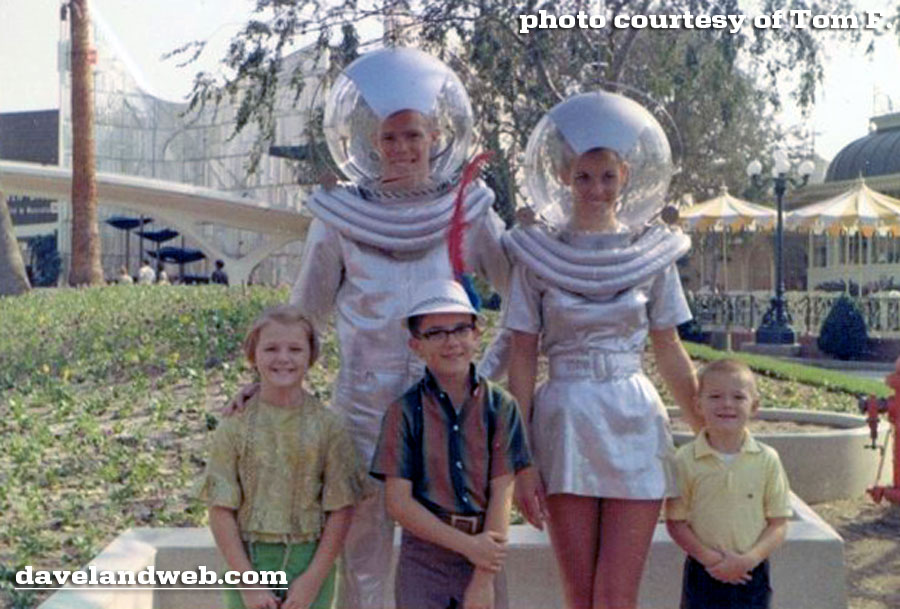 Thanks for sharing, Tom!
See more vintage and current Disneyland photos on my
Disneyland photo web pages.