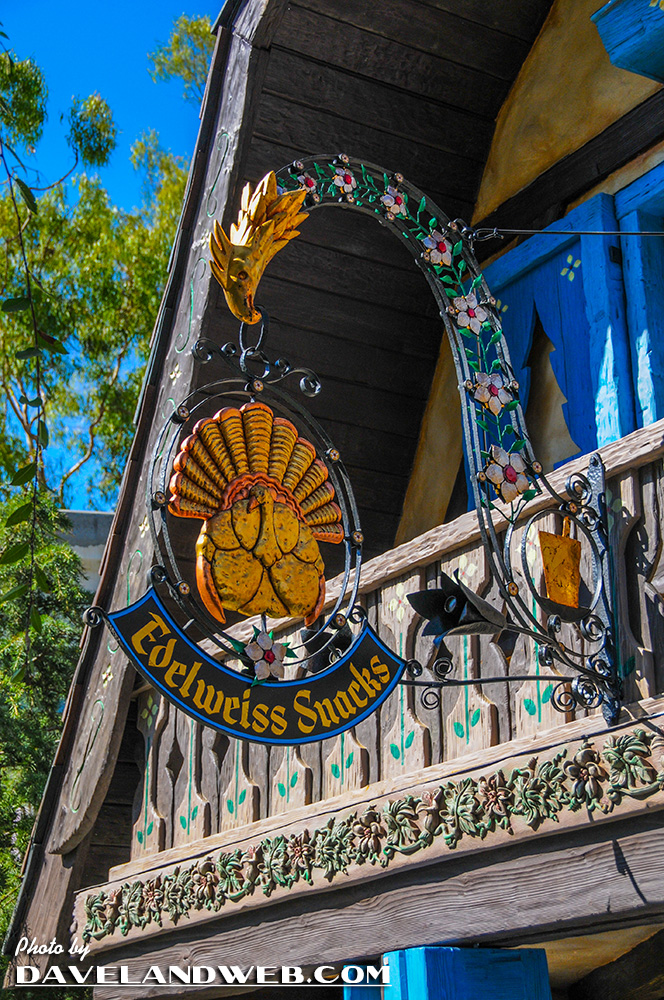 After a deliciously filling meal at The Blue Bayou which put me in the expected food coma, I had to go to the Fantasia Freeze to get a Tinkerbell Twist as a pick-me-up. If you've never had one, you have no idea what you are missing. It is a combination of a sour apple and sour watermelon slushee, swirled together to give you a mouth-puckering sugar rush that invigorates and keeps you on the go for hours. On top of that, I have a theory that the amount of sour in this beverage probably helps dissolve cholesterol, too...but for now, that's just a theory. As we rounded the corner of the Matterhorn, my eyes were shocked to see that the Fantasia Freeze cart was gone. However, I remembered that the new building just a few steps away was going to be a concession area of sorts (Edelweiss Snacks), so I held out hope that Tink's drink was being served there. As we got closer, I could see the familiar slushee equipment and I was elated; 2 seconds later I was crestfallen to see that only the blue and red slushees were available (along with a frozen apple flavor). When I asked the cast member if they still had Tinkerbell Twists, she kindly directed me over to Toontown and one of the carts over there. Fantastic...I still had hope! Meanwhile, Stacy was content to have her Diet Coke. I raced over to Toontown only to discover that Tink had been removed from that cart as well. I can't remember the last time I have experienced such disappointment at Disneyland. My consolation prize was getting a frozen apple beverage. Not the same; not at all. Stacy could see how upset I was, so to calm me down, she told me we didn't have to ride small world. Wow...I guess good things CAN happen even in the worst of times! In the meantime, please enjoy the 2 photos of the very cool signage for the new concession building in Fantasyland. Turkey legs, slushess (!), and other delights await your next visit. Just don't ask for a Tinkerbell Twist. The castmembers here will divert your disappointment and force you to go to Toontown.
Now it was time to head over to California Adventure. As we were leaving, we ran into a few favorite characters, decked out in seasonal Halloween garb: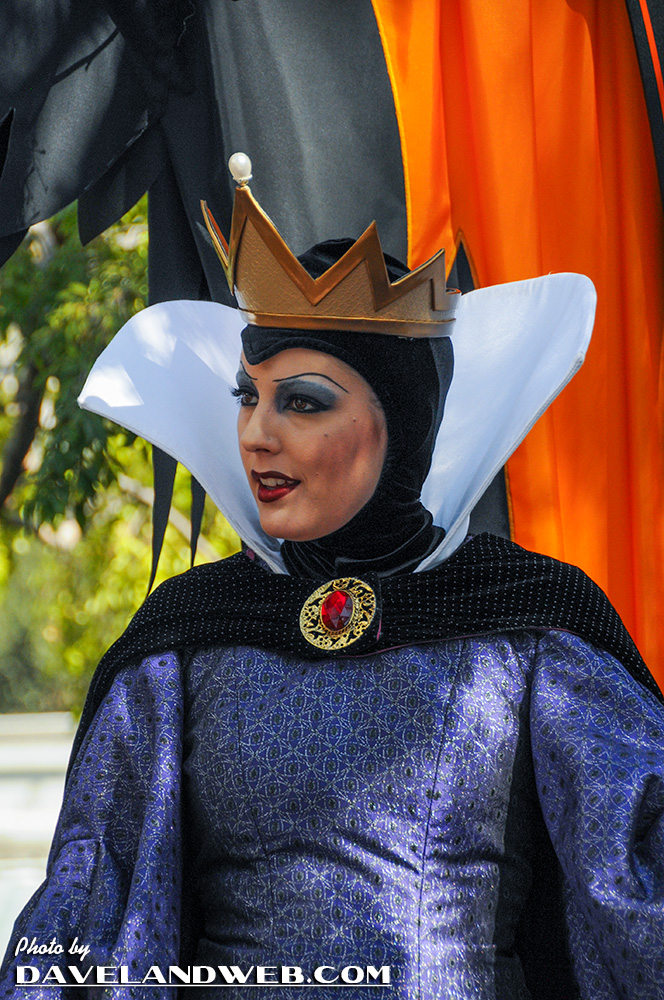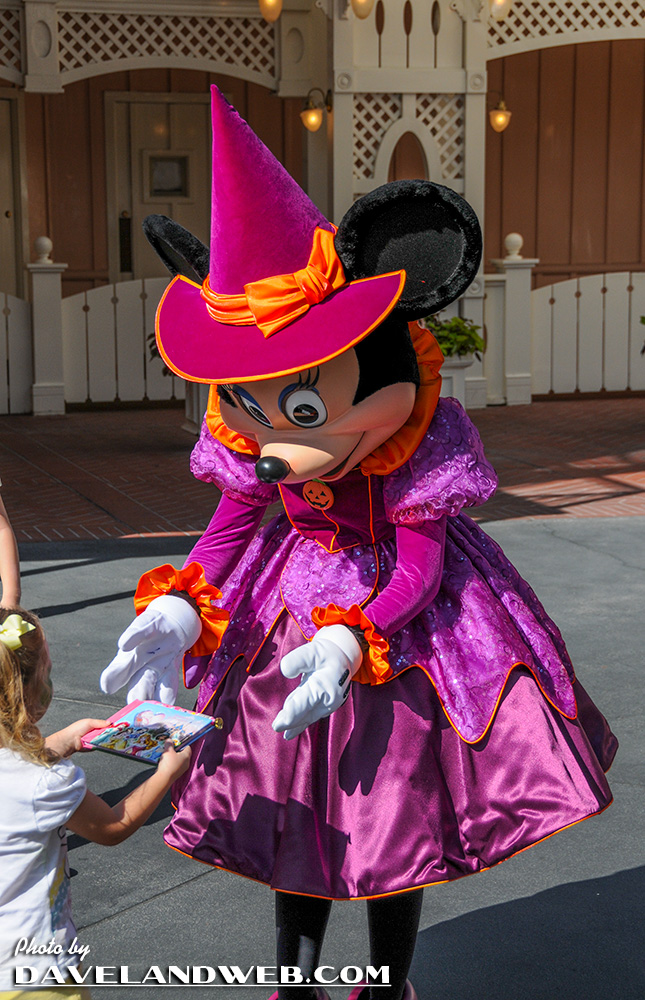 I always feel a little jolt of pleasure whenever I discover something new in the parks, no matter how small. This was the first time I'd seen this survey marker in the plaza as you enter Disney's California Adventure; most of the time I am rushing to see my fave attractions and don't bother looking at the pavement.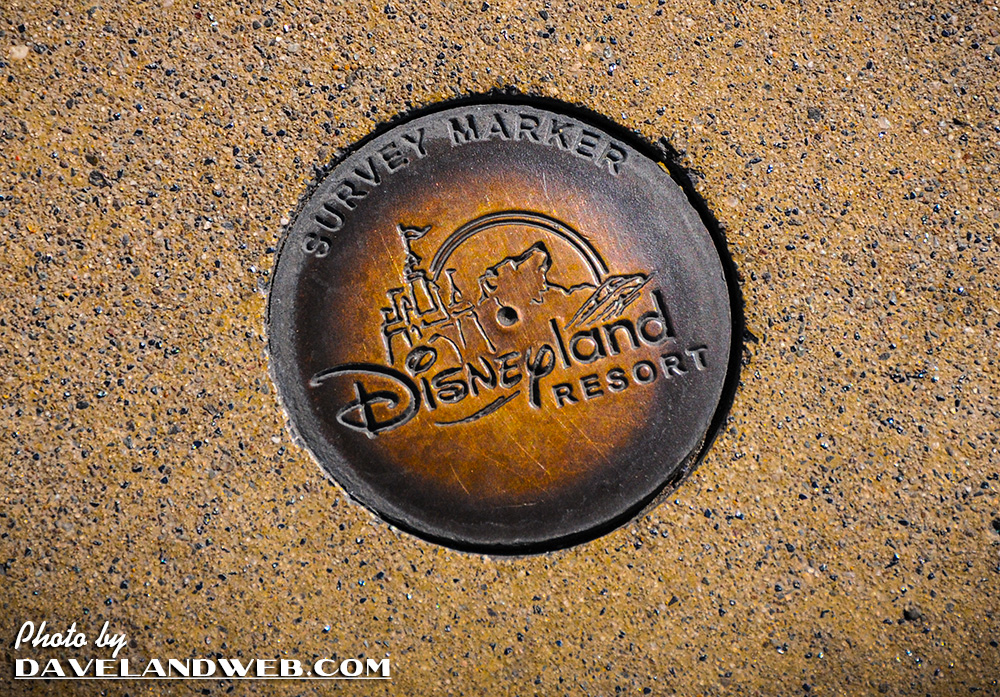 For an even bigger first-time thrill, Stacy introduced me to the Animation Academy. I had been once years ago, and remember sitting in a lecture-hall type atmosphere learning about the animation process. Fun...but no need to return. Well, in the meantime, apparently the Animation Academy had undergone some changes unbeknownst to me. Now, guests actually learned how to draw and left with their own version of a Disney character, coached by actual Disney artist. Wow! How cool is that?!?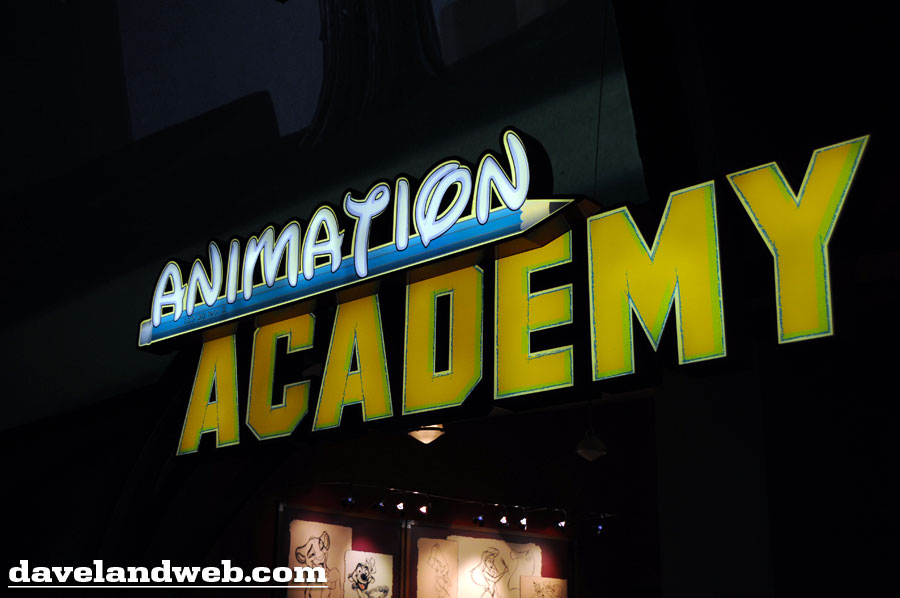 I was in multi-tasking hell as I attempted to follow instruction, draw on my piece of paper, and check out all of the awesome memorabilia strewn about the shelves of the lecture hall! As an extra bonus, we got to see the trailer for the highly anticipated upcoming release, "The Princess and the Frog."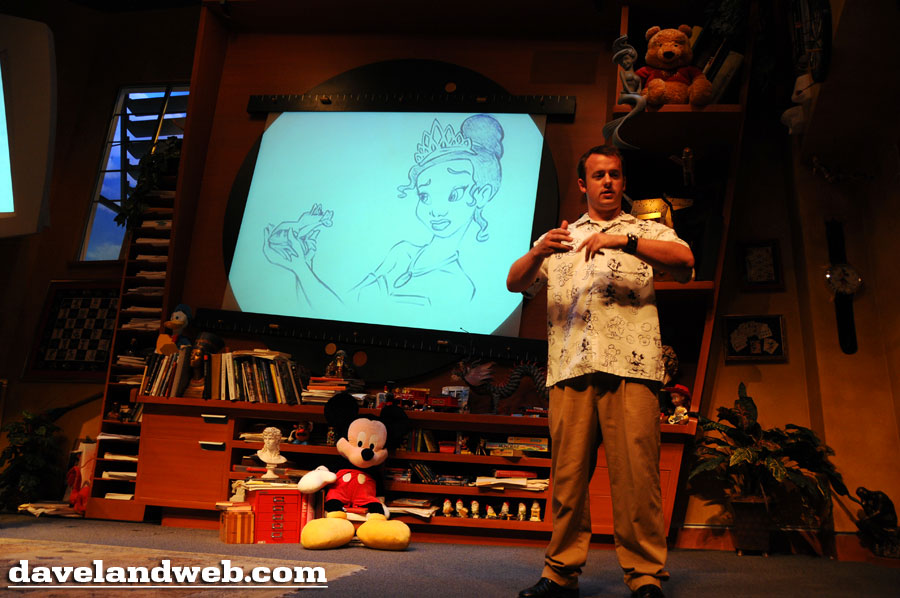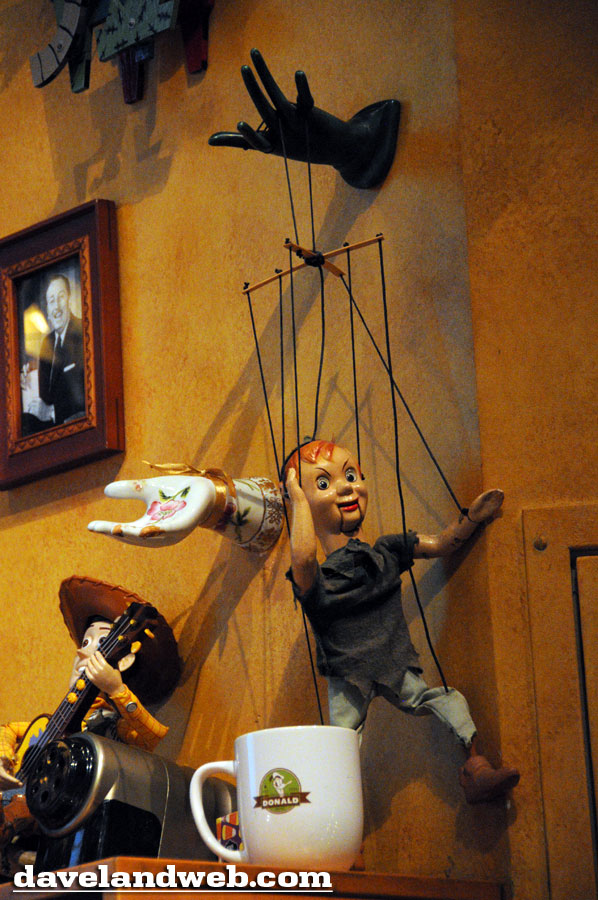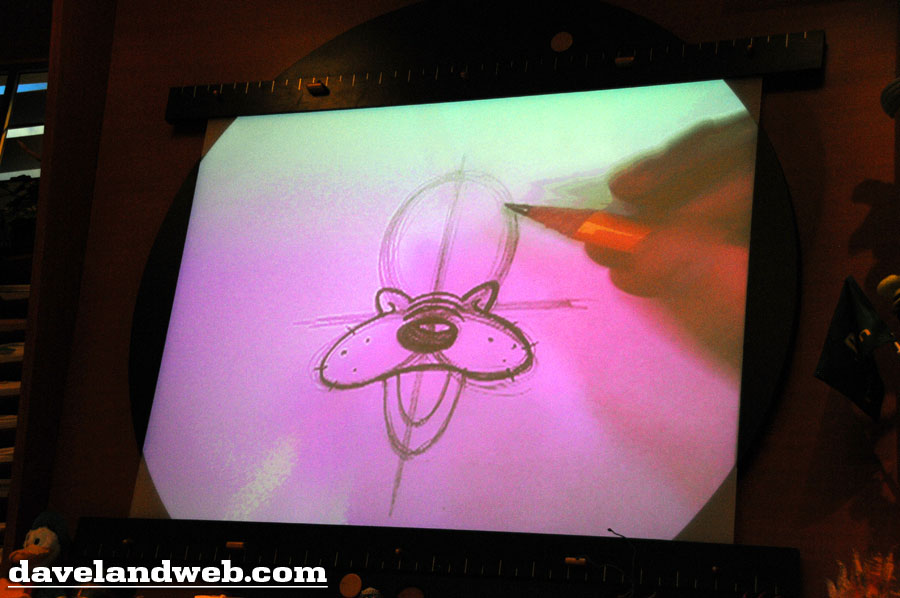 We had so much fun drawing Goofy that we went back for the next "show" and got to draw Donald. Afterwards, we watched the Zoetrope Toy Story demonstration. I love seeing that thing...the illusion of motion never ceases to amaze me.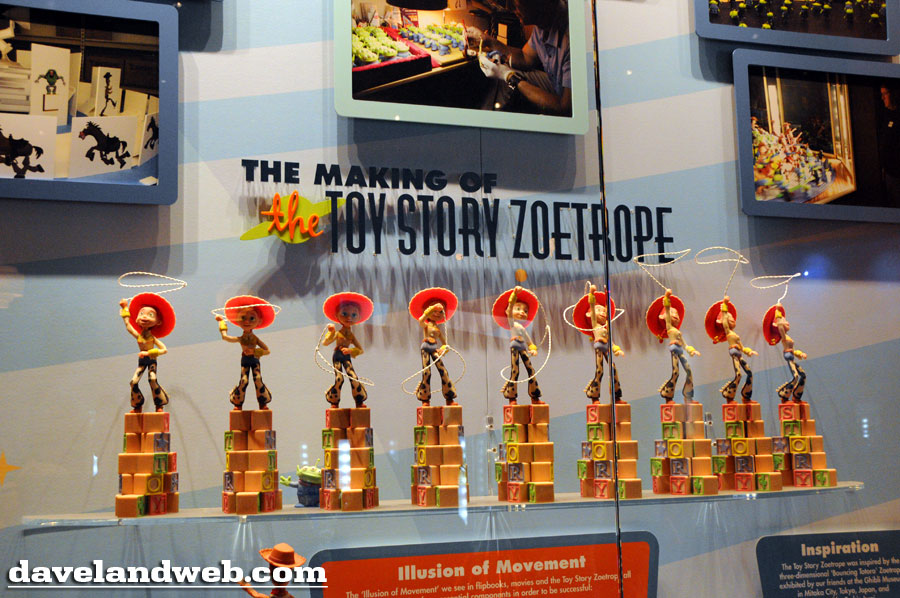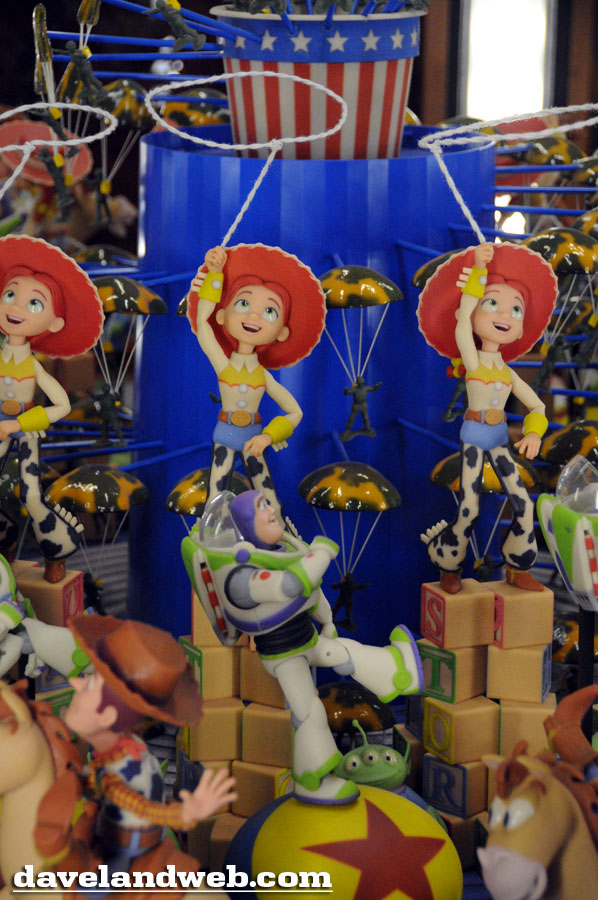 Stay tuned for part 3. See more Disneyland (both recent and vintage) photos at
my website
.