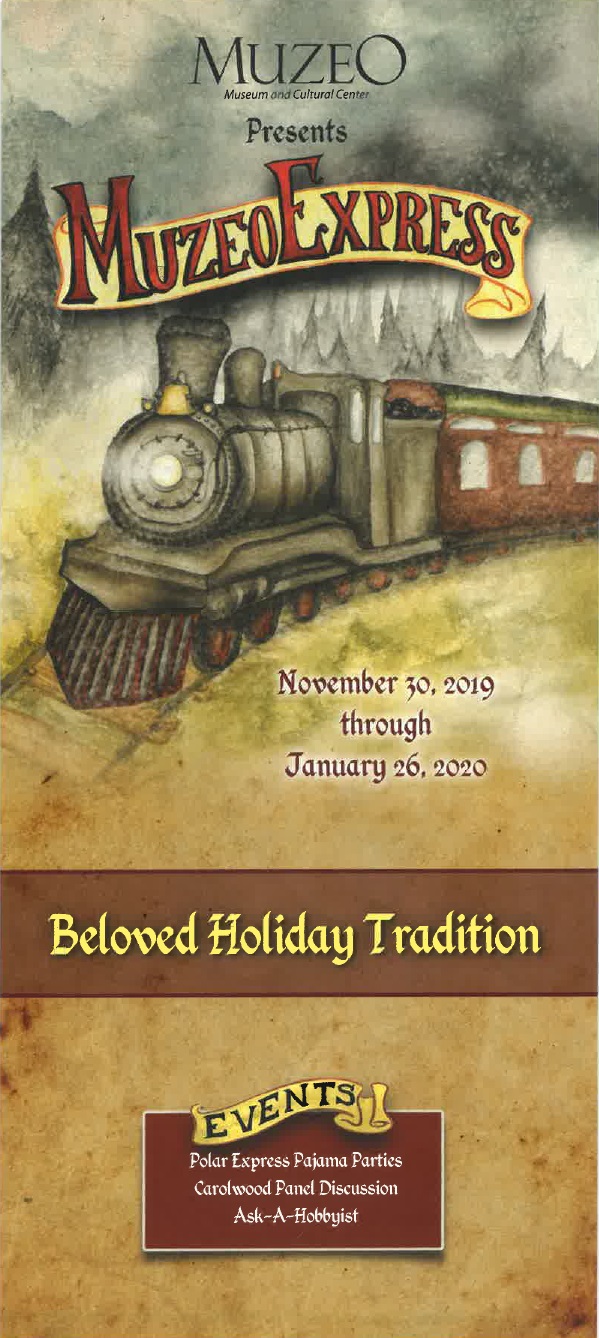 I was recently notified of a VERY cool exhibit at the Muzeo Museum and Cultural Center in Anaheim titled "Muzeo Express." Mandy, the Exhibitions Coordinator, sent me this information AND a number of photos to let you see a sample of what is on display.
Fans of Walt Disney's love of railroading are in for a number of exclusive treats from bygone days. This year's exhibition features magical holiday model train layouts created by the Train Collectors Association and the Toy Train Operating Society.

Southern California Railway Museum in Perris, CA, joins Muzeo for the first time with beloved Disney animator Ward Kimball's full-sized red handcar from his narrow gauge backyard railroad and an entire room filled with fascinating railroad memorabilia. The cherished collection from Walt Disney's Carolwood Barn in Griffith Park will amaze and delight railfans as will the art of Ward Kimball, Eyvind Earle, and Floyd Norman. This year, in addition to artifacts from Carolwood, we have an extra special treat in store for nostalgia buffs. Come see for yourself!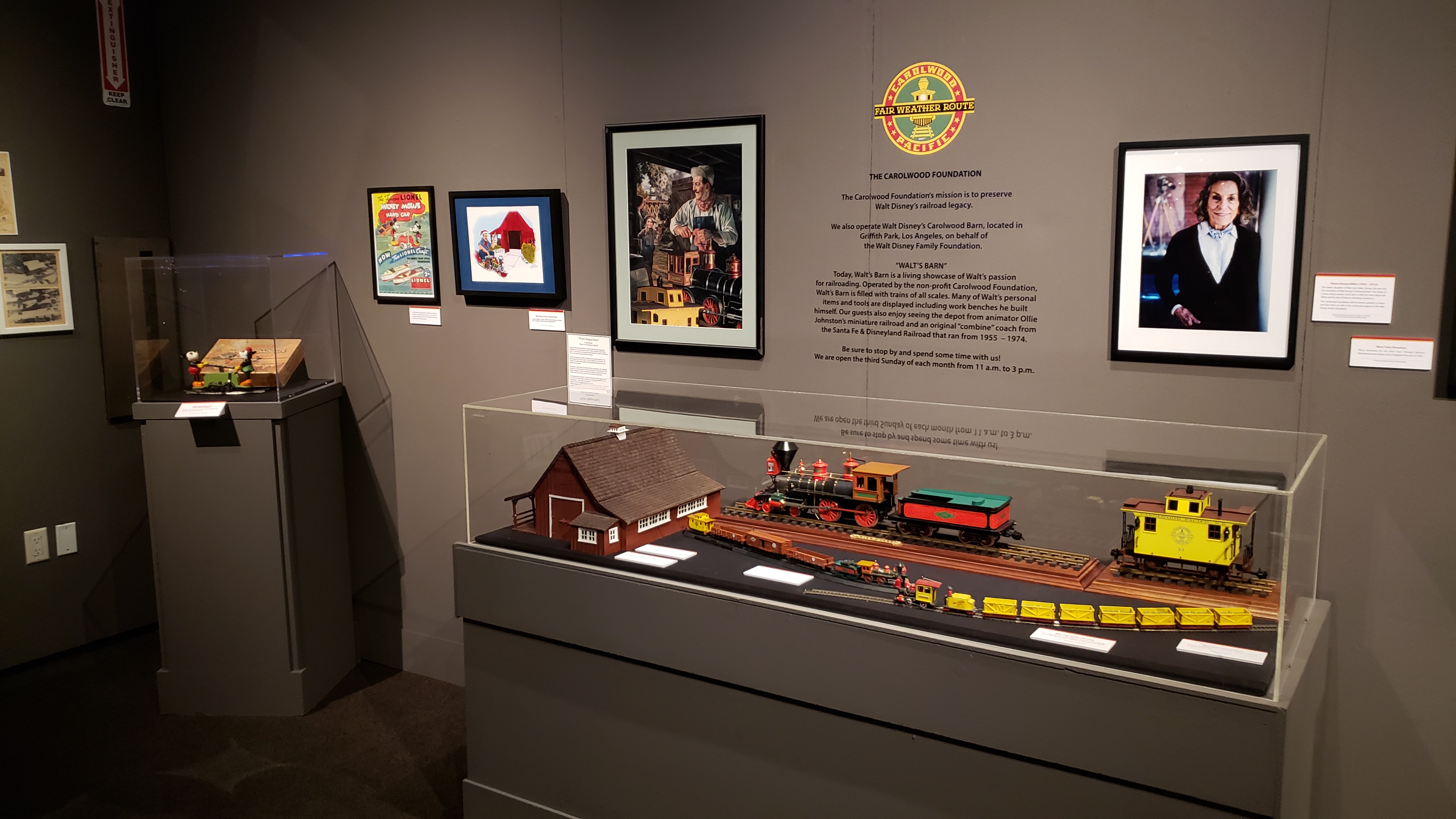 This photo is a view of a section from our partnership with the Carolwood Foundation in Griffith Park. Shown are a Lionel Mickey and Minnie handcar, scale models of Walt's Carolwood Barn, the Lilly Belle and her caboose, and a scale model of the Mine Train Through Nature's Wonderland.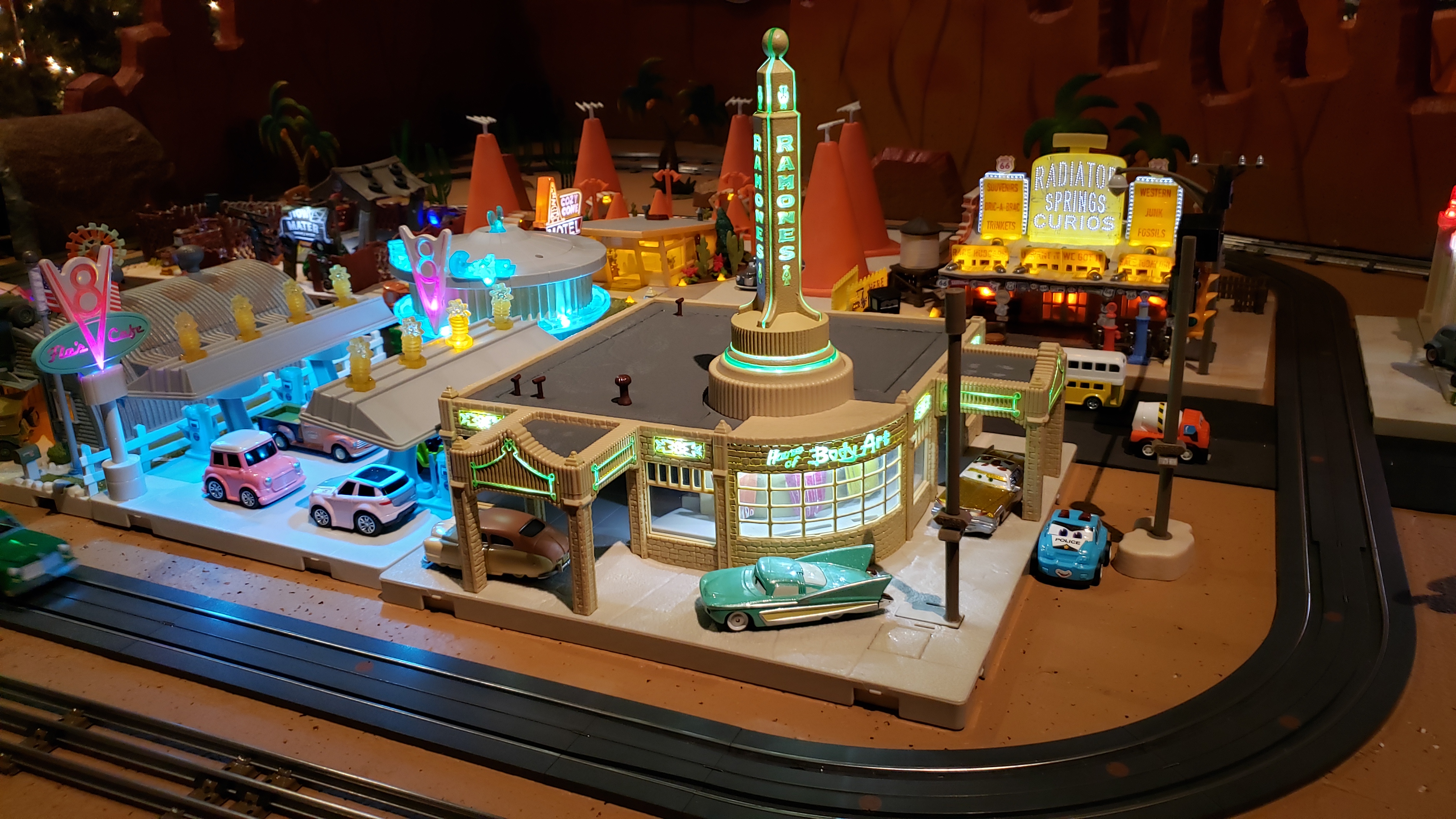 This is one of our train layouts by TTOS (You Train Operating Society) volunteer Steve Eastman depicting Radiator Springs in O-gauge.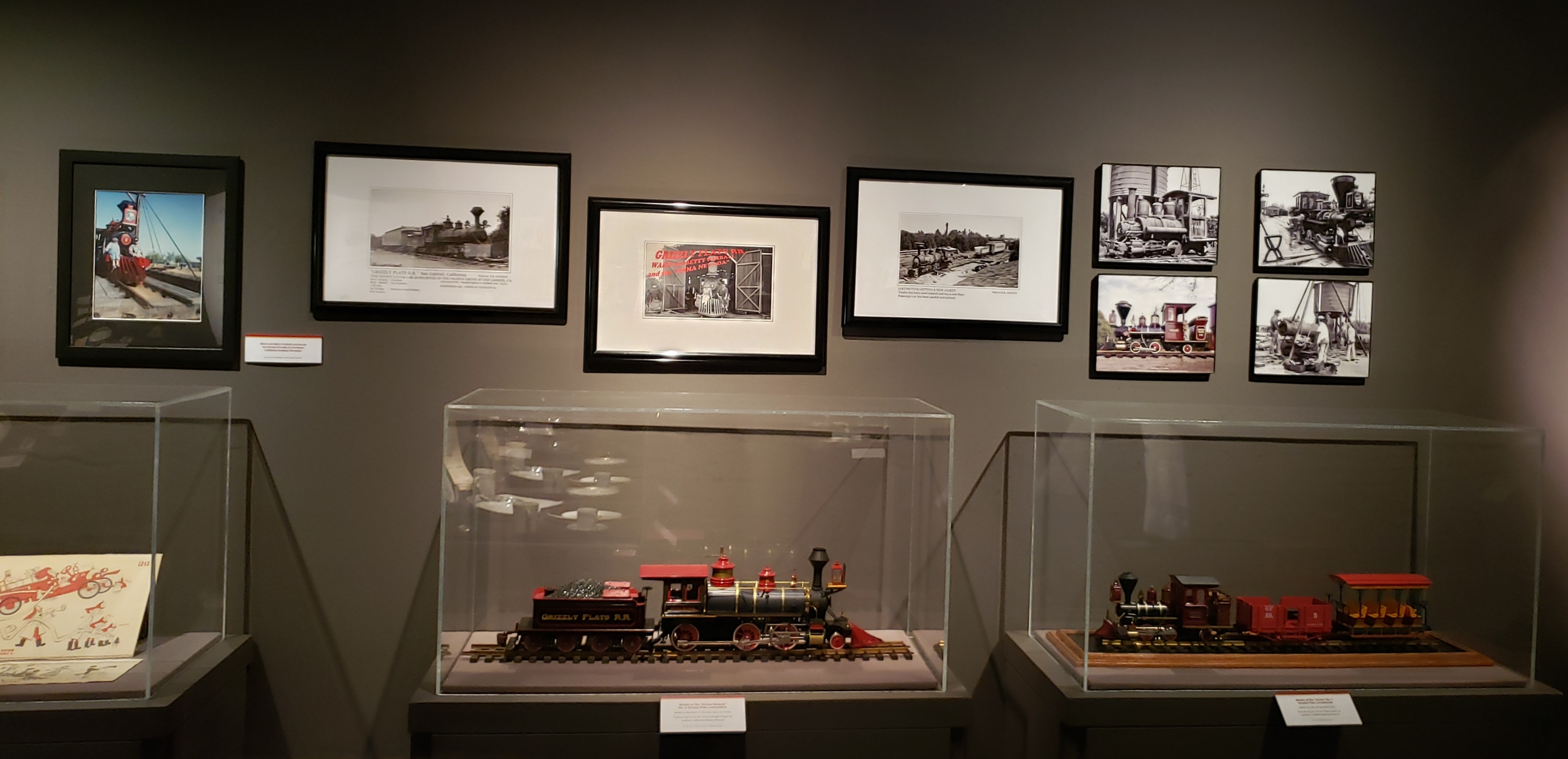 Here's a view of a section from our partnership with the Southern California Railway Museum in Perris, CA. Shown are photographs of Ward and Betty Kimball, a Christmas card by Ward Kimball, and scale models of the Emma Nevada and Chloe. Both full-size trains are on display in Perris.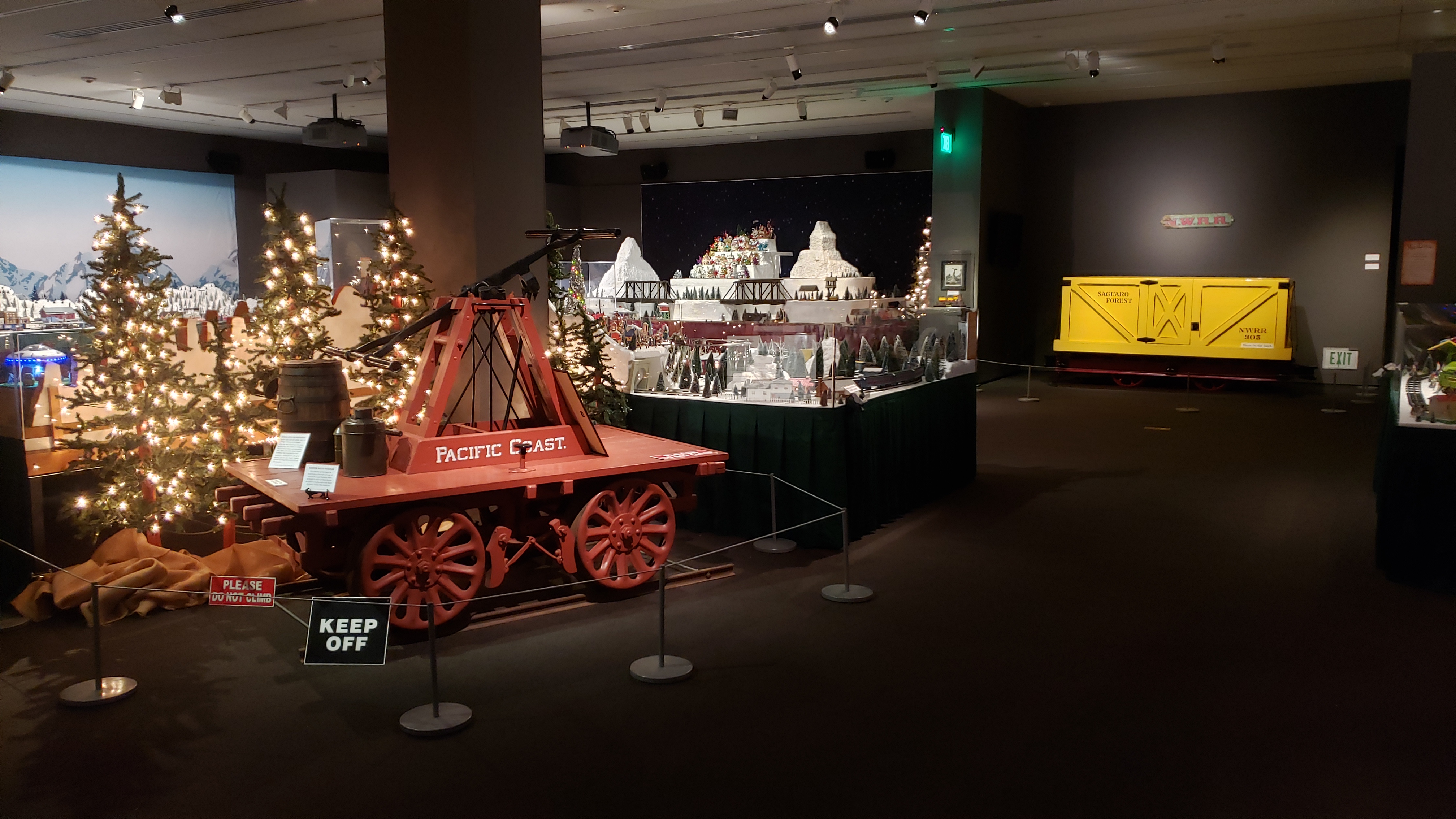 Last, but definitely not least, is the handcar that Ward Kimball salvaged for his Grizzly Flats Railroad at home, and in the background, a view of the recently refurbished Saguaro Forest Mine Train Car from the Mine Train Through Nature's Wonderland ride at Disneyland in 1955.
Details about this exhibit can be found on the back of the exhibit rack card, shown here: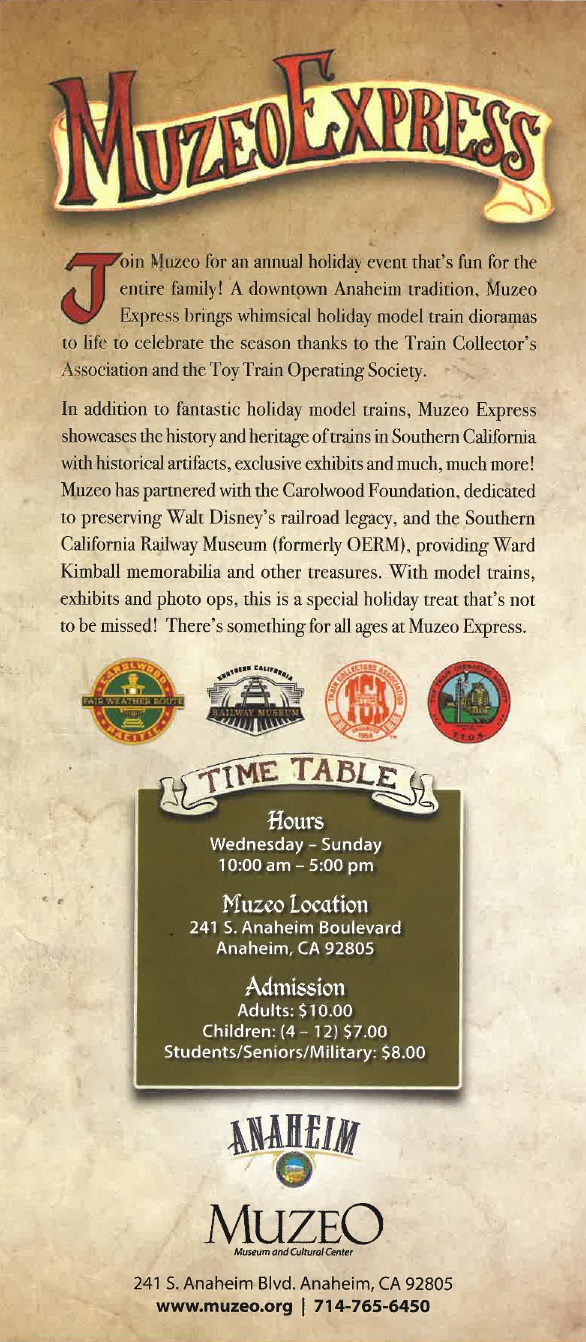 This is a definite don't miss, so make sure you get there before January 26, 2020 when the exhibit ends!
See more Disneyland Railroad photos at my
main website.