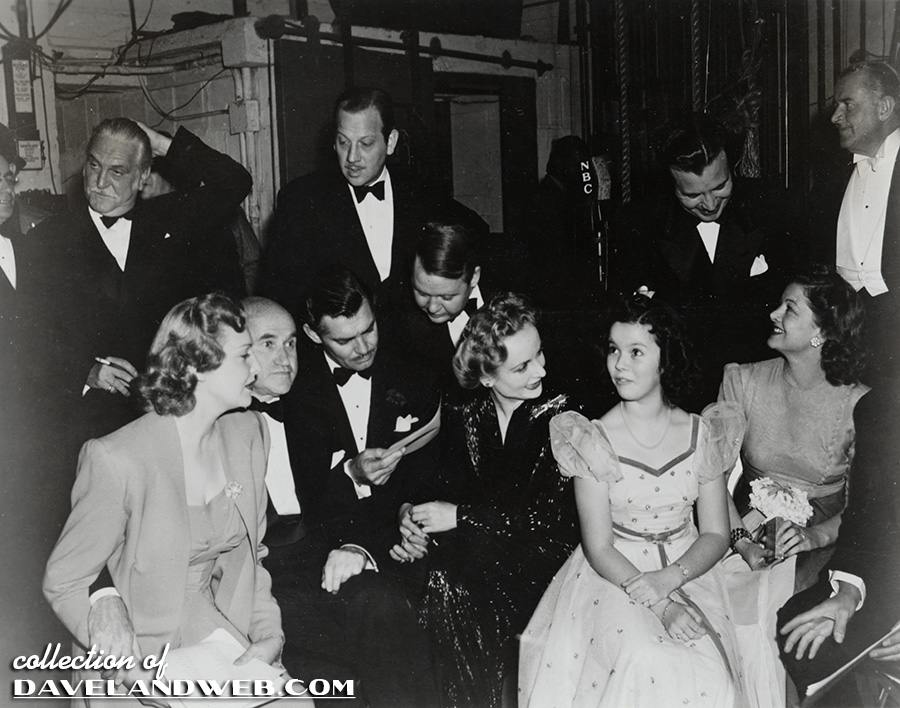 Look at this star-studded photo from 1941! In the back row: Frank Morgan, Melvyn Douglas, Dick Powell, and Reginald Owen. Front row: Madeleine Carroll, Sam Goldwyn, Clark Gable, Charles Laughton, Carole Lombard, Shirley, and Myrna Loy. What was the occasion that brought them all together? From
pappaspost.com
:
As a result of the Nazi occupation and subsequent naval blockade, famine and despair would overcome Greece both in Athens and throughout the countryside. In response to the turmoil in Greece, Americans began countrywide efforts to provide humanitarian relief for the Greek people. Railroad magnate Harold Vanderbilt and film industry executive Spyros Skouras launched an effort called the Greek War Relief Association no less than 10 days after the October 1940 Italian invasion of Greece to provide food and other forms of aid to Greece.… In Hollywood, countless stars, celebrities, studio heads and industry heavyweights got behind the Greek War Relief movement, making it the single largest humanitarian fundraising campaign in American entertainment industry history, including a single organized fundraising campaign by the Motion Picture Association of America involving 8,000 cinemas. Films like Walt Disney's "Fantasia" and "Gone With the Wind" held gala premieres and opening nights in cities across the nation with ticket proceeds benefiting the Greek War Relief campaign.… At Grauman's Chinese Theater in Los Angeles on February 8, 1941…a massive radio telethon, "America Calling," was broadcast on CBS, NBC, numerous independent stations, and throughout Europe. Jack Benny and Bob Hope were the "co-masters of ceremonies" of the variety show that featured some the biggest names of the time including Shirley Temple, Groucho Marx, and Clark Gable. The Greek War Relief Association raised $30 million — approximately $500 million today — to provide massive shipments of grain, equipment, livestock and other forms of material support for the Greek people.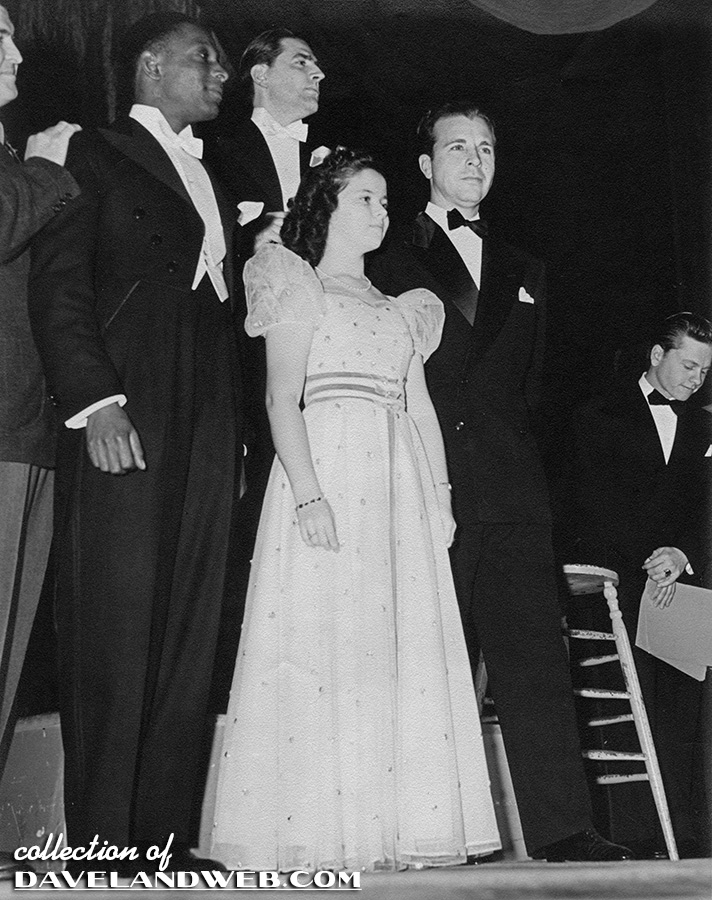 Shirley worked with many of the people who were on the broadcast. Carole Lombard (and Gary Cooper) in "Now and Forever" (1934):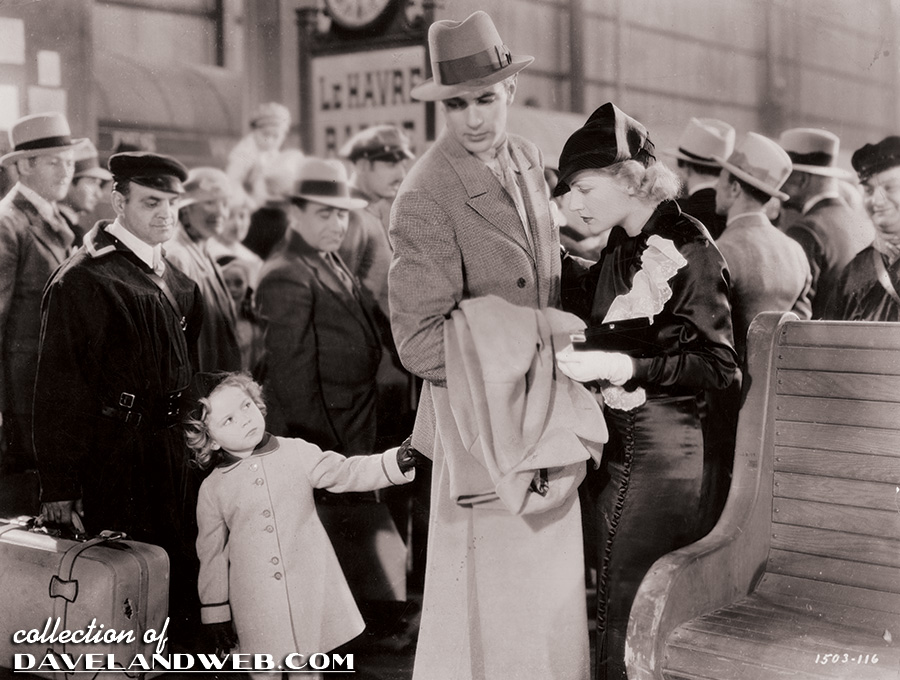 Publicity photos with Clark Gable (and Mickey Rooney and Judy Garland) heralded Shirley signing on with MGM, also in 1941: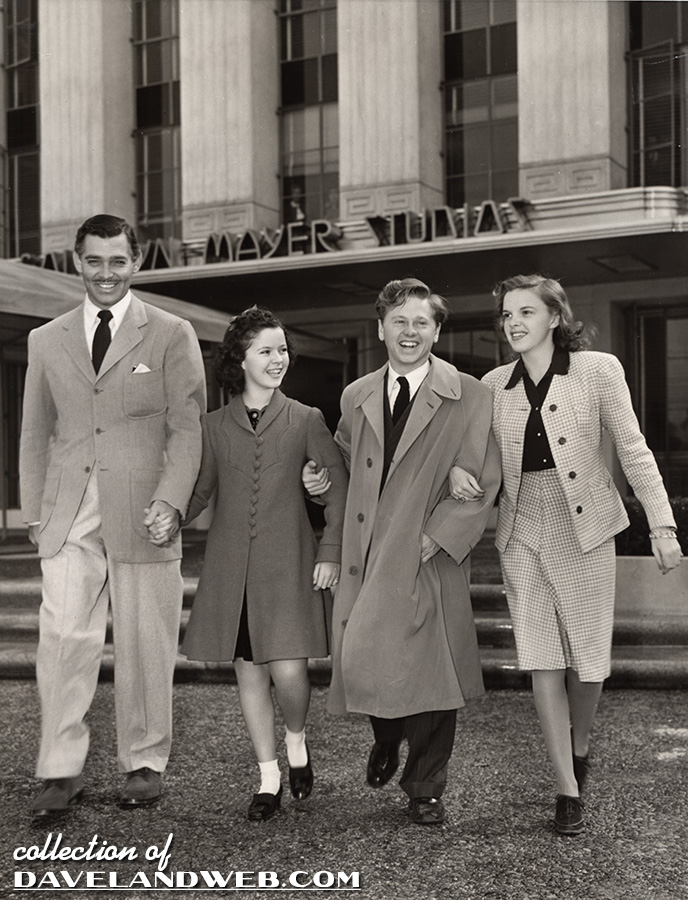 Shirley competed with Frank Morgan for scene-stealer of the year in "Dimples" (1936):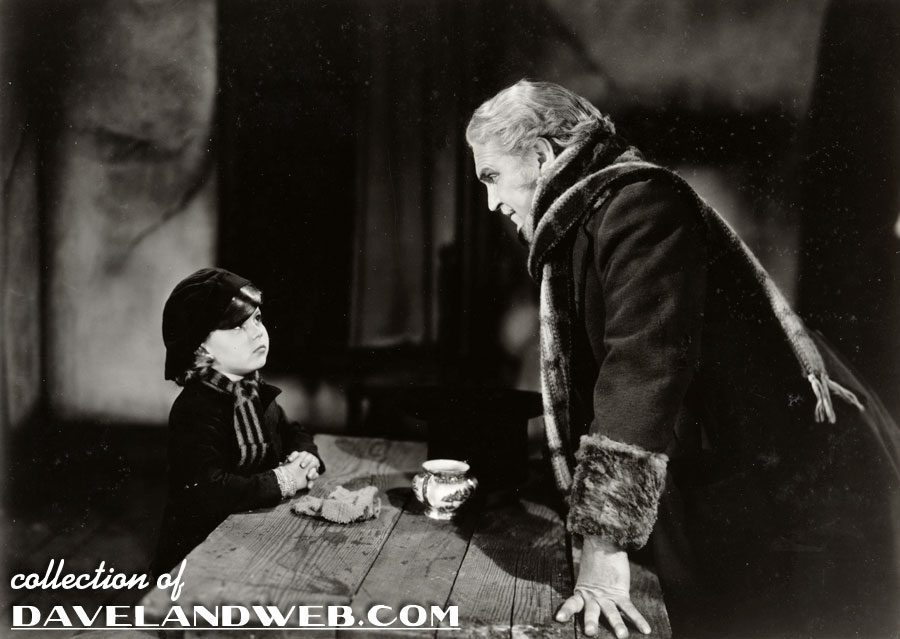 Myrna Loy worked with Shirley six years later in "The Bachelor and the Bobby-Soxer" (1947):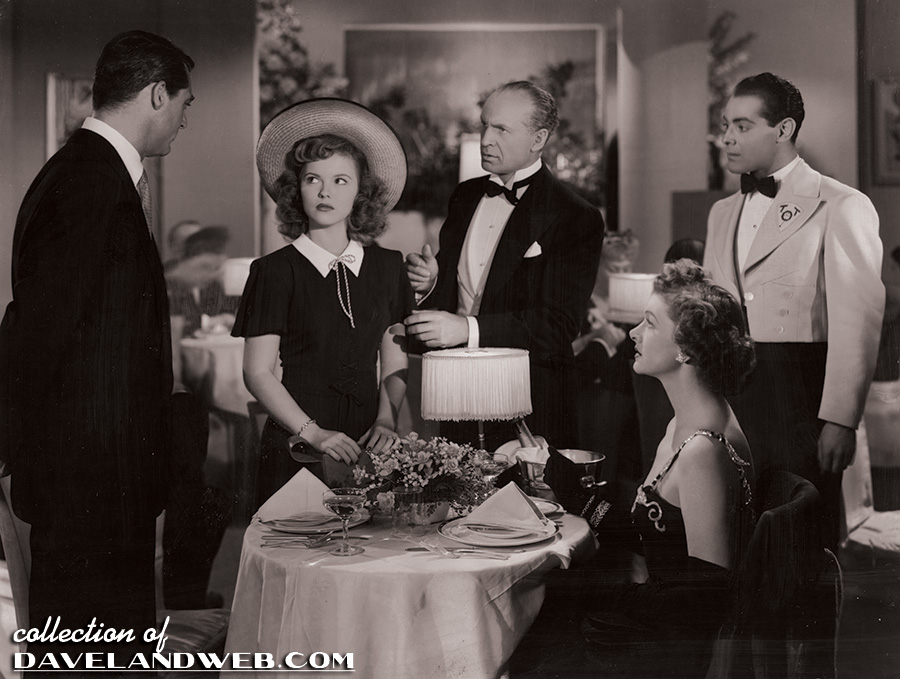 Get a huge dose of 1940's patriotism and hear the original broadcast on
thisdaybenny
. Shirley appears at 30:59, introduced as "the new and lovely Shirley Temple." She participates in some comic banter with Jack Benny and Bob Hope. Not surprisingly, Shirley holds her own with the two hams, and then goes on to give a short plea to the audience to donate to the fund.
See more Shirley Temple photos at my
main website.