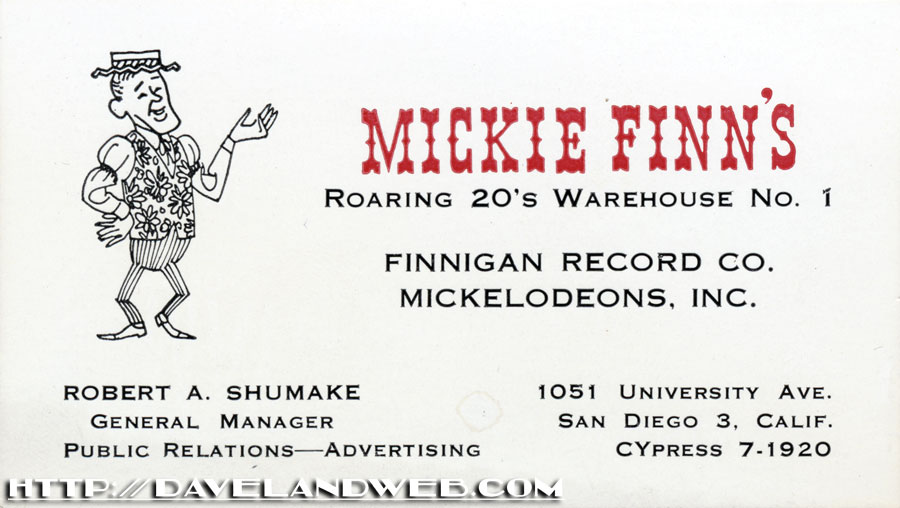 Inspired by the above business card of my father's best friend and a vintage vinyl album that was also in his collection, I decided to put together a post on a once famous nightclub that existed in San Diego.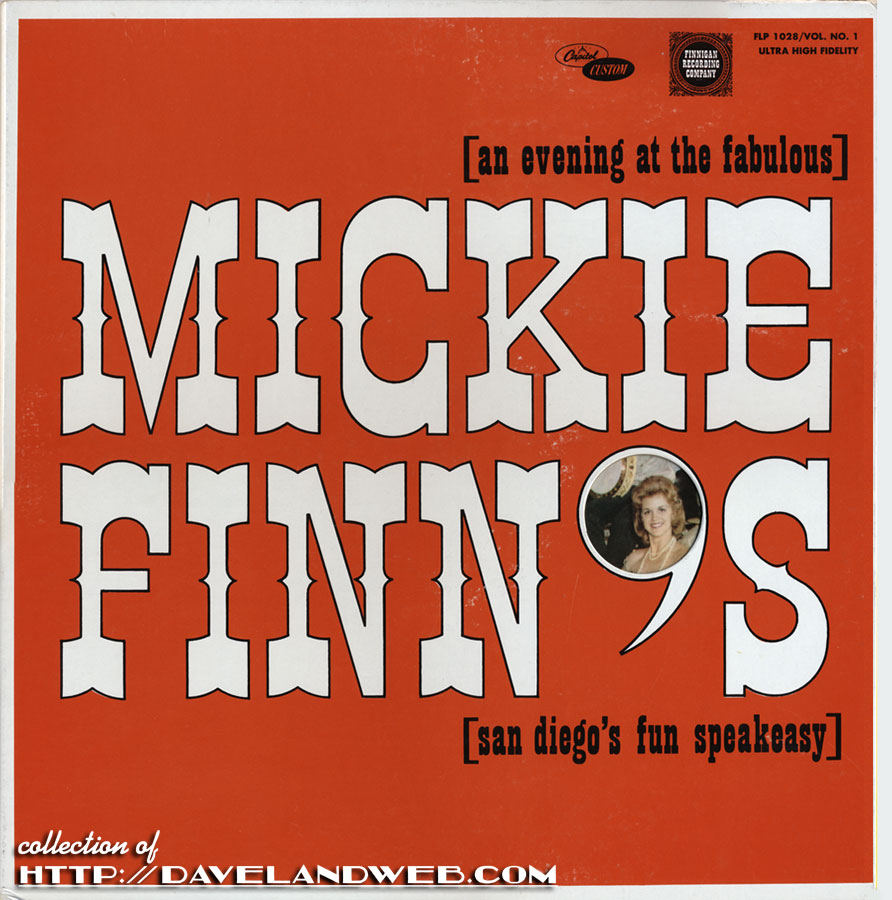 Mickie Finn's was open from October 28, 1960 through 1974. Owners Fred and Barbara Soetje (better known as Fred and Mickie Finn) converted an old warehouse in the Hillcrest neighborhood of San Diego into a Gay 90s/Roaring 20s/Swinging 30s venue. The red-haired Fred was a piano player from San Francisco who had recently received a business administration degree from San Jose State College. His thesis was titled "How to Start a Night Club With No Operating Capital." Initially he considered Washington and Hawaii as locations for his club, but chose San Diego because he could not afford to transport his collection of old nickelodeons, 1890s pictures, and various turn-of-the-century items, which would serve as the decor for his club. Opening the club put Fred $70,000 in debt, as he converted the barnlike building on University Avenue into Mickie Finn's. The club grossed $250,000 in its first year, serving four million customers over the next fourteen years as they guzzled 250,000 gallons of beer. Barbara (Mickie) played banjo at the club until the couple divorced in 1973.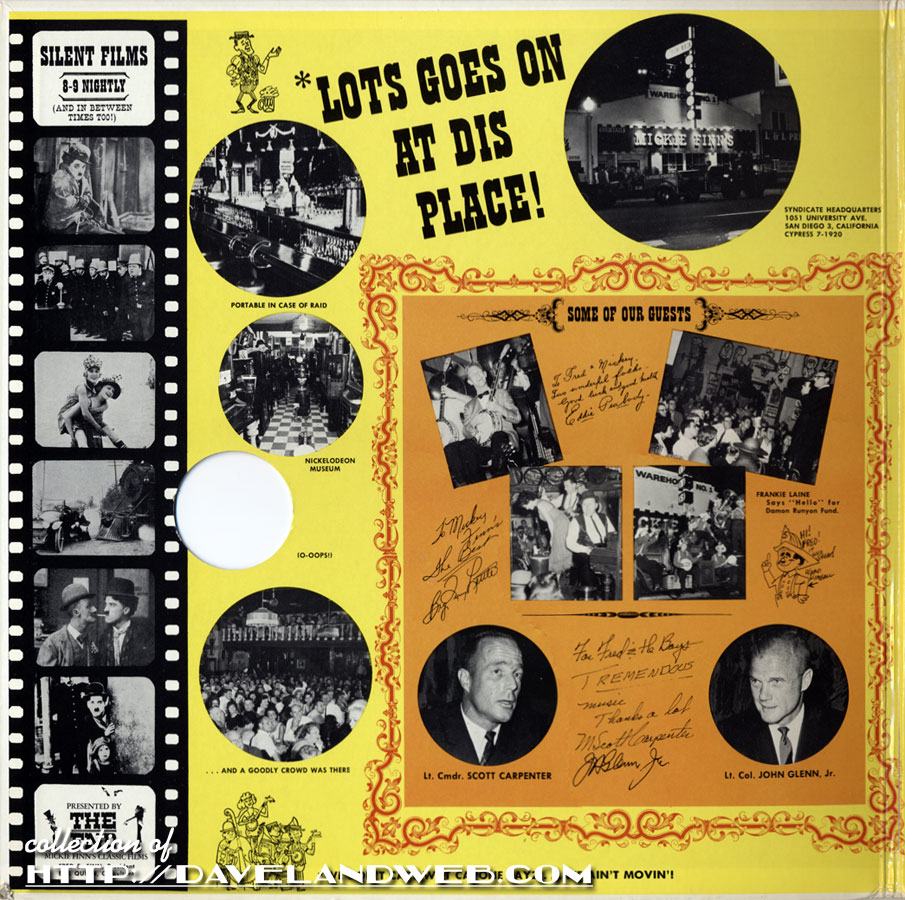 The Finn's were honored on November 30, 1965 by the San Diego Chamber of Commerce for selecting San Diego as the base of operations for their "speakeasy" club, which brought the city widespread publicity. In 1968 and 1969, Fred and Mickie Finn were co-chairman of the Muscular Dystrophy Association's annual fund drive in San Diego County. Fred would also employ a 1927 Seagraves fire engine as a publicity gimmick (racing it at the nearby El Cajon Speedway), which you can see in the detail shot from the album below: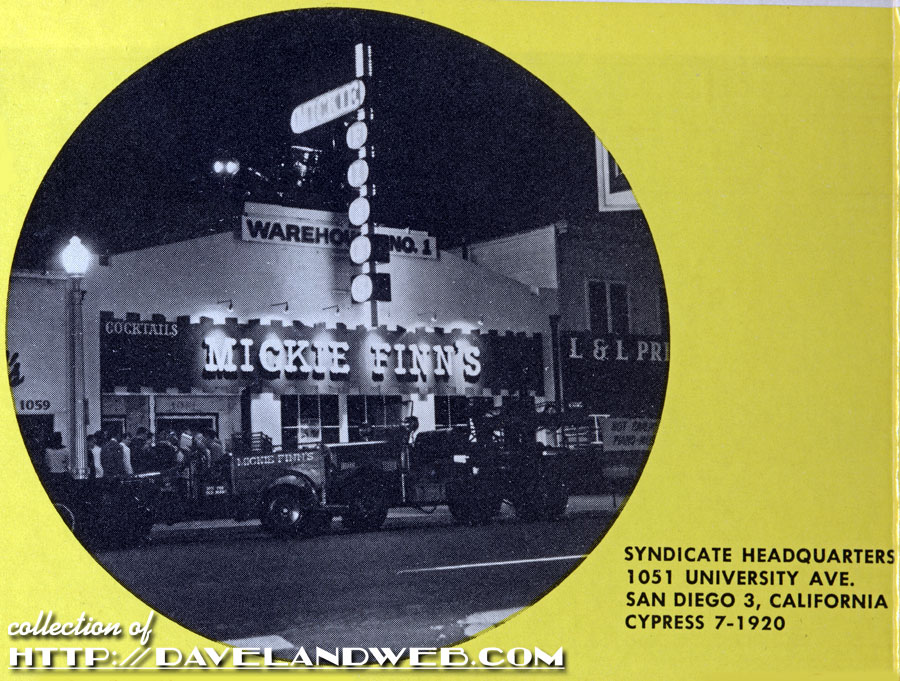 Eventually, the concept expanded into a 1966 NBC TV show, a stageshow, a series of compilation record albums issued from 1966 on, and a second club in Beverly Hills (on Restaurant Row in the new Los Angeles Emporium) that opened in the early 1970s. Mickie Finn's seated 600 people, but usually 1000 could be found, crammed inside its lively interior.
"Mickie Finn's" was a summer replacement series on Thursday nights. From the website
harmonize.com/
comes the backstory of the TV show:
Start of the re-creation in NBC's studios at a cost of $50,000. A scenic designer made countless sketches and photos of the original club to be sure of faithful duplication. Long, narrow tables with red-checkered tablecloths were installed, as were details like moose heads on the wall and signs like "Keep Cool with Coolidge." The origin of the TV show came while Fred had been performing an outside show at a yacht club. Fred was approached by a TV executive [Bill Yagemann] who asked, "How would you like to do a TV show?" The same producers who had done The Andy Griffith Show later came with NBC executives to see Fred's act at his nightclub and decided to give Mickie Finn's mile-a-minute merriment a go!
The show's Nielsen ratings were not competitive enough with ABC's runaway hit "Peyton Place," so it was not renewed.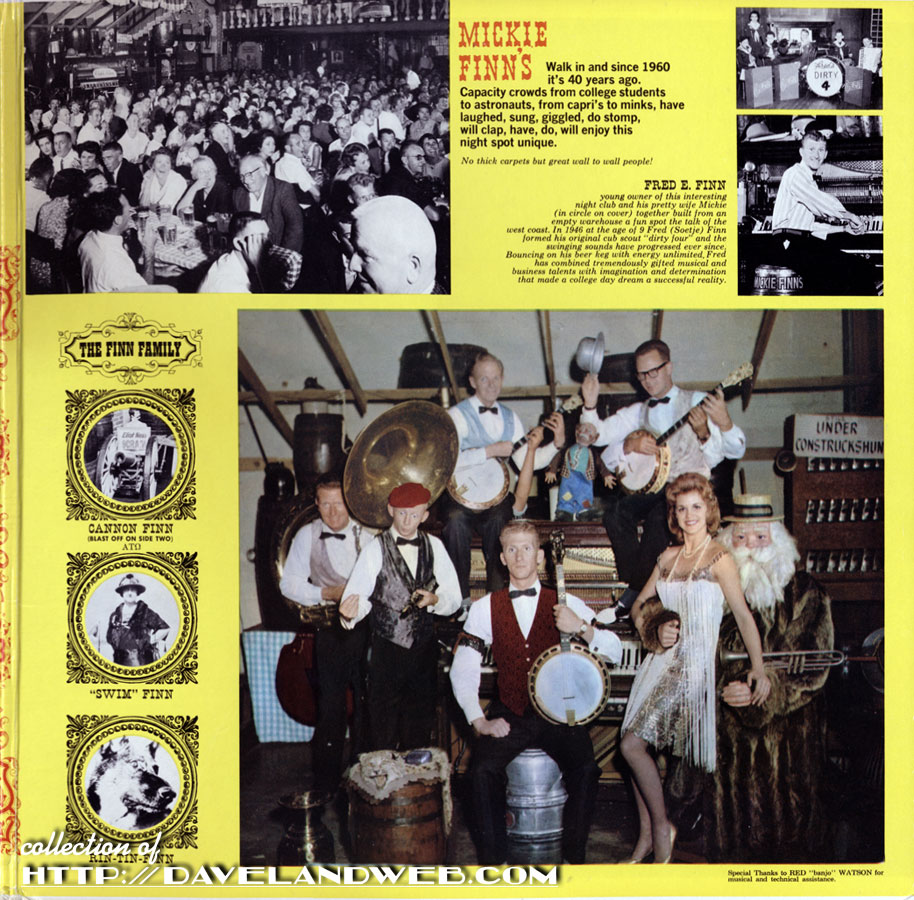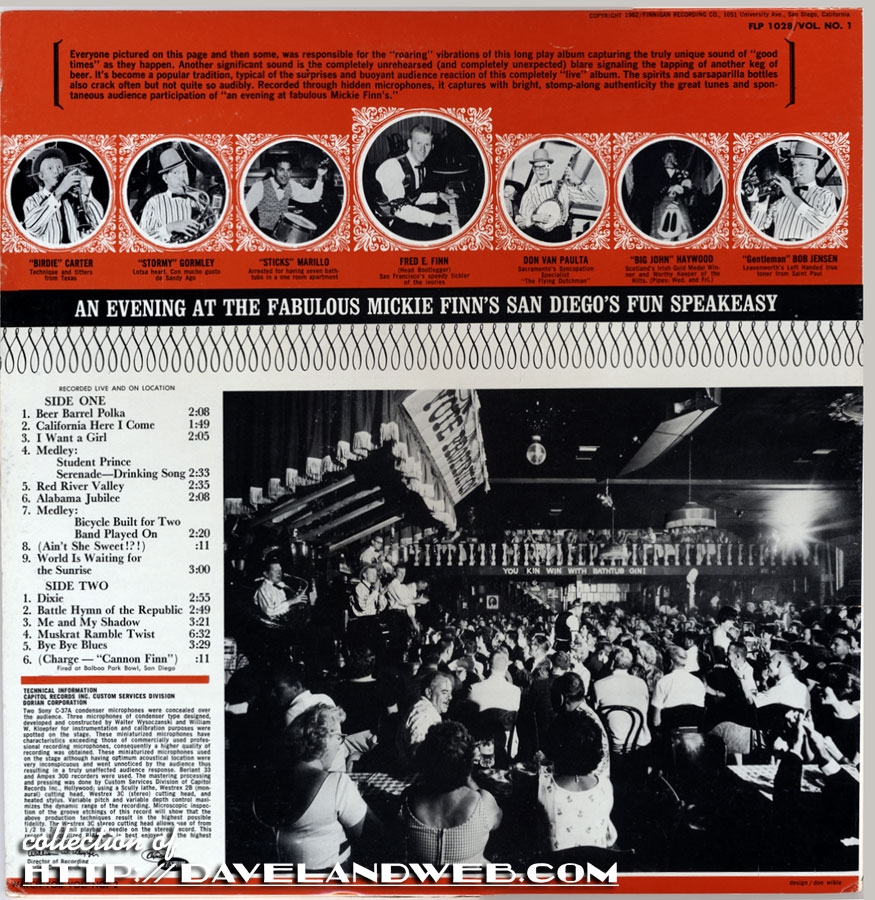 Here's how the exterior of the club looks today, in its current incarnation of Rich's, a gay dance club: