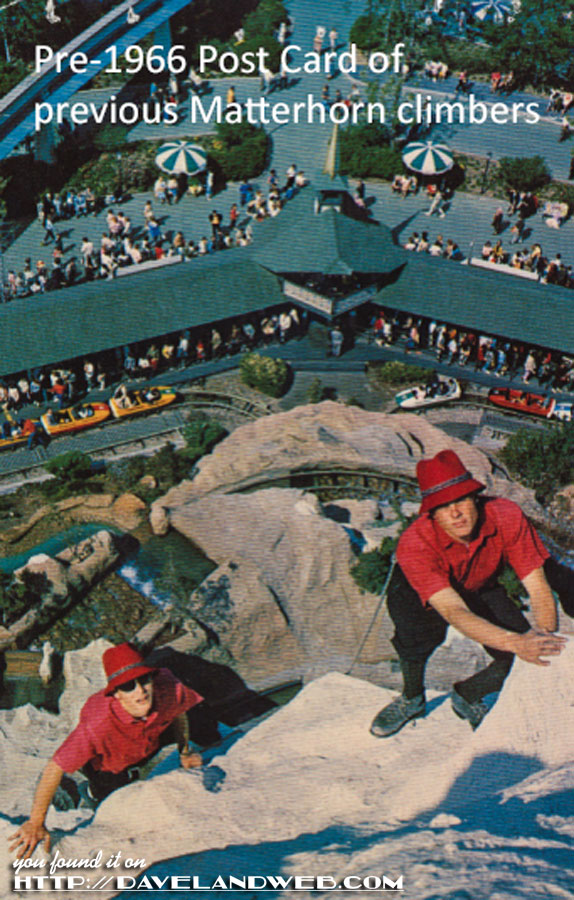 I get a fair amount of emails; typically somebody wants me to put a value on their cherished family photo or plush Mickey Mouse toy so that they can proceed to auction and (hopefully) reap the financial benefits. Yawn. Then, there are those exciting emails that make me jump with joy and remind me why I have put together the Disneyland pages on my website. The most recent email like that came from Richard Chambers, who climbed the Matterhorn back in the day.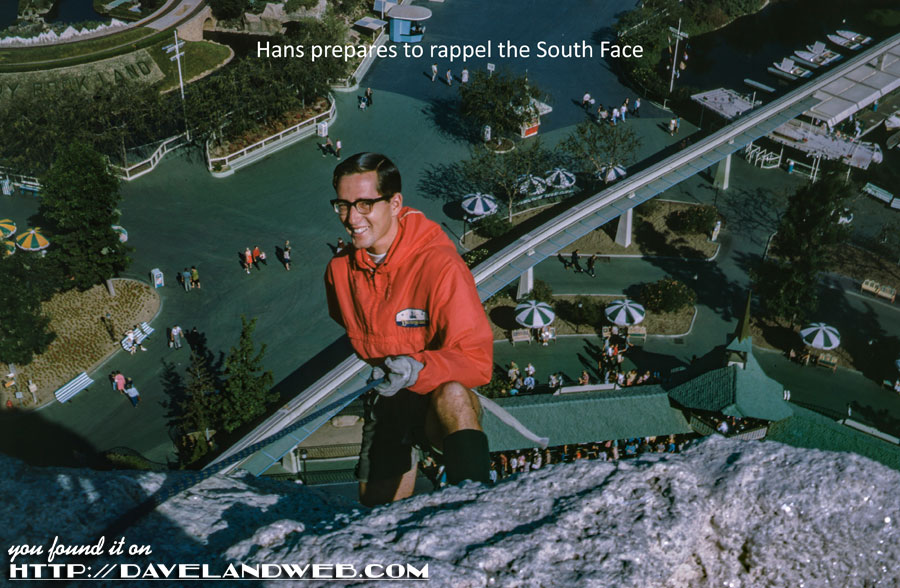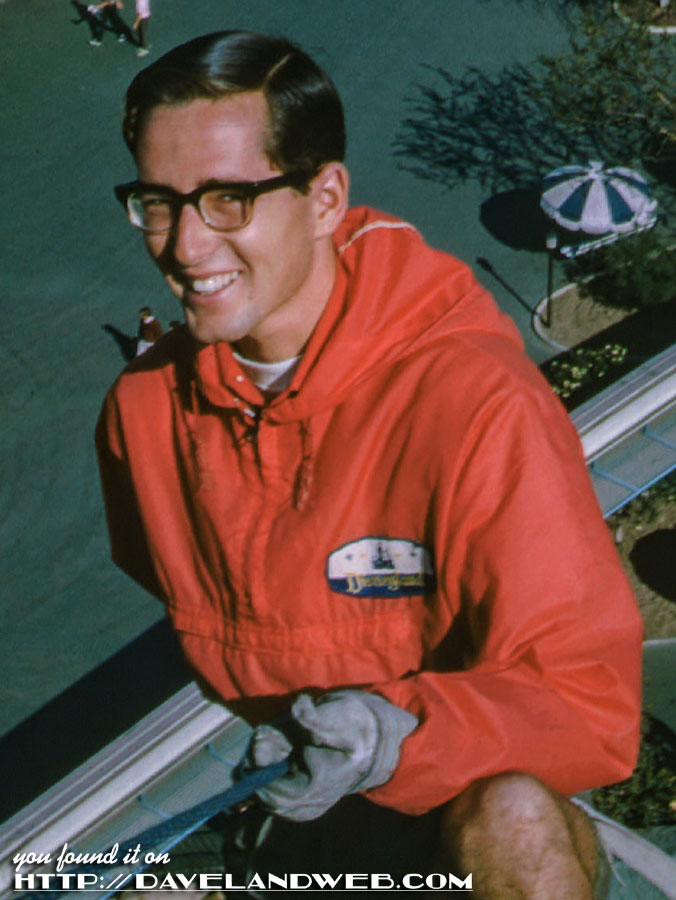 He ever so generously has allowed me to share his collection of photos and memories. Here is his story:
Recollections of a Matterhorn Mountain Climber by Rich Chambers: 1966-68

As I recall sometime in the late spring of 1966, I was recommended for one of the Mattterhorn mountain climber jobs by Fred Burri, the Disneyland Swiss yodeler, who just happened to be my gymnastics coach at Mt. San Antonio College. Because two positions were available, I recommended a friend and fellow rock climber, John Artherton, for the other opening. John and I interviewed sometime in May 1966, which was held in an office above the train station near Disneyland's main entrance. We were asked to come back and do our "training" climbs with one of the formers climbers, who's name I forget. After two climbs, one on the east face overhang, and the other on the south side which faces the Small World, we were hired.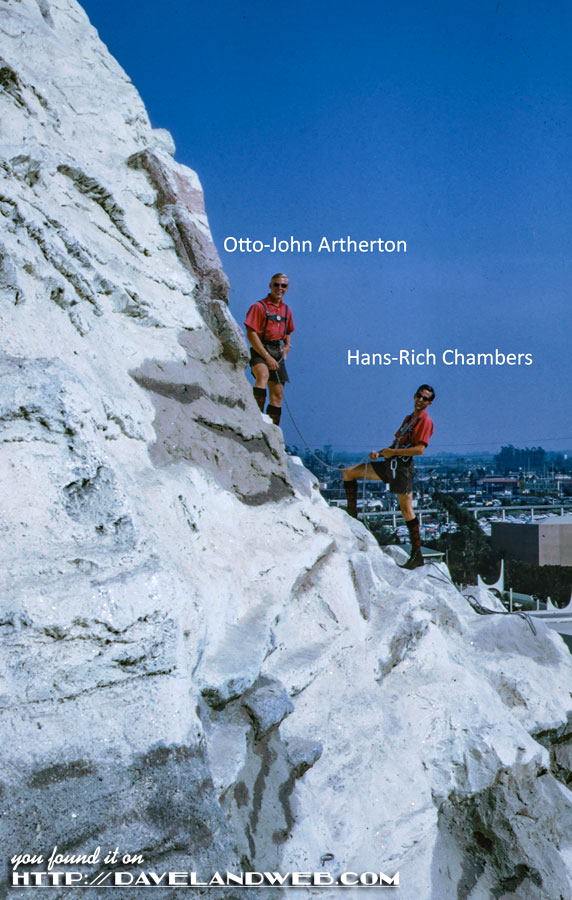 The day after John graduated from Pomona High School, we started our new job as Hans (Rich) and Otto (John), the Matterhorn Mountain Climbers. Not too long after starting, we were interviewed by the Pomona Progress Bulletin newspaper. Here's the text of the article:
Mounting the Matterhorn
Their Job Has Its Ups and Downs—10 Times Each Day

What sort of work do students undertake during the summer?

Two Pomona youths climb a mountain 10 times a day, six days a week.

Richard Chambers and John Artherton, known as Hans and Otto when they're working, spend their days scaling the 147-foot, man-made Matterhorn at Disneyland.

Chambers, 19, is the son of Mr. and Mrs. Robert F. Chambers of 1352 Lincoln Ave. He was suggested for the lofty job by the park's Swiss yodeler, Fred Burri, Chambers' gymnastics coach at Mt. San Antonio College.

Atherton, son of Mr. and Mrs. James A. Artherton of 1748 Bonnie Brae St., was invited to join his friend and fellow climber in the job.

The pair, both experienced alpinists, use standard climbing techniques on the park attraction. Both compare it to real mountains they have scaled.

They can climb the Matterhorn by three different routes. Each way is dangerous without professional training.

Chambers is a chemistry major at MSAC (Mount San Antonio College). He started mountain climbing on family camping trips and later took lessons at the Grand Teton National Park in Wyoming.

Artherton began climbing about two years ago with the Sierra Club. He was graduated this year from Pomona High School. He plans to enter Redlands University as a chemistry major in the fall.
The article was fairly accurate, except I didn't start climbing on family camping trips. We worked about a 6-hour day, six days per week, climbing the mountain 10 times a day and paid about $1.75 per hour. It took us a few weeks to become familiar with the main routes, the overhang and south face. Eventually we did many different routes, including full traverses of the mountain.
The East Face overhang was the main route. Our typical rountine was for me to climb the Hörnli Ridge, then traverve left to the south face ridge and set up a belay. John climbed the Hörnli Ridge and set up his belay for me to finish the climb. As I started to surmount the overhang I did a fake fall, sometimes John let me drop a little too far. Once I finished the climb, I belayed John while he did a pendulum swing from the Hörnli Ridge to the south face ridge. Here's a video of Rappelling the South Face:
To finish the climb, we rappled the south face to a small ledge and disappeared into the side of the mountain. During our climbs, Fred would come out onto the mountain with us announcing the climbs by playing a Swiss Alpen horn, singing and yodeling while we climbed.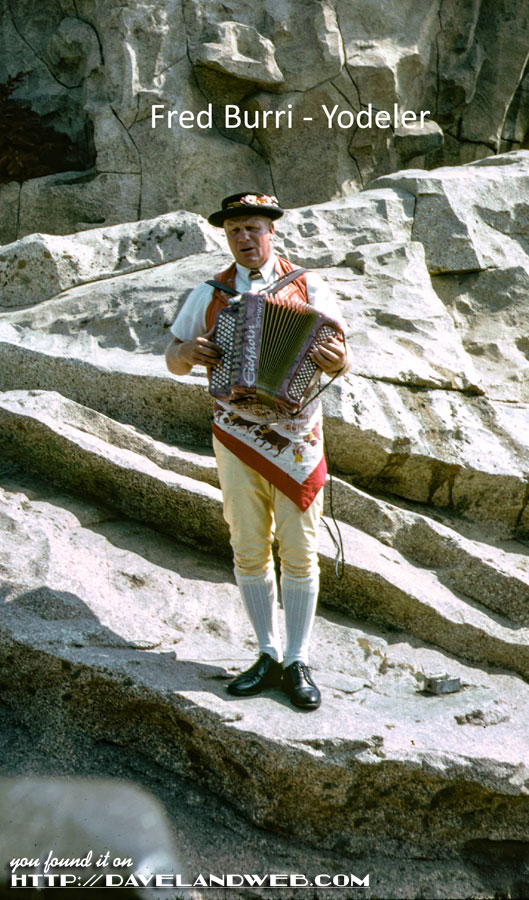 One day John and I decided to do something special for one of my overhang falls. He let me drop more than usual and I pretended to be injured. John tied me off and then Fred Burri, the yodeler, belayed John up to me to make it appear as a rescue. After a few moments, I "revived." When I finished the overhang, I was met by several Disney personnel (about 6), including paramedics on the top. I informed them it was all part of an act; they weren't amused. After getting chewed out, they told us not to do that again unless they were forewarned. Needless to say, we drew a huge crowd at the front to the Matterhorn.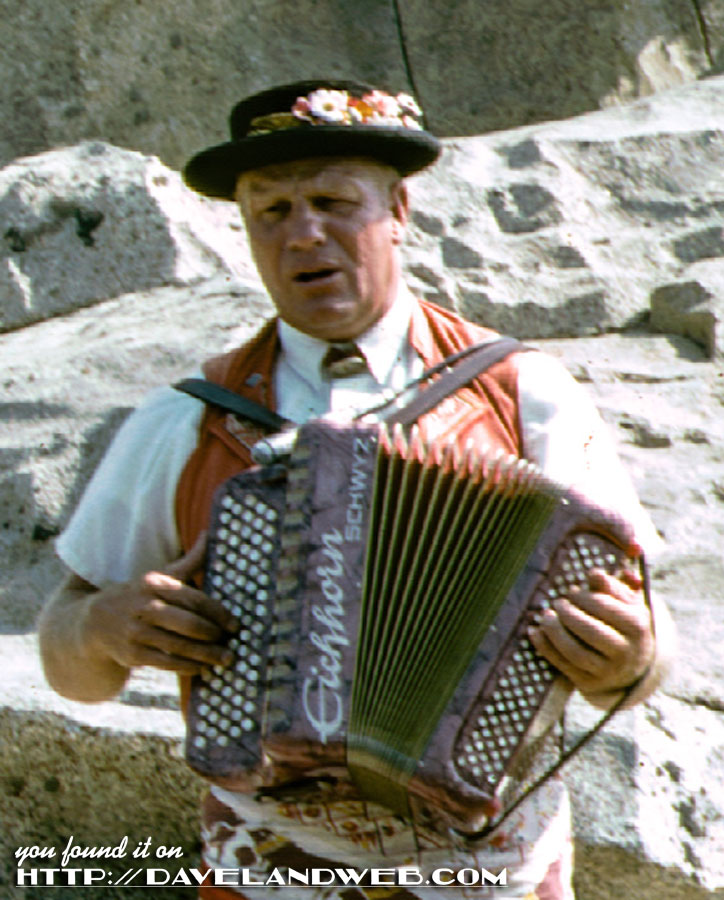 John and I had the pleasure of meeting Walt Disney, in his office, before he passed away on December 15, 1966. The Park never closed for his death or funeral, which was Walt's request. It was a sad day for the Magic Kingdom.
John and I weren't the only climbers during this time period. Lyle Shook took John's place during the winter of 1966-67, while John attended college. Scott Little and Brian (I forget his last name) also worked as substitute climbers.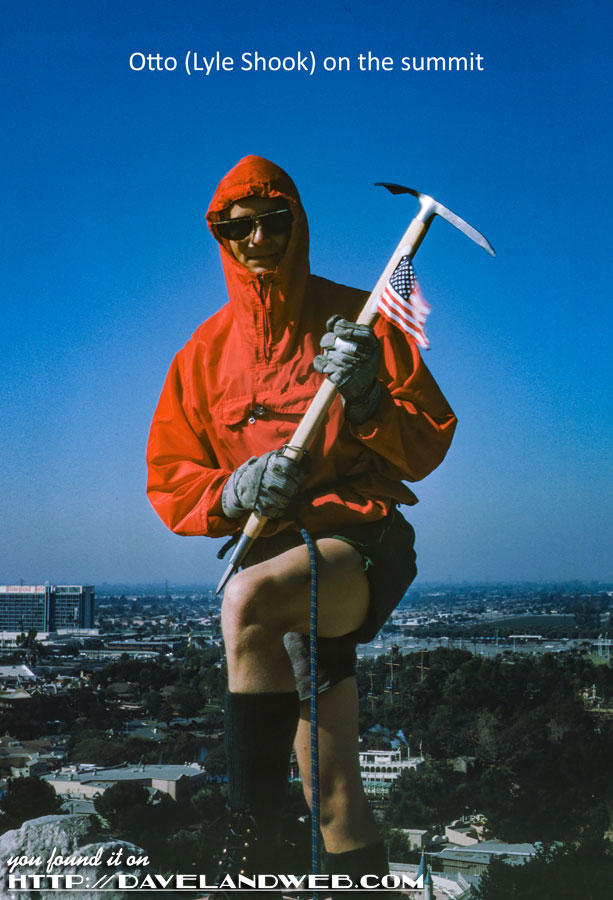 The summer of 1967 was an exciting time when John and I met Sir Edmund and Lady Hillary. It all began with a little memo from Marvin Marker, a show coordinator at Disneyland who often arranged jobs at the Park for kids: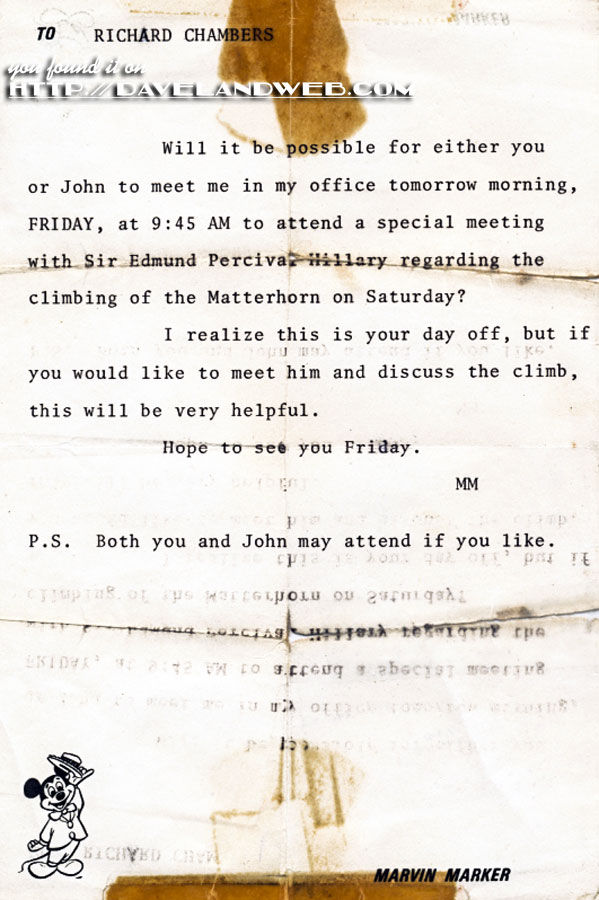 Hillary had no desire to climb the Matterhorn, but he did come out onto the mountain, inspected our rope and watched us climb the overhang. We also did some interviews which are captured in several photos: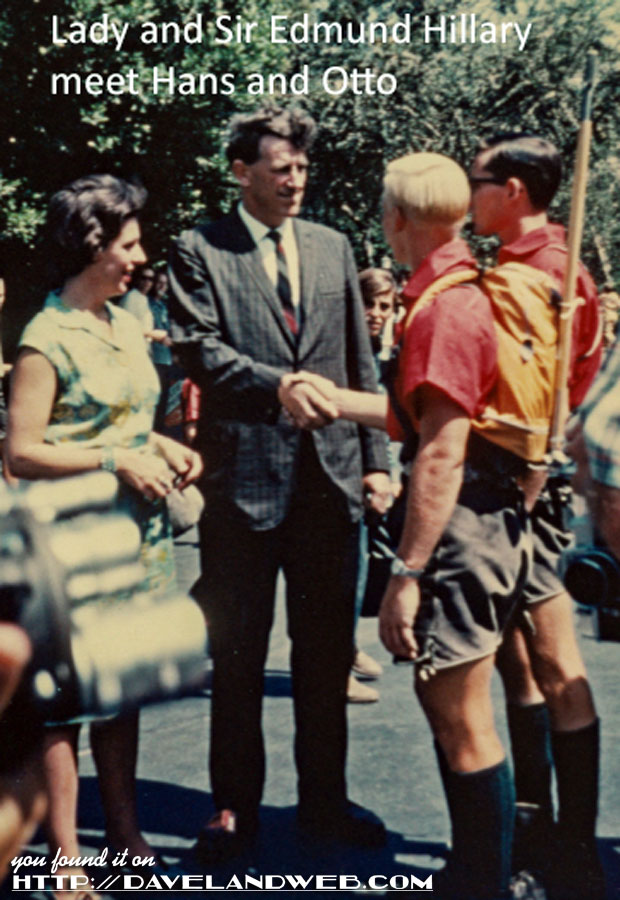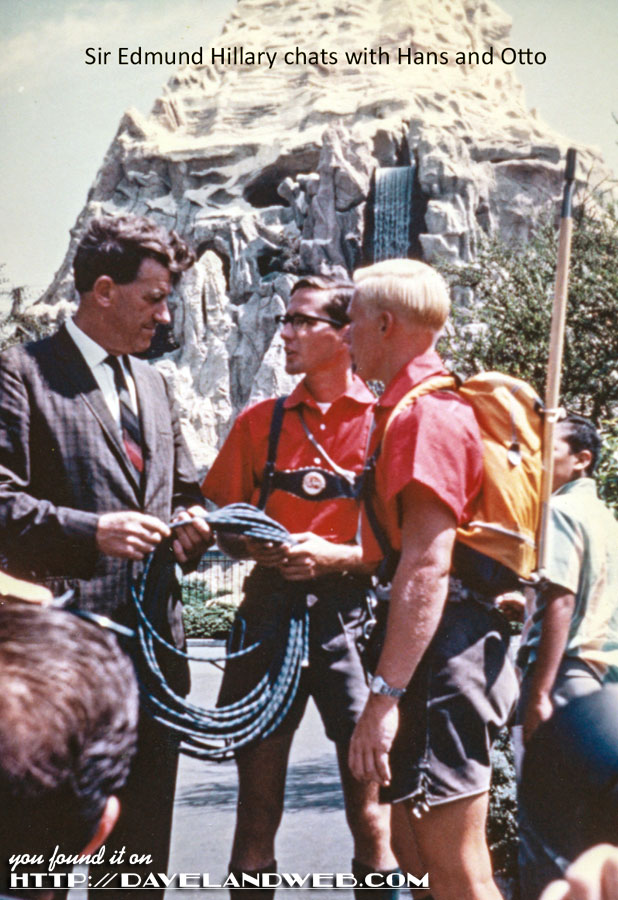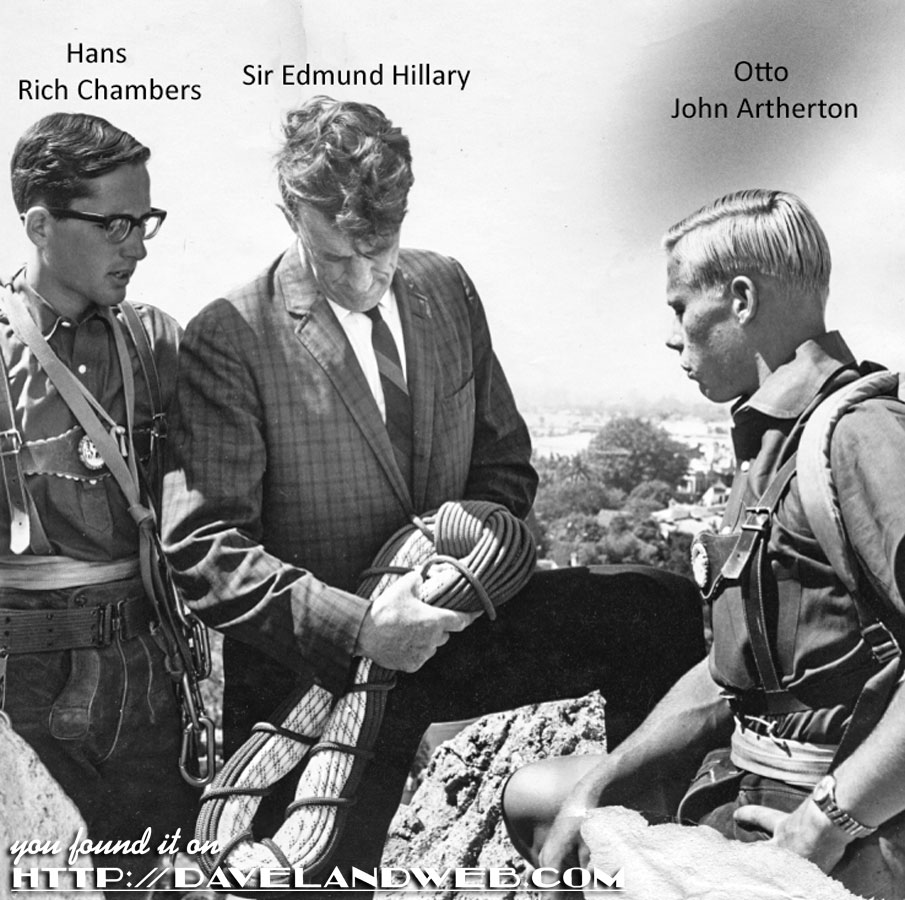 An autographed postcard from Hillary: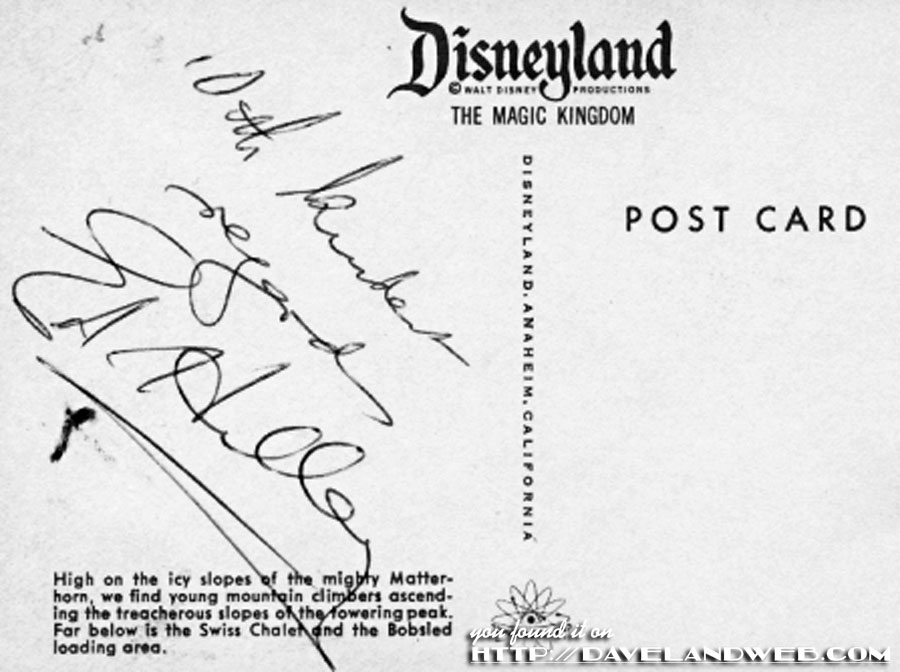 The accompanying publicity blurb:
SIR EDMUND HILLARY, one of the first two men to climb Mt. Everest, highest known mountain in the world, pauses during his visit to Walt Disney's Magic Kingdom - Disneyland, Anaheim, California, U.S.A. to check some of the equipment used by Hans and Otto during their daily ascent to the top of the Matterhorn Mountain.

and the video below:
In March 1968 I had to quit my job because I transferred to the University of Montana to finish my geology degree. John continued working until November 1969 when he joined the military.
When we weren't climbing the Matterhorn, we spent time climbing at Big Rock, Tahquitz, Suicide, and Joshua Tree. I also did numerous first ascents in the Bitterroot Range while in Montana.
*****
Here are two additional videos that Rich has shared:
East Face Overhang Video:
Closeup of Rich doing the overhang:
I am SOOOO grateful to Rich for sharing his AMAZING collection and even more important, his memories of climbing the Matterhorn at Disneyland.
More vintage (and contemporary!) Matterhorn photos at my
main website.