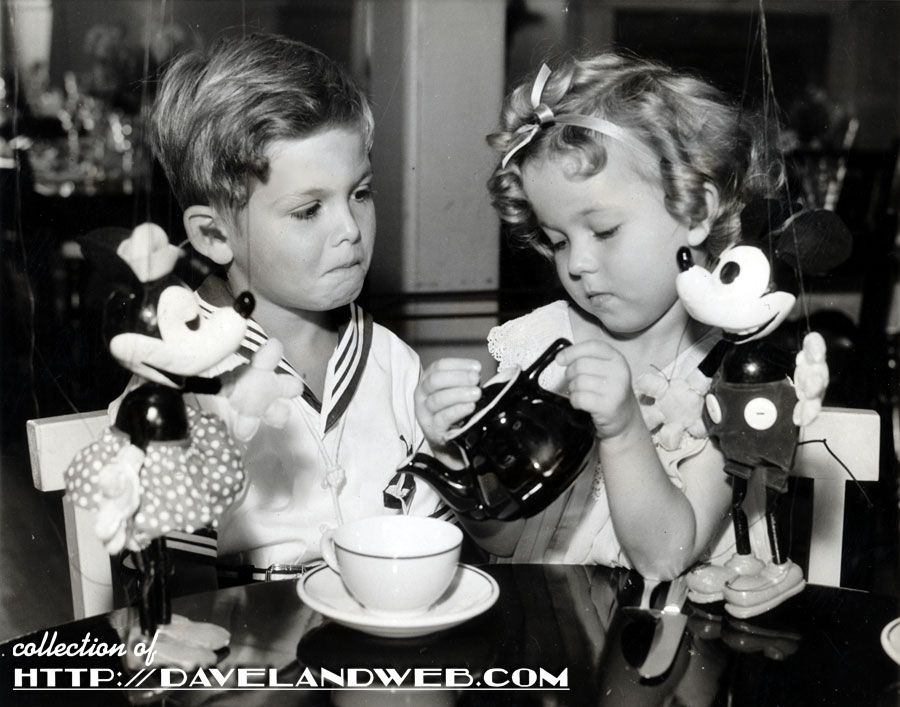 At the time this August 1933 photo was taken, Dickie Moore was a much bigger child star than Shirley. He'd already made movies with some of the greats: Spencer Tracy, Marlene Dietrich, and Barbara Stanwyck. He did a one year stint with "Our Gang" in 1933 and then portrayed the title role in "Oliver Twist." The publicity blurb on this charming still says:
"Dickie Moore, cunning child motion picture actor, and adorable Shirley Temple, child actress, are, respectively, manager and director of the Mickey Mouse Puppet show now playing to capacity crowds in the Hollywood Assistance League nursery. The crew is pictured playing Mickey and Minnie with cookies and tea back-stage between acts of the show. Photo shows Dickie Moore and little Shirley Temple, serving tea to Mickey and Minnie Mouse back-stage at the puppet show the youngsters are giving at the Hollywood Assistance League, leding charitable organization."
The Assistance League was established in 1919 by Anne Banning and Ada Edwards Laughlin. Recognize the Laughlin name? She was the daughter-in-law of Homer Laughlin, whose art deco dishes fill my cabinets! But that's another story. The first Assistance League raised money for Day Nursery, Girl's Club, and other philanthropic programs. Many Hollywood celebrities participated in the league's charitable events, including Jean Harlow. Shirley's own involvement ran much longer than just this publicity shot opportunity; according to a San Diego Union-Tribune article published shortly after Shirley's death:
"She was delightful," recalled Marilyn Knowlden. That was 80 years ago when both had been cast in the 1934 film, "As the Earth Turns." In the end, a schedule conflict prevented Temple from doing the movie, but they acted together four years later in the film, "Just Around the Corner." She admired and respected her fellow actress. "Shirley was very intelligent and very committed to acting," Knowlden recalled. "She worked hard. She always knew her lines. Plus, she was a very skilled dancer and always sang on pitch." The last time Knowlden ran into Temple, she had transformed into Mrs. Charles Black and was working behind the sales counter in an Assistance League gift shop in the couple's hometown of Atherton as a volunteer — another of Shirley's passions.
Back to Dickie, Minnie, and Minnie! As fate would have it, I found one of the Mickey Mouse marionettes pictured with Shirley and Dickie online.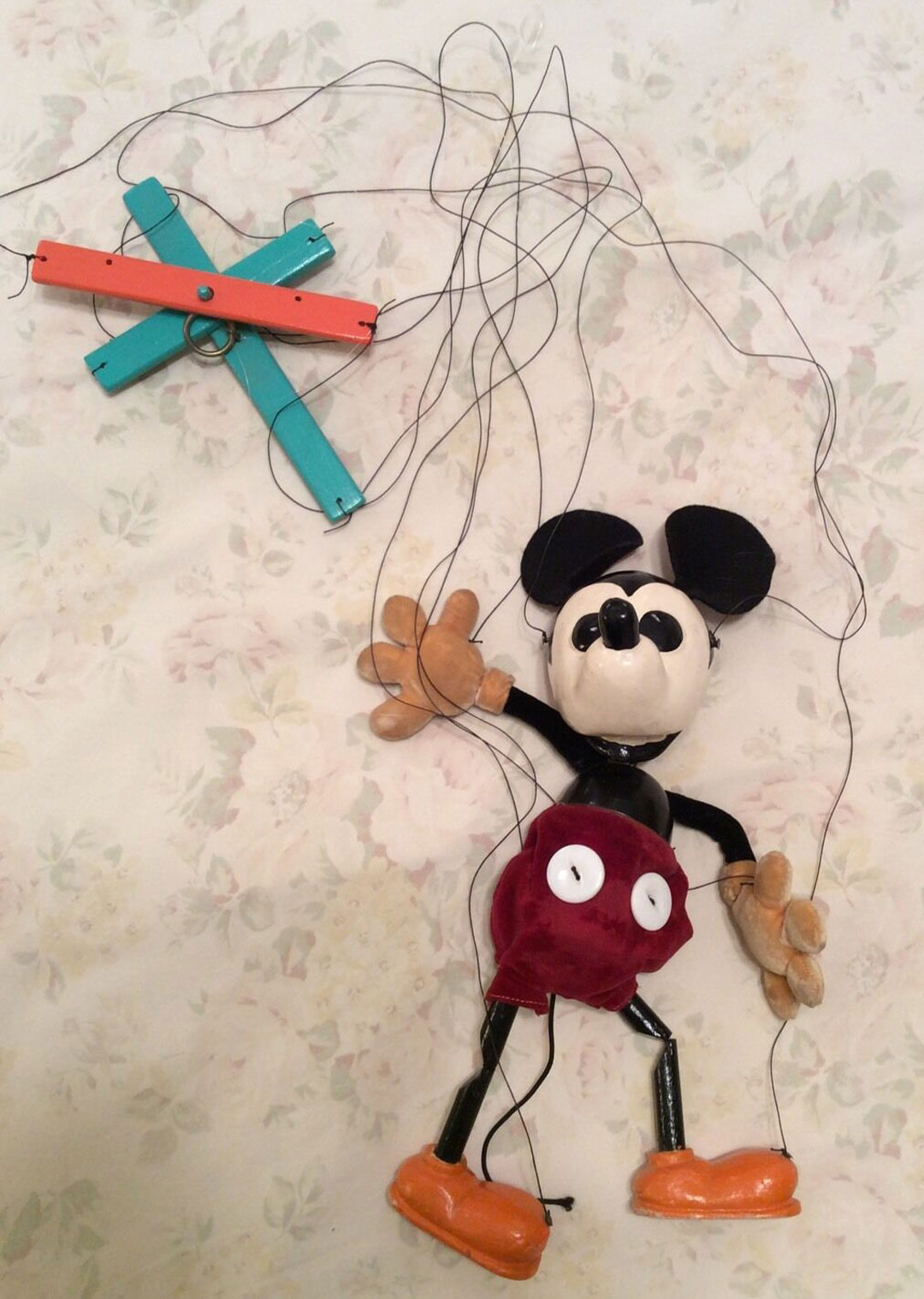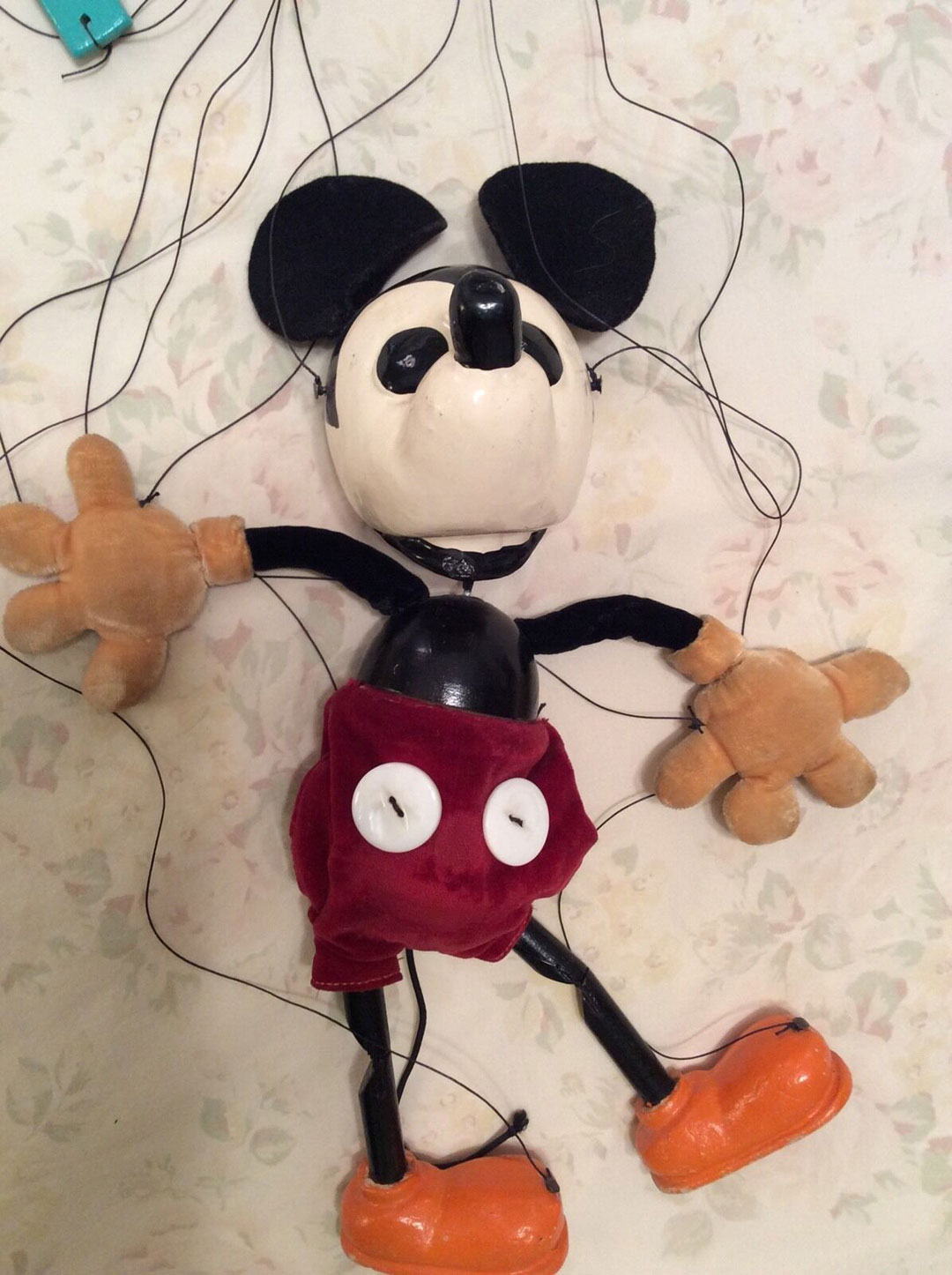 The torn paper tag on the bottom of Mickey's foot says: "Manufactured for Bullocks Wilshire by license arrangement with Walter E. Disney, creator of Mickey Mouse." Bullocks was a luxury department store located on Wilshire Boulevard in Los Angeles and was the flagship of the Bullock's store chain. In 1933, Bullock's commissioned the Hestwood Marionette Studio of Glendale, California and Henri Gordon to create marionettes featuring Disney characters, such as the Mickey & Minnie pictured above. They were made of composition, wood, and cloth: the ears felt and Minnie's hat was velvet. They were approximately 12" tall.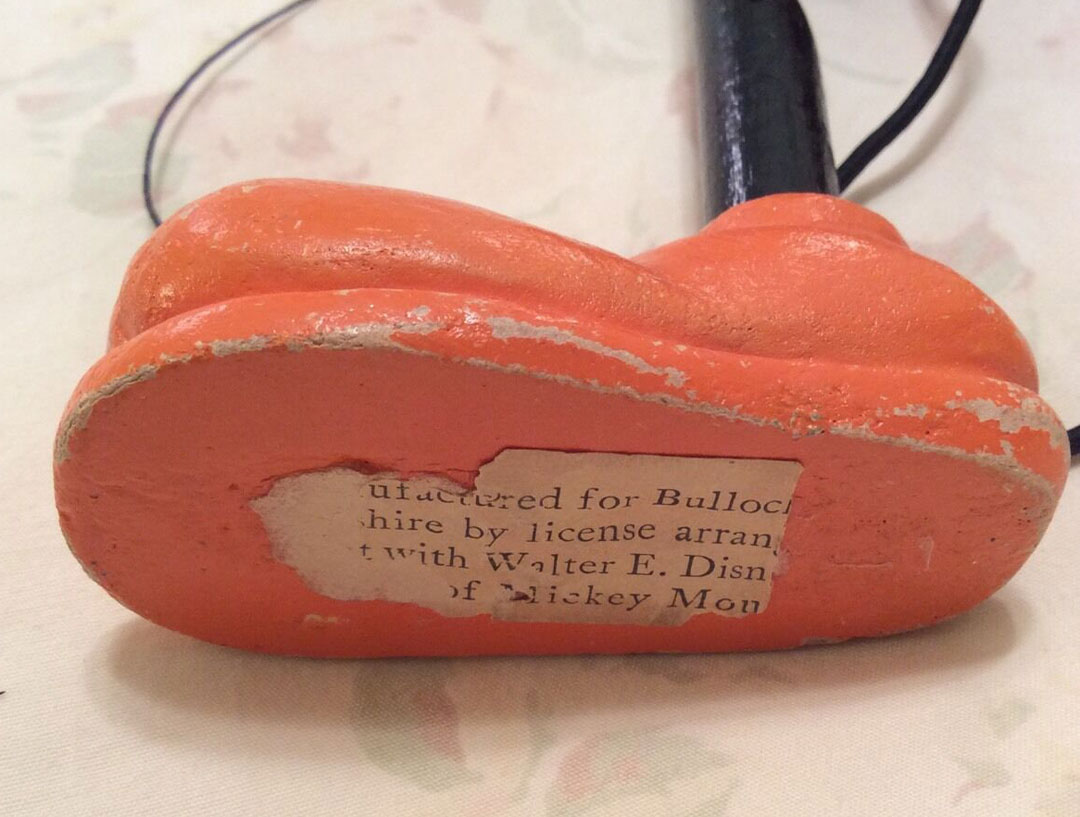 Nine years later, the careers of both Dickie and Shirley were on the skids. They were teamed together for "Miss Annie Rooney," where Shirley received her first screen kiss.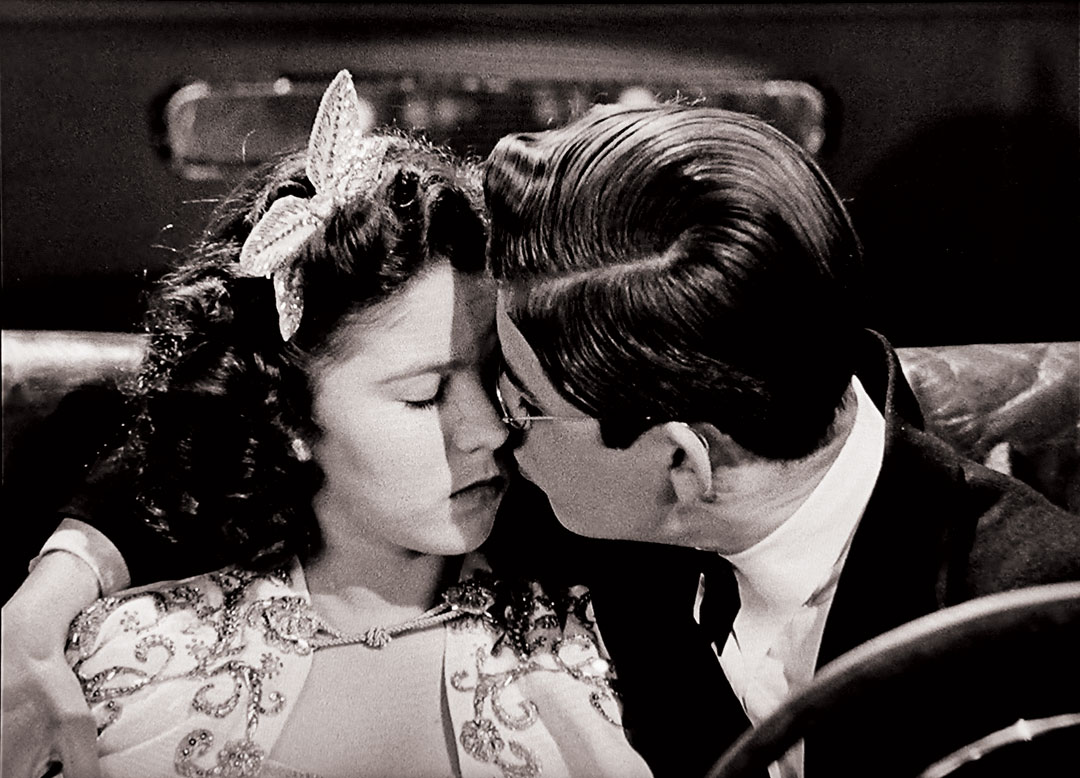 Barely a chaste peck on the cheek, it received worldwide press attention.
See more Shirley photos at my
main website.
Follow my Daveland updates on
Twitter
and view my most recent photos on
Instagram
.