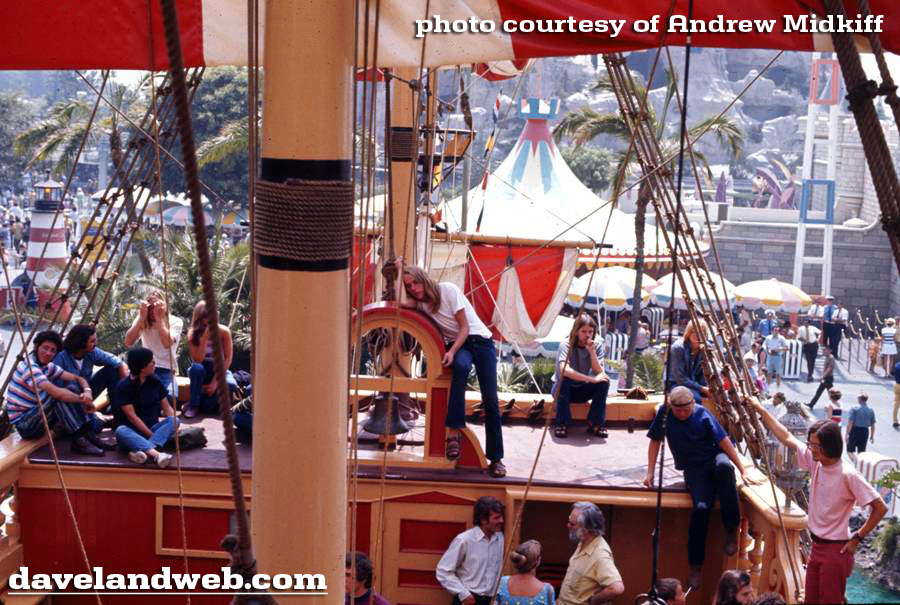 It was fifty years ago today on August 6, 1970 that a group of "Yippies" (short for Youth International Party) gathered at Disneyland with the intent of having fun and stirring up a little trouble. That day also happened to be the 25th anniversary of the Hiroshima bombing.
To view everything in context, the youth were beginning to feel their oats at this time, fed up with being told what to do by "the establishment" who they felt was a dominant group of elitists trying to control them socially and politically. The Yippies wanted to push back at Disneyland because of the dress code (which had ironically recently relaxed the long hair and mini-skirt ban) as well as the Bank of America sponsorship, due to BOA being pro-Vietnam war. The tongue-in-cheek itinerary for the 300 that showed up that day was as follows:
Black Panther Hot Breakfast: 9am—10am at Aunt Jemima's Pancake House
Young Pirates League: 11am on Captain Hook's boat
Women's Liberation: 12 noon rally to liberate Minnie Mouse in front of Fantasyland
Self Defense Collective: 1pm—2pm at shooting gallery in Frontierland
Mid-Day Feast: 3pm barbecue of Porky Pig
Late in the afternoon Yippies plan to infiltrate and liberate Tom Sawyer's Island. Declaring a free state, brothers and sisters will then have a smoke-in and festival. Get it on over to Disneyland, August 6. YIPPIE!
As the photo shows, the Captain Hook event actually did occur. Andrew Midkiff reached out to me years ago and gave just about the best perspective of the day from the Yippie viewpoint as well as some great photos:
The next day the LA Times headlines read 'YIPPIES OUTBURST SHUTS DISNEYLAND.' That was BS the headline should have read "COPS SHUT DISNEYLAND TO KICK OUT LONGHAIRS" or better yet 'YIPPIES TURNED ON IN TOMORROWLAND.' I was18 years old at the time. August 6, 1970 I hitchhiked from Alhambra to Disneyland to be a part of Yippie Day. All I wanted was to take photos of the event and get high. I took the photos you see here, and getting high was no problem. When I first got to the park I met this guy that had a good size stash of weed on him. He let me hang out with him most of the day. We spent about an hour at various concerts sitting with the straights and smoking grass right in front of them. That may have been part of the problem as far as complaints. I wanted to score some acid but no luck. After the cops showed up I'm glad I did not get any. When I got to Tom Sawyer's island there was plenty of weed and people were smoking, standing around talking, and playing frisbee. Someone ran up the Viet Cong flag. We left the island and the next thing I remember I was in a crowd of people and police appeared in riot gear and pushed us right out of the park. I heard a scuffle broke out but I did not see it. I have no idea what caused the police to come in. I was just having a good time when the cops appeared and I got pushed right out of the park. On Captain Hooks pirate ship something happened but I never found out what, too busy getting high. I spent the next half hour looking for a ride. Fortunately some nice freaks I met in the parking lot drove me home.
From the guest standpoint come these recollections:
I was there and almost all the recollections I read have been cloaked in a haze. I guess I was one of the apolitical ones that thought the idea was funny and an innocuous way to thumb it to the man. Everyone I saw was enjoying the park. I did get on the island and it was just a bunch of teens running around having fun. I left when they raised that flag; thought that was stupid and they having never been to Vietnam should go there if they did not like the U.S. I was on Pirates of the Caribbean when the lights went on; it was disappointing to see the ride with the lights on. We were ushered to the castle. Once there in the ring of riot police, everyone was told to leave. Police did ring the street and the roof tops. The only thing that ticked me off was everyone who looked a bit different was verbally harassed and threatened. I got screamed at for ruining some family's day by a mom; I just said "Sorry, my day got ruined too," to which the dad said "Fuck off, you damn hippie" or something like that. So if anything did happen, it was the so called straights that caused it.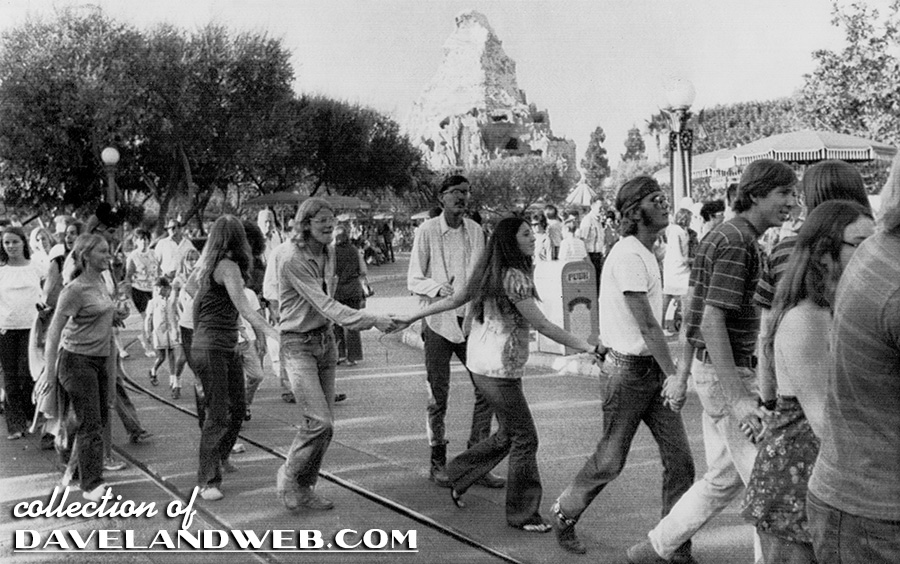 Recollection #2:
My parents had driven us three kids from Oklahoma for a big 2-week family vacation in a red Rambler station wagon, with our luggage in a big homemade plywood box strapped to the top of the car. Of course there were no car seats, no seat belts, and both parents smoked with all the windows rolled up. I don't remember much about our time in the L.A. area except for that day at Disneyland. We must have gotten there late in the day, because I specifically recall that we never even made it over to Tomorrowland before we had to leave, which was the most upsetting thing to me. I wanted to ride the rockets! After we rode It's a Small World, I remember my mother trying to remain calm, but she was crying as we hurried all the way across the park to leave. "Hippies have taken over the park and raised their flag" was all that they could tell us. And there were police; I remember the police. There seemed to be a minor panicky state especially amongst the mothers ushering their kids out to the parking lot. And then it took us a very very long time to get out of the parking lot. Hours, I think.
From the cast member standpoint came this recollection from Barry:
I was a supervisor at Disneyland from 1969-1974 and remember that day well. It was my day off but all supervisors were required to be "on call" that day. The LA Free Press advertised the Yippie Day event and Disney officials (Dick Nunis, Ron Dominguez and Jim Cora) were going to make absolutely certain that Disneyland would be prepared for any disruption that might occur. I remember meeting in the Mickey Mouse Theater (with all other park supervisors) earlier in the week. I believe Disney management brought in a representative from the Anaheim Police Department- That part of the meeting is fuzzy but I do recall that all of us were assigned specific responsibilities. I was assigned to the Main Street hub area in front of Carnation Plaza Gardens. My assignment: sit on a bench all day watching for any signs of trouble. Shortly after I sat down, a "hippie" sits down next to me, notices my Mickey Mouse watch, and asks me if I work here; cover blown. It was a long day and nothing really happened in my area until late afternoon. A Conga line was forming and about 25 or more Yippies snaked through the Main Street hub area chanting "LSD has a hold on me." Funny how I can still vividly remember the chant and see the happenings before me with crystal clarity. The rest of the day was a blur; I knew that Orange County's finest were in the staging area between Main Street and the Administration Building in full riot gear. I remember the Seal Beach PD had quite a reputation for brutality and they were there. Word filtered down that the Yippies had taken over Tom Sawyer's Island and had replaced the American flag with the Viet Com flag which ultimately was the final undoing of the Yippies. The police came out, the announcement was made that the park was closing and people were being asked to leave. I was on Main Street near Carnation Ice Cream Parlor and watched the police push the Yippies down Main Street toward the park exit. As I followed the action, I found myself pushed down the street and ended up by Hills Brothers. I watched the ultimate—some Yippie trying to pull down the big American flag in Town Square and Dick Nunis, head of Disneyland, punched the guy in the face. The crowd continued to be herded out to the parking lot. It was beginning to get dark and plan "B" was put into affect. All of the supervisors were asked to report to their perimeter positions to safeguard the park from any Yippies who might to climb the fence. We were actually given steel poles to bash fingers if they tried to climb the fence. I had a prime spot at the parking lot exit directly across the street from the hotel—lots of yelling, screaming, and tear gas. Things quieted down about 11pm and by midnight we were allowed to leave our post and go home.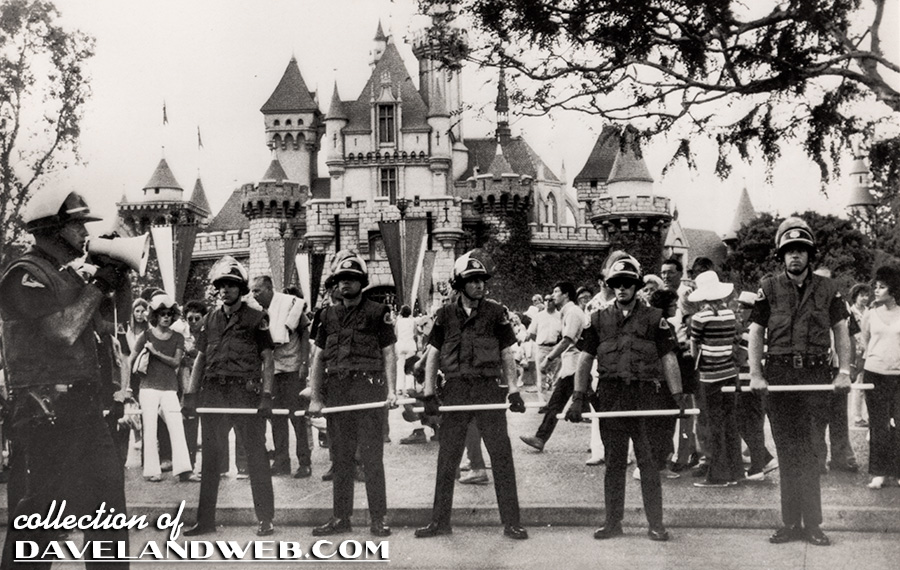 For several years after, no one with long hair was allowed in Disneyland. Working at Disney back then, the grooming standards were strict. For males, it was no long hair, no facial hair, side burns to mid ear. From 1967-1971 the Marines would frequent Disneyland and the Harbor Blvd/Katella area- kind of a last R and R before they went to Viet Nam. We were always asked if we were marines on leave because of the short hair. I did not do well in the social arena outside of my Disney social network! However, I did meet my wife at Disneyland (a waitress at the Blue Bayou) and 35 years later we are still going strong!
David Sacks, the organizer of the event along with Michael Dale, gave me his story about the day:
For over 25 years, the Yippies back east never knew how the event came to happen. Michael and I were not into any kind of visible leader thing. We were too anti-authoritarian for that. I made up the schedule. It was pure fiction. Heck, the Black Panther breakfast at Aunt Jemina's Kitchen was supposedly at 9 am, an hour before Disneyland even opened their doors. The liberation of Tom Sawyer Island was the only event that really happened as scheduled. "When I bought my ticket, I had asked for a clerical discount (since I was a minister in the Universal Life Church and my license said Rev. David Sacks). Boy did that cause a scene as I looked like the rest of our motley crew. Very shortly after the invasion, they dropped clerical discounts. "The first police that I saw appear were wearing brand new riot gear. But that only represented a small amount of the hundreds of police they had hiding behind the buildings on Main Street. I am pretty sure I know the fellow in the foreground of this picture. He lives in NYC and if I am not mistaken, he later became rather infamous for throwing pies in the faces of some rather important people.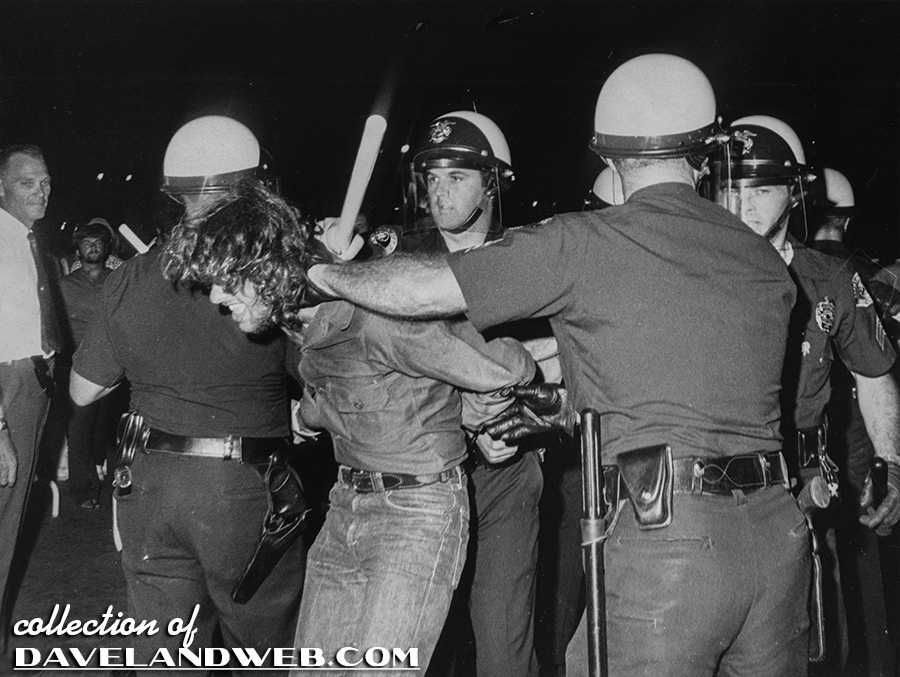 The people who had gotten off the first two rafts for Tom Sawyer Island (that's about what it was, two raftloads of people) decided to march down Main Street in Disneyland, singing various odes to sex, drugs and rock 'n' roll, until they got to City Hall, where they have the American flag on a flagpost. And there was an empty flagpost. Someone pulled out a so-called Yippie flag, red and black with a green marijuana leaf, and started to raise it on the flagpole. An Orange County redneck came storming up to them and said "How dare you raise that flag next to the American flag!" And someone else went to the other flagpole as this guy was trying to rip down the Yippie flag, and said "If you rip down our flag we'll rip down your flag." He started to try to untie the American flag to bring it down. At which point fisticuffs broke out and Orange County's finest appeared out from behind all the buildings of Disneyland, 800 police in brand new yellow riot gear (this was the first chance that Orange County had had to test out their new riot gear). These guys looked like something out of a comic book. It looked hi-tech before that was even a word. All of a sudden, the whole circle promenade was circled with these police. I come out and I see all these police in riot gear, I knew something had happened. They start making an announcement over the bullhorns, "Due to the unfortunate actions of a few people, Disneyland must close for the day." Now you gotta realize there's about 25,000 guests and there may have been 200 Yippies there. Of the 200 "Yippies" I'd say 100 of them were just freaks who were really apolitical but thought it would be fun to come to Disneyland and trip around that day, with the idea of liberating Tom Sawyer. They liked the sense of humor rather than any political statement. So I'm standing there, my hair's halfway down my back, and they're making these announcements "Will everybody start moving towards the exits." And so all of a sudden this policeman comes up to me and says "You! Get your ass moving!" and just jabs me right in the ribs with his nightstick. "We got picked up by either Time or Newsweek and there was an article in there about the events that were on our flyer, as if they actually happened. The headline in the LA Times the next day was "Yippies Close Disneyland."
Fifty years later, in times of great frustration and anger, here are the takeaways:
1. Do your best to get along with others. Whether you actually see it on the surface or not, they are dealing with their own problems, too.
2. Listen carefully to what people are REALLY trying to say; remove your own viewpoint so that you can objectively see what is truly occurring.
3. Snap judgments have no place in a harmonious society. Labels (of any kind) are not really all that helpful.
4. Physical violence has NEVER been the answer; it's a temporary (and very poor) solution that only pushes the problem below the surface where it will simmer and erupt again at some point.
Now can we just all get along please?
See more Disneyland Yippies stories and photos at my
main website.