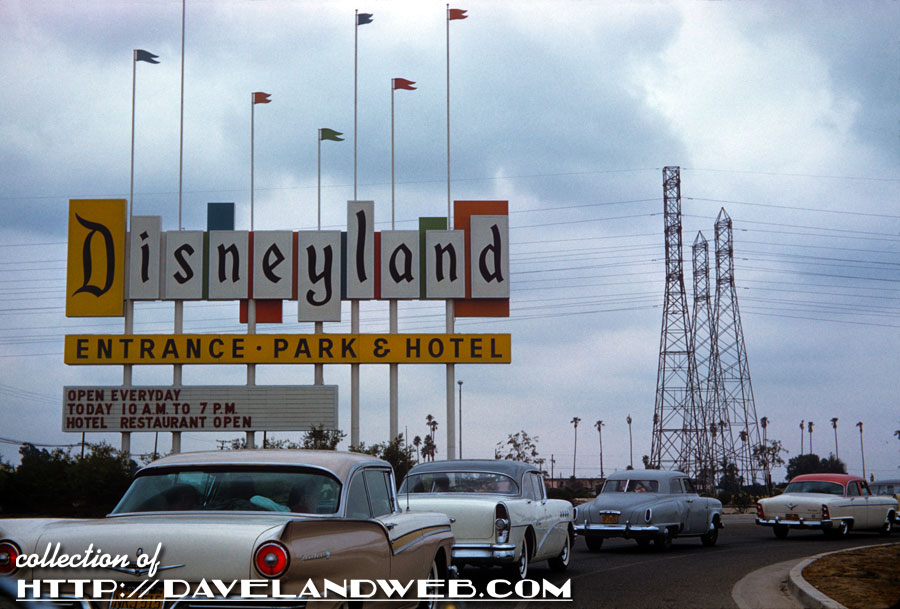 What would happen if you were able to have access to a time machine that allowed you to visit Disneyland back in the early days? Sounds like fun, doesn't it? Especially if you could take a camera. However, you wouldn't want to be discovered as a visitor from the future; if you've ever seen an episode of "Lost in Space" or any other vintage TV shows that deal with time travel, you'd know that strangers from the future typically don't get a warm welcome! Today's post is designed to help you assimilate and make sure that you look like you know what you're doing on a typical day at Disneyland, circa 1950's. If you're driving a car into the park, the first shot shows you the view that you would encounter as you enter the property. You'd park your vintage car alongside of all the other way cool vintage cars. And wow...you are just steps from the entrance! No gargantuan parking garage to deal with...just one level of asphalt that gives you a direct view of your destination. Oh the excitement is building!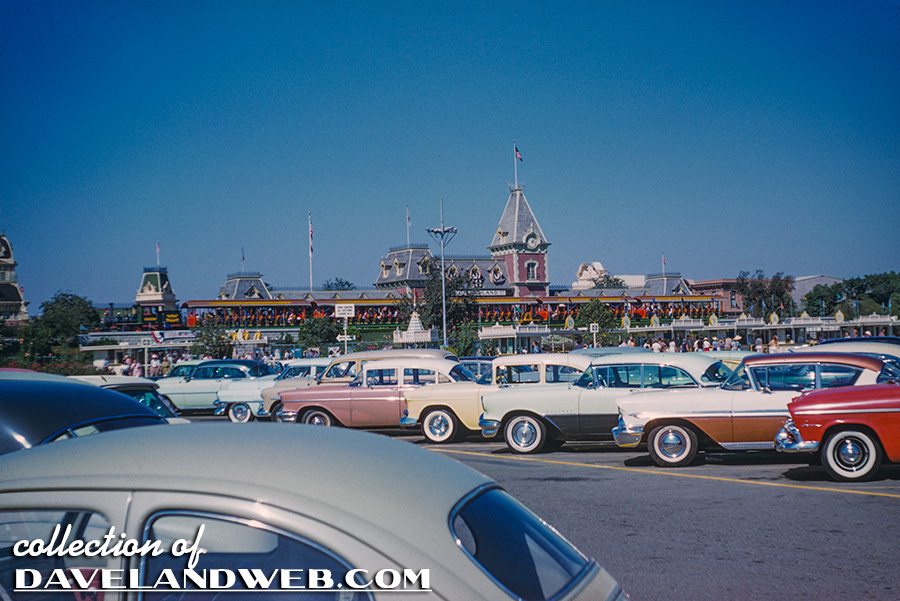 Of course, you do have an alternative. If you had a long drive, you might want to spend a few days at Disneyland and check into the Disneyland Hotel.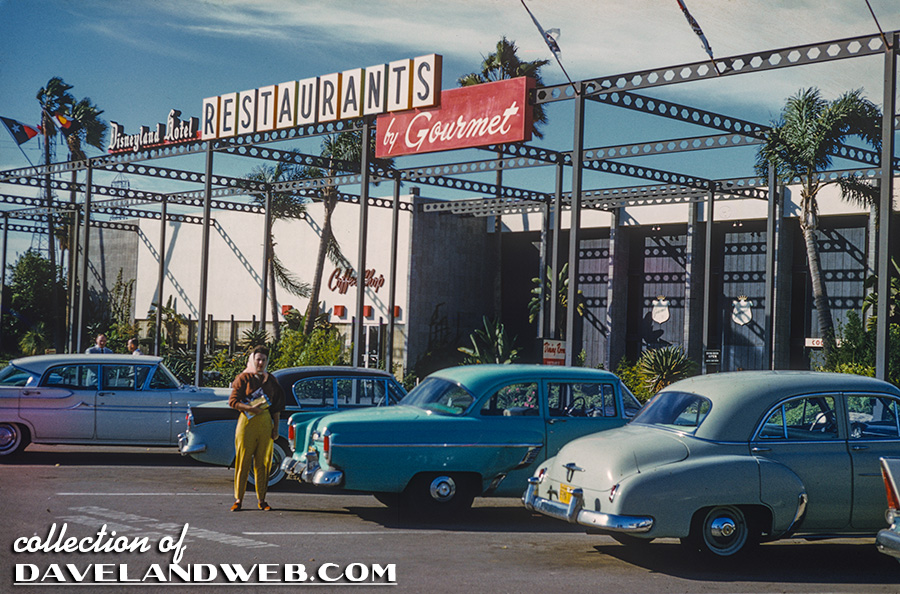 You could board the Disneyland Hotel Tram and leave your car parked safely at the Hotel.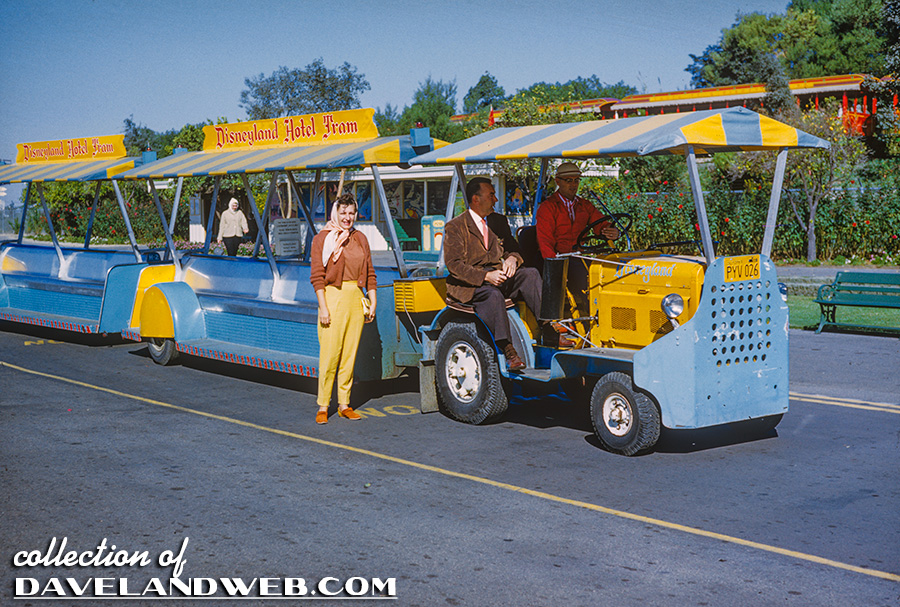 Either way, you are only steps from the entrance.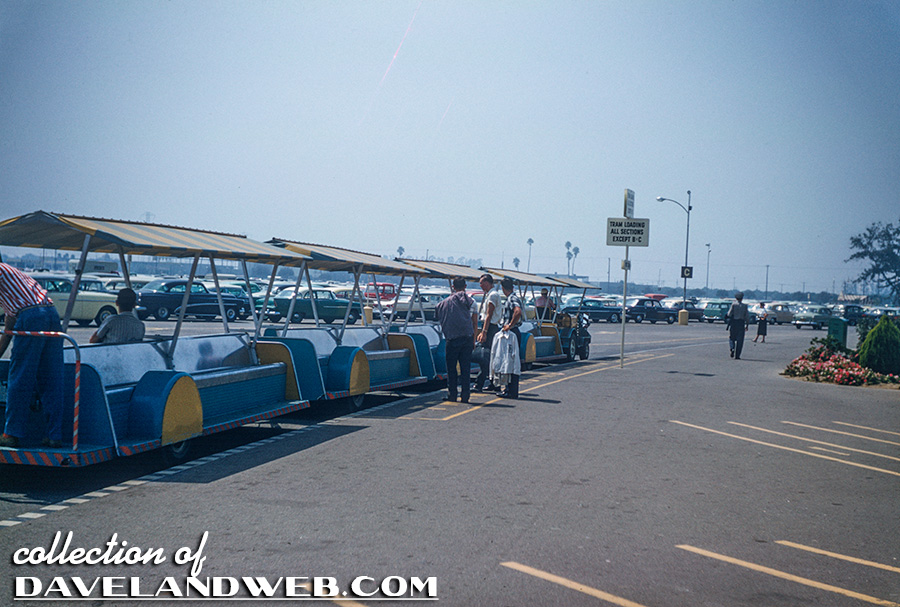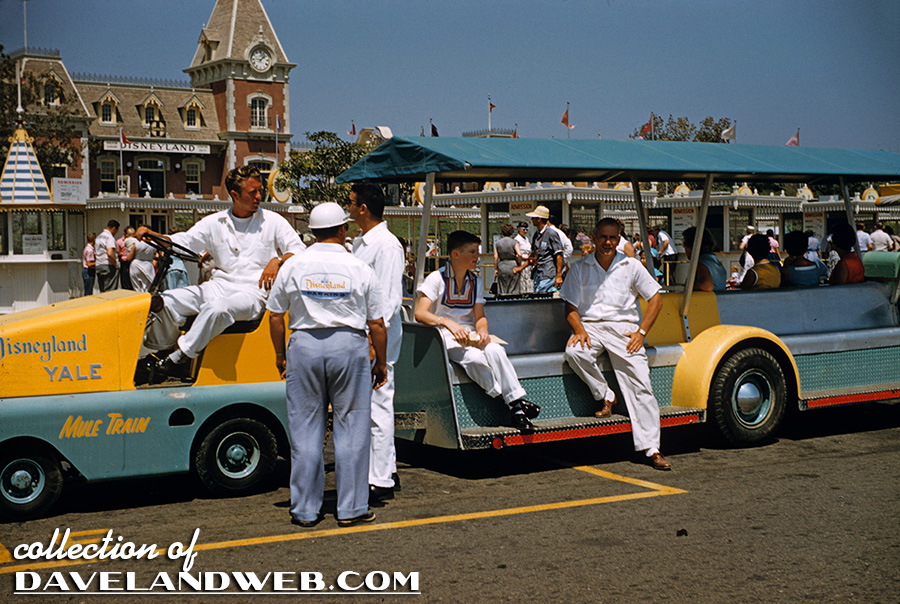 But wait...where are the ticket booths in the esplanade? In fact, where is the esplanade and the California Adventure entrance? Folks, you just parked there. Yup...DCA and the ticket booths are standing where the original parking lot was located. Back in the 50s, the ticket booths were at the entrance. How convenient is that? Again, just steps away from your destination (now I know you're really salivating).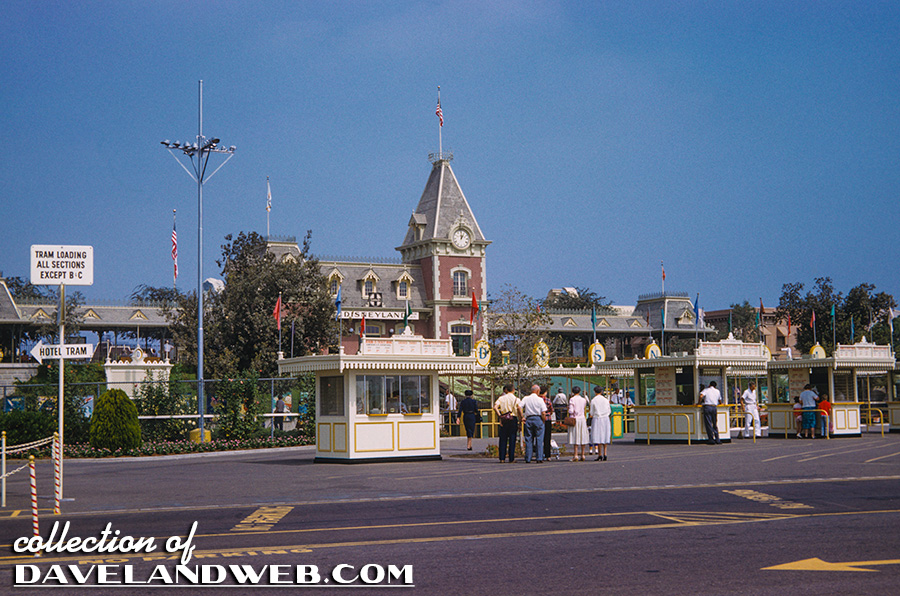 One final tip though, and this is a crucial one. Whatever you do, don't ask the ticket counter cast member for an annual pass. Or a park hopper. Instead, you'll be paying for admission into the park, as in one park. Uno. Un. Eine. Here's a detail of the ticket prices you'd pay in the 1960's. Sorry, couldn't find a decent closeup from the 50s, but figured this would still help prepare you for the sticker shock. When was the last time you paid $5 for ANYTHING at Disneyland?!?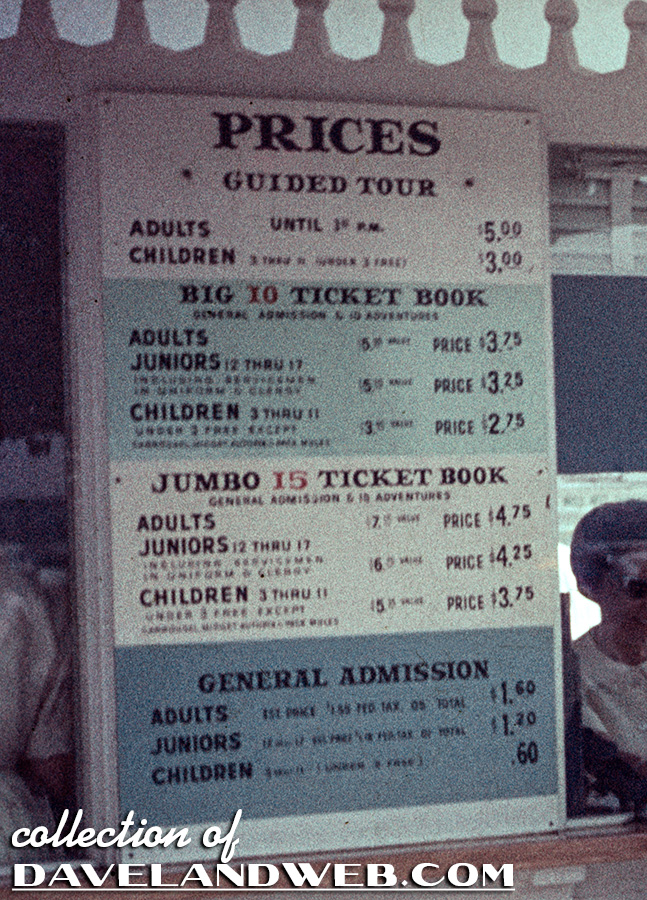 Wait a minute...what are those ticket books? Is that like buying multiple day passes? Nope...ticket books are what you need for the attractions. One ticket for each attraction, and depending upon the attraction, you might need an A, B, C, D, or E ticket. Here's a July 1959 photo of a guest holding their attraction ticket book in their hands. D tickets cost 35¢ back in the day, meaning you'd have to pay 35¢ to ride each D ticket attraction.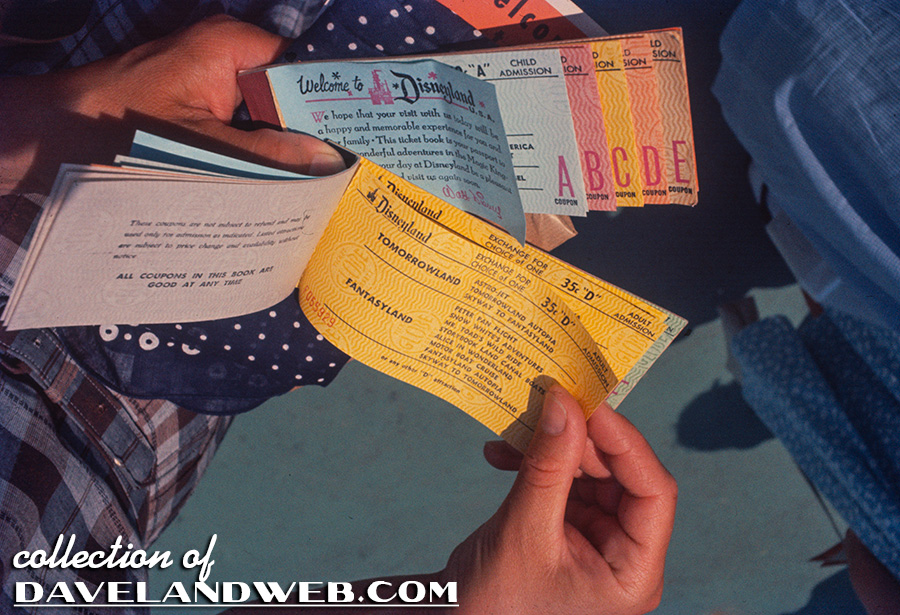 And now that you have parked your car, bought your tickets, and walked up to the entrance gate, you are almost ready for your day of fun. The turnstiles are so close! But what's the boy in the straw hat and striped shirt doing? Is he taking surveys for marketing purposes?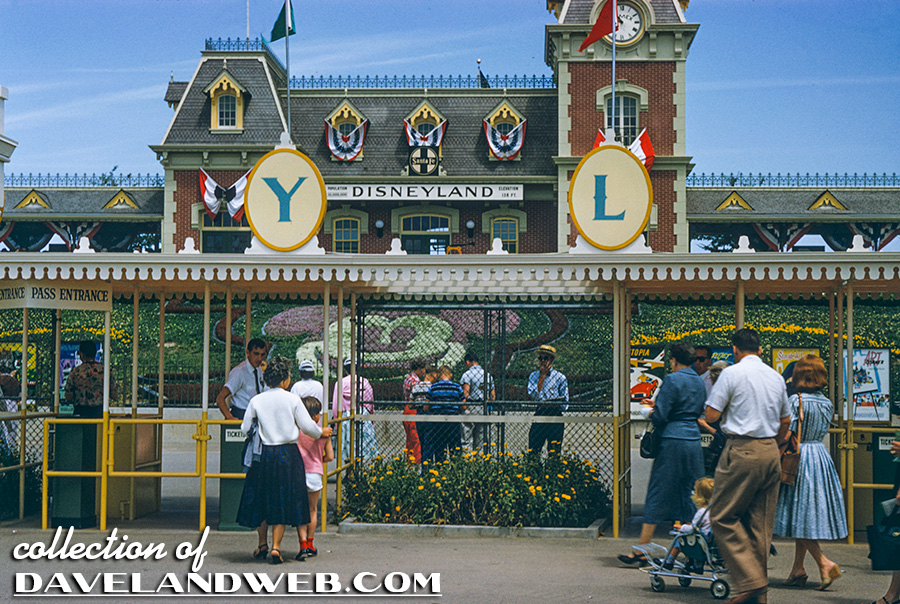 Nope. He's just selling guidebooks, and you'll definitely want one of those to help acquaint you with what's available at Disneyland circa 1950's. I'd recommend you buy it from this salesman though...I hear he can do magic tricks, too.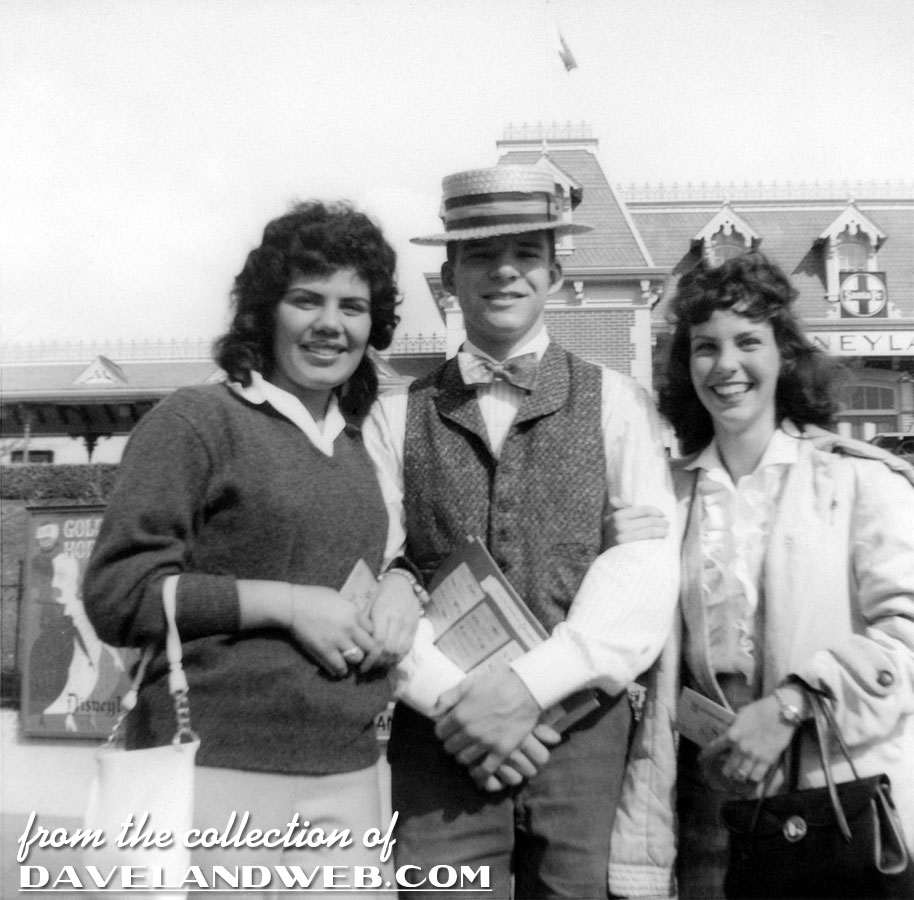 See more Disneyland entrance photos on my
Disneyland entrance web page.
Follow my Daveland updates on
Twitter
.