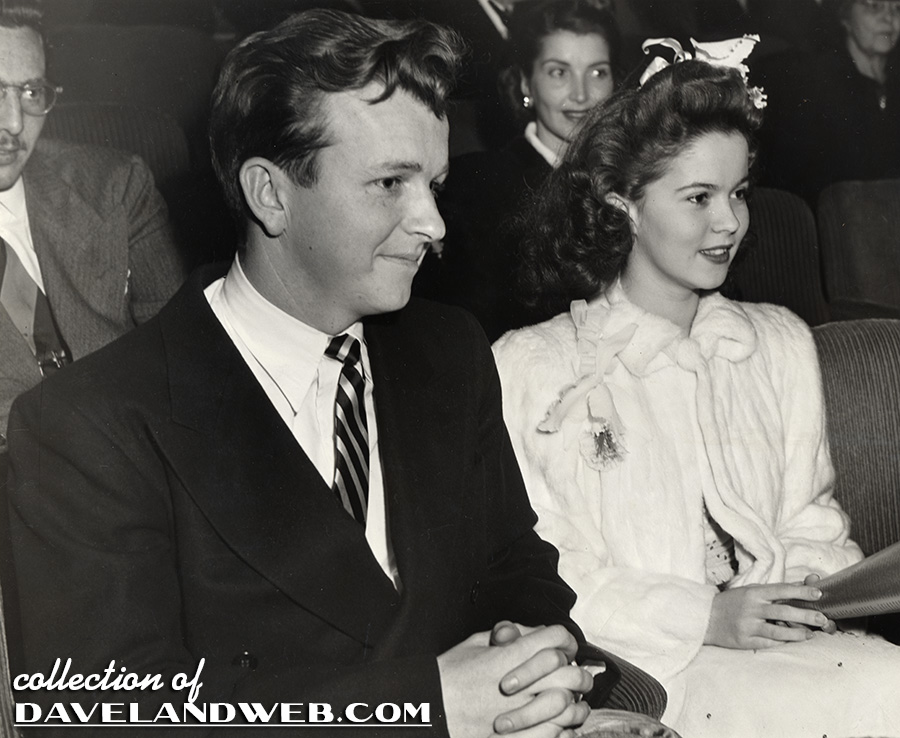 Going to movie premieres was all in a day's work for a Hollywood star, and Shirley Temple was no exception. From the vintage publicity blurb below:
2/12/44 — Younger crowd in the audience at the "Lady in the Dark" premiere was well represented by Shirley Temple and her escort, Craig Flanagan. Shirley looked lovely in a short ermine jacket over a white net gown sprinkled with sequins. She wore an orchid in her hair and a similar corsage on her shoulder. "Since You Went Away" is her current picture, a Selznick production for United Artists release.
While Shirley looked beautiful in her ermine coat, her outfit did not begin to compare to Ginger Rogers' onscreen wardrobe from "Lady in the Dark."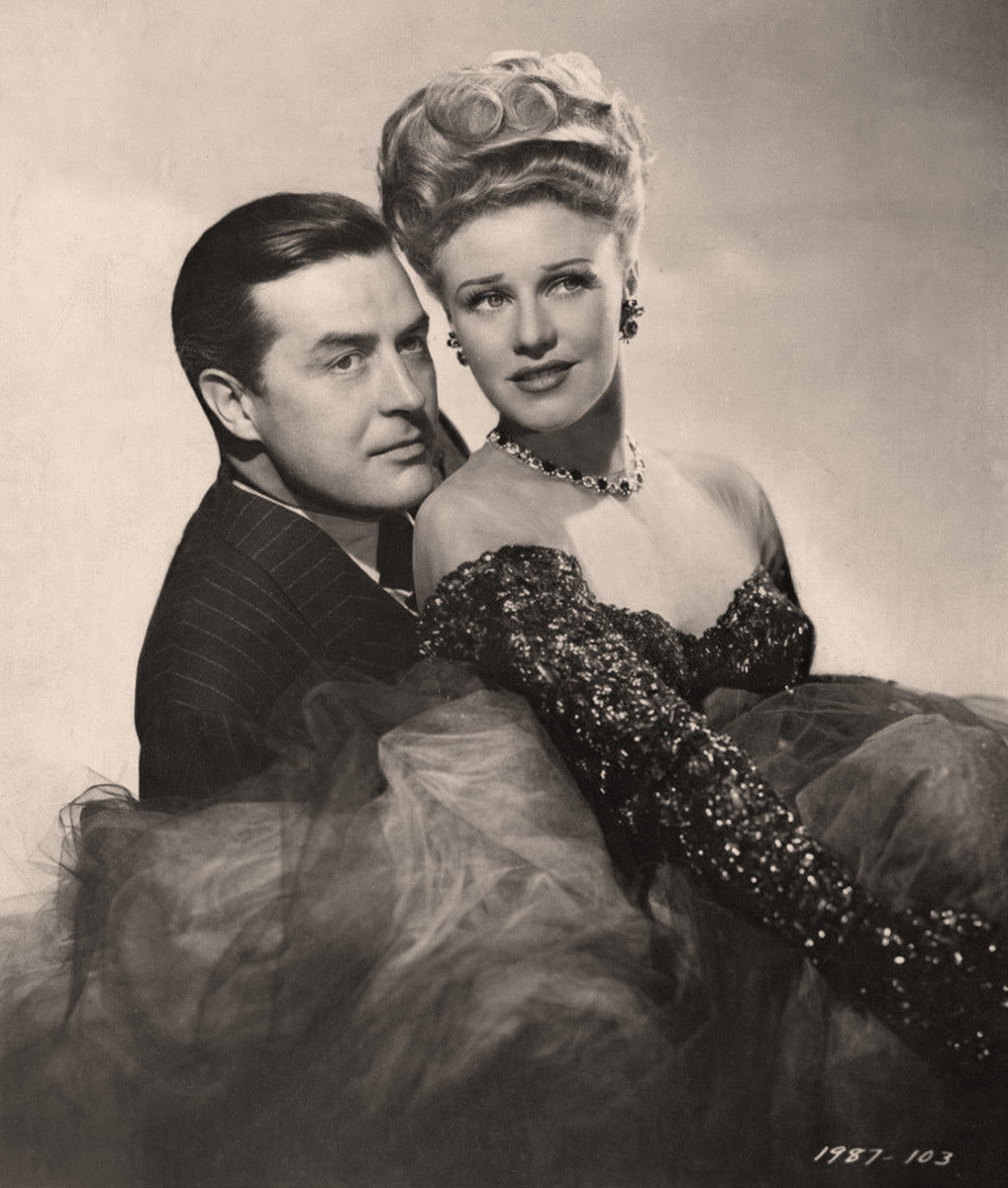 "Lady in the Dark" was based on the 1941 Broadway musical of the same name (book by Moss Hart, words and music by Ira Gershwin and Kurt Weill) about psychoanalysis and career women. Paramount purchased the screen rights in February 1941 for Rogers and Fred Astaire, but negotiations with Rogers' former dance partner failed, and Ray Milland was cast instead. Released on February 10, 1944, the film was a critical and commercial success, nominated for three Oscars (Best Cinematography, Best Music, and Best Art Direction).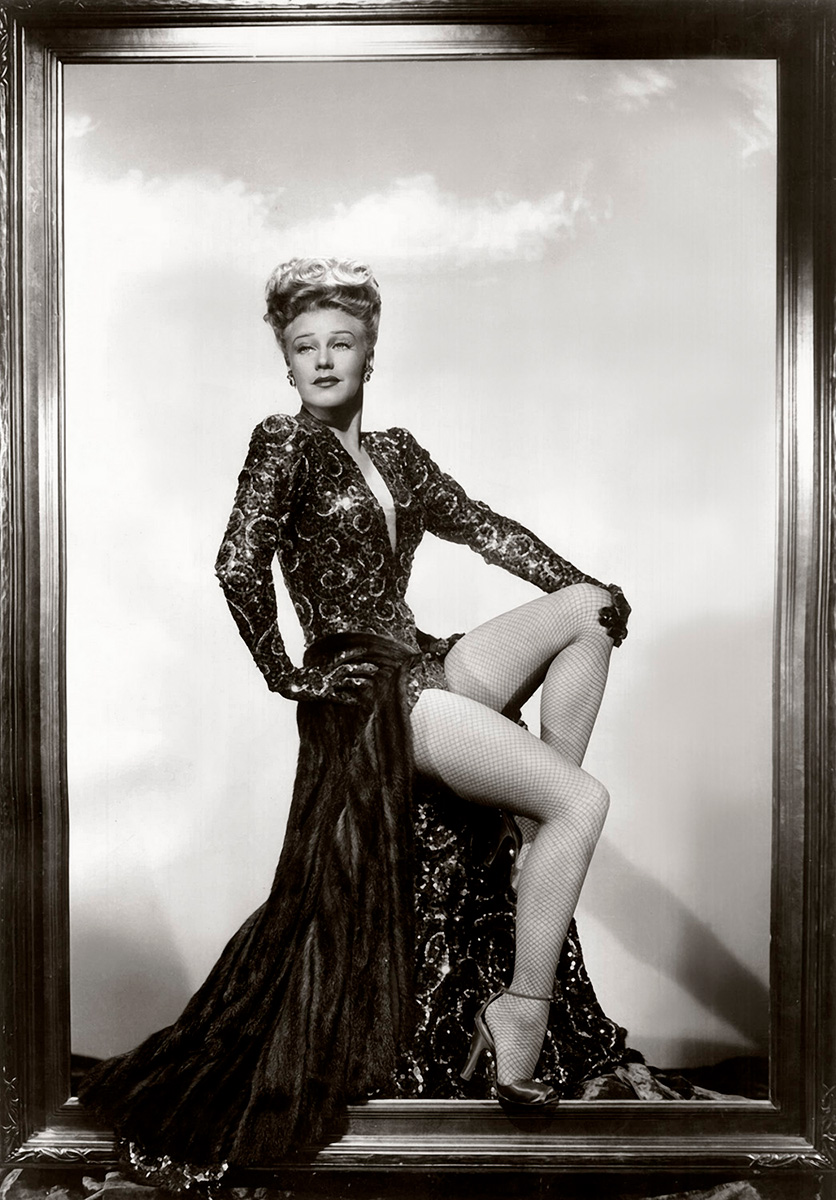 Now about the film's most infamous costume (shown above). From the
Victoria and Albert Museum website
:
Rogers wore this costume for the 'The Saga of Jenny' sequence in the musical, which was staged in a circus. In 1944, this single costume was the most expensive ever produced in Hollywood. Legendary designer Edith Head is credited as the designer, with strong influence and a design concept from Mitchell Leisen, a former costume designer turned film director. Rogers wore two versions of the dress, one for singing and static close-ups and a lighter version for dancing
[shown below, the one in the V&A collection]
.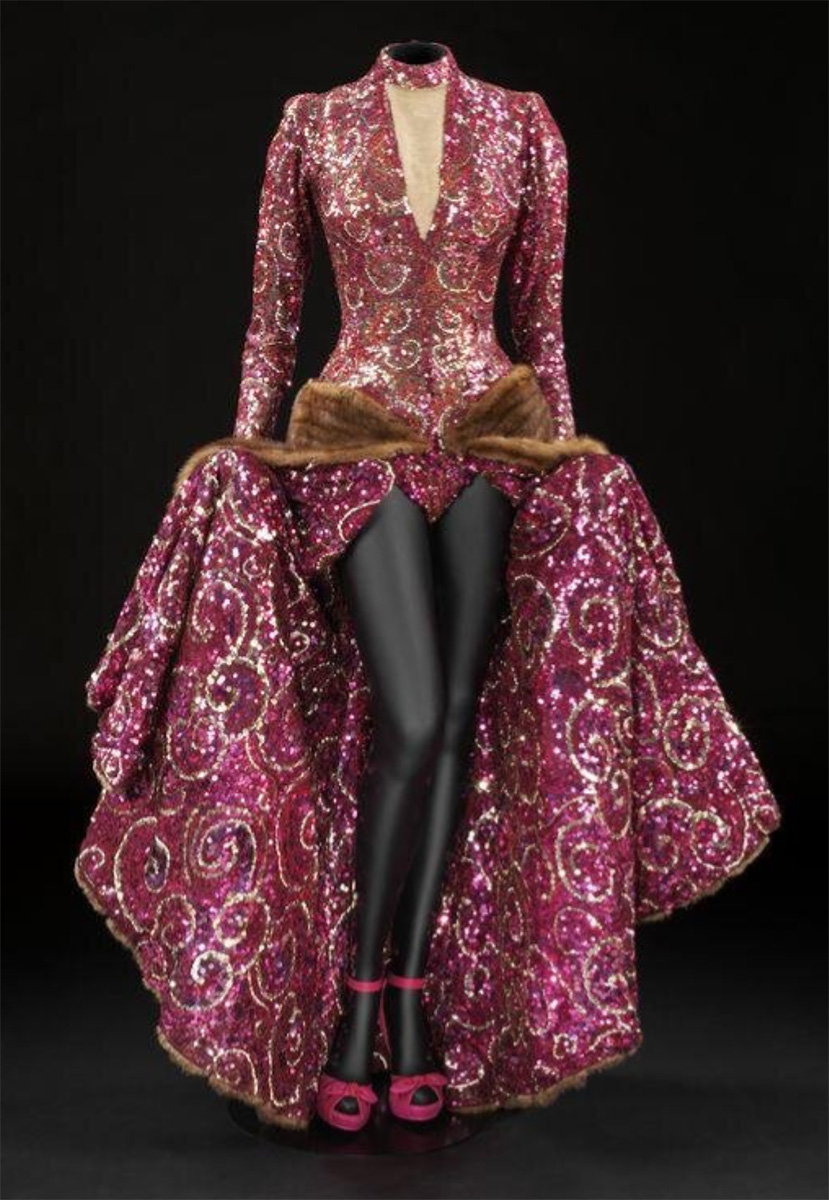 According to Edith Head in Edith Head's Hollywood, 'as Liza Elliott in Lady in the Dark, Ginger was the fashion-editor of the world's greatest fashion magazine. Her costumes were superlative. She was constantly having daydreams that she was a glamorous sexpot instead of a tailored-editor type and the dreams created a perfect plot excuse for fabulous gowns. It has come to be known as the mink dress, but actually it was a mink over-skirt that was lined with sequins, worn over a matching sequined bodysuit. It cost about thirty-five thousand dollars to make in those days and couldn't be made today without a limitless wardrobe budget'.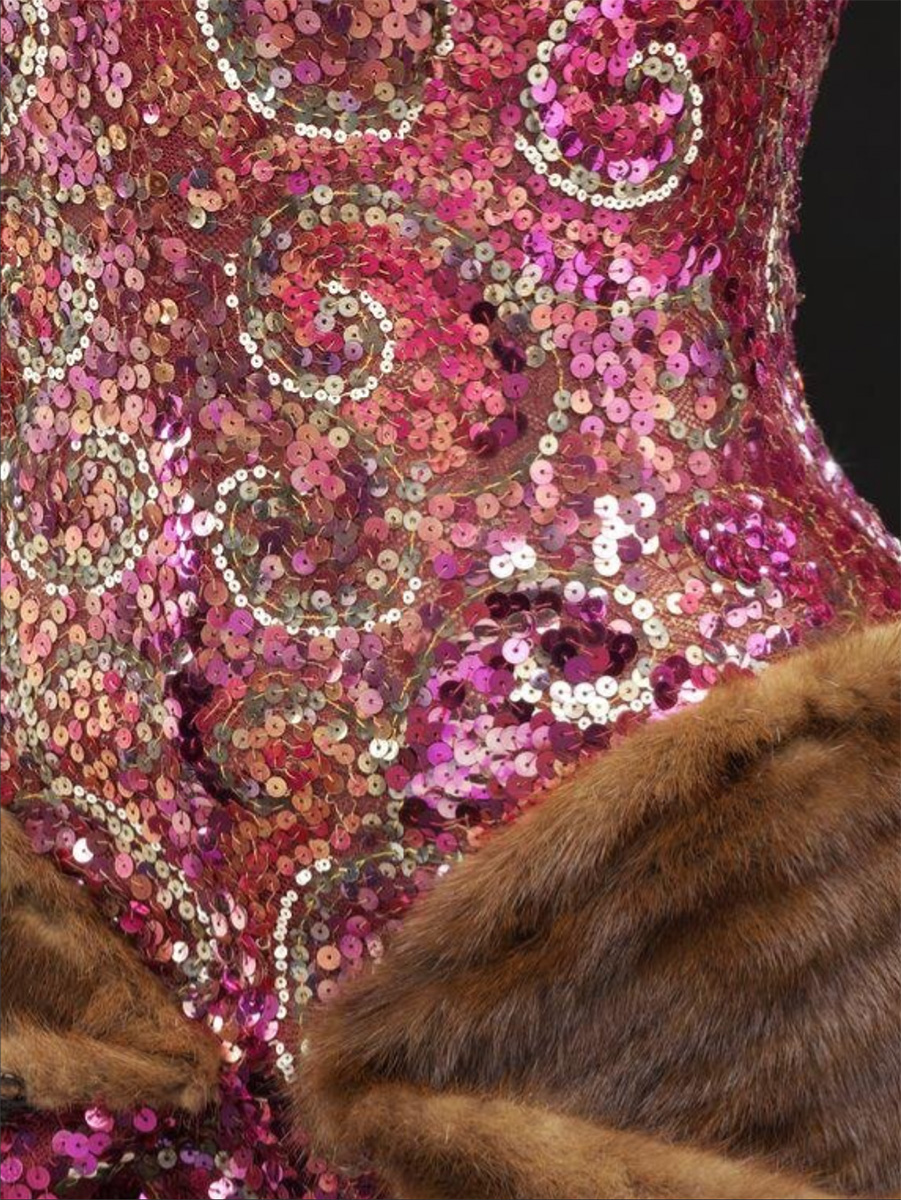 Recently, I acquired Jay Jorgensen's 2010
Edith Head: The Fifty-Year Career of Hollywood's Greatest Costume Designer
coffee table book. There is some interesting information about the original costume that the V&A Museum left out:
Initially, Edith wasn't even supposed to be working on the project, and Rogers' clothes were to be designed by the New York couturier Valentina. When Ginger rejected Valentina's designs, Edith was asked to step in because of her good working relationship with the actress. There is almost no doubt that left to only her own devices, the budget-conscious and conservative Edith would have never come up with the dress that is considered by many to be the most expensive costume ever designed for a film. But Leisen was always asking Edith to push herself creatively, and under his supervision, a gown was designed that was encrusted entirely of faux rubies and emeralds in a paisley design, lined in mink, with a matching jacket, also lined in mink. At the time, it was estimated to cost around $35,000, with $15,000 being spent on the mink alone. When building the dress, Edith covered the floor of her salon with mink skins and she and Leisen selected the most photogenic ones. When Rogers tried the gown on, the faux stones proved to be too heavy for her to dance the routine that had been choreographed…A second gown was created with sequins in the same paisley pattern. Both gowns are seen on screen. The dress with the stones is seen in close-up as Ginger unpacks it and wears it to the nightclub, and the sequined version is seen in the dance number. The gown with the faux stones was later donated to the Smithsonian Institution and kept on display for several years; Edith used the sequined version in her fashion shows that would be developed later.
The 1984 photo below shows Ginger Rogers presenting her 'Piccolino' dress from "Top Hat" (1935) with Fred Astaire to the Smithsonian. Whether or not they still have the "Lady in the Dark" mink dress in their possession is unknown.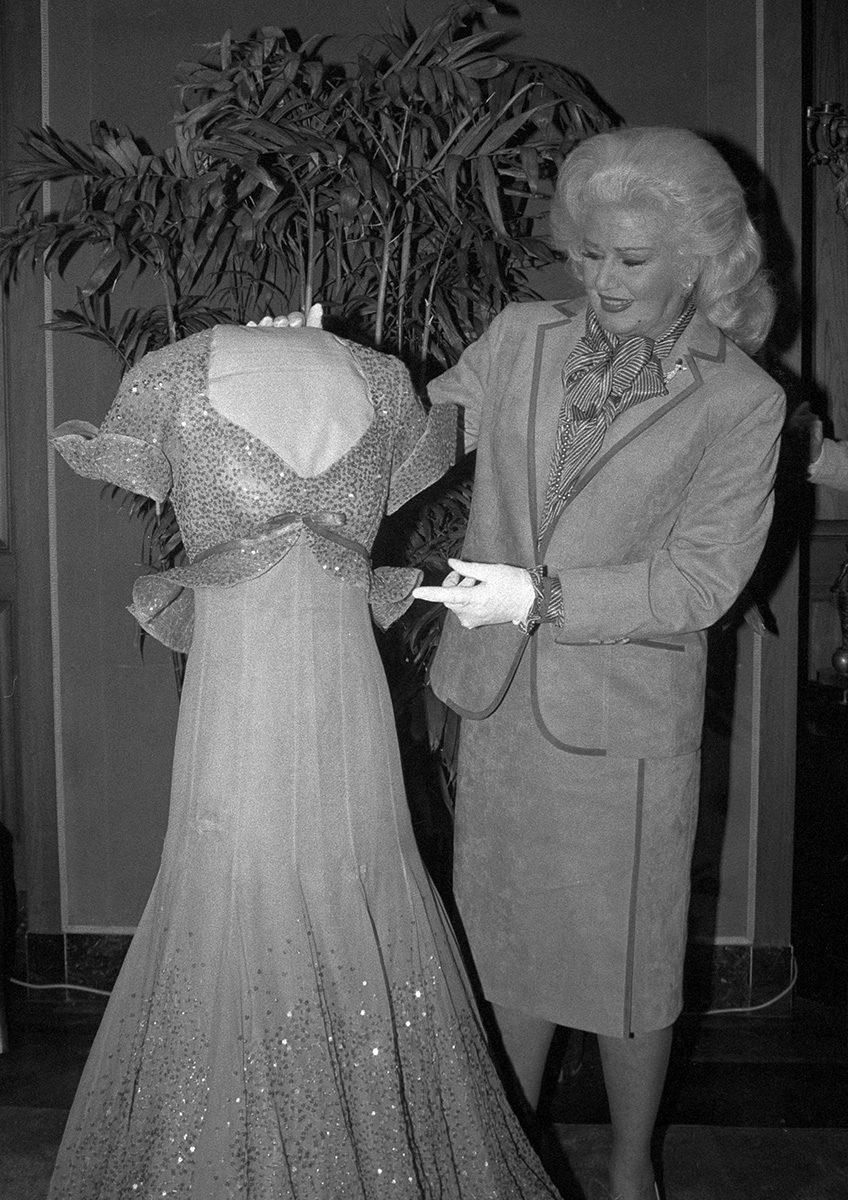 Shirley and Ginger starred together in "I'll Be Seeing You," which was her next film assignment after "Lady in the Dark." This time, since Rogers portrayed a woman on parole, Shirley had the flashier wardrobe!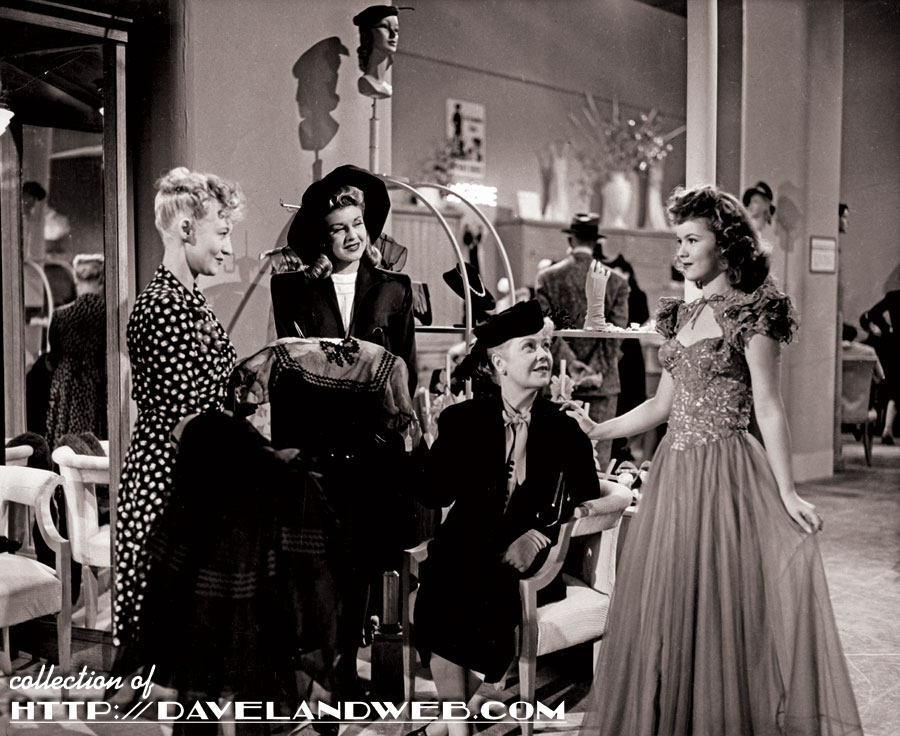 See more Shirley Temple photos at my
main website.