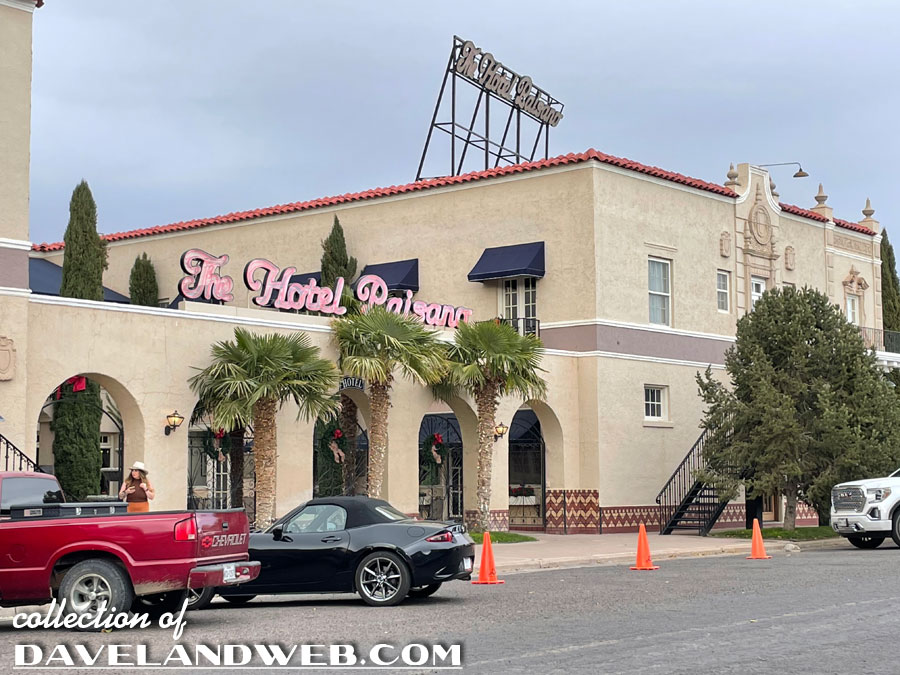 When my brother mentioned that he and his wife were going to be enjoying a short weekend getaway, I didn't really pay too much attention until I asked him where they were going. THEN I paid attention as he proceeded to say "Marfa"! What?!? Marfa is on the pilgrimage list of places to see if you're a true Deaner (aka James Dean obsessed fan). I guess I'm not a true Deaner since I've never been. At more than 7 hours from Dallas and approximately 6 from both San Antonio and Austin, it's not exactly the most convenient place to get to. On top of that, there's really not that much to do once you get there. My excitement about my brother's trip to Marfa was lost on him, as he considers himself too cool to watch a James Dean flick. I pleaded with him to get just a shot or two of the Paisano Hotel, as that was the place where much of the cast and crew of James Dean's final film, "Giant" (1956) either stayed or dined. I knew I had a snowball's chance in hell of getting him to drive out to photograph the remnants of the Benedict Ranch set, seen in the background of this image with James Dean during filming: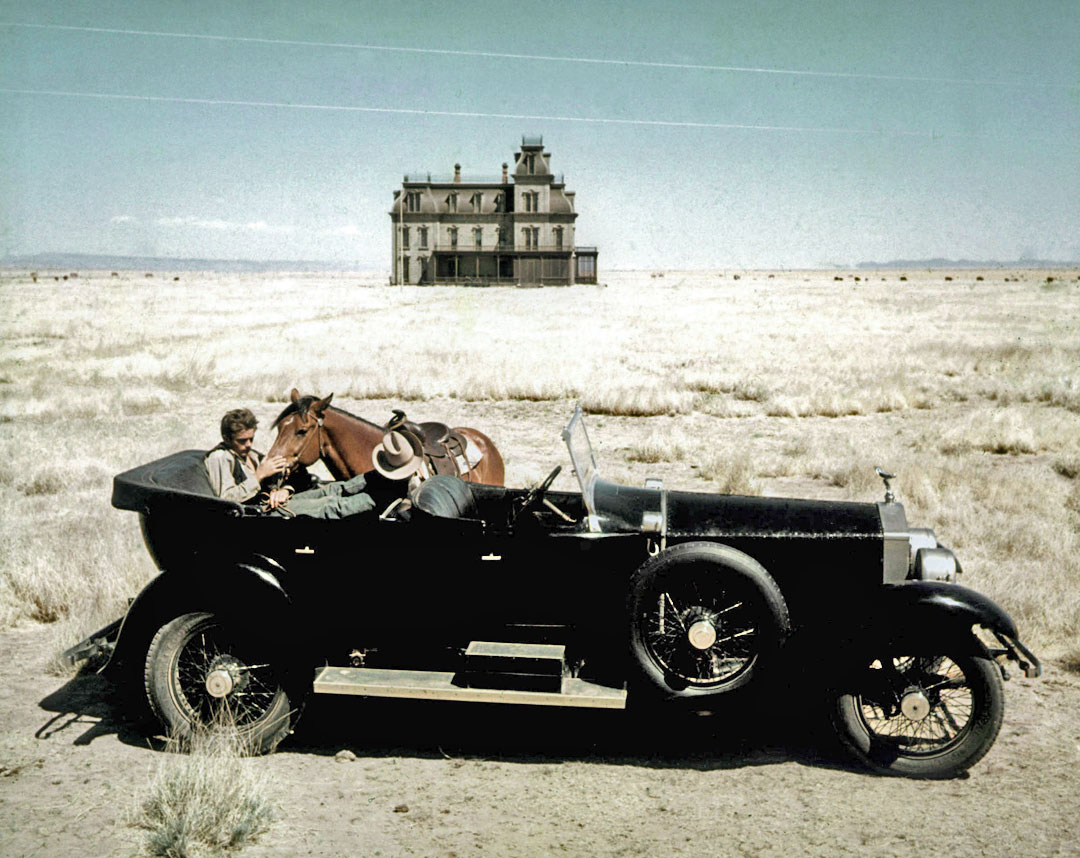 By April 1955, Director George Stevens selected Marfa, a small cattle town located on the edge of the Big Bend, as the location for his film. Below, Stevens talks to Dean in between shots: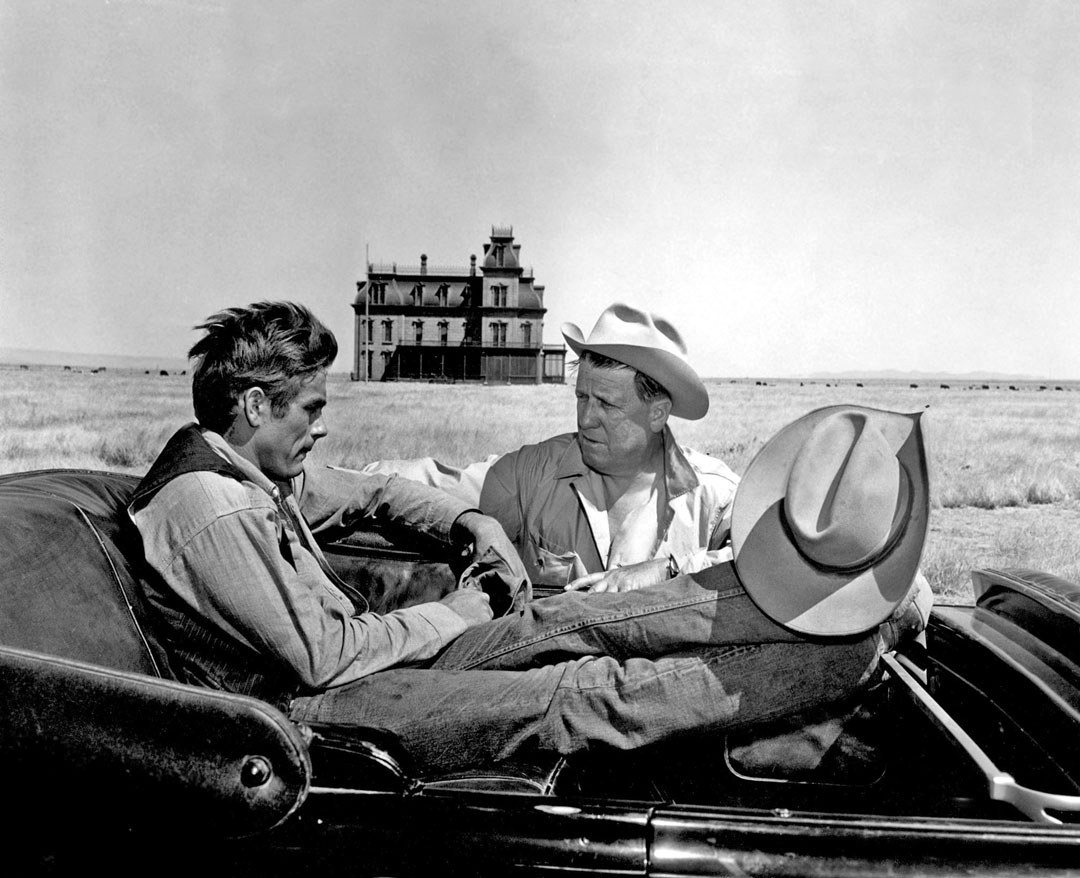 Below is a color image from my collection showing costars Mercedes McCambridge, Rock Hudson, and Elizabeth Taylor, with Reata (the Victorian Benedict mansion) behind them: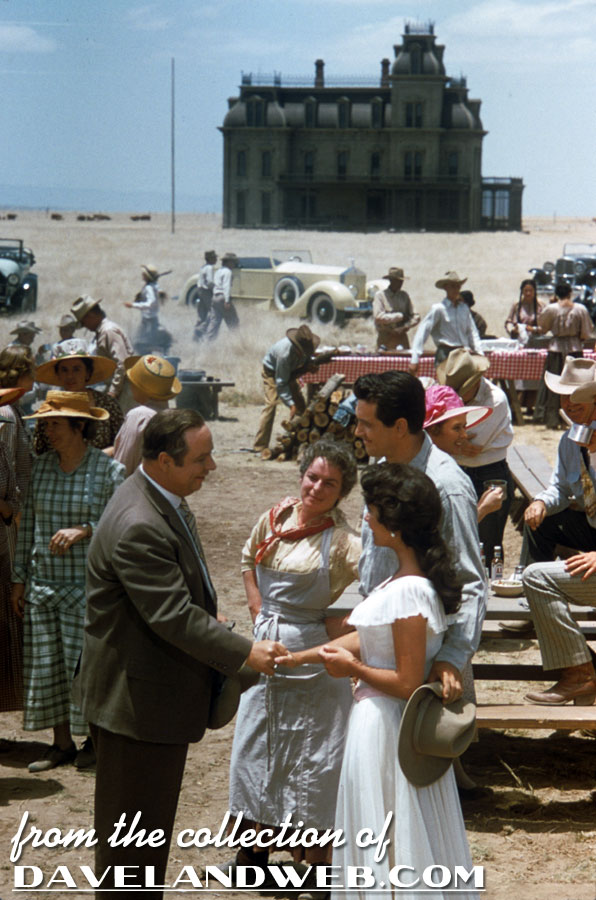 Dean and Bob Hinkle in Marfa, with the 3-sided Benedict Mansion set behind them: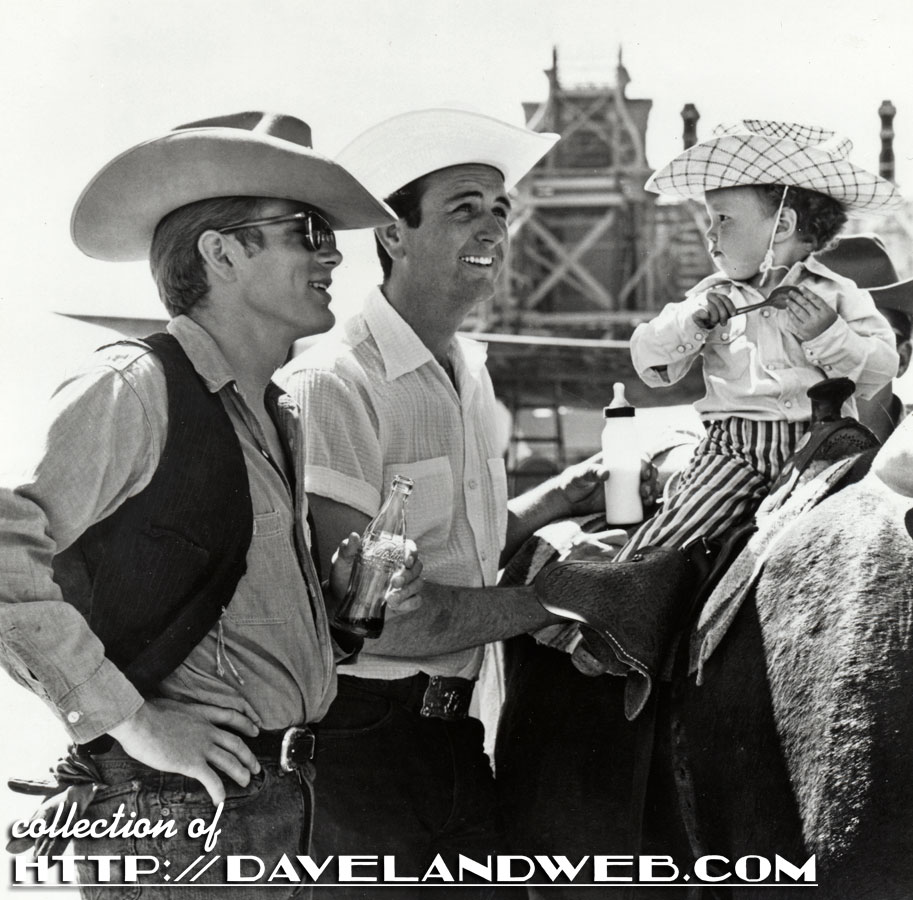 Here are some recollections of the time spent in Marfa from the cast. Actress Jane Withers:
In getting from Los Angeles to Marfa, Texas, we went on this one splendiferous long train, with everybody on it, and it was an incredibly fun and interesting event just to get there because there were so many of us.…We worked very long hours, all day long, and at night there wasn't anything for anybody to do, that's why we started what the crew called Withers' U.S.O. and everybody would come to my little bitty house that Mr. Stevens rented for me, and that's where we had our Monopoly marathons, and Bridge tournaments and Croquet tournaments and crazy things, just to keep everybody busy at night. Sunday afternoons were very special for all of us, because it was our only day off, and of course we put in very long hours, which I was very happy to do, and I think everybody else was, too. But we looked forward to Sundays, and I always went to church on Sunday with two or three other members from the cast and part of the crew, and then afterwards everybody would come to Withers' U.S.O. at night, but at first we would go to the Country Club because there was a lovely pool there, and it was cool, and we just would play water polo, and they had these big old inner tubes for the old fashioned tires, but the boys would get them, Rock especially, he would have a hoot and a holler of a time where you get the two big round things and then everybody would have to dive off the board to get through there. And Dennis did it every time, usually two at a time, he was a very good swimmer and he had a lot of fun with us there, and of course we all had a good time at the Country Club because it was the only pool anywhere around and it was greatly appreciated by all of us.
This shot of Dean can be found framed on the wall inside the Paisano Hotel: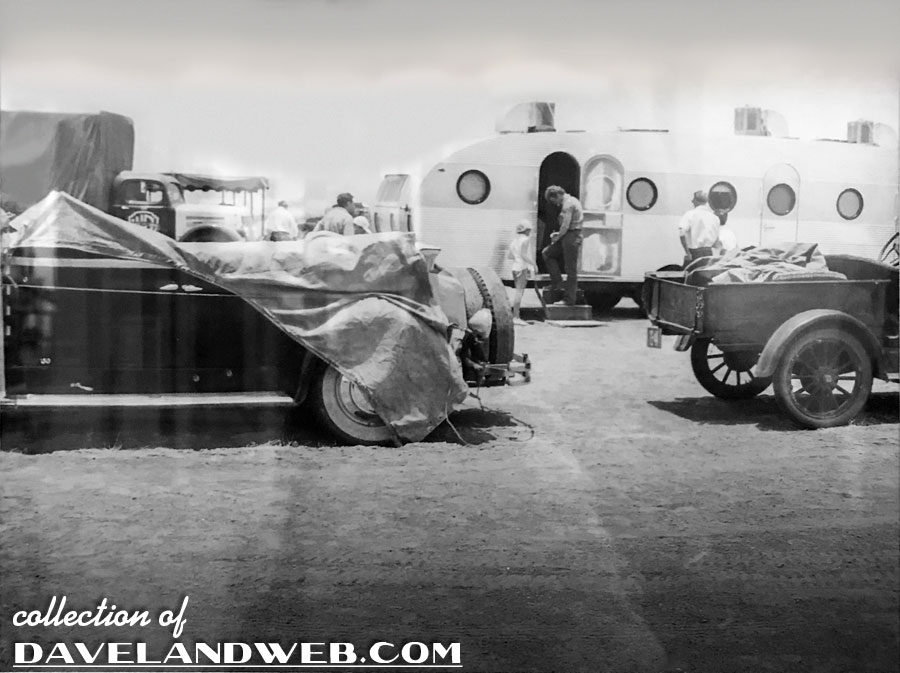 Texan Judy Black recalled in 2011:
My encounter with James Dean occurred on the set of "Giant.' which was 225 miles from our home in Ozona, Texas. It was the summer of 1955 and I was eleven years old. The notoriety of the book (very controversial in West Texas at the time), and the fact that few people had ever seen a movie being filmed, had everyone very interested. I think another reason we went is that my father thought Elizabeth Taylor was so beautiful. Also, my mother had enjoyed reading the book. The set had a wire fence around it to keep the people at bay. We were standing against the fence when Michael Wilding, Elizabeth's husband at the time, started to visit with the people along the fence. My father was soon engaged in a long conversation with him. My father was asking him lots of questions about the film business and Michael W. was very interested int he fact that my father was a rancher and looked like a 'real' cowboy. The actors were taking a break in their trailers. Michael W. told me if i wanted James Dean's autograph, he thought I could get away with climbing over the fence and knocking on this trailer door. Unfortunately, I was too young to even know who James Dean was, but I knew he was a movie star and I wanted the autograph. So over the fence I went and rant to the trailer door to timidly knock. I don't remember what he said, but it wasn't much. I do remember his big smile when he opened the door because I was so relieved to know that my invasion of his privacy hadn't angered him. After this, some other people came over the fence to get his autograph. That didn't sem to bother him at all. Maybe at that point in his career he was pleased with the attention.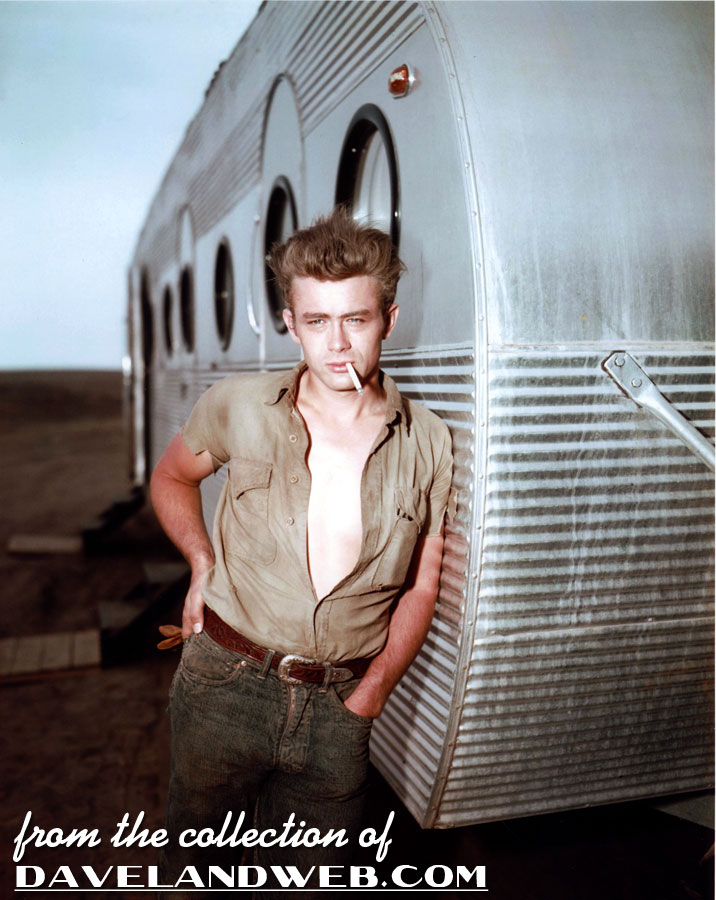 From Dennis Hopper:
We used to drive from Marfa to Alpine to a Country Club there. That was the only place we could really party and have something to drink. Jimmy and I used to go out in a pickup truck in the middle of the night with the headlights and mesmerize all the rabbits. We killed a lot of rabbits down there with 22's.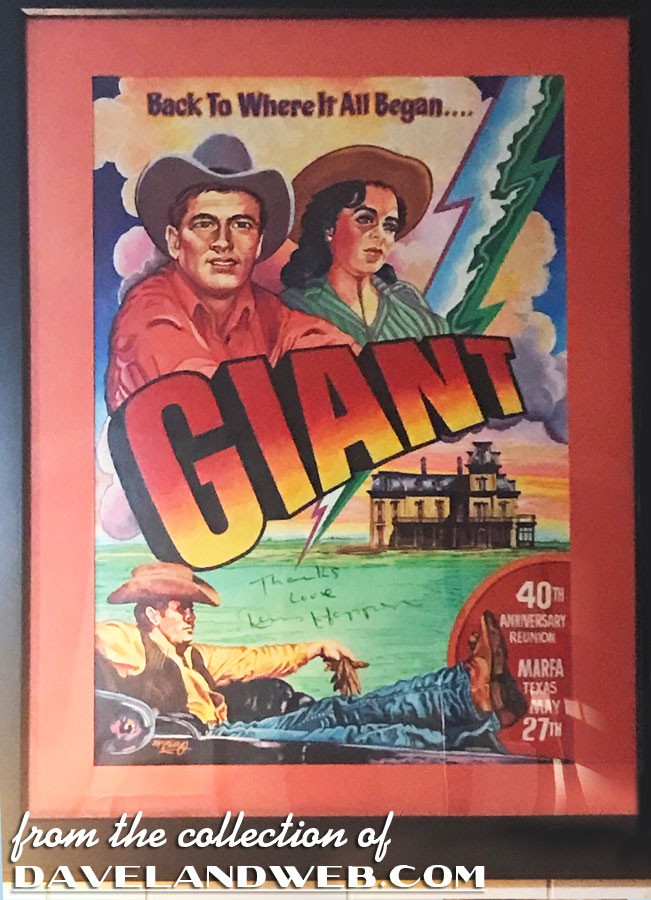 Above: a 40th Anniversary Reunion in Marfa poster with Dennis Hopper's signature.
From Monte Hale:
When we'd get through in the evening we'd all have dinner at the Paisano Hotel. Every night after dinner, Liz Taylor would come in, Rock, James Dean would walk in, and they loved to hear me do the cattle call. I can't do it anymore, but they just loved to hear it. It was an every evening affair that we'd sit down after dinner and do a few cowboy songs.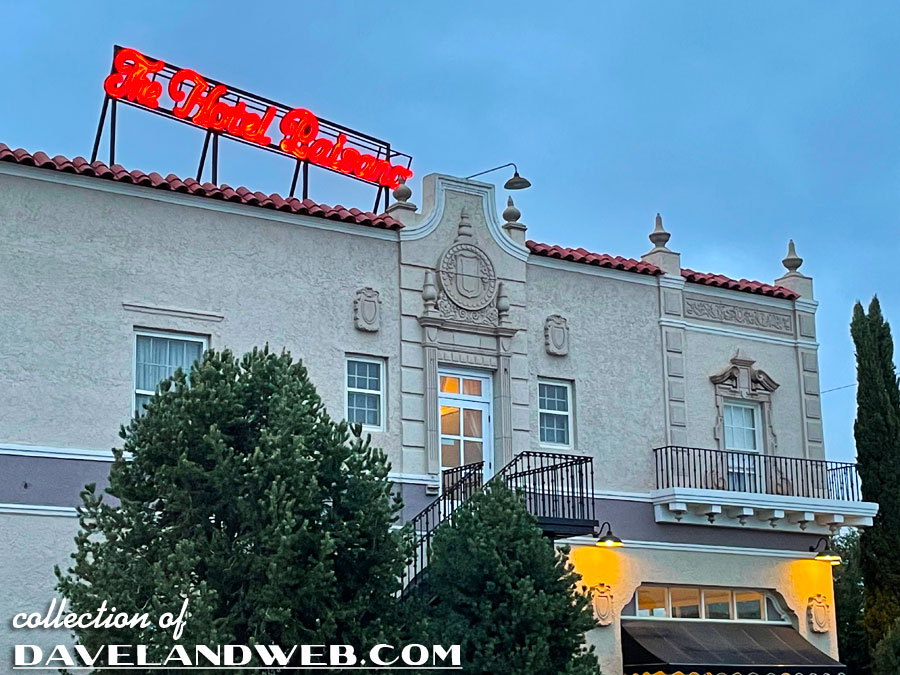 Earl Holliman:
I was in Marfa for about 6 weeks, and I remember when I arrived there that it was out in the middle of nowhere, it's a tiny little town. A cattle town.…When you take a Hollywood Company into a small town, they can be very put off by that company, but not Marfa. The first night they said "Do you want to go see the rushes?" So I said, "Sure," and we went to the old theatre
[There was no film lab in Marfa, so the film was flown to Hollywood to get processed and then flown back the very next day]
, and they were running hours and hours of the barbecue footage and of course they used all these people from Marfa in the barbecue as extras. There was so much footage of just cattle, and Elizabeth and Rock sitting on their horses watching cattle, but it seemed to me the entire town had turned out and was sitting in that theatre; it was packed, you couldn't get a sea. That was so smart of George to do that because he made the town feel like they were in on the joke, that they were a part of this movie, and the entire time that we were there that was the kind of reception that we got. People really felt that they were part of the company and they never resented us being there at all.
Carroll Baker:
One of the really strange things about it is that Marfa was so small and we had a very large crew and of course a very large cast, and there weren't really any living accommodations, and a lot of people had to live quite far out of town, and I lived in a house with five of the actresses. Fran, who played my sister, and Jane Withers and Mercedes McCambridge, and one other.…I had just recently been married (I'd was only married four months) and my husband couldn't come to visit because this was a house of all girls and there was no place to put him up, and I'm not sure that he quite believed me when I said this, and he called the company and actually George spoke to him privately, too, but this was the situation. Nobody could bring their husbands or wives; there just wasn't any space.…[Marfa] was a dusty one-horse town, one-street town. I don't know what Marfa is today, it's probably a Metropolitan area
[Oh Carroll, you couldn't be farther from the truth!]
, but…so everybody wore blue jeans and so forth, and Elizabeth would arrive when everybody else had finished eating, and I remember my mouth used to just drop open every night because she would show up in the most glamorous wardrobe for this rather dingy dining room. She'd have on white chiffon with sparkles, or she'd have on black chiffon with ermine tails and every night as long as we were there, we were there a long time, a couple of months, she had a different dress on every night, different jewelry. Jimmy and I ate dinner together, and he always made fun of this, but I could see that he was really impressed with her, with what he thought was Old Hollywood, that he wasn't a part of, that he'd never known. And Elizabeth used to come in with Rock Hudson. So after awhile, Jimmy found a way, not during dinner, because he would have been too embarrassed by the fancy clothes and walking into the dinner room with Elizabeth with all this hoopla and so forth, but after dinner, Jimmy found a way of getting together with Elizabeth and telling her all his troubles, and this is of course a great ploy to get a woman to pay attention to you, and especially one as warmhearted as Elizabeth is, so they used to spend long hours together, then the rest of us were invited to Rock Hudson's house for parties, which were always such fun. Rock had a great great great sense of humor, and he was warm and wonderful to be around, and there was a party at his house every night which was terrific, and we all used to say, "Where's Elizabeth? Where's Jimmy?" And of course they were out talking, I don't really think that there was a romance of any kind there, I really don't, but I think it was his way of saying hey Rock, I can take Elizabeth away from you. I'm the third character in the film, and in the film she's yours; well ,offscreen she's not yours, she has my attention.
Fortunately for me, my brother ended up staying directly across the street from the Paisano; even better, because there wasn't much to do in town, he and his wife generously shot photo after photo of both the interior and the exterior. Here are some of the images that they captured for me: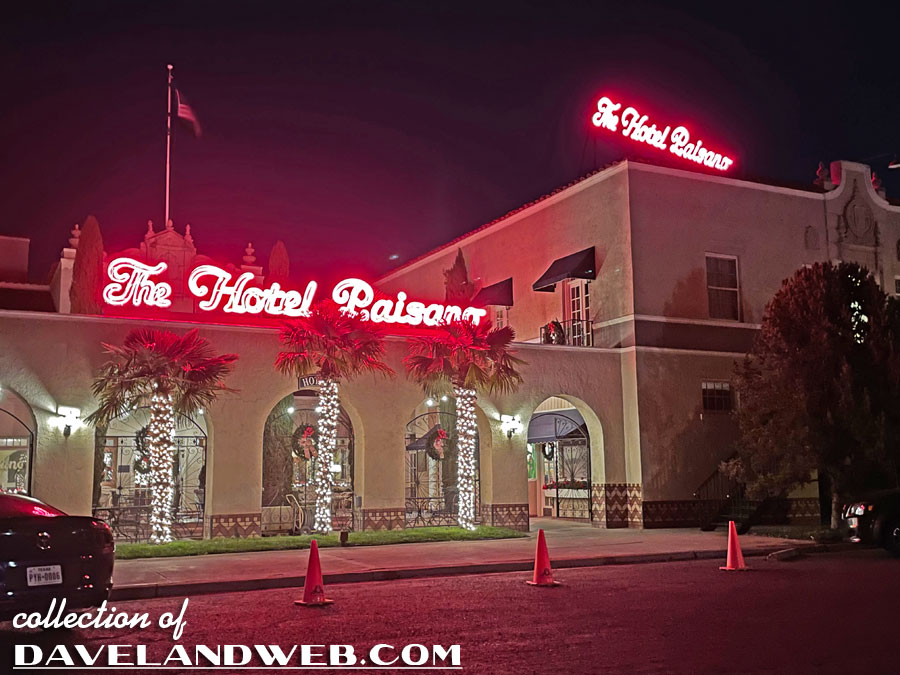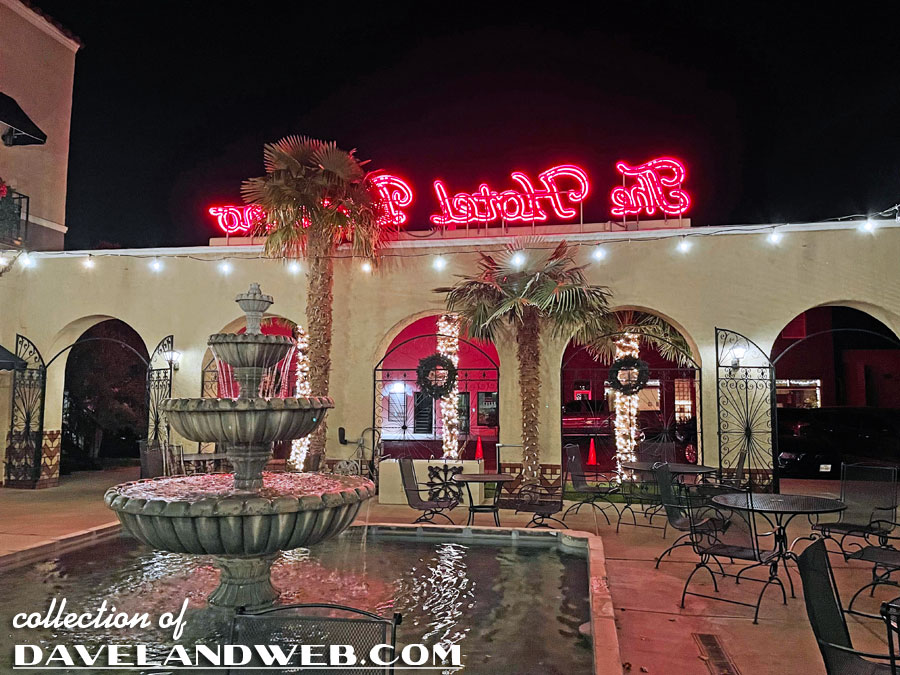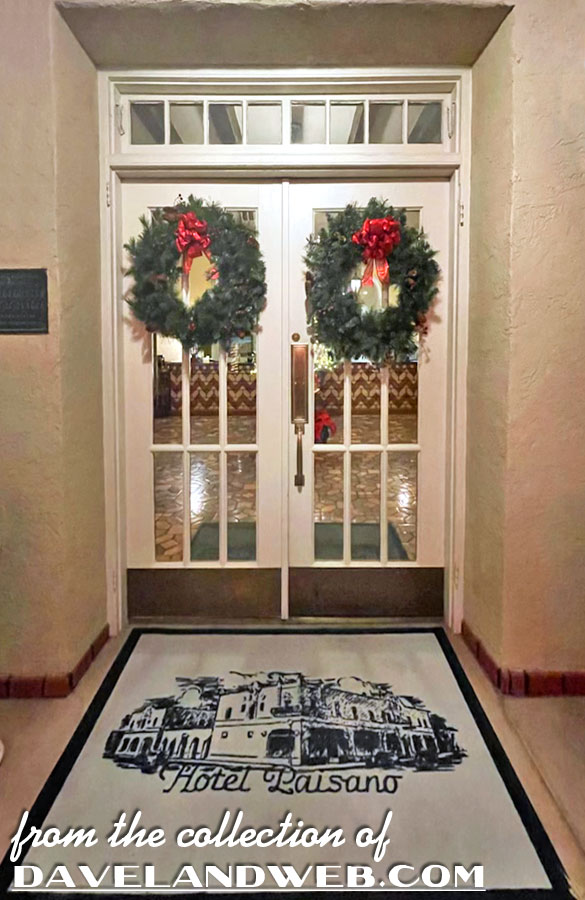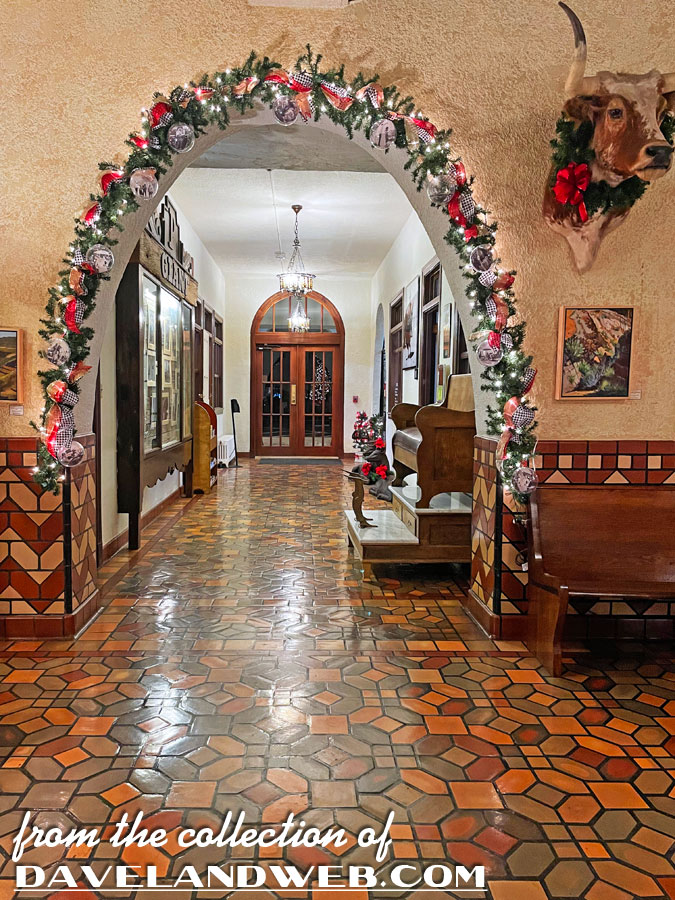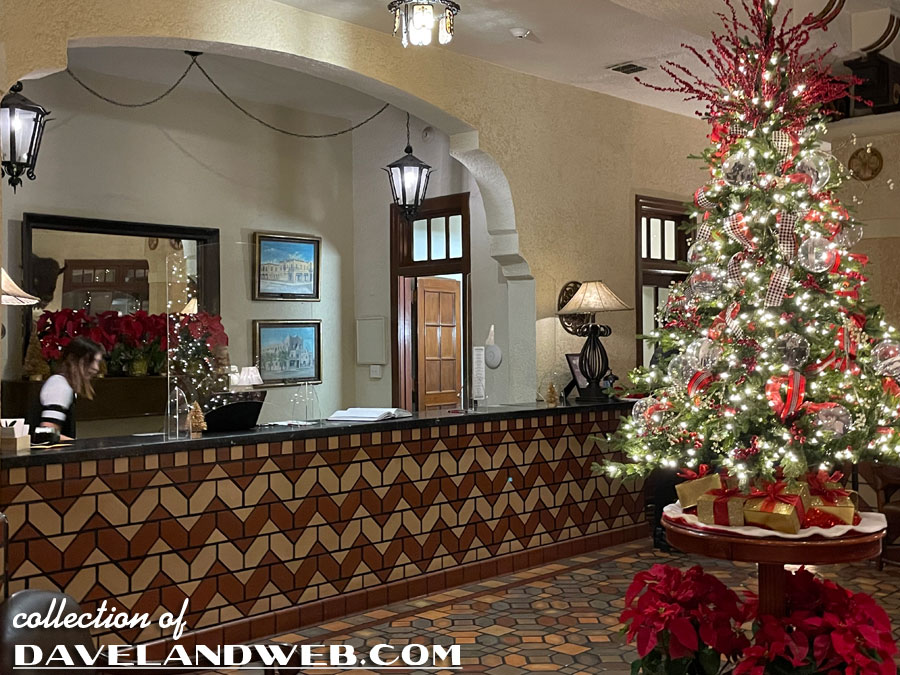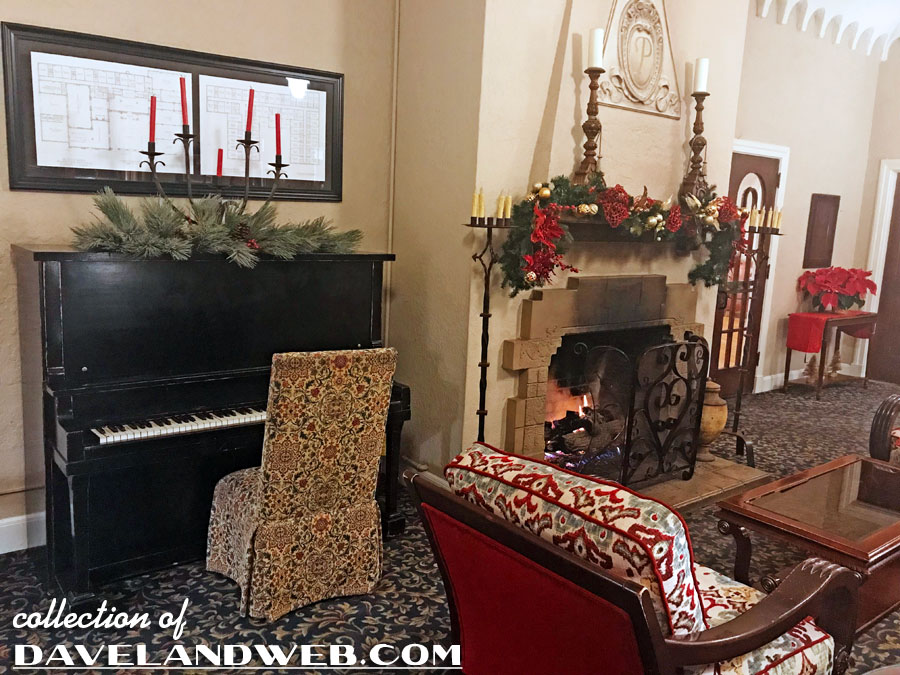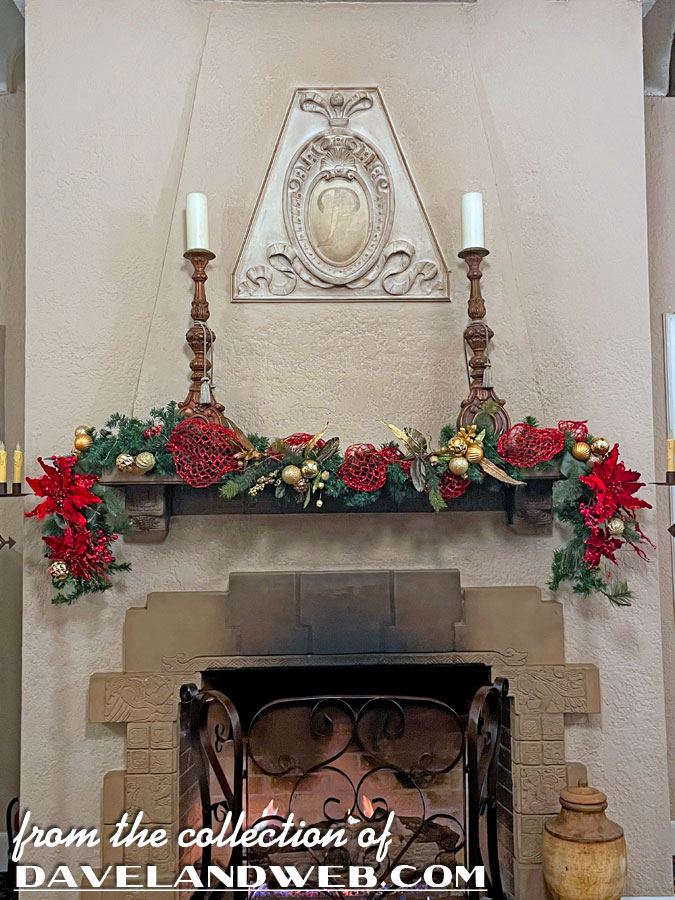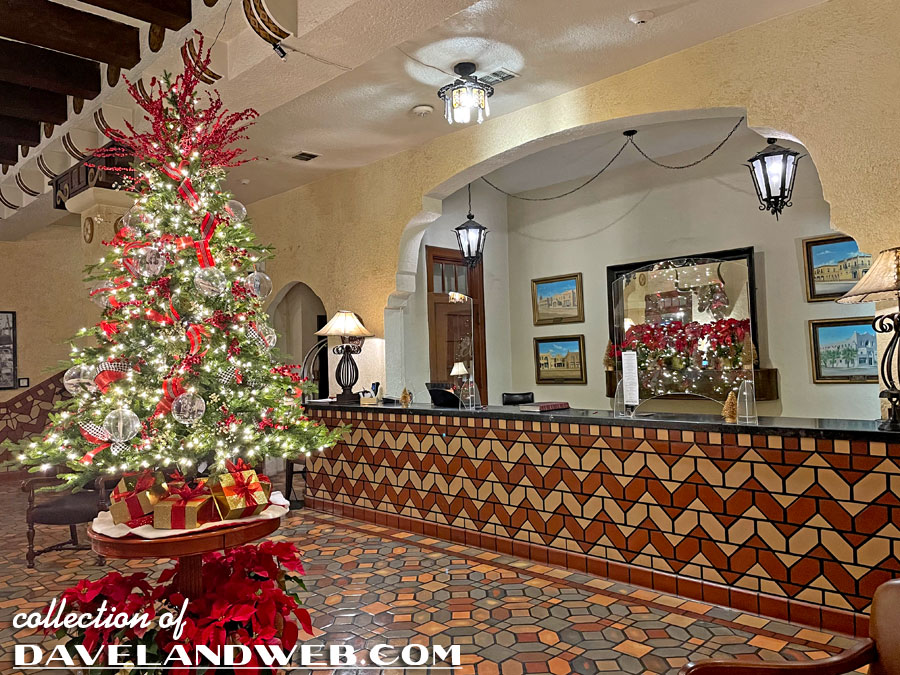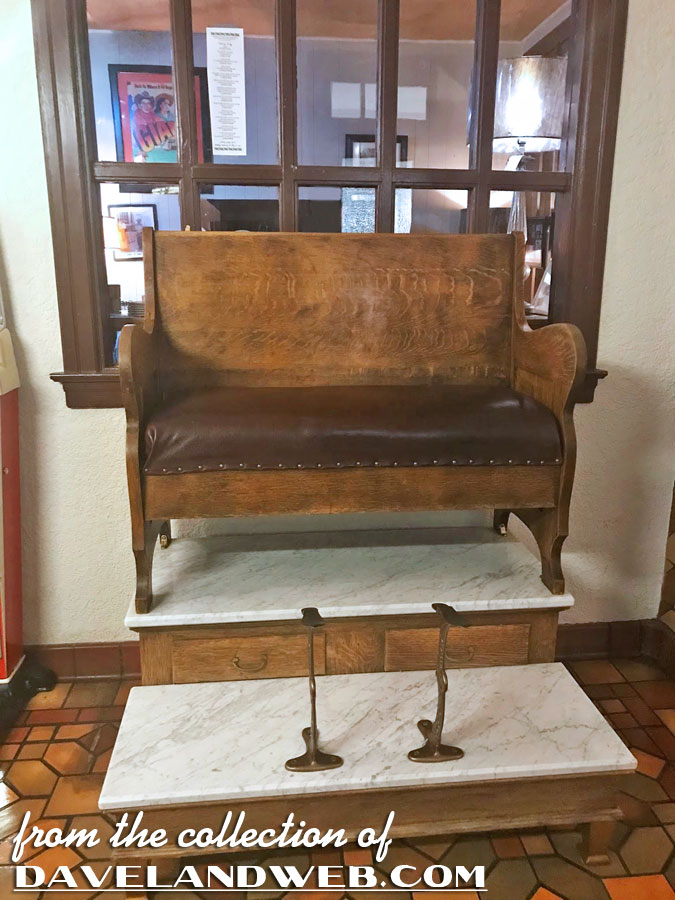 But that's not all! They also managed to shoot the two INCREDIBLE cut-out murals by John Cerney that can be found along Highway 90, 5 miles west of Marfa. The first is from 2018, "Giant Marfa, Rock and James Dean."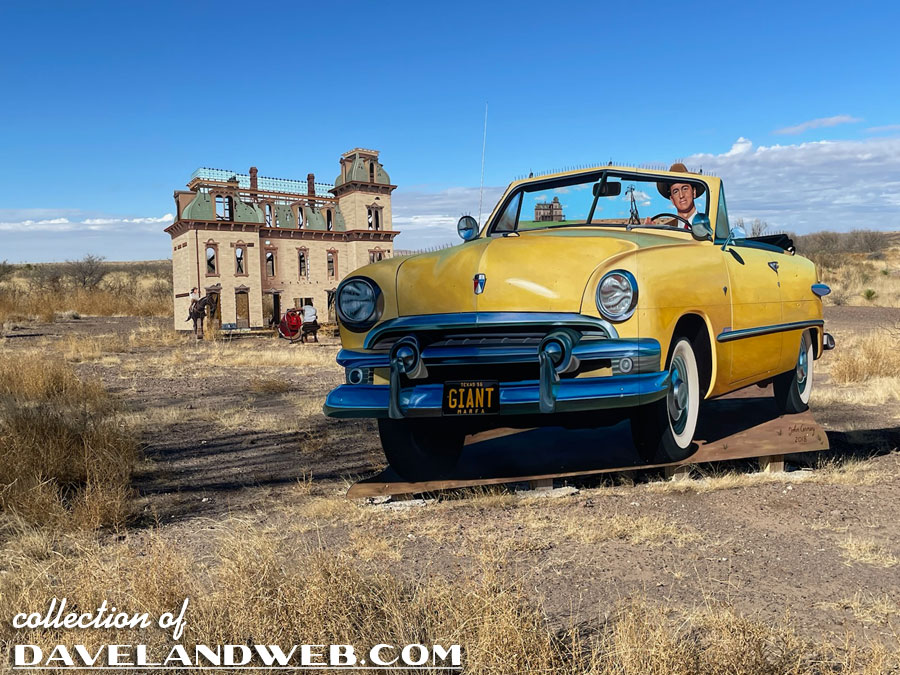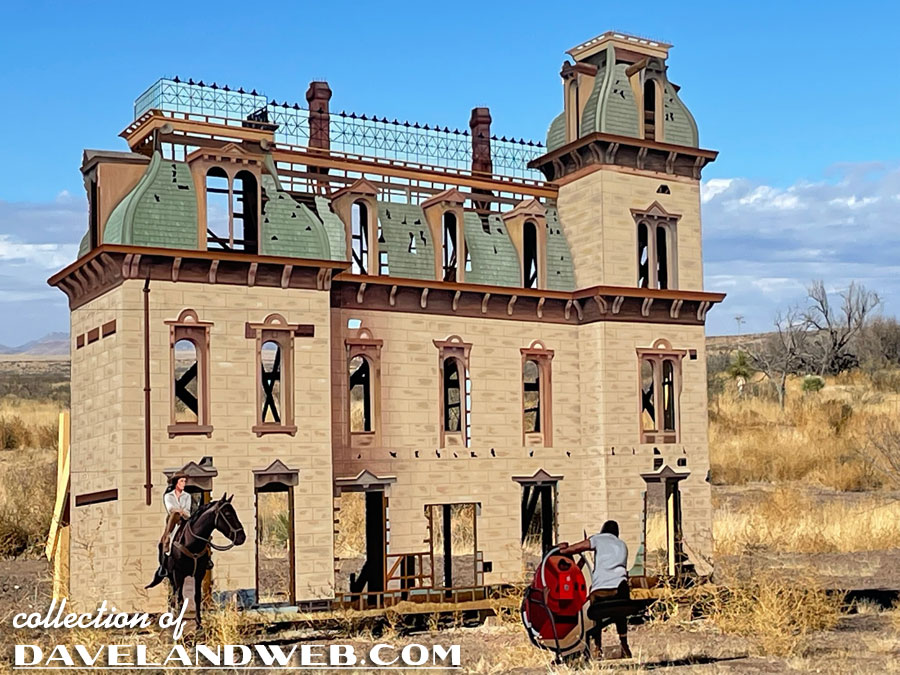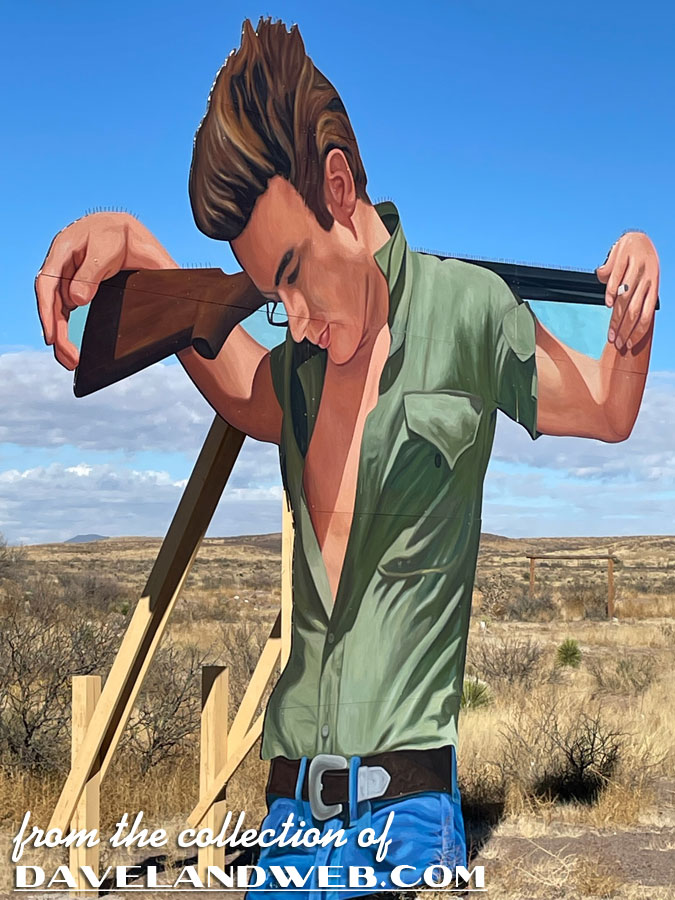 From the
John Cerney website
:
A donation to the city of Marfa, Texas, the mural honors the movie 'Giant' (1956), which was partially filmed in this small west Texas town. The mural is a collaboration with singer/songwriter/musician Michael Nesmith who made possible the addition of an audio element to the mural installation. The sounds of Nesmith and his First National Band Redux play continually on a loop from hidden speakers near the automobile in the scene.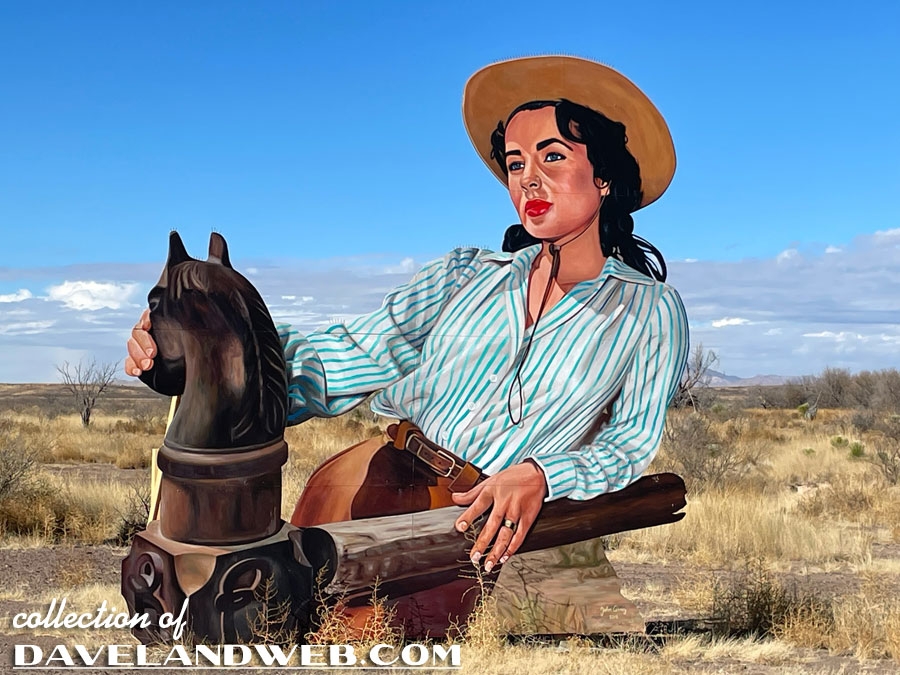 Part two, "Giant Marfa" was created in 2019 and added Elizabeth Taylor. Here's the bio for Cerney:
A Salinas, California native whose artwork can best be described as 'giant cut-out art', ordinarily viewed from the comfort of your automobile. Cerney found out that painting on a wall was restricting to the effect he was looking for. After earning an art degree from Cal State Long Beach in 1984, Cerney worked in Southern California as a portrait artist, rendering finely detailed pencil drawings. His patrons were television producers and writers, as well as such clients as the late comedian John Candy and hockey star Wayne Gretzky. Wanting to reach a larger audience, Cerney would relocate to Central California periodically and convince a farmer to allow him to paint a mural on his barn, just for practice. This ultimately led to commissions from local business owners to paint their walls. Finally realizing that he could earn a living painting murals and gain a wider audience, he moved back to Salinas in 1991 to concentrate on his wall paintings. The evolution of the cut-out paintings was slow, with a hand sticking out above a fence line as a start, then trying a complete automobile in front of a wall, and finally to the feeling that the wall was unnecessary and that the cut-outs could stand on their own. The landscape behind the figures became the background.
According to his
Instagram account
, Cerney returned to Marfa on May 25, 2021:
On my way back from Memphis, I stopped into Marfa, TX to check in on my 'Giant Marfa' installation....check for any possible maintenance issues. Plenty of wind storms in west Texas, so you never know. Ended up doing some weatherproofing work on the backside, but otherwise it was very sturdy and the paint on the front is holding up well. If I can get 10 years plus on my paintings I consider it a win. Spent the night at the El Paisano Hotel (naturally) and had dinner with Belinda and her husband Jack. Belinda was instrumental in getting the project going back in 2018. Walked around Marfa after dinner. Lots of warm feelings about the town and the project. Did my work today while listening to the sounds of Michael Nesmith and the First National Band, which plays on a continual loop at the installation site, 6 miles west of Marfa on Highway 90. Nez collaborated with me on the project.
He is currently working on another James Dean mural in Marion, Indiana:
Another James Dean! This one will stand 12 feet tall and be placed in Dean's birthplace of Marion, Indiana. There will be an accompanying sign that directs people to the James Dean Birthplace Memorial that is a block down the street. Dean historian David Loehr designed the Memorial and is helping me with this project and possibly others in the area. A girlfriend back in the 70's gave me a James Dean poster as a gift, and little did I know that painting him would become a little cottage industry for me. This might be #13. My very first effort was on the hood of my '68 Datsun pickup. I didn't know what I was doing, but the enthusiasm was there.
Want to see more about "Giant," "Dean," and Marfa? Here are some YouTube vids for you to rabbit-hole on today:
Many thanks to my brother for taking a few detours and shooting these photos for me, and I am guessing even more so his wife for convincing him to do so! See more James Dean photos at my
main website.