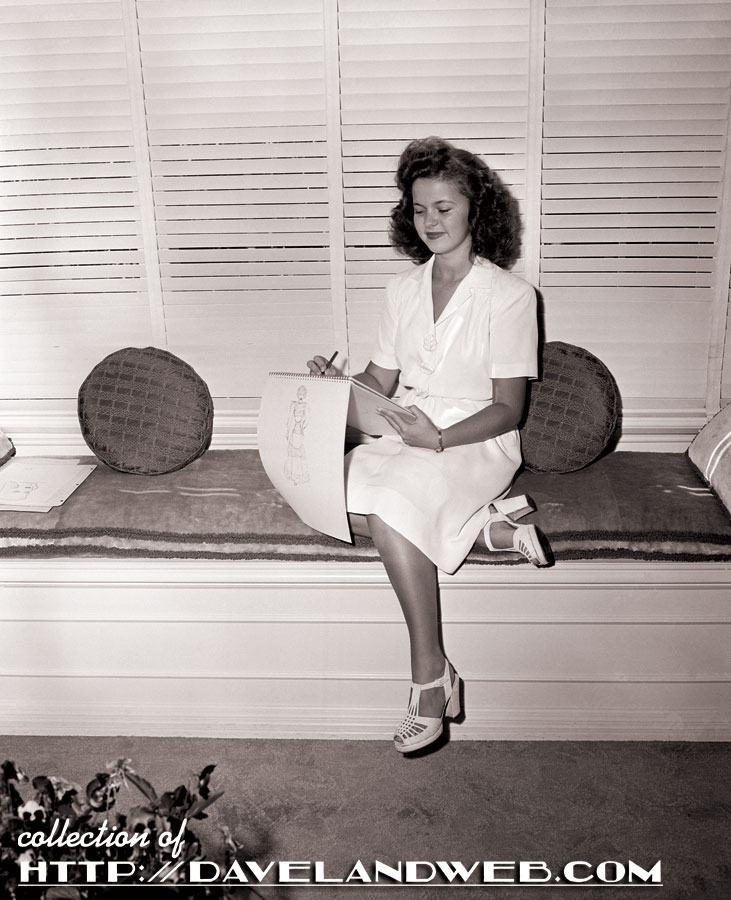 This 1940's shot of Shirley shows her at home sketching for the publicity cameras. Let's be nosy and see what she's drawing!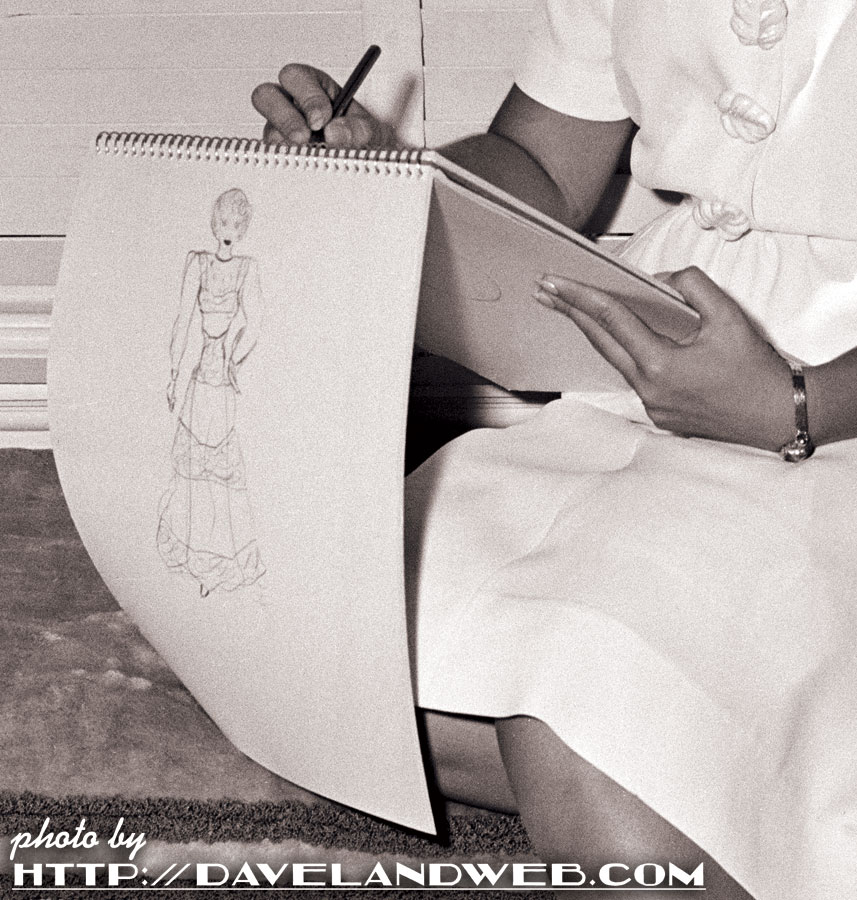 I'd say Shirley wasn't half bad! It would appear that she was doing a little bit of fashion designing, which is not surprising.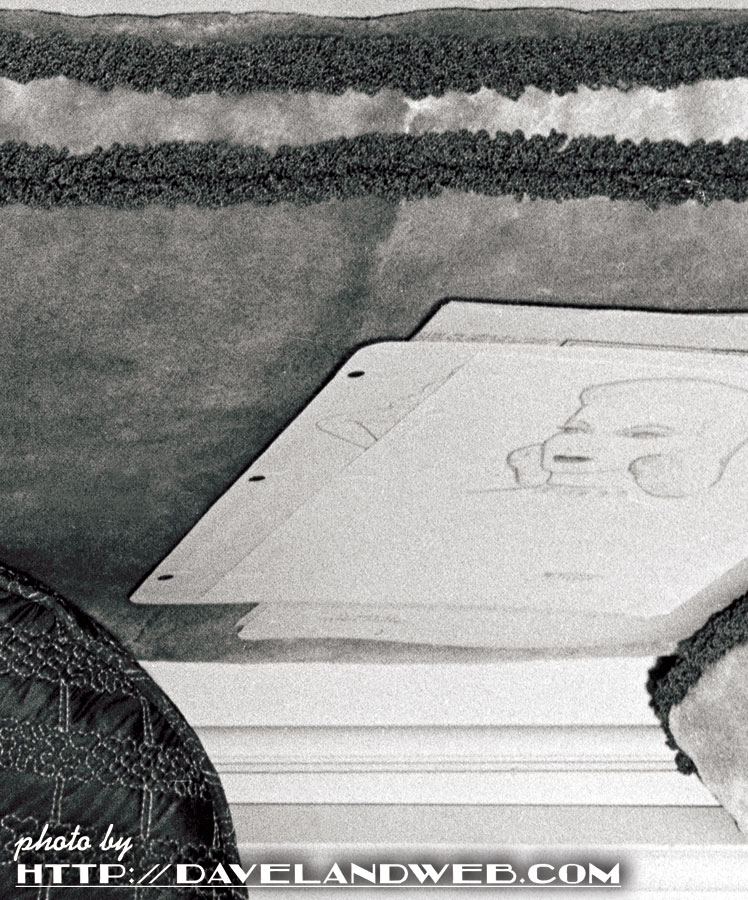 This 1941 publicity shot shows Shirley pinning together an outfit on her miniature fashion mannequin, which was also used as a prop in her one film for MGM, "Kathleen."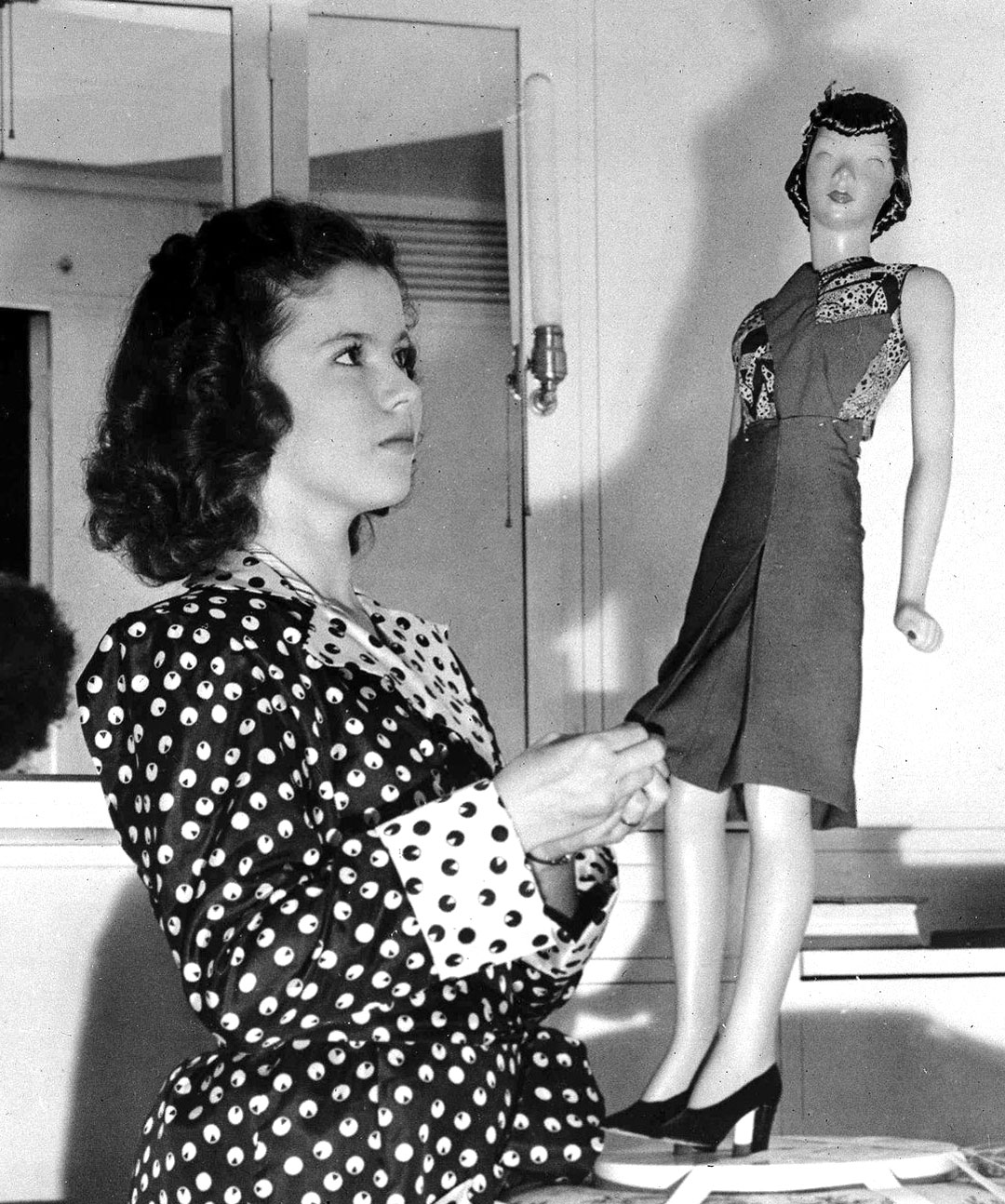 A photo of how the doll looked when it came up for auction in 2015: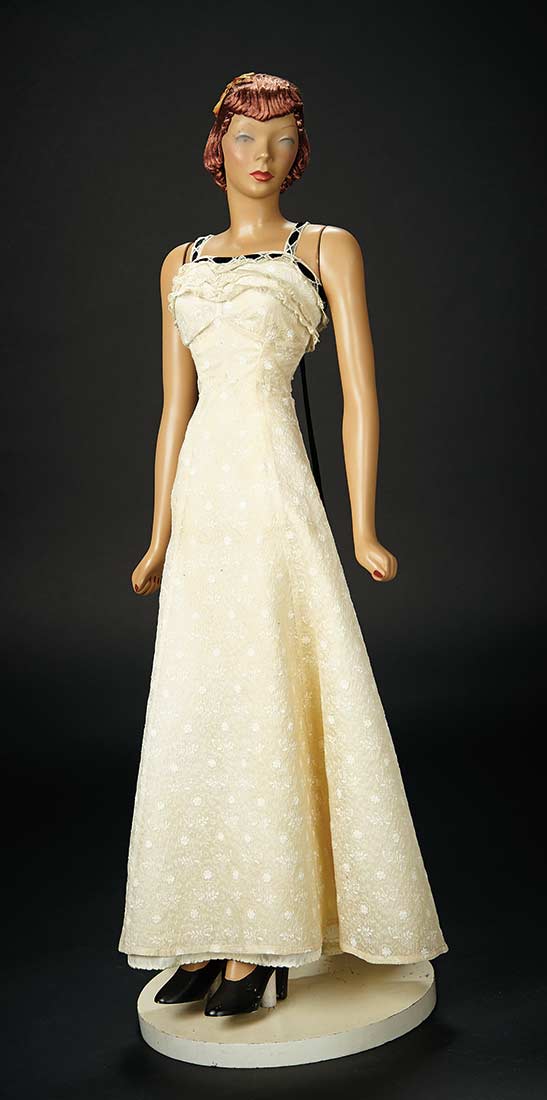 From the Theriault's catalog:
30" tall. A highly stylized slender lady mannequin with painted complexion and facial features including heavily lidded eyes with dark blue eye shadow, shaded full lips, and with red flossed hair in arranged looped bangs and bob, with shapely torso and limbs, painted black heels, detachable arms, and with original wooden stand which is stamped "Rubber Products Inc, Genuine Rubberlite, New York". The doll is wearing original nylon full slip with zipper back, and fitted ivory crinkle-cloth gown with fitted bodice trimmed with double tiers of lace and black velvet. The mannequin was a featured prop in the 1941 film "Kathleen", and appeared in numerous publicity photographs with Shirley that promoted the film; one feature in a September 1941 article of the Chicago Herald Tribune noted that the doll actually belonged to Shirley and "being a smart business girl Shirley rents it to the studio". Included with the mannequin are two vintage photographs depicting Shirley sewing fashionable costumes for the mannequin and five McCall patterns for Margit Nilsen mannequin doll.
Margit Nilsen is noted for the highly stylized Deco-era (1930s/1940s) advertising mannequins she designed in her Manhattan studio for upscale clothing stores during the 1930-40's. Many of her mannequins were also sold to the McCall Pattern Company where they were used as counter displays in fabric stores. Simplicity Pattern Company called upon Nilsen to design mannequins for them as well.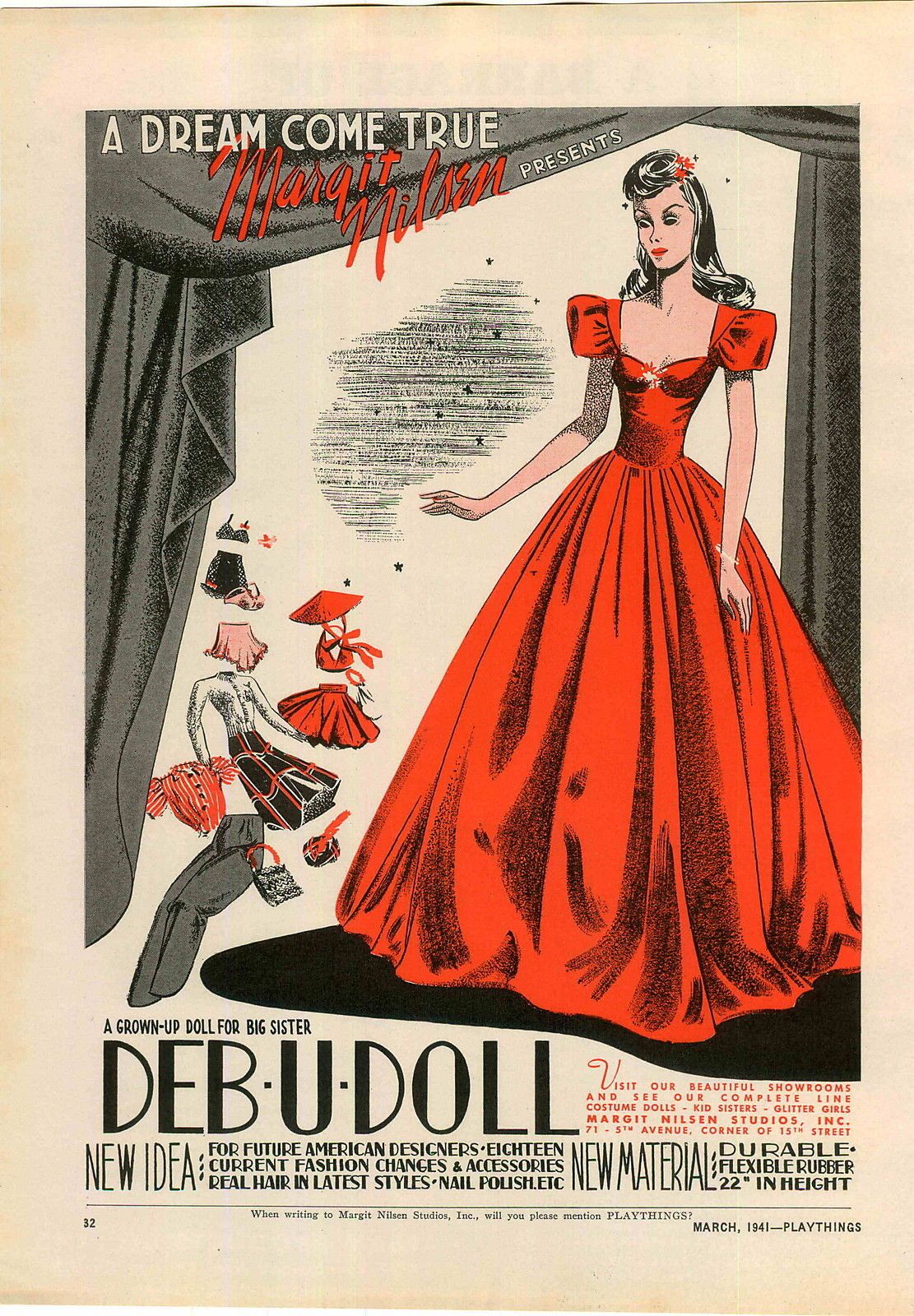 Some of the vintage McCall patterns: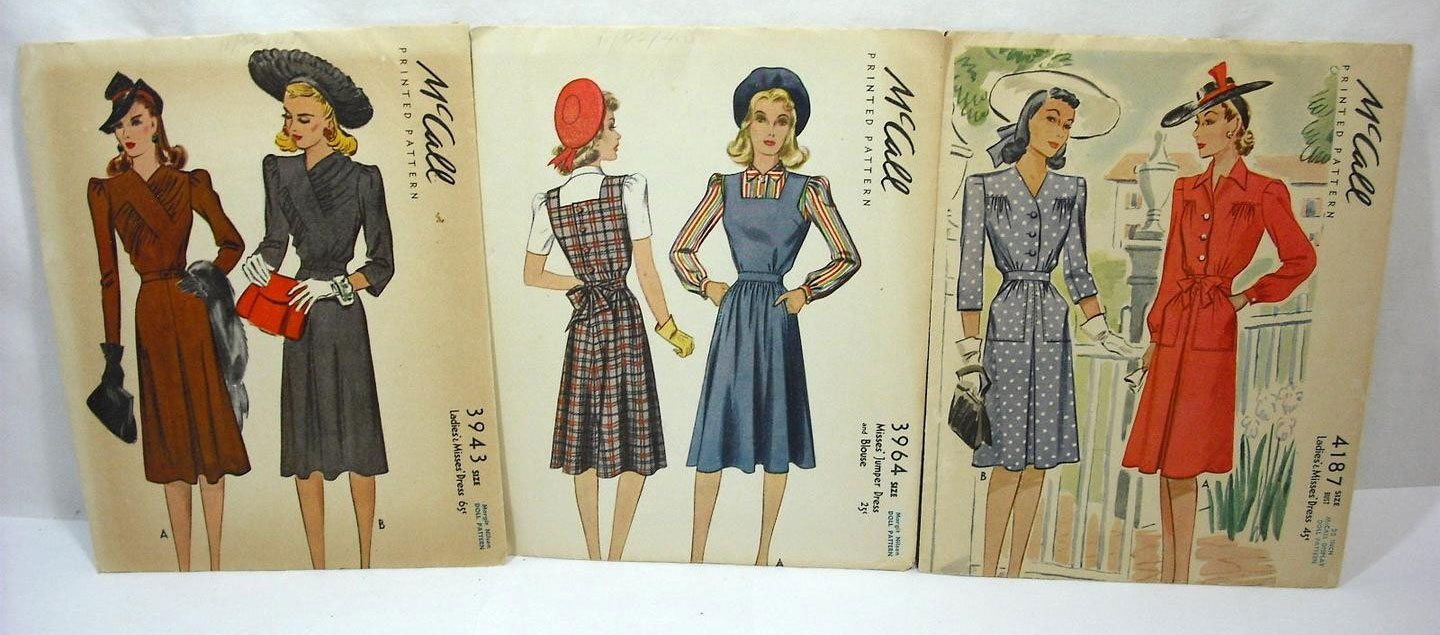 Nilsen completed her studies in fashion design at Traphagen, and then extended her art education when she traveled to France to study sculpting. While there, she discovered the lavish 19th century French fashion dolls and their incredible wardrobe. Fascinated by them, she was inspired to create her own haute couture figures. She created her master model using clay, basing the look on her imagination rather than a "live" model. She preferred to have an exaggerated depiction of a woman's body versus strict realism. The elongated neck, broad shoulders, narrow-waist, and tapered hips were meant to act as hangers for displaying clothes. The somewhat blank but haughty facial expressions were definitely of the art deco era. Her husband, Sergio, was given free reign by her to conduct the commercial end of the business...until the separated. Apparently, Margit was married a few times!
Based on this label I found on one of her mannequins, it would appear that her studio address was 145 E. 57th Street in New York, which is where Hammacher Schlemmer is now located.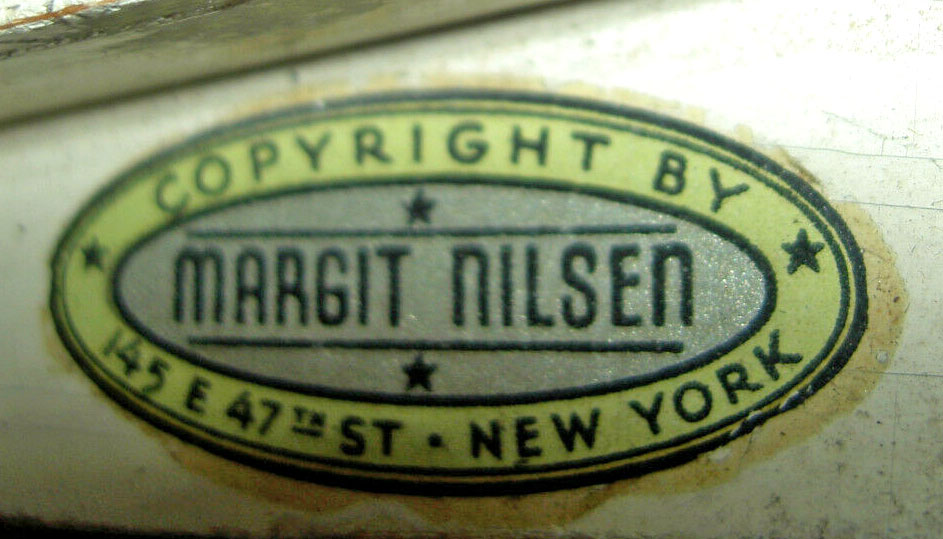 And here's Margit herself: