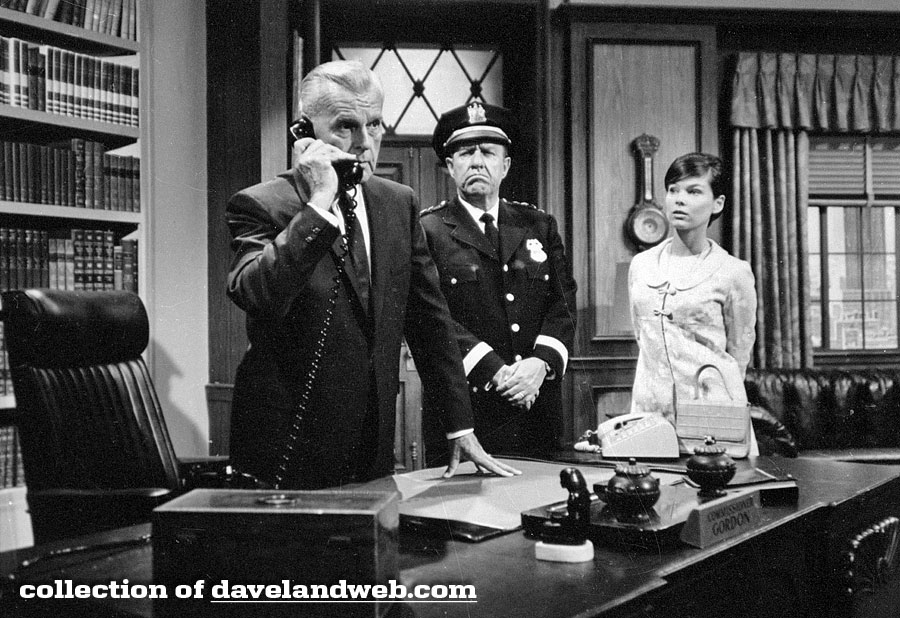 Growing up, I used to love to watch the 1960's TV classic, "Batman," starring Adam West and Burt Ward as the Caped Crusaders. The powers that be decided that Season 3 of the wildly popular show needed a jolt of estrogen; dancer and actress Yvonne Craig fit the bill perfectly. As mild-mannered librarian Barbara Gordon, she was privy to all of the Caped Crusader's activities, thanks to her father being the Police Commissioner. In this first photo, we see some serious goings on with Neil Hamilton on the left (Commissioner Gordon), Stafford Repp (as Chief O'Hara), and Craig. Barbara was a smart cookie who somehow was able to afford a very chic apartment in Gotham; was daddy subsidizing the rent for her?
As this photo shows, there was no denying that Craig as Barbara Gordon had appeal.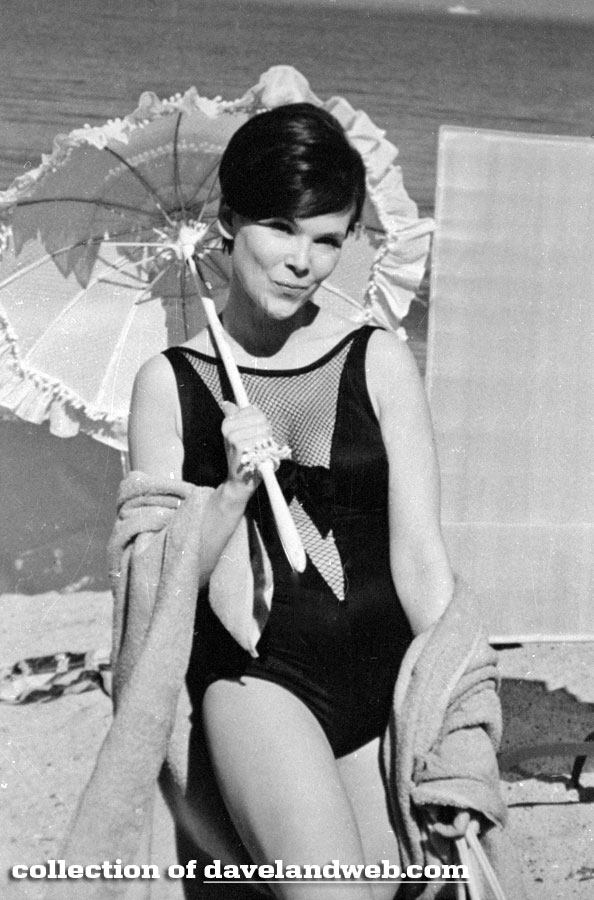 But when she transformed into the ginger-wigged Batgirl, sporting a very form-fitting purple lycra costume, she was a literal knockout. Craig's training as a ballet dancer served her well when fighting criminals. Her high-kicks were legendary.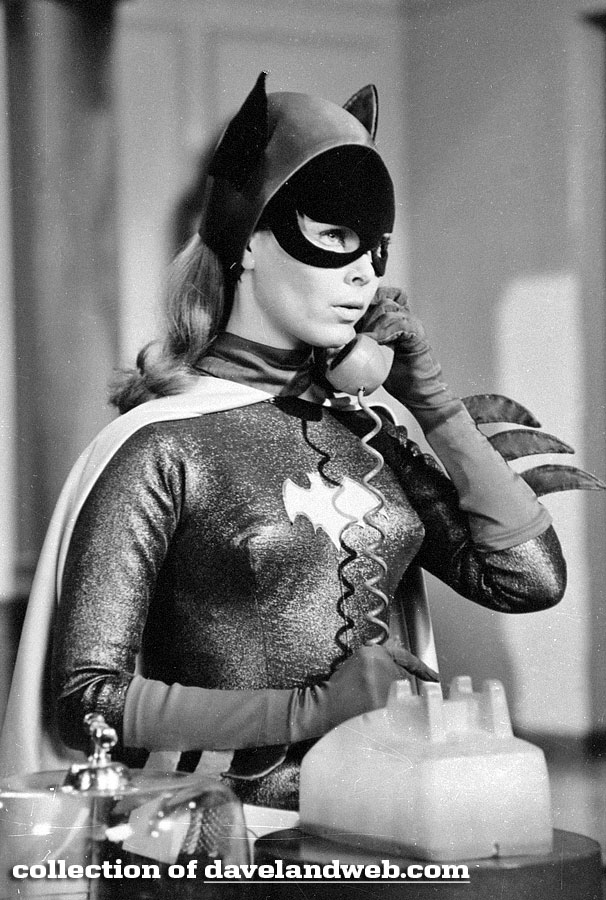 Sadly, the powers-that-be decided to stick with a decidedly 1960's chauvinist approach to the Batgirl character. Inevitably, Batgirl got captured by the criminals (in this case, Cliff Robertson as Shame) and it was Batman and Robin that had to save her. Still, Craig did her best to play Batgirl as a very liberated yet sexually flirtatious heroine.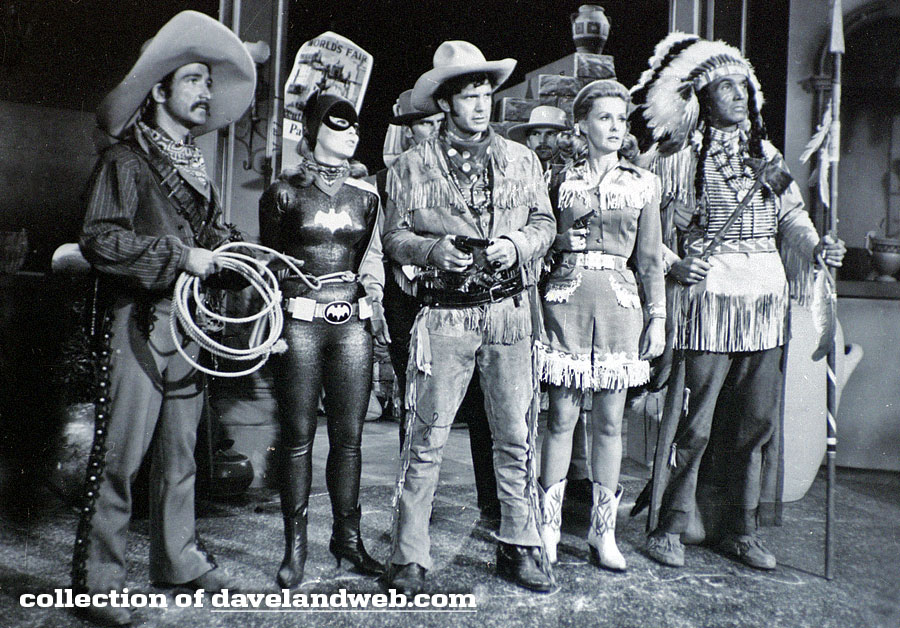 If only the writers had been allowed to have Craig be the rescuer; maybe the show would have lasted a bit longer.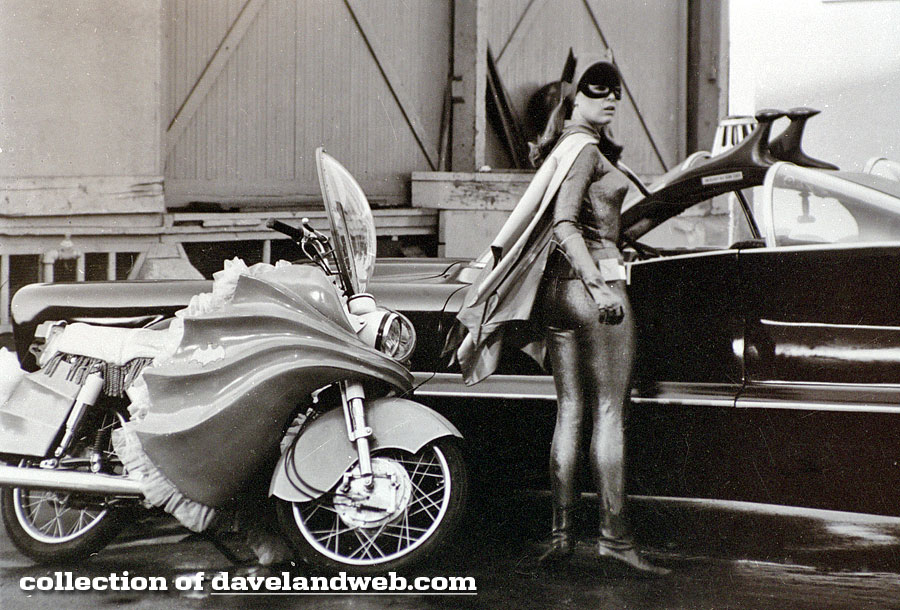 Holy Toledo! Want more Batgirl photos? Ride your Bat Cycle on over to my
main website and see more photos of the Monorail at Disneyland.
Follow my Daveland updates on
Twitter
and view my most recent photos on
Flickr
.