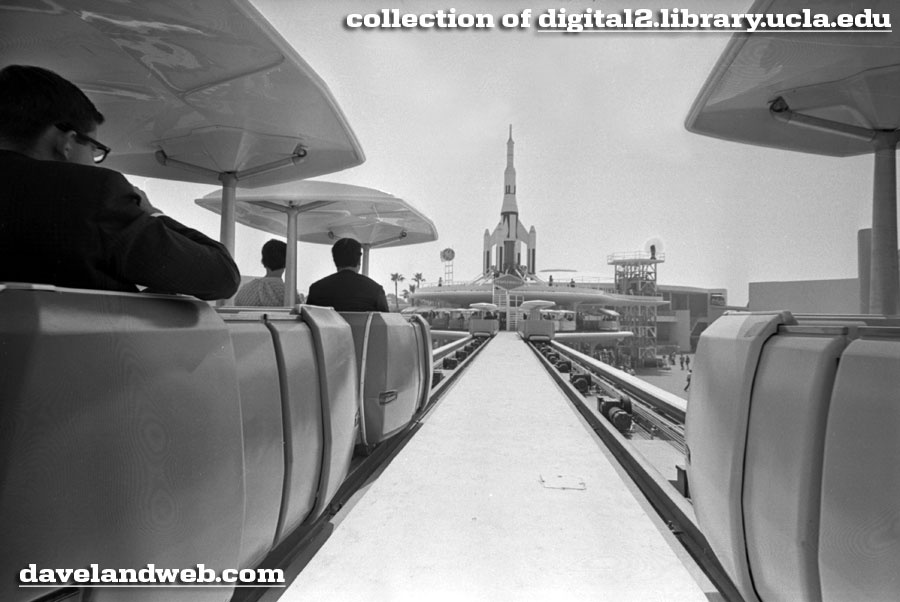 19 years ago today, the Goodyear sponsored PeopleMover attraction at Disneyland closed. This vintage article for the Times from June 29, 1967 featured the above photo by Steve Fontanini with the caption below:
TRAFFIC RELIEF?—Goodyear's new transportation system, the PeopleMover, goes through preview run at Disneyland's new Tomorrowland section. Concept is said to offer applications which may ease traffic in downtown areas. Cars are propelled by series of stationary, electric motor-driven rubber wheels between rails. It opens to public next week.
Goodyear Shows an Automated High-Capacity Transit System
BY BOB THOMAS
Times Auto Editor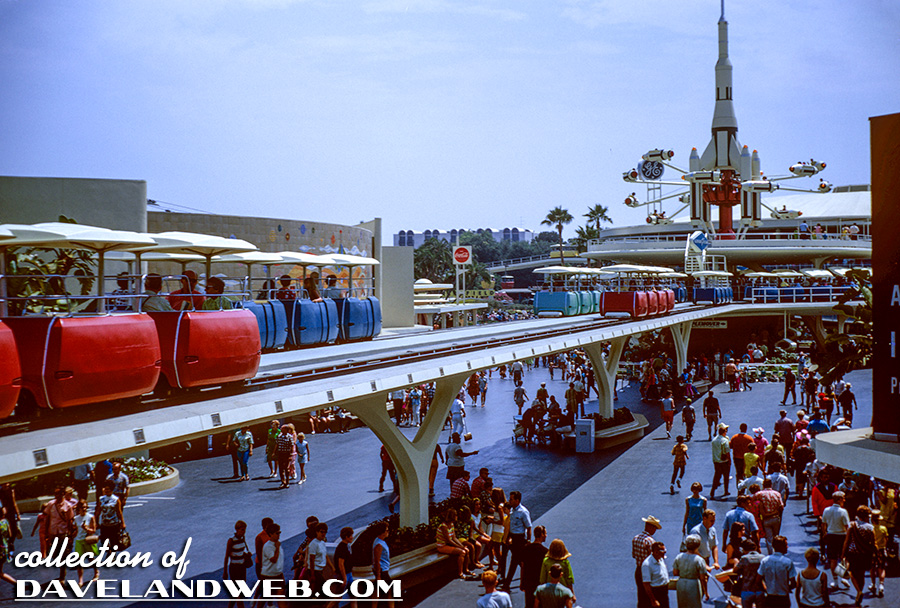 Goodyear Tire & Rubber Co. demonstrated Wednesday that it may be working at cross-purposes with itself—that is, infringing on the market for its primary product, the automobile tire—with a new transportation concept.
And it happened in the fantasy atmosphere of Disneyland.
Nevertheless, the nation's No. 1 tire producer Wednesday previewed a new and very tangible automated transportation system, the PeopleMover, that offers potential for relieving traffic congestion in major cities…at the expense of the automobile.
At least that was the opinion expressed by Russell DeYoung, chairmand and chief executive officer of the company, who also admitted a possible conflict of marketing interests.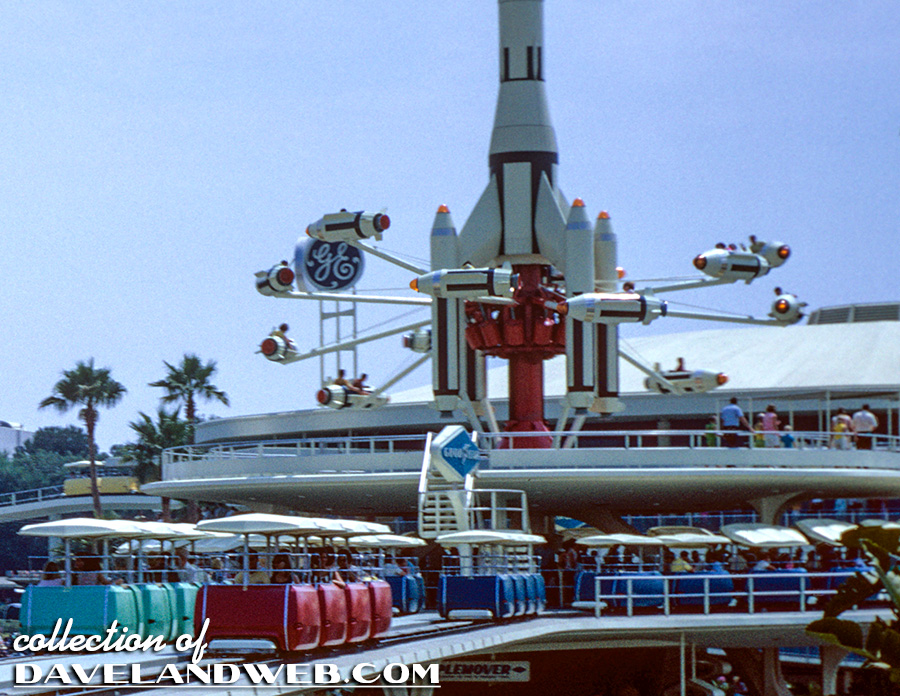 Presumes Auto Curtailment
"It presumes some curtailment of the use of automobiles—and autos use tires!" he said about the PeopleMover. "You may ask, isn't your business really tires? The answer is simply that Goodyear is basically in the transportation business."
Tires represent, he further explained, 55% of the company's total business.
The system, designed to carry large numbers of people in continuous motion, officially will go into operation next week when the new Tomorrowland section of Disneyland is open to the public. It threads along a ¾-mile course through many of the Tomorrowland pavilions.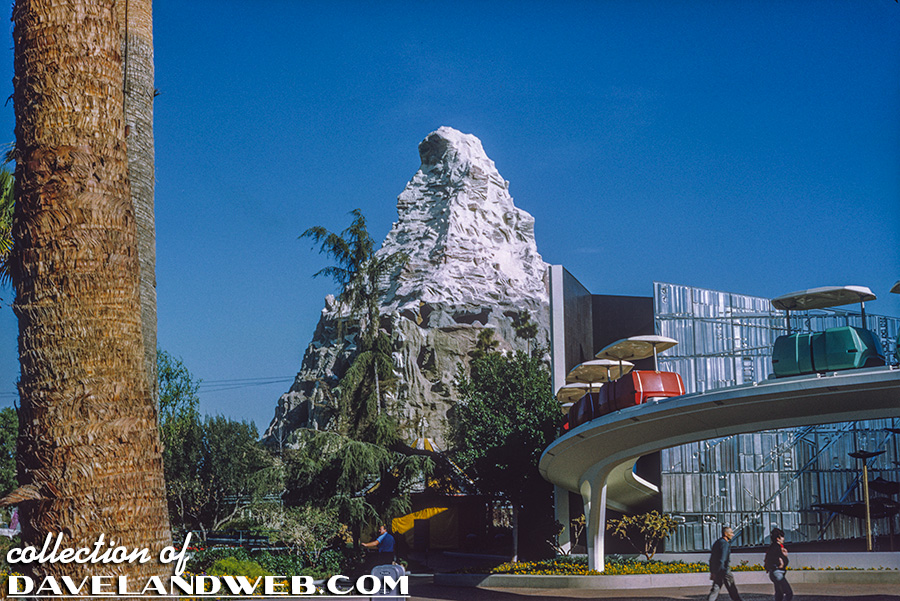 In a pre-introduction news conference, DeYoung told more than 100 newsmen that the Disneyland project offers an advanced form of high-capacity transportation that could be used over short to medium-range distances.
Potential applications, he said, include airports to carry passengers to and from parking areas, central business areas of cities to devoid congested areas of automobiles, big shopping centers, sprawling campuses or large universities and industrial complexes to move personnel.
The Disneyland PeopleMover involves 62 four-car trains that are propelled at speeds from 1.5 to 7 m.p.h. by electric motor-powered rubber wheels which protrude from an elevated "glideway." Each car carries four passengers, providing an hourly capacity of 4,885.
By comparison, Disneyland's Monorail, explained John Wise, project engineer of WED (Walter E. Disney) Enterprises, Inc., has only half that capacity.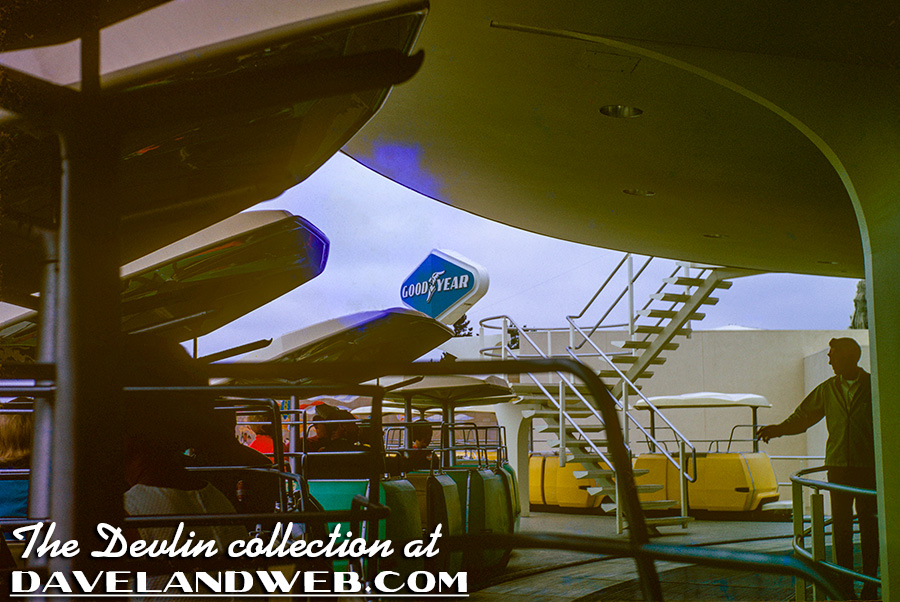 Successful Prototype
Wise said a prototype of the PeopleMover has been in successful operation for a year over a 700 ft. track in Glendale.
"This one is tailored and scaled to a Disneyland operation," Wise said, "but many larger variations are possible for other applications. Speeds of 15 to 20 m.p.h. could be achieved."
WED and Goodyear became linked in the project nearly five years ago, adapting several joint concepts. One of them, Carveyor, had been developed by Goodyear in conjunction with Stephens-Adamson Manufacturing Co.
A Goodyear official said motors were embedded in the track rather than in the cars to "reduce weight (no onboard controls), initial cost and maintenance." The Disneyland system involves 517 motor-driven units ranging from 1/3 to 3 horsepower.
Passengers board the cars from a turntable moving at the same rate of speed as the train for the 15-minute trip.
A variation of the system is being developed for the $600 million Disney World in Florida. Similar systems have been proposed as a replacement for the Grand Central Station-Times Square shuttle in New York and application in Chicago's Loop.
No cost figures were quoted for the Disneyland PeopleMover.
***
Most interesting that the article never mentions the New York World's Fair and the Ford Magic Skyway, which was Disney's original idea for this attraction. Ford balked at transferring the sponsorship to the amusement park (they were also hesitant about this technology replacing the car) and Goodyear stepped in, changing Ford's wheels to Goodyear's tires.
Follow my Daveland updates on
Twitter
and view my most recent photos on
Flickr
.
See more Daveland Disneyland Peoplemover photos at my
main website.