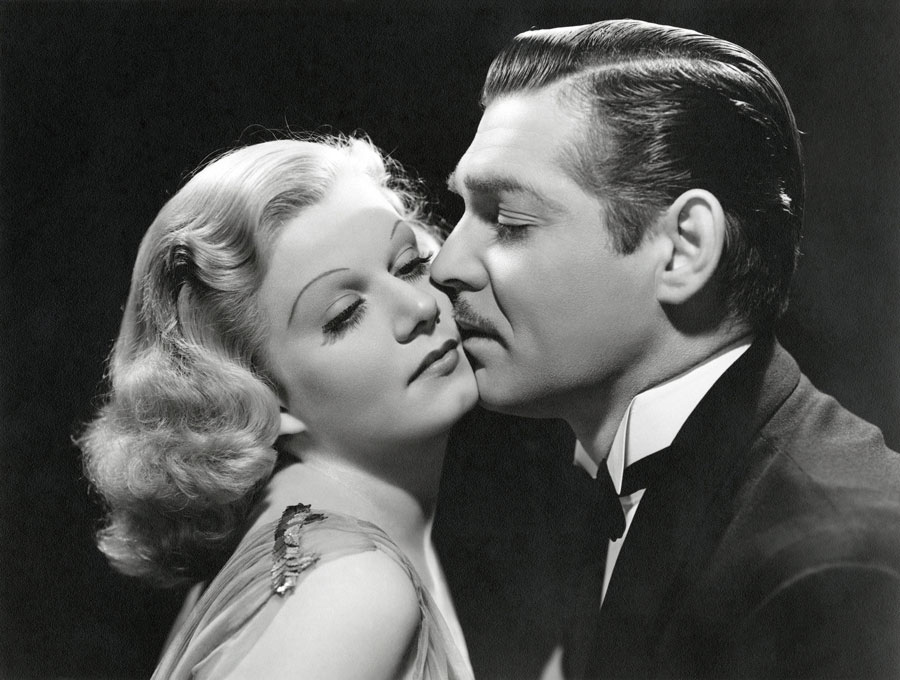 One wouldn't think that there would be very much to link curly haired moppet Shirley Temple and screen siren Jean Harlow other than the oft-told tale that Shirley lost the part of Dorothy in "The Wizard of Oz" when a trade between Temple, Harlow, and Clark Gable went south due to Harlow's premature death on June 7, 1937 at age 26. Even though Shirley herself repeated this story in her autobiography, the chances of it being for the same movie that MGM released in 1939 are slim to none, as in 1937 MGM didn't even own the rights to "Oz." But that's another story than the one I am telling today, which is about a verifiable connection between Shirley and Jean: both of their mothers hired the same artist to paint their daughters. Gertrude Temple hired Piles Tino Costa first in 1936 for the tidy sum of $1200 (today's equivalent of approximately $18,000); including the frame. Good luck getting that today! Here is the "contract" that she sent to the artist: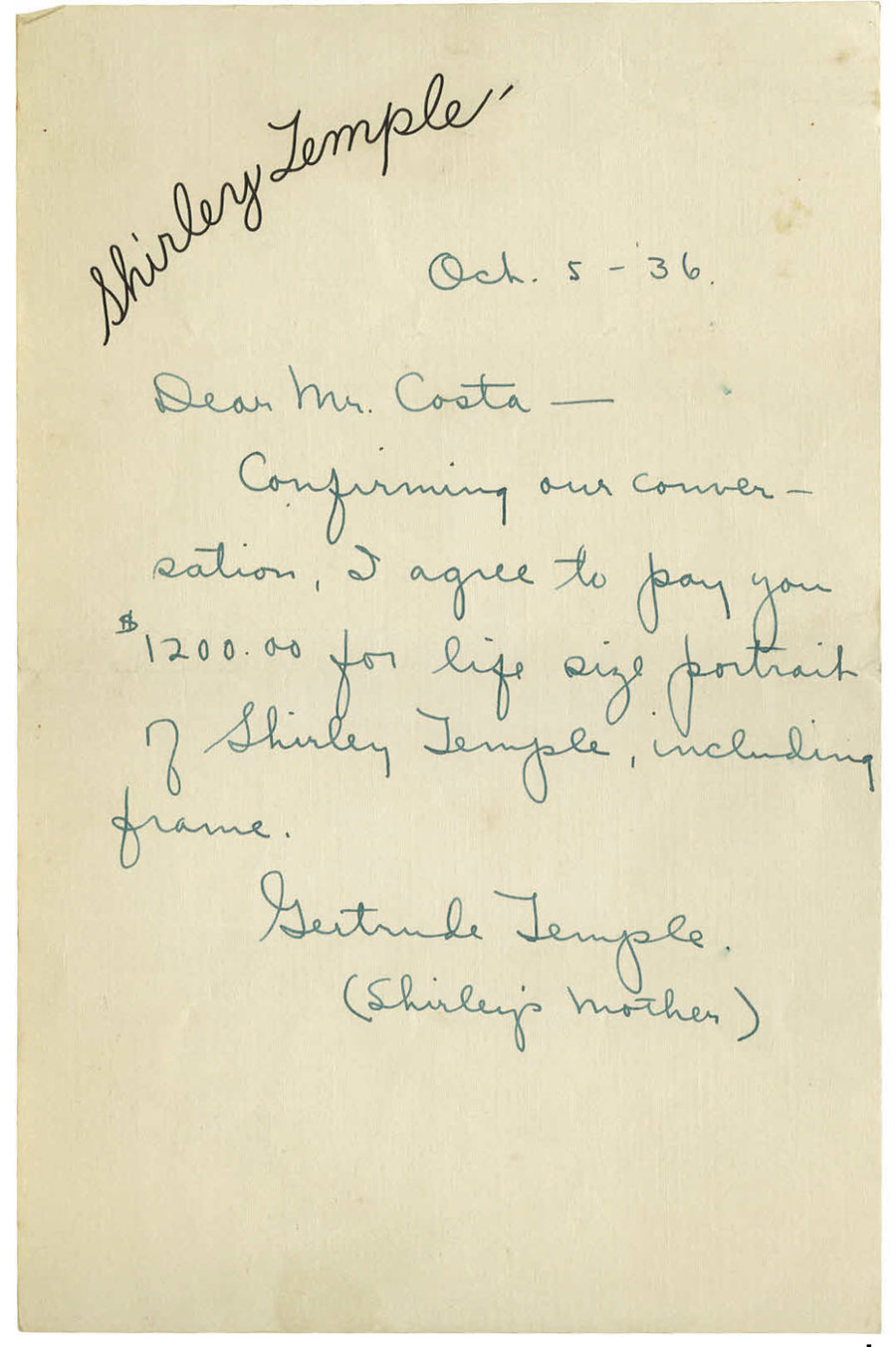 I was able to see this painting in person at the Santa Monica History Museum when it was put on display just before it was sold as part of the Love, Shirley Temple auction in 2015. The Child Star is shown with her dog, Corky, and a canary in a cage in the oil painting that measured a large 58" x 46".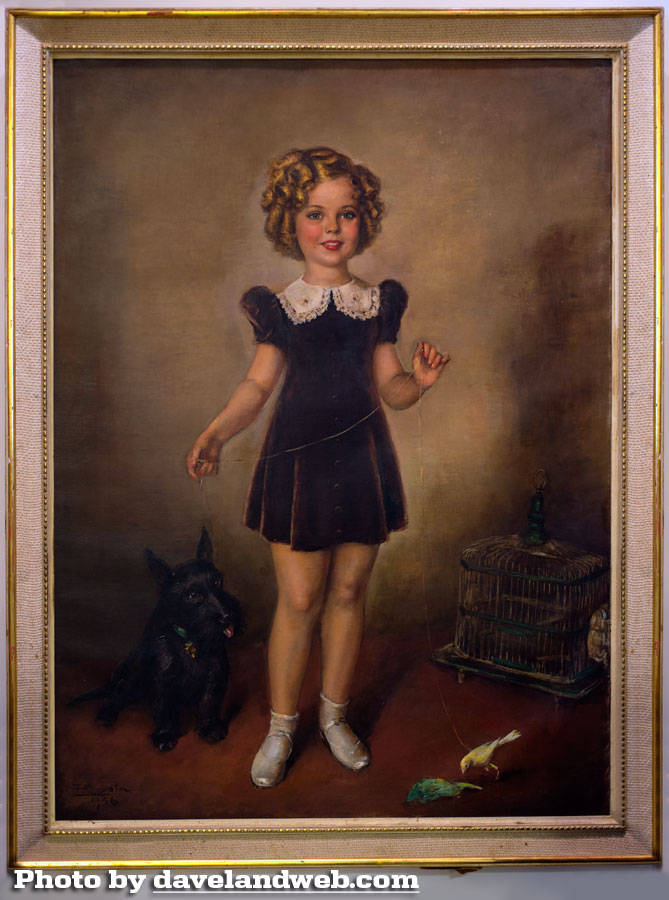 Here is Shirley posing with the artist: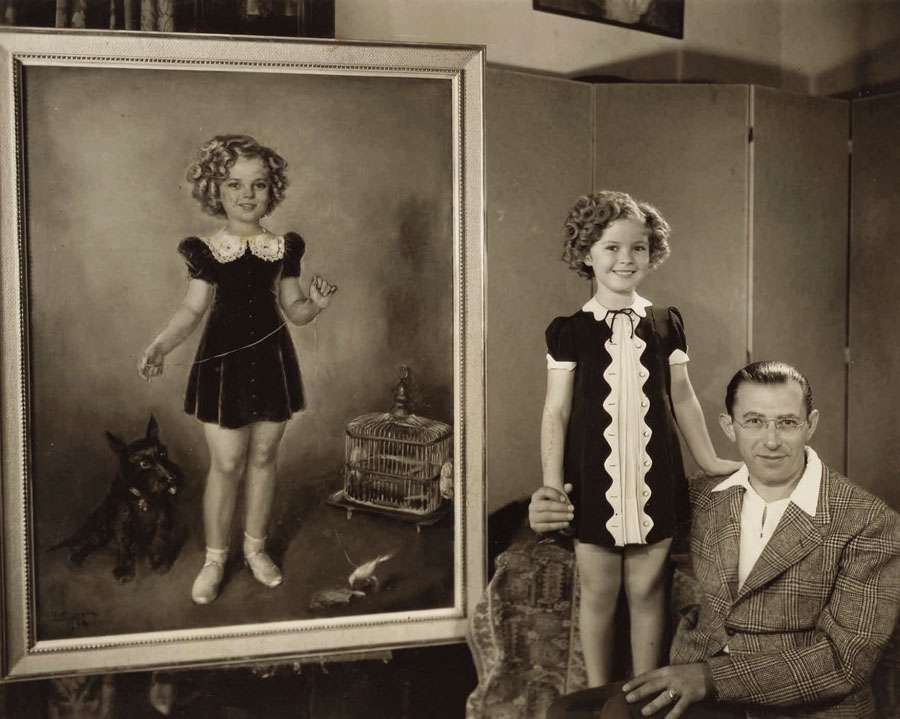 The descriptive copy from the auction catalog:
Her presence is signified by classic ringlet curls, smiling expression, and fingertip-length skirt hem. Her shoes are shown scuffed at the toes indicating their dancing purpose, and alongside sits her beloved Scottie named Corky and a bird cage whose canary resident is tethered on a leash. Signed in lower corner "P. Costa 1936".…Costa, the Russian-born portrait painter, immigrated to the United States in 1929 at the age of 38. He was commissioned for portraits of Presidents Hoover and FDR, as well as portraits of General MacArthur, the Prince of Wales, and King Christian of Denmark. In 1935 he moved to California, and among his works during that era is this portrait of Shirley Temple.
Presale estimate was $5000; the gavel went down at $23,000. Gertrude Temple made a fairly good investment, but not stupendous.
The brown velvet dress with lace collar that she wore for the painting was also part of the auction: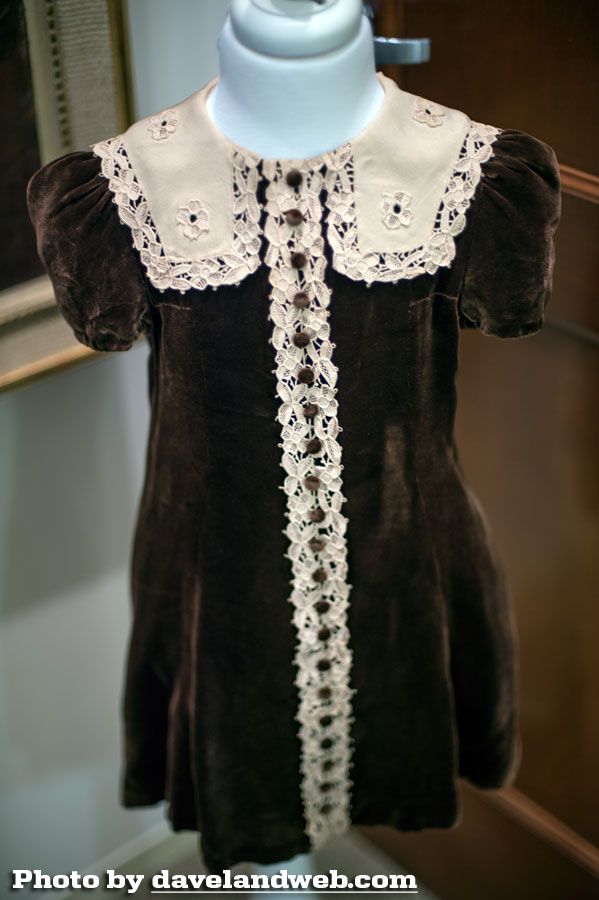 Many photos exist of the painting as it hung in the home where Shirley grew up in Westwood on Rockingham Avenue: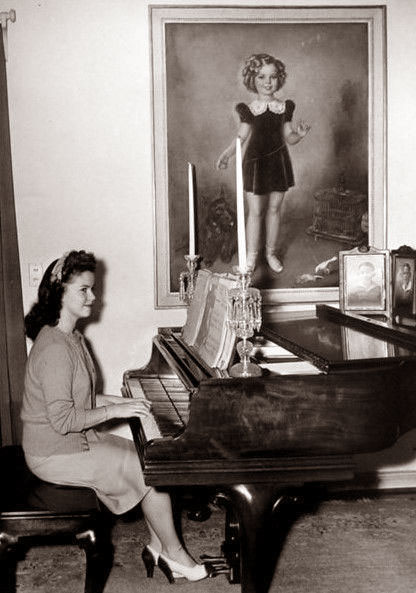 A year after Costa painted the portrait of Shirley, he was commissioned by Jean Harlow's mother to paint one of her late daughter. Here's the final product, titled "Farewell to Earth," which measures a gargantuan 80" x 52":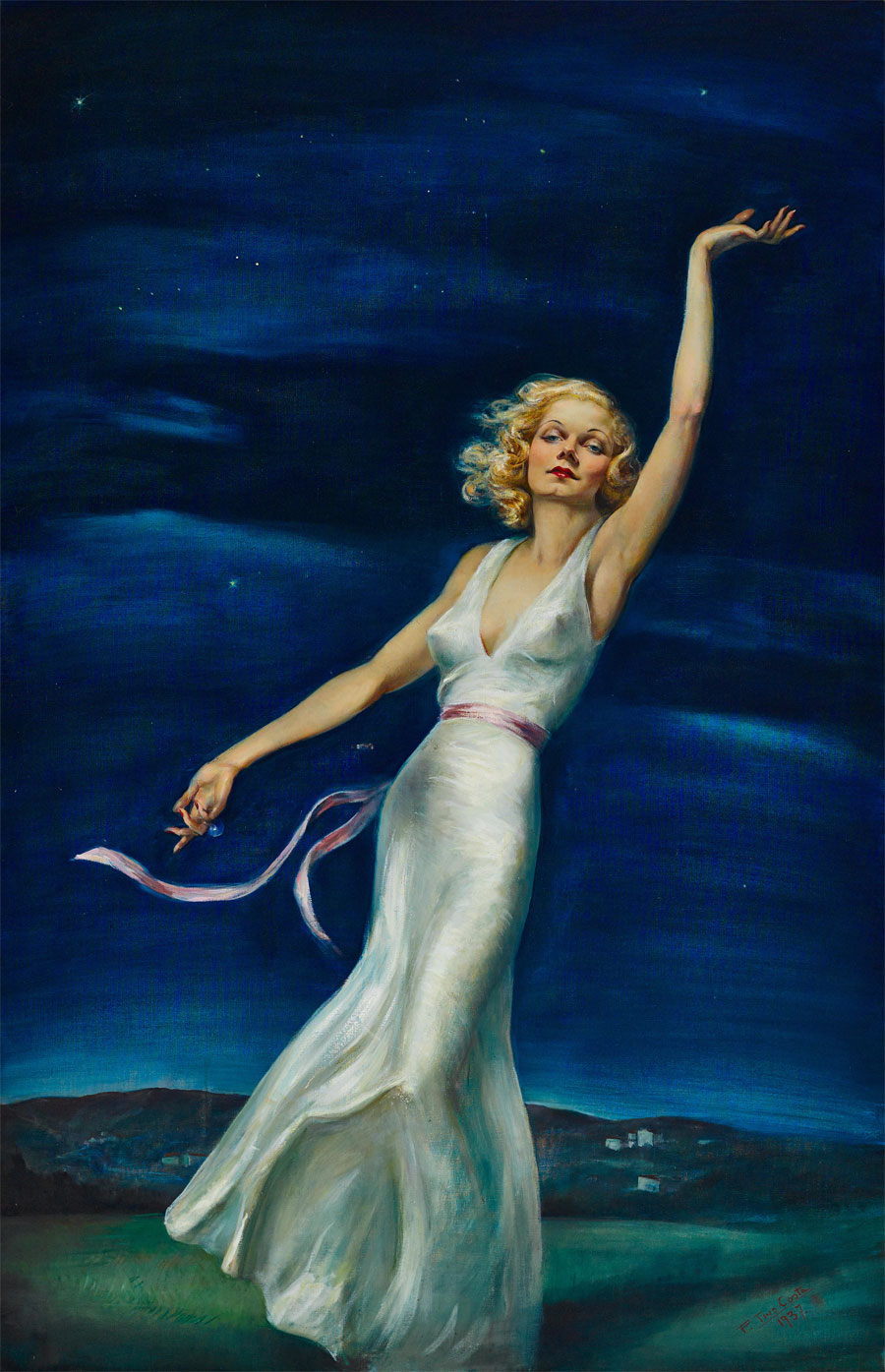 Lost for years, the piece was photographed in black and white in the 1930s, and that was all that existed of it until it resurfaced recently at a Bonham's auction in November 2016. It has been inventoried in both the National Portrait Gallery and the New York Public Library's Prints and Photographs online catalogs.
Here's a youtube video that talks about the recovery of the painting. It was found in an abandoned home in Harrisonville, MO. A renowned chemist, Dr. James D. Idol, bequeathed his niece's his estate and they discovered this amongst the broken glass and animal poop almost 50 years later!
All I can say is that it's a miracle it has survived!
To end this post I show a painting I did of Jean back in the 90s: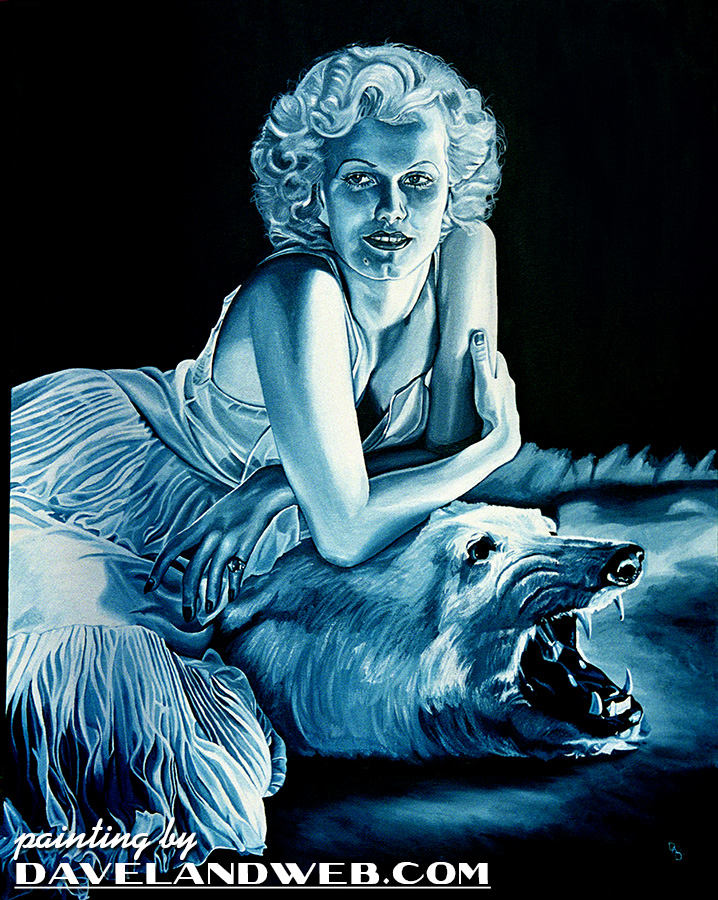 See more Shirley Temple photos at my
main website.
Follow my Daveland updates on
Twitter
and view my most recent photos on
Flickr
&
Instagram
.