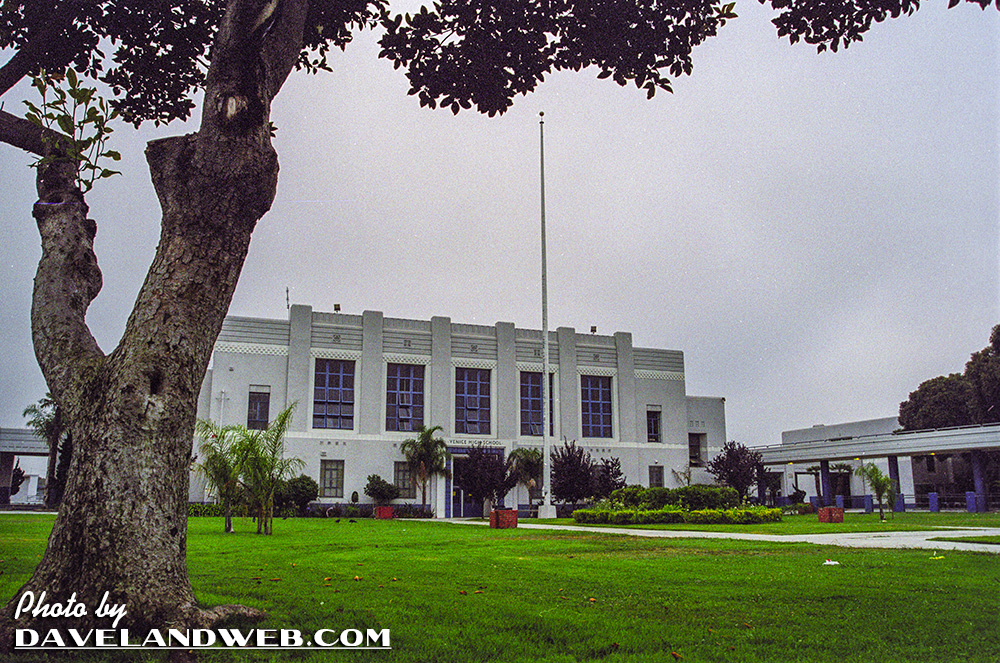 In 2005, I was making one of my frequent trips to L.A. and decided to visit Venice High School, which was the setting for Rydell High School in "Grease" (1978). Well, there were actually two other High Schools used for Rydell, but that's another story...not the one for today. When watching the movie, I noticed something was missing.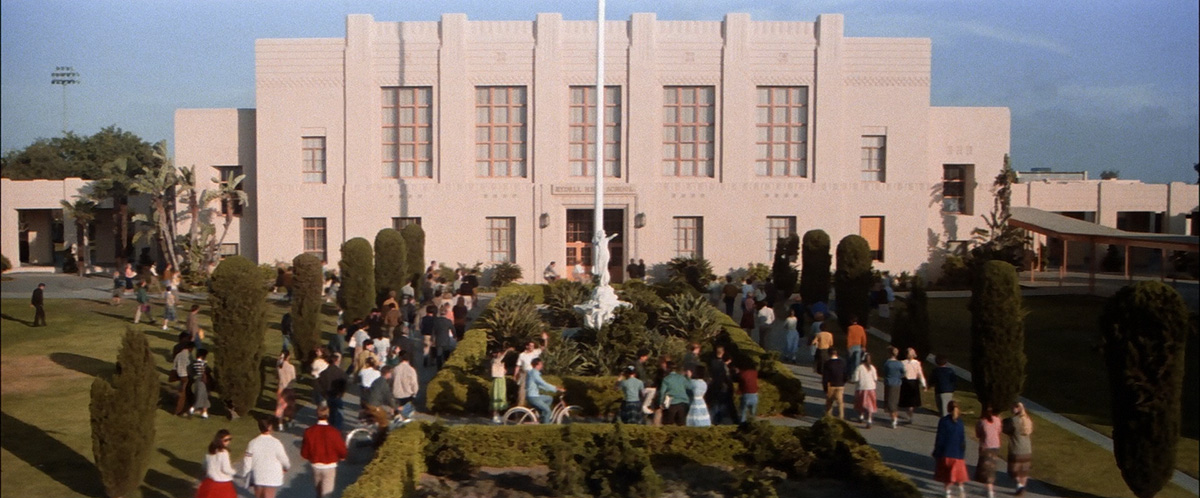 The fountain and statuary in front of the school.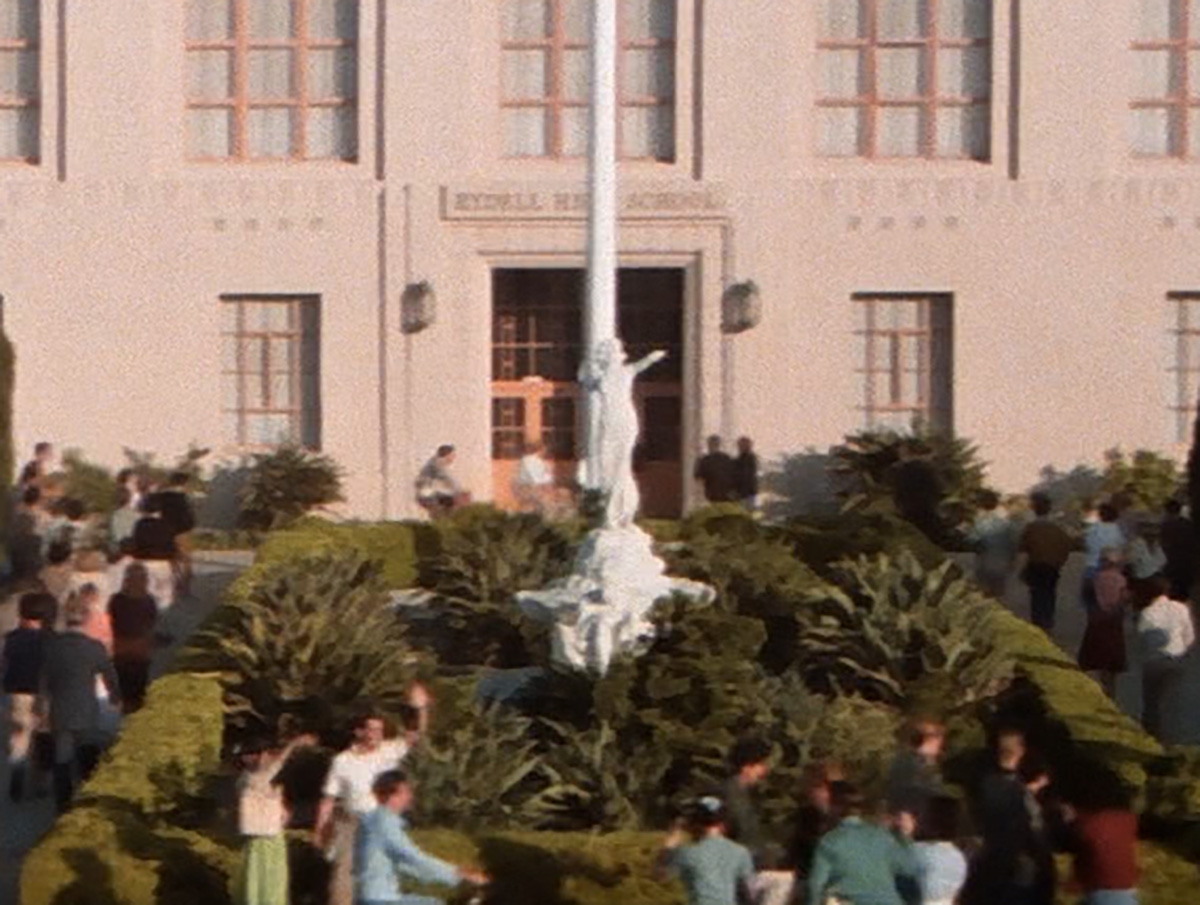 It turns out that the model for the centerpiece of the original statue was none other than Hollywood legend, Myrna Loy.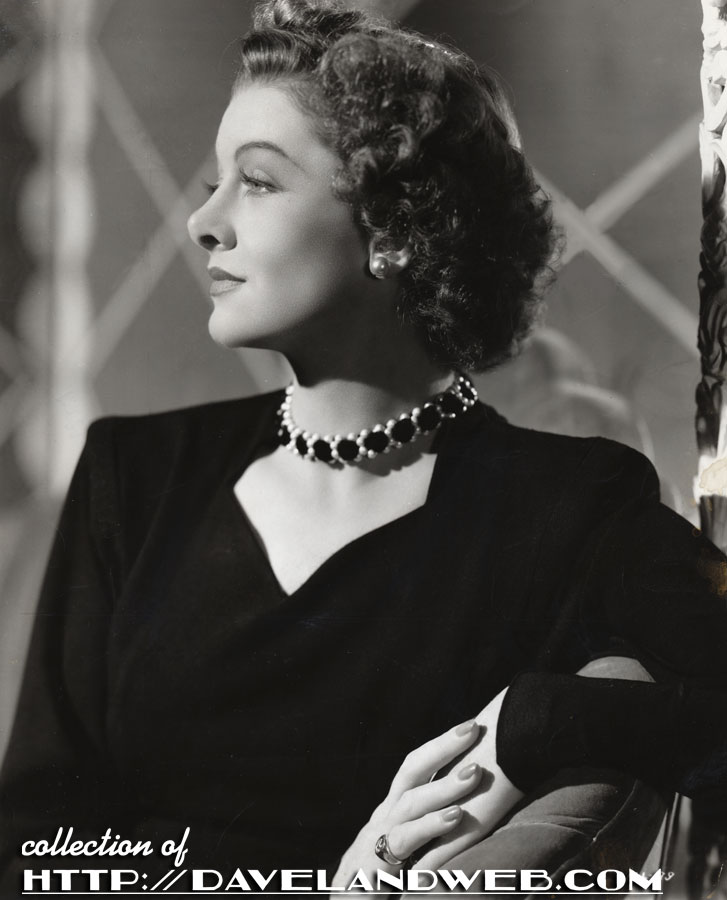 From the
Hometowns Hollywood website
:
Loy's father died on November 7, 1918, of Spanish influenza. Upon his passing, the family permanently relocated to California, where they settled in Culver City. Loy attended the exclusive Westlake School for Girls in Holmby Hills and continued to study dance in Downtown Los Angeles. When her teachers objected to her participating in theatrical arts, her mother transferred her to Venice High School, and at 15, she began appearing in local stage productions. In 1921, Loy posed for Venice High School sculpture teacher Harry Fielding Winebrenner for the central figure "Inspiration" in his allegorical sculpture group Fountain of Education
[Two other students posed for the kneeling man and seated woman].
Completed in 1922, the sculpture group was situated in front of the campus outdoor pool in May 1923, where it would stand for decades. A few months later, Loy's "Inspiration" figure was temporarily removed from the sculpture group and transported aboard the battleship Nevada for a Memorial Day pageant in which "Miss Myrna Williams" participated.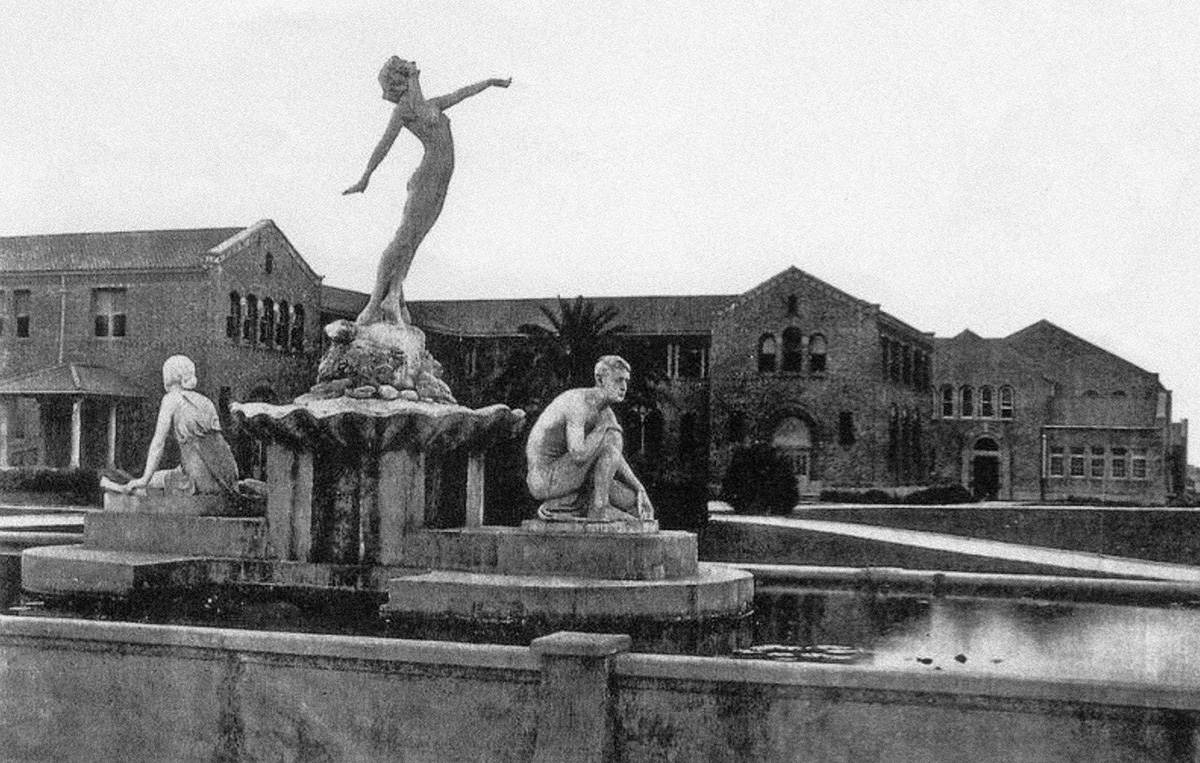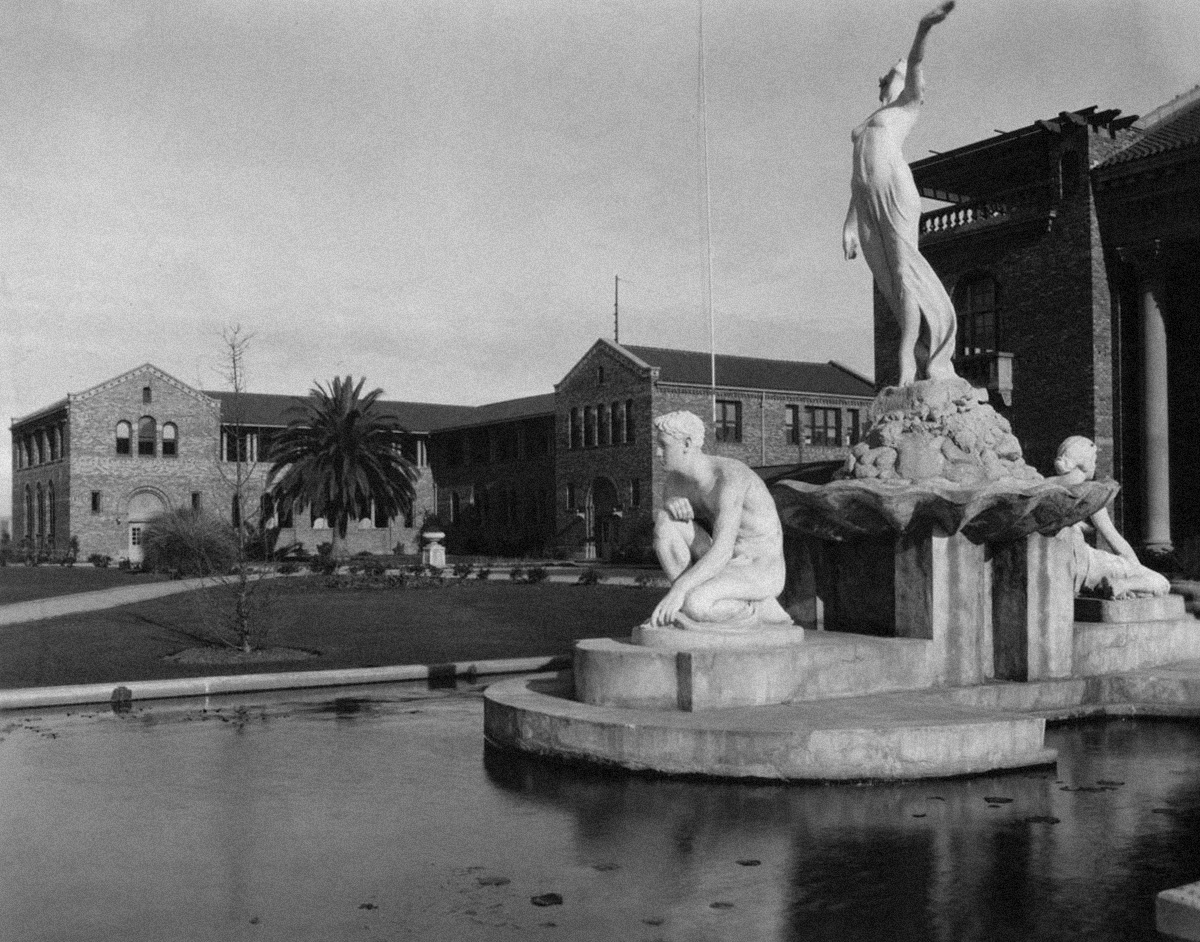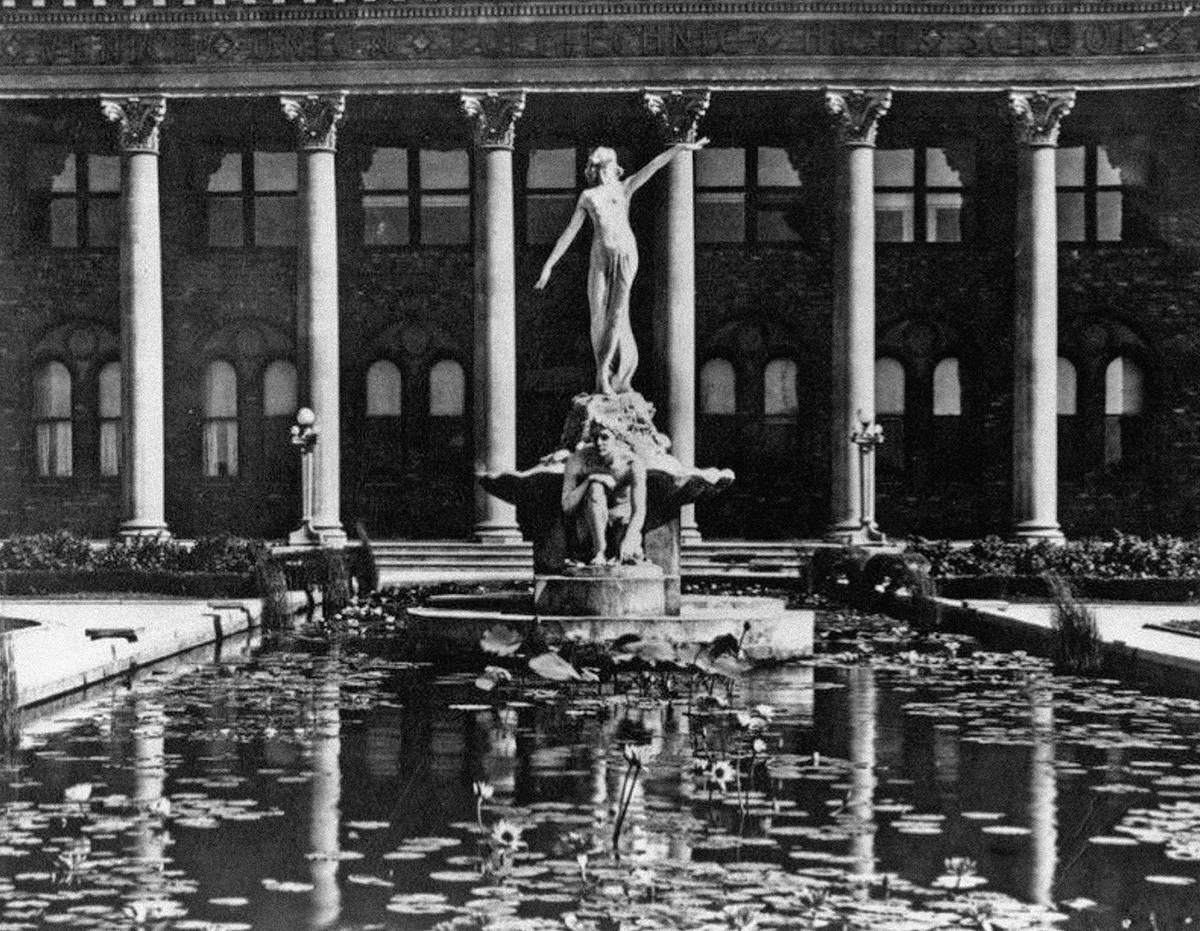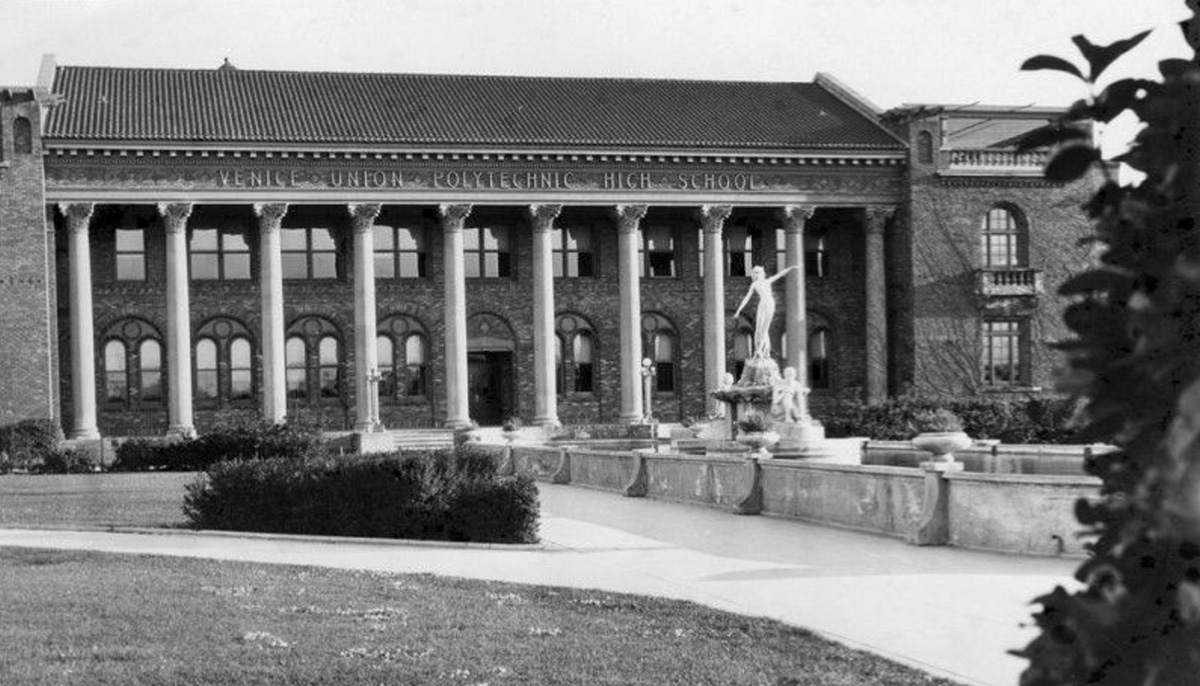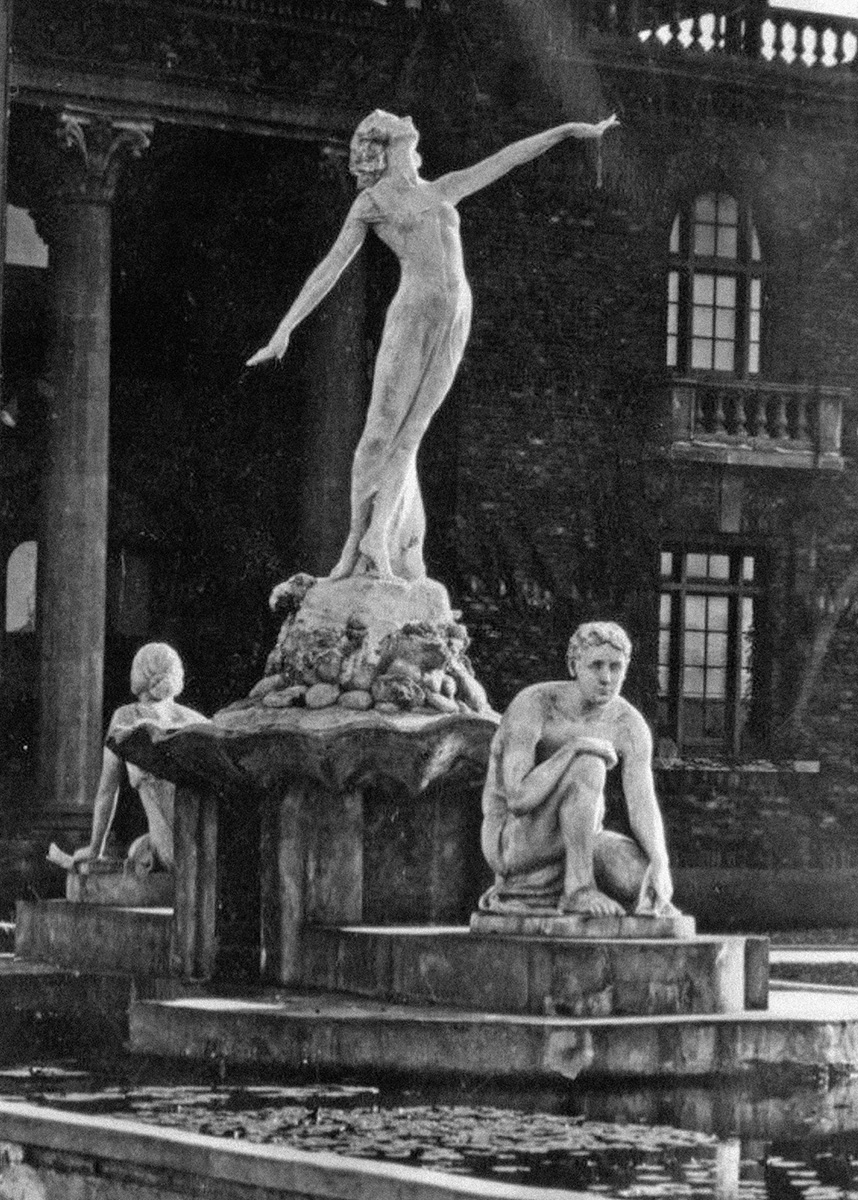 If the buildings behind the Loy statue look different, that's because they are. On March 10, 1933, the Long Beach Earthquake critically damaged the 1924-built school, and it was subsequently torn down. For two years, classes had to be held in tents until the replacement school was built. On January 22, 1935, ground was broken for the art deco styled buildings that still stand today.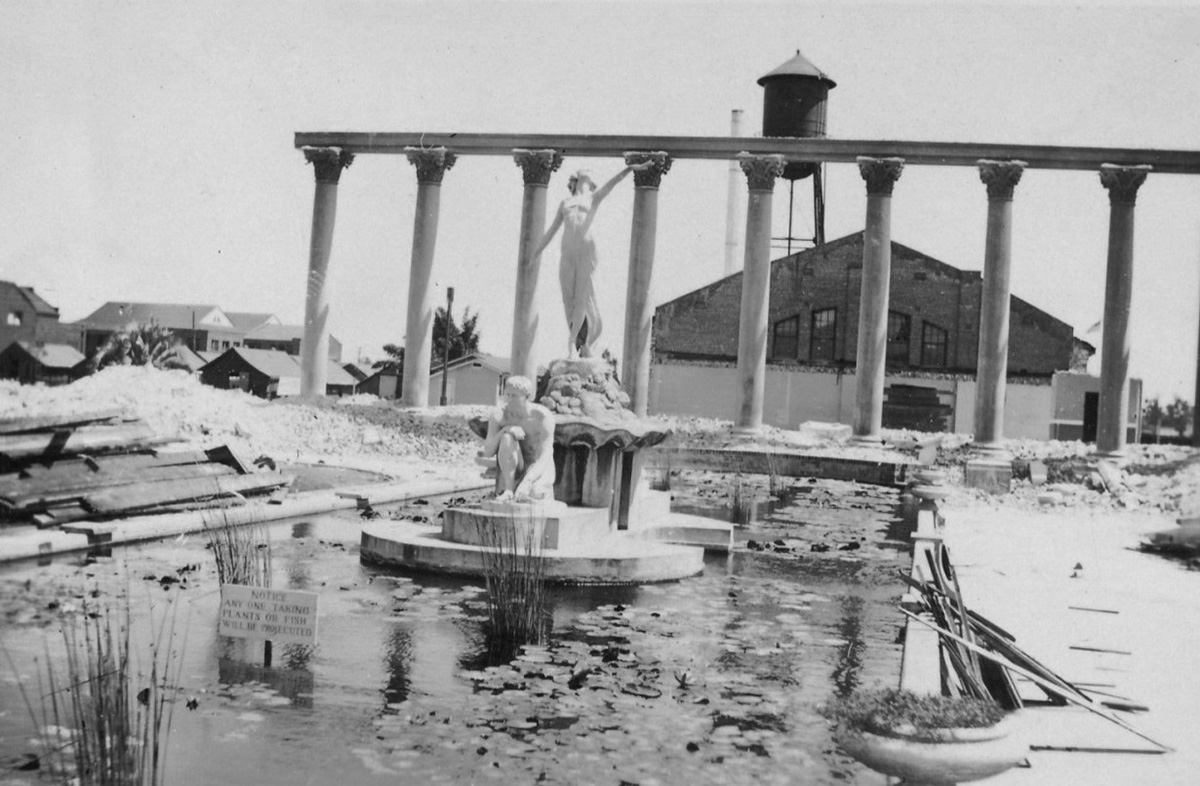 Back to the
Hometowns Hollywood website
:
While the statue had miraculously survived the 1933 earthquake, its story took a turn for the worse decades later. Over the years, the statue of Loy outside of Venice High School in Los Angeles became not only a landmark after Loy became famous, but an object of vandalism from neighboring schools, especially University High. It was customary prior to the Venice-Uni football game for students from Uni to throw paint on or otherwise vandalize the statue. When I was a student at Venice, legend had it that one year, a group of students from Uni actually removed the statue and drove it in a truck to Santa Monica pier where they threw it over the side and into the water. Not surprisingly, damage took its toll.
In the above photo, the sign in the pond says, "NOTICE: ANY ONE TAKING PLANTS OR FISH WILL BE PROSECUTED." What about the statues?!? I believe this lack of attention/respect to Myrna is what caused the events that followed!
In 1978, the sculpture was mutilated by vandals with heads and arms removed. They were restored in 1980 by William Van Orden, a Venice painter and sculpture. However, he reconfigured the arms to make them less accessible to vandals. So sad; what is wrong with people?!?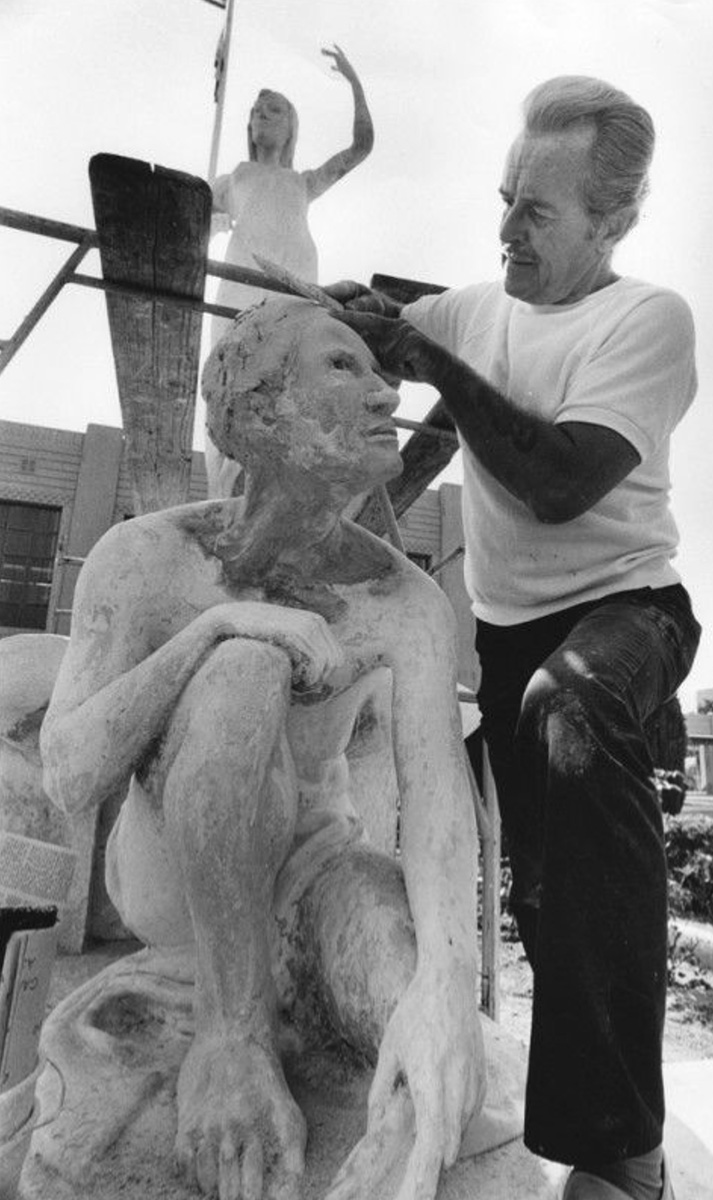 The caption for the above photo from
Calisphere
:
Dying Sculptor Races Against Time and Vandals ... The architectural centerpiece of the Venice High School campus is a giant iron cage inside which can be glimpsed an old man clambering laboriously over a temporary scaffold ... The cage, recently built, is a monument to the persistence of the man, William Van Orden, a sculptor who has given the last 10 years of his life to restoring the statue in the cage ... The 7-foot-tall statue of Venus rising from the sea, accompanied by two male figures, was sculptured by a Venice High School teacher, Harry Winebrenner, in the 1920's, and a 16-year-old student, Myrna Williams, was his model"--New York Times, June 12, 1989. William Van Orden, repairing statue in Venice High School. Photograph dated Oct. 17, 1980.
Van Order's LA Times April 4, 1990 obituary:
William Van Orden, the sculptor known for his meticulous restorations of Venice High School's statue of actress Myrna Loy after numerous assaults on it by vandals, has died at 67. Van Orden, who completed his 12th restoration of the statue despite ill health and waning strength, died of cancer March 18 at a nursing home. Over the years, Van Orden worked thousands of hours repairing the Loy statue and two other statues at the entrance of the campus that were the target of countless pranks and acts of vandalism. "They call me the Don Quixote of Venice," he said in a Times article last year. "They don't realize that I take that as a compliment. Myrna is my windmill." Van Orden was honored in June by Venice High School students at a dedication ceremony for the newly restored statue, which is now enclosed in a protective iron cage. He was also awarded a proclamation from the city. The Myrna Loy statue first came to Van Orden's attention after vandals in 1978 used dynamite to blow off its head and arms. A year later, Van Orden drove by and saw the damaged statue and, grabbing a tool box, began making repairs. "I took out my chisel and mallet and started hammering on it when the principal came out and asked me, 'What are you doing?' " he told The Times. "I said, 'I'm here to fix the statue.' " The Venice artist began his most recent restoration about a year ago after vandals battered the heads of all three statues. Van Orden again rushed in to do repairs, but this time, he said, he did not believe he would live to finish the job. Doctors had told the artist that his death was imminent. "I decided not to abandon her," he said at the time. "I had to return one more time. This is my life's work, and after I finish this job I feel I can pass the job on to someone else." But Van Orden managed to complete the restoration of the 7-foot-tall statue of Loy, which is a depiction of the goddess Venus rising from the sea. It was sculpted in the 1920s by Harry Winebrenner, a nationally known sculptor who also taught art at Venice High School. He chose as his model a 16-year-old art student named Myrna Williams, who later gained fame on the screen as Myrna Loy. Van Orden received an outpouring of support and national attention following news reports about his efforts to preserve the statue. "He wanted so much to see it declared a historical landmark so it could be protected and preserved from future damage," said Rodan Van Orden, the artist's 19-year-old son. Van Orden said his father never felt he received the recognition he deserved from his work on the statue. "You know he was a fine artist, a good painter." At Venice High School, officials and students were saddened by Van Orden's death. "He always had time to sit and talk with the students. He touched a lot of lives here," said Sharon Gebhart, the school improvement coordinator.
After decades of exposure to the elements and vandalism, the original concrete statue was removed from display in 2002 (which is why it wasn't there when I visited in 2005). The original statue was replaced in 2010 by a bronze duplicate paid for through an alumni-led fundraising campaign during a highly-publicized ceremony.
And here's how it looked on my visit last weekend: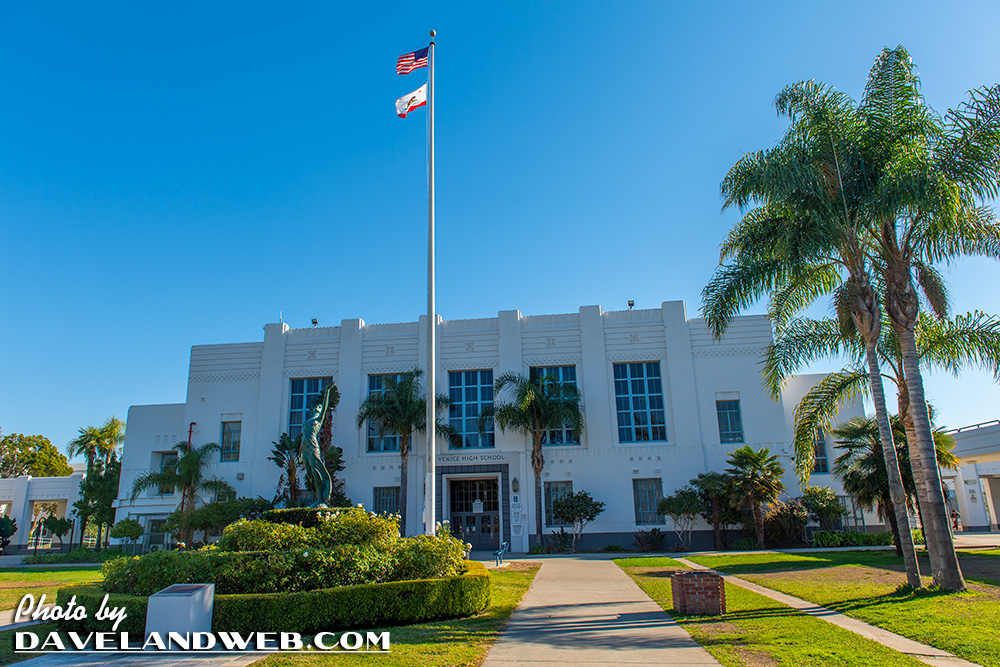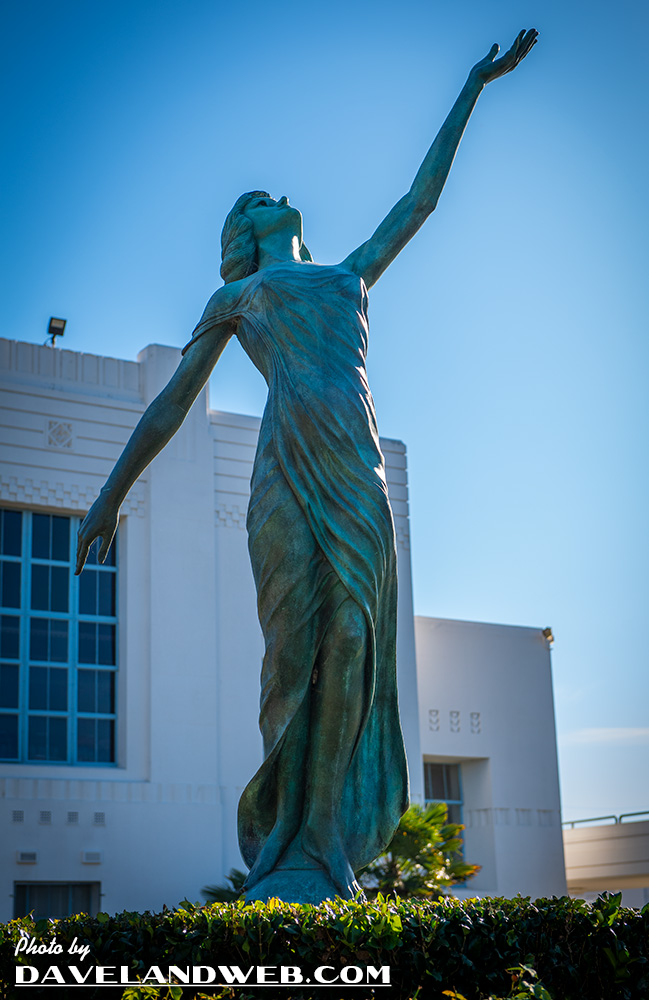 Myrna looks great from all angles: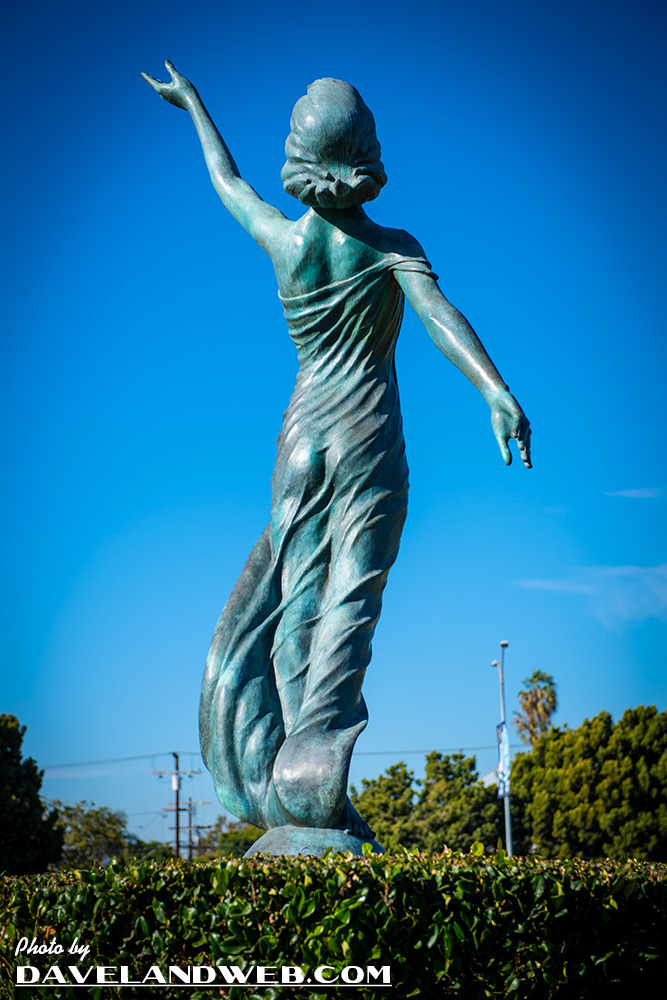 The accompanying plaque: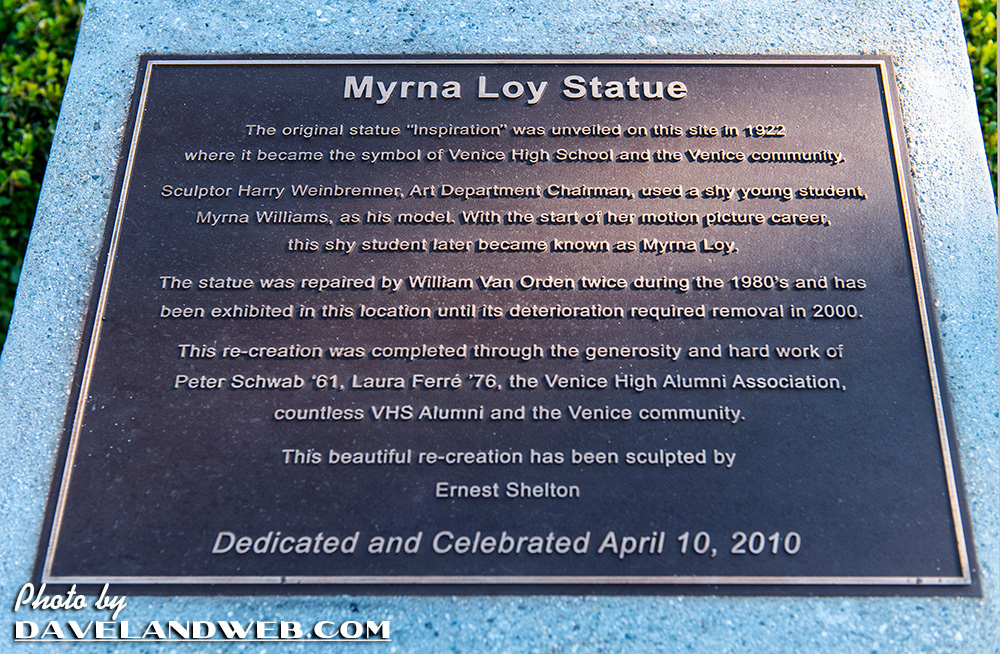 While I am very glad that Myrna has returned, it seems a bit sad that the fountain and other two figures were lost in the process. The water that original cascaded down her arms is gone, and now she just stands there solo. Hopefully one day the rest of the original art installation can be returned. Right now, Myrna just seems to be a bit out of context.
See more Venice High School photos at my
main website.