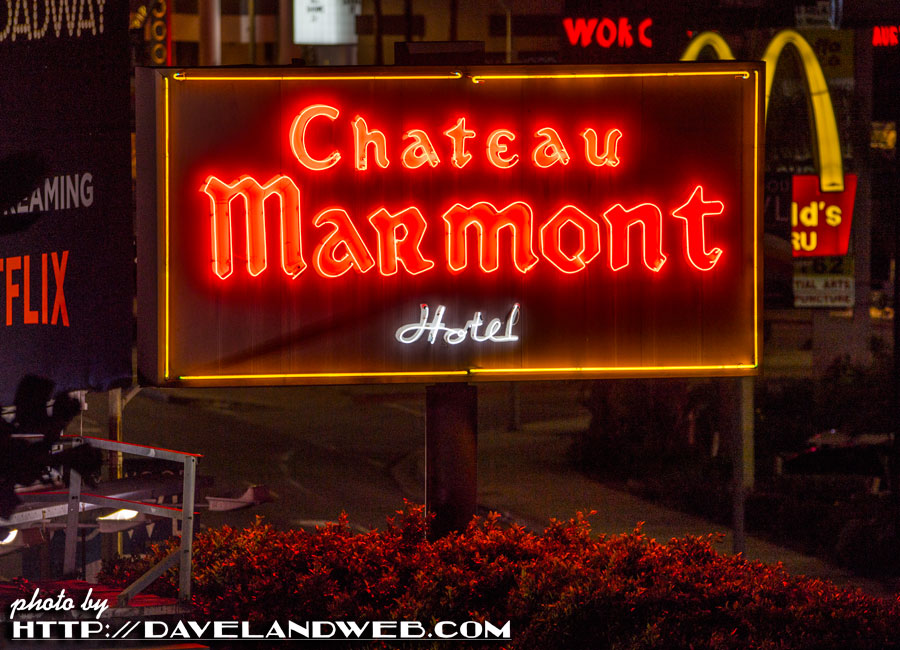 As I said in my previous blog, times like this bring out the very best...and the very worst in people. In a move that truly surprised me (in a good way), the Disney Corporation closed their parks yet stated that they would continue to pay their employees. That's good karma, good publicity, and truly the right thing to do for a corporation that people perceive as raking in millions of dollars and not necessarily paying their front-line staff a very good wage.
In a move that surprised me (in a bad way), the Chateau Marmont recently fired all of their employees (save approximately six). No severance pay and only two weeks for a health insurance extension. BTW: that "two week" extension was already covered anyway until the end of the month, so it wasn't anything additional that the Chateau paid for. Since the employees weren't unionized, they are basically screwed. Coincidentally (or not so coincidentally), according to inside sources they had recently been working on doing just that: becoming represented. Those that loved Bar Marmont, the trendy bar located next door, may remember a similar move by wealthy hotelier André Balazs, the owner of both businesses. In April 2017, Bar Marmont was suddenly shuttered. The public statement was that it was being revamped, and thus, all employees were let go, forcing them to re-apply for their jobs. Behind the scenes, there were grumblings that the closing of the Bar helped Balazs avoid future issues he was currently having with those employees.
One situation blames Corona; the other uses a remodel. The result for employees is the same. They're screwed.
According to CBS LA:
"In the middle of this pandemic, I'm now unemployed and will soon lose health insurance for my entire family," Walter Almendarez, one of the employees fired, told the union. "I've worked for the Chateau Marmont for nearly 23 years. It's completely unjust for the hotel to fire me and my coworkers without anything to keep us on our feet."

According to worker reports, on March 17, hotel management emailed hourly employees saying while they would temporarily not be scheduled for any hours, they were still active employees of the hotel and could continue to receive health insurance coverage by paying their share of the premium.

"It was incredibly devastating to have gone from full time, to temporarily losing my hours but still being eligible for health insurance, to terminated with no health insurance in the midst of a pandemic," said former employee Michael Racanelli to the union. "It's absolutely shameful to do this to employees who have given so much of their lives to make a profit for the owner of the hotel, who is already worth hundreds of millions of dollars."
While some may say Balazs' choice to fire his employees is a necessary business evil, others would look at his published net worth of $700 million and question whether that was his only choice.
André Balazs at a W magazine party at the Chateau in January 2013. Photo credit: Emily Berl for The New York Times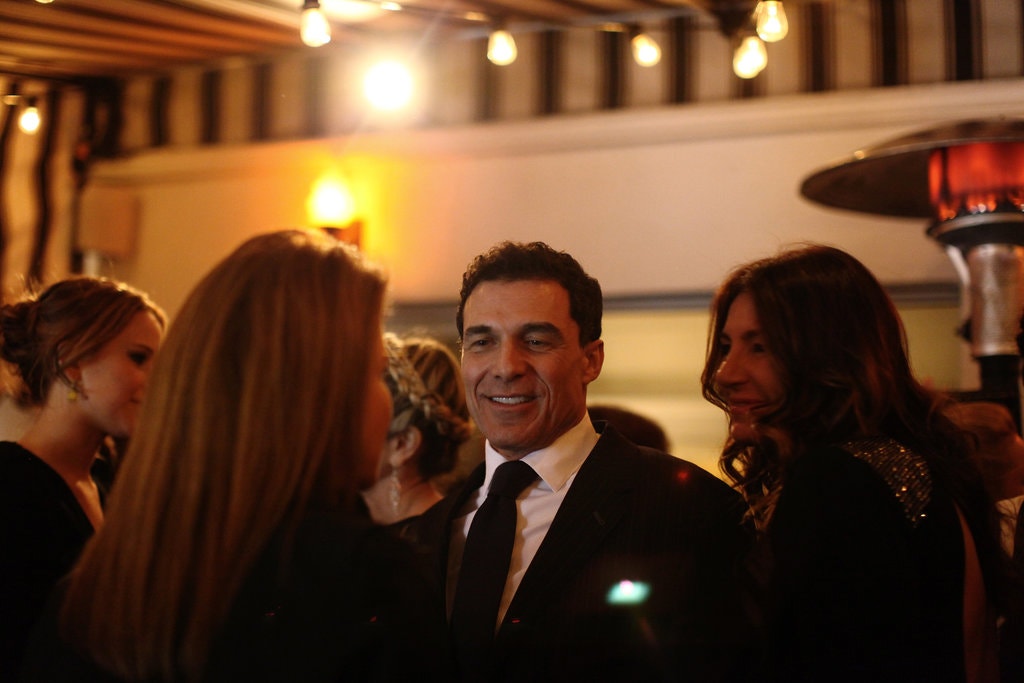 Balazs is no stranger to bad press though. In the midst of the "me too" movement, several women came forward accusing the hotelier of groping them. Not surprisingly, the NY Times' request for info from Balazs and his publicity team were left unanswered.
From the NY Times:
In November 2014, the actor Jason Bateman and his wife Amanda Anka (also an actress) attended a dinner party at the Chiltern Firehouse (another Balazs property) after the London premiere of "Horrible Bosses 2." After dinner, Balazs offered to take the group on a tour, leading them to an upstairs room with a view of London accessible by a firehouse-style ladder. Anka was wearing a burgundy leather dress and was hesitant to climb the ladder, according to witnesses, but Balazs insisted. As she climbed the ladder, witnesses stated that Balazs slipped a hand under her skirt and grabbed her crotch. "I witnessed behavior by André Balazs that was inappropriate and offensive," said Mary Elizabeth Ellis, the wife of Mr. Day, in a statement. Downstairs, Bateman confronted the hotel owner, spitting gum in his face.

In 2017, the couple confirmed the incident in a statement released by their publicist. "On behalf of Jason Bateman and Amanda Anka, we can confirm that the account of André Balazs's outrageous and vile behavior on that night in London is factual," the statement said. "His actions were dealt with at the time."
Since my first stay in 2001, I have adored the Chateau Marmont and stayed there frequently. It has been a very pleasant addiction for me. While the rooms in their old glory would be seen by some as shabby-chic, I loved the feeling of history, the vintage tile in the bathroom, and the sense of family from the way the hotel employees remembered me and treated me very well. Every time. Same employees. No revolving door. No attitude. As the hotel became more "hot" thanks to Balazs running in very high profile circles, I have noticed that more and more every inch of the hotel has been analyzed and revamped to become a profit center. More tables squeezed into the courtyard restaurant; display cases in the lobby to peddle wares from Gucci, the result of a partnership between the two entities, and the slow remodeling of the vintage-style rooms into more ultra-chic rooms that would appeal to the wealthy who do not quite "get" the vibe (and true long-lasting appeal) of the Chateau.
The dining room before: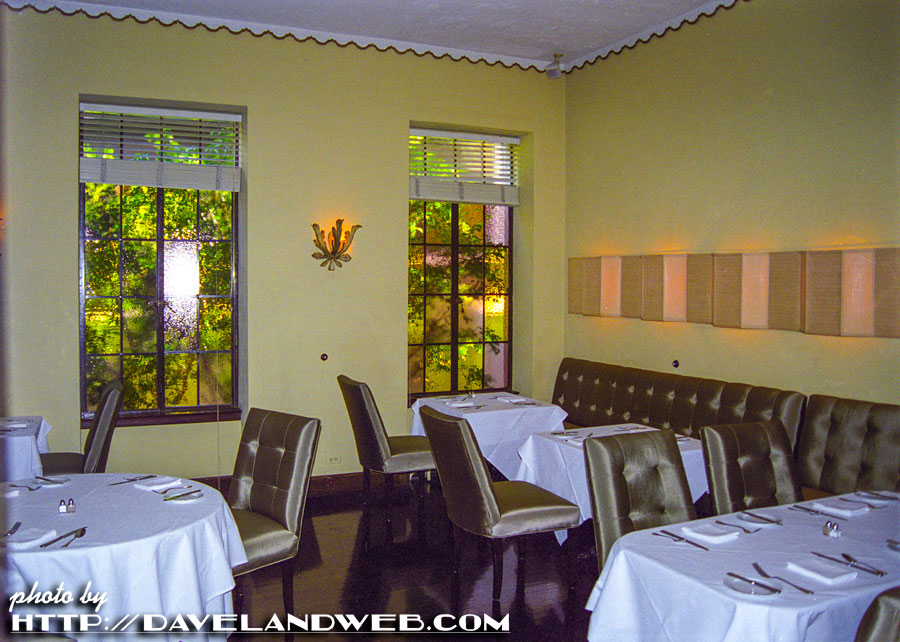 …and after. It ain't done til it's overdone. Bye-bye tasteful less-is-more aesthetic.
At the same time, employees confided in me that annual bonuses and pay raises had dried up. Some of those employees left, disillusioned by what was once a cherished place of employment.
Stay tuned.
See more Chateau Marmont photos at my
main website.